10 Awesome Burger Joints You Should Introduce to Your Friends
Our love for burgers is unconditional.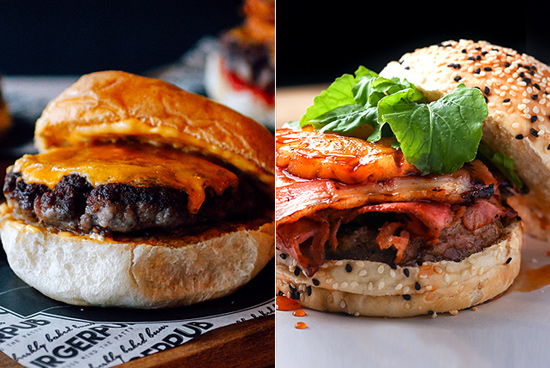 (SPOT.ph) By now, your love for burgers has turned into habits, and you're divided into camps—8 Cuts, Sweet Ecstasy, BRGR Project, Zark's, BB Burgers & Brewskies, Teddy's, Brothers. We can go on and on, but you probably already know which burger (and where) you'll be munching on Friday night with the buds.
But the burger love in Manila just keeps growing. Sometimes, when you need a little extra, when you're scoping out the competition, or when you're just super hungry, you can definitely sneak around with something new. Don't worry. There's no cheating when it comes to burgers.
By the way, stay on your toes: Fat Burger and Raging Bull Burgers will open in Manila soon.
Also read:
Top 10 Cheeseburgers Under P200 (2014 Edition)
Top 10 Burgers Under P100 (2013 Edition)
10 Great Veggie Burgers That Will Make You Forget About Meat...For A Little While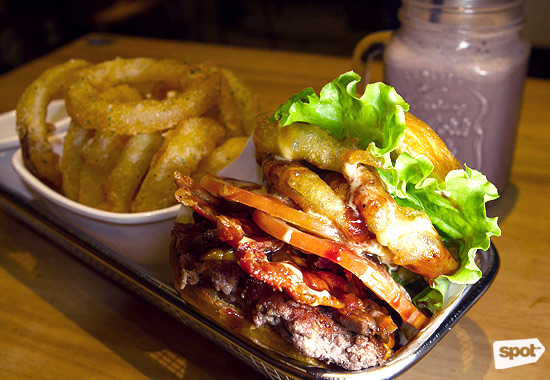 Burger Geek
ADVERTISEMENT - CONTINUE READING BELOW
Owner George Kho is a serious nerd when it comes to crafting the perfect burger. He breaks tradition by actually smashing his patties when they're on the grill, a trick that supposedly squeezes all the juicy goodness out. Burger Geek's technique is so practiced that the one precise motion guarantees a nice char on the surface but lovely succulence underneath. Their bacon is also perfectly crispy, so if you could only have one thing in your sandwich, this better be it. Once you go geek, you can never go back.
Our Pick: Class President (P310). An arrangement of American cheese, BLT, shiitake mushrooms, onion rings, and barbecue sauce surrounds that smashed patty.
CONTINUE READING BELOW
Recommended Videos
Burger Geek is at Molito Commercial Complex, Alabang, Muntinlupa City. Read more about Burger Geek.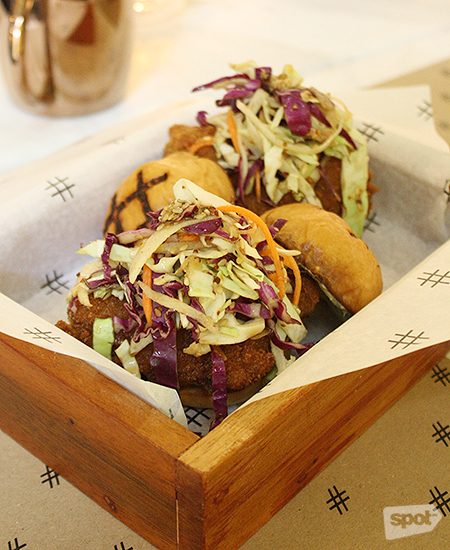 POUND
The burger station at POUND became so successful that it spawned its own franchise. It might be a bit unfair to call POUND a burger place though. They present their offerings slider-style, which makes it easier to share and ultimately easier to order more. Set in a beautiful Prohibition Era-inspired restaurant, POUND makes eating burgers feel like a luxurious experience—but not for your wallet. Except for their foie gras-blessed POUND Burger, everything on the menu is light on the budget.
ADVERTISEMENT - CONTINUE READING BELOW
Our Pick: T.E. Crispy Chicken Sliders (P195). It's a spicy adventure made with battered fried chicken thighs, kimchi glaze, and coleslaw.
POUND is at Bonifacio High Street, Bonifacio Global City. Read more about POUND.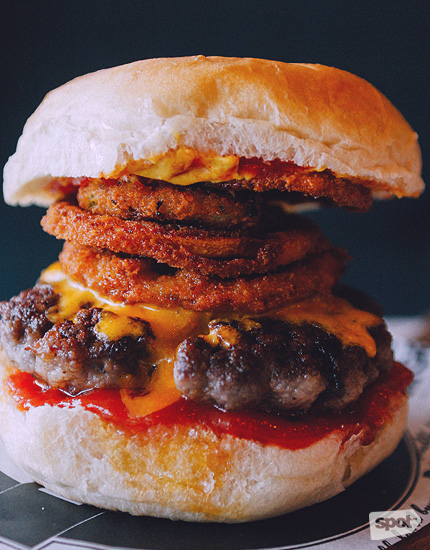 Burger Pub
In a world of overdressed burgers, Burger Pub is refreshingly bare. This minimalism stems from their confidence in their patties—which is something they should really be proud of. The 170-gram star is so good, it barely needs help from other embellisments. Except maybe cheese. Or bacon. Because those things are equally amazing.
Our Pick: Bastard (P345). The mouthwatering patty is topped with Irish cheese as well as some onion rings for a resounding and delicious crunch. It's hard to eat burgers with plain old onions now.
Burger Pub is at Grove Retail Row, The Grove by Rockwell, E. Rodriguez Jr. Avenue, Pasig City. Read more about Burger Pub.
ADVERTISEMENT - CONTINUE READING BELOW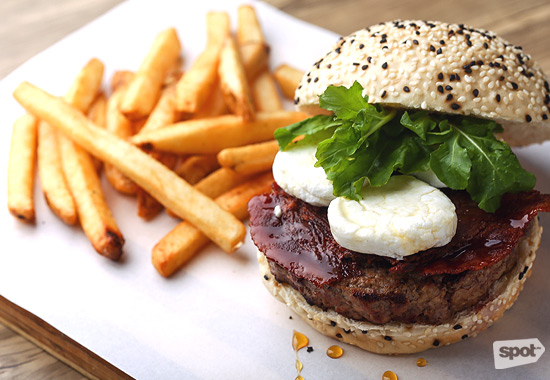 Chunky Sam's Diner
This restaurant isn't exactly new, but it's only recently entered the radar, thanks to the growing food scene on Congressional Avenue. The patties are made from certified U.S. Angus beef, for which the owners searched high and low. The beef is so flavorful on its own that it only really needs a bit of salt and pepper. A clever and curated choice of toppings take you on all kinds of burger adventures, but you'll always find yourself marveling at that patty.
Our Pick: Crispy Bacon & White Cheese Burger (P350). It's a tall stack of crispy lean bacon, kesong puti, and some rocket.
Chunky Sam's Diner is at Chimes Square, Congressional Avenue Extension corner T.M. Kalaw Street, Mira Nila Homes, Quezon City. Read more about Chunky Sam's Diner.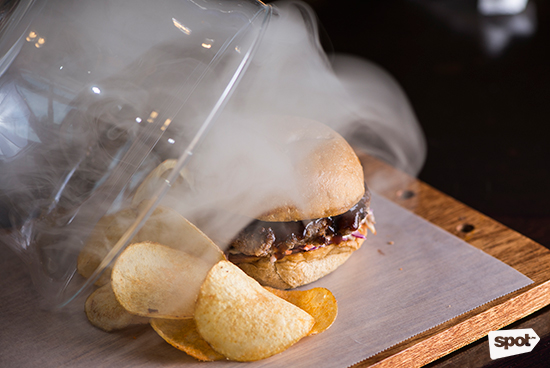 ADVERTISEMENT - CONTINUE READING BELOW
The Burger Lab
Here, burgers are a both an art and a science. At this laboratory-inspired eatery, everything is presented like an experiment because that's how owners Sho Isomura and Rommel Gutierrez came up with their gustatory creations. The sauces, particularly, are the successes of such research. They're the pair's own recipes and made from scratch every day. If you choose to build your own burger, the sauces even come in syringes.
Our Pick: Smoked Gun (P270). Talk about smoke and mirrors, this burger comes in a smoke-filled glass dome that transfers an extra touch of flavor to the entire assembly of brioche, beef, and barbecue sauce.
The Burger Lab is at 4/F Prism Plaza, Two E-Com Building, Mall of Asia Complex, Pasay City. Read more about The Burger Lab.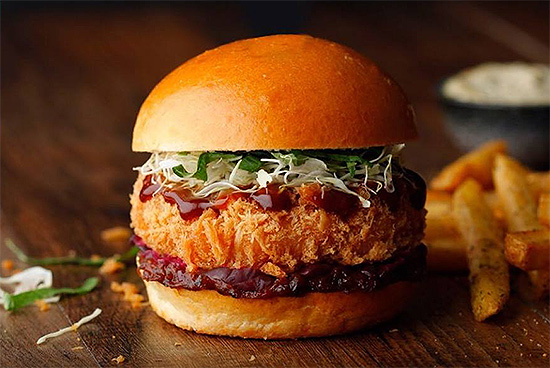 Yabu
SPOT.ph's current top tonkatsu has been around since 2011, but it was only in 2015 when they started using their skills with panko and frying for burgers, as well. You don't even have to have tried it to know that this transition is genius. Can you imagine their juicy pork chop, dressed in that crunchy golden coat, slathered with that sweet-salty plum sauce, and topped with a tangle of shredded cabbage? You can have a shrimp or cheese-stuffed option, too. If we eat this every day, we might actually have a shot at living without rice.
ADVERTISEMENT - CONTINUE READING BELOW
Our Pick: Hire Katsu Burger (P360). It's just a simple conversion of their bestseller into a hand-held convenience.
Click here for a list of Yabu branches. Read more about Yabu.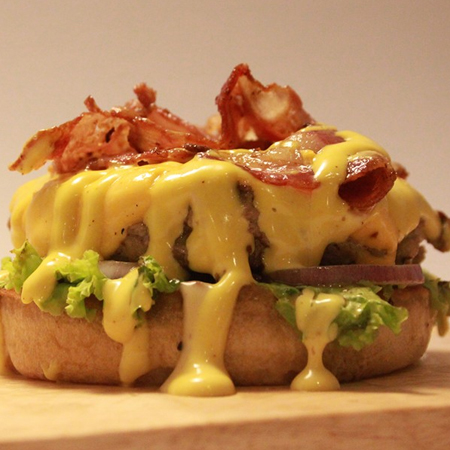 Naked Burger Cafe and Bar
We know the name says cafe and bar, but what you really come here for are burgers and milkshakes. The stacks are mouthwateringly good: dripping cheese, bombs of beef, and flourishes in the form of potato chips, gravy, bacon, and peppers. You can have it either with a bun, a double patty, or, of course, naked. They have slider trays, too!
Our Pick: Joe's Ultimate Cheeseburger (P140 to P255). Stretch your appetite (and mouth) with this monstrously cheese sandwich, gooey with Parmesan, American cheddar, and signature sauce.
Naked Burger Cafe and Bar is at Commercial 1, Unit 2, Pilar Development Corporation, Pilar Village, Almanza, Las Piñas City.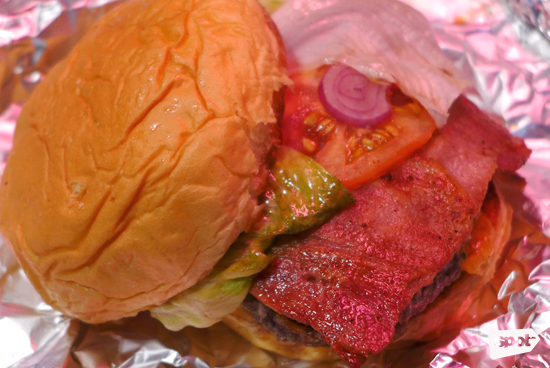 ADVERTISEMENT - CONTINUE READING BELOW
Lazy Bastard
This secret burger joint lures you in with the promise of bacon, which is good and crispy. The owners know it well enough to highlight this beautiful ingredient in many of their dishes. Lazy Bastard is ace with their hotdogs, but we're not about to forget their burgers. Theirs come in a potato bun and wrapped simply in foil—no pretense, just flavor. You really can't go wrong at a restaurant that welcomes "the hungry, inebriated, hung-over, or curious."
Our Pick: Bacon Cheeseburger (P220). It's a fool-proof beaut of beef and BLT.
Lazy Bastard is at 22 Jupiter Street, Makati City. Read more about Lazy Bastard.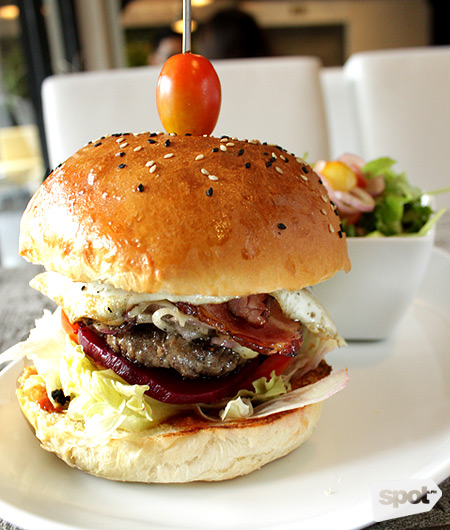 Bondi & Bourke
Aussies are big on beef, meat, and everything heavy. What else do we expect from the country that gave the world crazy milkshakes? The burgers at Bondi & Bourke are our favorite from their meat-heavy menu. These manly sandwiches are big in size and straightforward in flavor. Chef Wade Watson uses premium ingredients to keep his combinations minimalist but with a powerful impact.
ADVERTISEMENT - CONTINUE READING BELOW
Our Pick: Beef Burger (P585). It's a seemingly classic combination of beef, a fried egg, and bacon, but the layer of pickled beets really take your taste buds for a ride.
Bondi & Bourke is at G/F Cattleya Building, Salcedo Street, Legazpi Village, Makati City. Read more about Bondi & Bourke.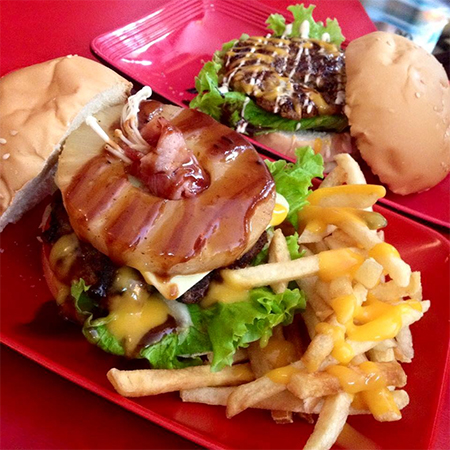 G-Spot Burger Bar
This place is your finish line, your silver lining after a long day. The menu is hilarious, if you're not sensitive—or, just cover the names and look at the ingredients. Their reasonably priced offerings are big, brawny: freshly fired-up juicy patties and over-the-top embellishments. The place is hot and we just don't mean literally. We mean, the menu does come with a Spamela Anderson.
Our Pick: Maria Ozawa (P105 to P125). This is a sexy setup of grilled pineapples, teriyaki sauce, bacon, beef, enoki mushrooms, onions, and tomatoes.
G-Spot Burger Bar is at 1945 Anonas Street, NDC Compound, Sta. Mesa, Manila.
ADVERTISEMENT - CONTINUE READING BELOW
Share this story with your friends!
---
Help us make Spot.ph better!
Take the short survey
Load More Stories