(SPOT.ph) We're big advocates of eating alone—call us introverts if you like—but sometimes, it's nice to just gather your loved ones and share a meal, especially if you don't have to make it. And although Bonifacio Global City is a particularly busy neck of the woods, you'd be surprised at what you can find there for both casual dining or special occasions with your posse of choice.
Also read:
10 Restaurants for Group Dining in Quezon City
10 Great Places for Sushi in Bonifacio Global City
10 Great Korean-Barbecue Restaurants You Can Only Find in Makati
10 Great Places for Group Dining in Pasig City
Here are 10 great places for group dining in Bonifacio Global City: 
George Town Super Steak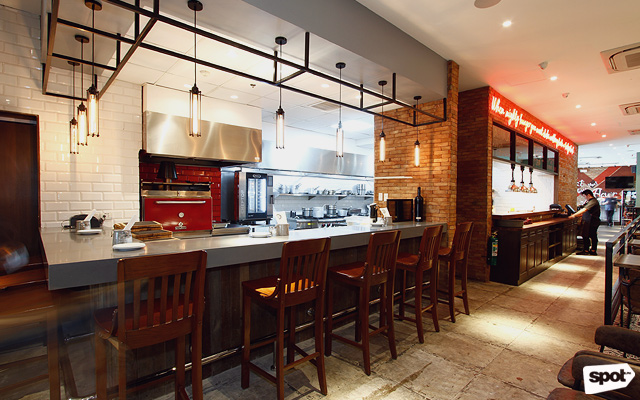 ADVERTISEMENT - CONTINUE READING BELOW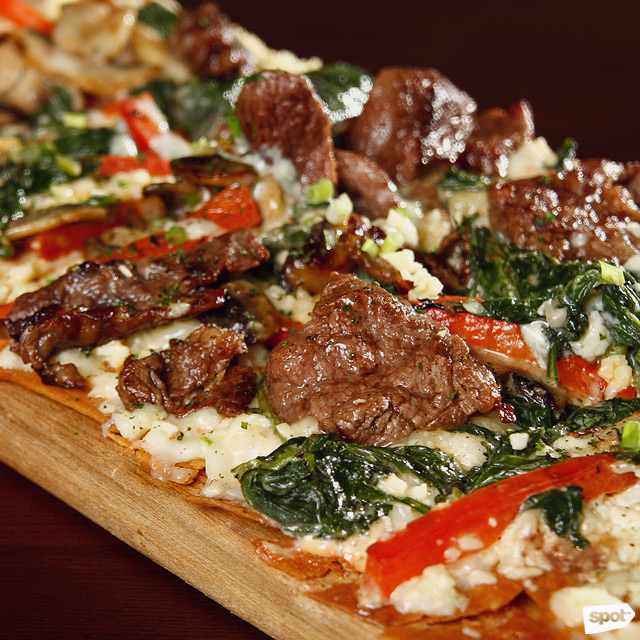 With an oven that could be the subject of sonnets, a Crispy Onion Tower (P345), and a plate of Steak & Greens (P575), George Town Super Steak seems at first like the sort of place that's all mouth and no trousers, but thankfully, the dishes live up to the visuals. There's something that's just so relaxing about knowing you're sitting down to some excellent steak, and the warmth in your belly can only be made better when you're surrounded by friends in George Town's bar setup. (The mural even says, "Fat gives meat flavor," and that's going to be our comeback from now on.)
George Town Super Steak is at Level 3 One Bonifacio High Street, 5th Avenue, Bonifacio Global City.
High Street Café
ADVERTISEMENT - CONTINUE READING BELOW
Picture this: You're with your coworkers in the middle of Makati on a Friday night, and the Metro Manila traffic is being its usual self. You can face it head-on if you like, but the sweeter alternative is High Street Café, where you can eat like royals even if it doesn't run in your blood. Tender-as-anything beef covered in a Santa Fe dry rub makes up the Churrasco Wagyu Rump, but steak isn't all they have. The Laksarap and Samui Salad can satisfy your and your coworkers' craving for Asian flavors.
High Street Café is at Shangri-La at the Fort, 30th Street corner 5th Avenue, Bonifacio Global City.
Tomatito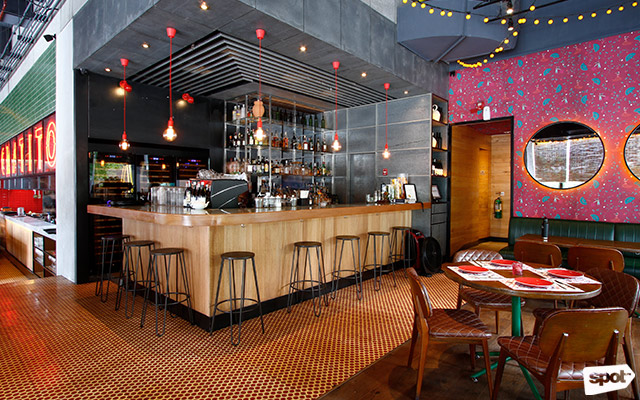 ADVERTISEMENT - CONTINUE READING BELOW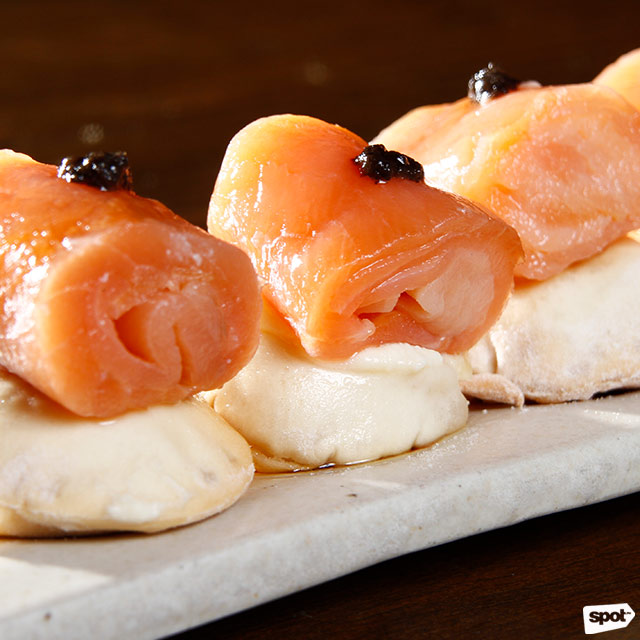 Do people still do double dates, or are we just getting old? At any rate, Tomatito is the place to do it, since they're known for "sexy tapas." If we're being honest, there are few things about Spanish food that aren't sexy, so they're a pretty safe bet when it comes to taking someone special for a night out. The Salmon TNT (P625) are, ostensibly, texture- and flavor-bombs, what with the hefty roll of the coral salmon sitting atop the airy, cheese-stuffed bread. Even the Parillada de verduras (P395), or char-grilled veggies, are brimming with different flavors—the balsamic vinegar reduction, sea salt, and overall smokiness of this dish are sure to impress. Discreetly, of course.
ADVERTISEMENT - CONTINUE READING BELOW
Tomatito is at 30th Street corner 11th Avenue, Bonifacio Global City. 
Misto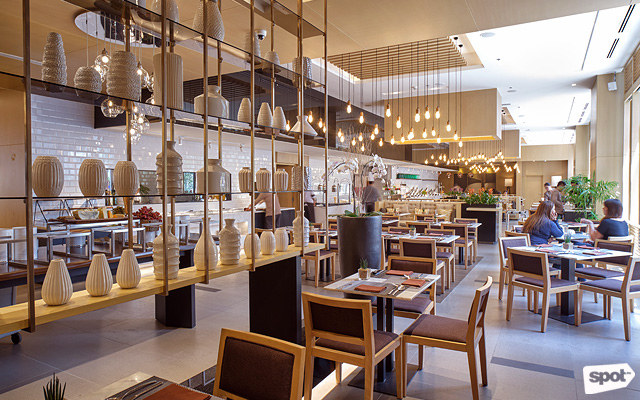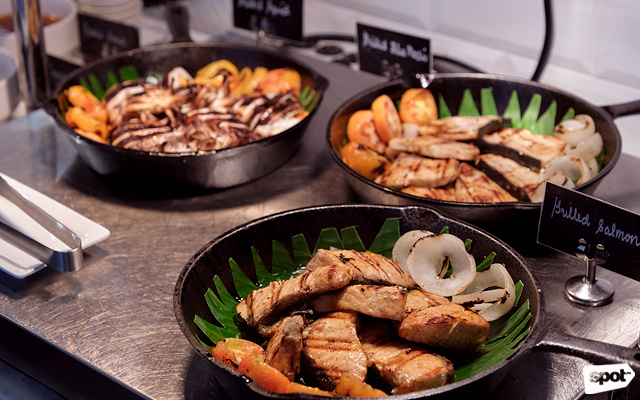 ADVERTISEMENT - CONTINUE READING BELOW
There are buffets, and then there's Misto. It's not shade when we say it doesn't taste like the kind of stuff you'd normally be served at hotels—if anything, it's a compliment. This elevated all-you-can-eat option (which goes for just P888) isn't only great for special occasions, but also a really down-to-earth iteration of the hotel buffet. They're switching up the menu all the time, but if you can catch it, the Buttered Chicken is a thing of beauty with its tender meat and super aromatic sauce. The Ceviche and cold cuts, though presented as hors d'oeuvres, might make up a meal if you're not careful—they're that good.
Misto is at Seda BGC, 30th Street corner 11th Avenue, Bonifacio Global City.
Osteria Daniele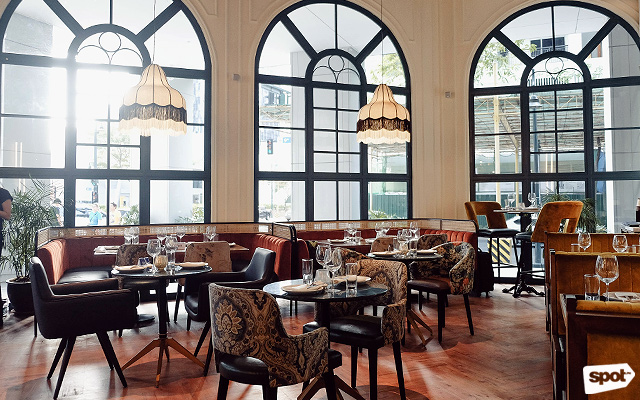 ADVERTISEMENT - CONTINUE READING BELOW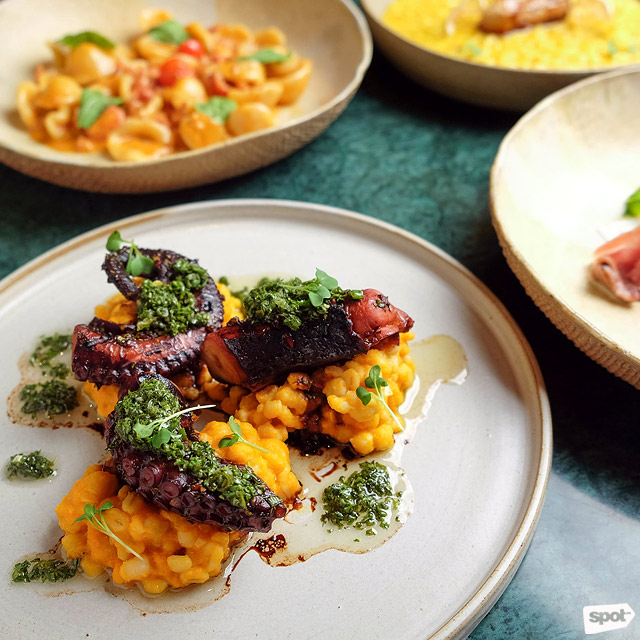 This is where you go when you want to get your fancy on, and as much as it looks like the sort of place where you'd meet the Big to your Carrie (sans… most of what happened), it's really ideal for groups. Osteria Daniele's take on Italian food actually isn't all that complicated; they just pick flavors that work, and that's how you know you'll have a lovely night out. Everybody can order a round of Aperol Spritzer (P450) and get a few spoonfuls of that vibrantly citrusy Risotto al Limone (P950)—the foie gras is just one of the many reasons this can't be a solo dish, even if you tried. A few servings of their Polpo alla Griglia (P995) should also be in the cards, especially if you're celebrating something.
ADVERTISEMENT - CONTINUE READING BELOW
Osteria Daniele is at G/F High Street Corporate Plaza, 9th Avenue corner 26th Street, Bonifacio Global City.
Manam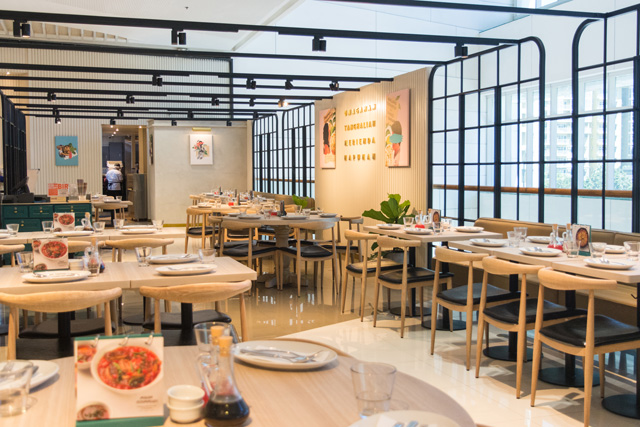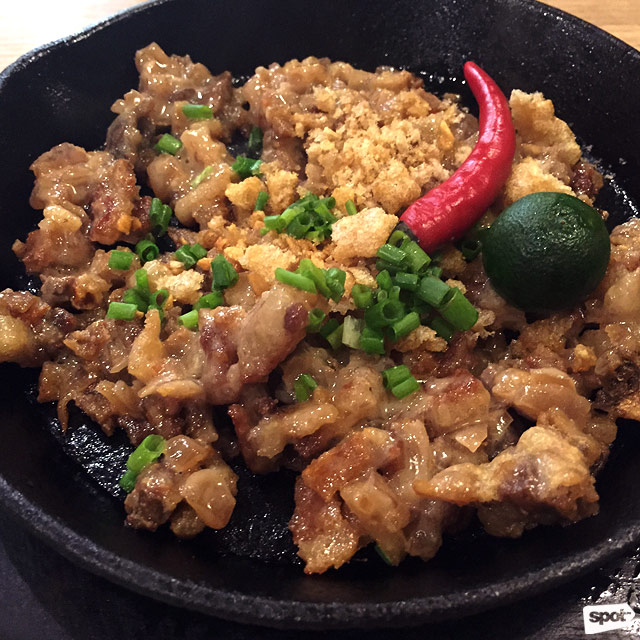 ADVERTISEMENT - CONTINUE READING BELOW
Can we really talk about group dining without mentioning Manam? We're not ready to live in such a world; that House Crispy Sisig (P150/small, P265/medium, P398/large) is almost the stuff of dreams. You get dinner and a show with the Crispy Pancit Palabok (P200/small, P385/medium, P645/large), but the Sizzling Corned Beef Belly Kansi (P270/small, P498/medium, P820/large) will have you ordering extra rice—and if you can't do that in front of friends and family, are they even really on your side?
Manam is at 2/F SM Aura Premier, C5 corner 26th Street, Bonifacio Global City.
Shiroi Daichi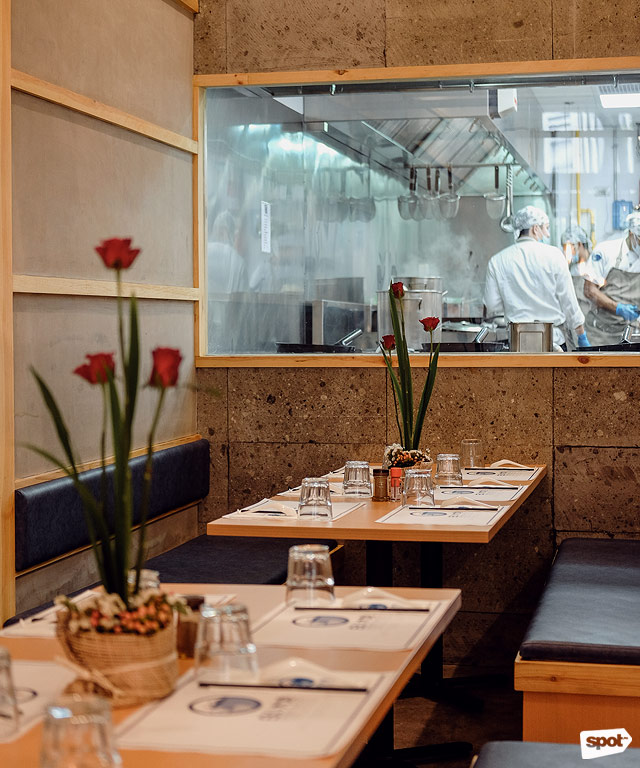 ADVERTISEMENT - CONTINUE READING BELOW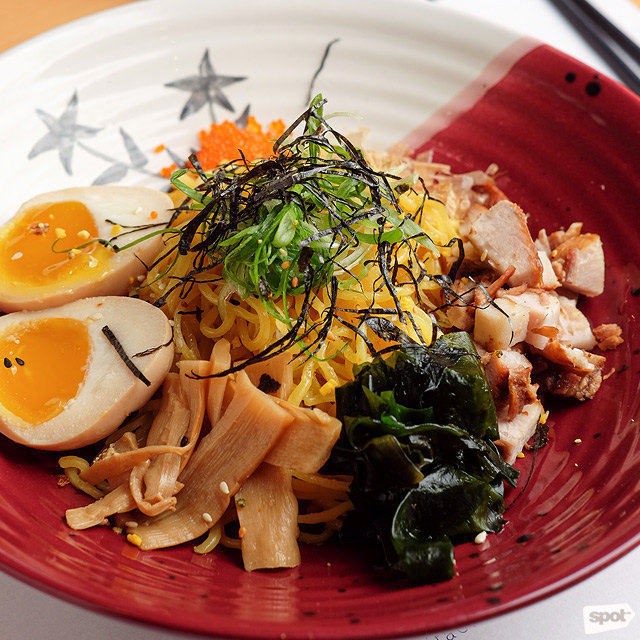 For quieter days when you're just looking to be together and have a good meal—perhaps it's raining, and no one's in the mood to speak much, but the company is much too pleasant to leave—Shiroi Daichi is the place. The broth of this Sapporo-style ramen joint perfectly straddles the line between rich and watery, but they also have a wide range of options for those who aren't up for soup. While the Miso Ramen (P450) has all the flavor of any good ramen without the heaviness, the Maze Men (P480) really can compete with the stars of the menu, in terms of both body and taste.
ADVERTISEMENT - CONTINUE READING BELOW
Shiroi Daichi is at Twenty-Five Seven McKinley, 7th Avenue corner 25th Street, Bonifacio Global City.
The Bowery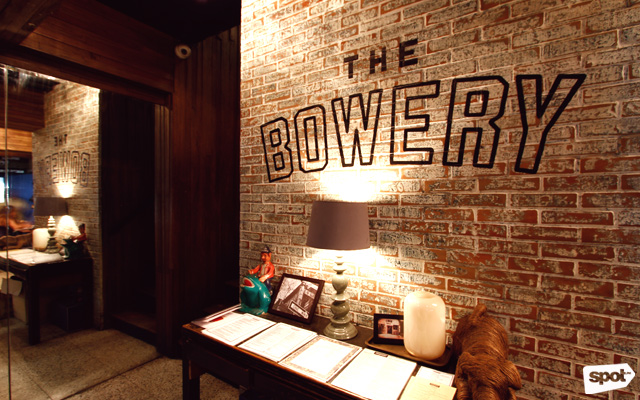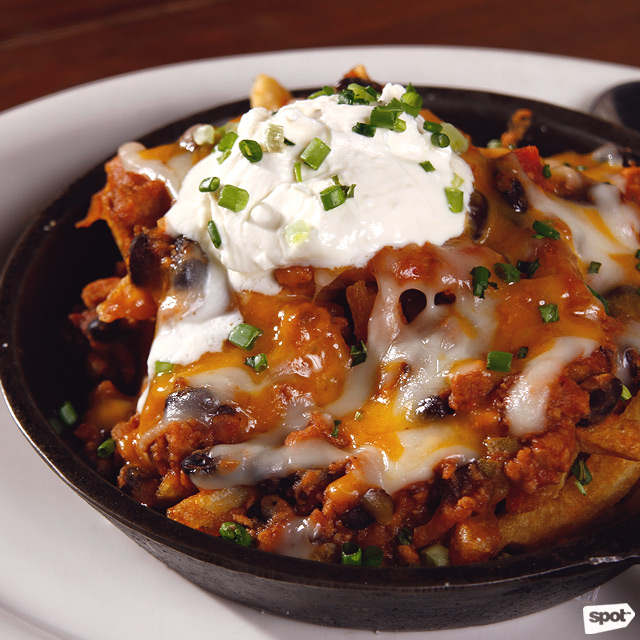 ADVERTISEMENT - CONTINUE READING BELOW
While no one is Carrie Bradshaw—except, you know, Carrie Bradshaw—you can certainly find little pockets of New York in and around BGC now. One excellent example is The Bowery, where comfort food reigns supreme. Start off with the Turkey Chili Cheese Fries (P380) and the Gluten-Free Classic Mac & Cheese (P440) and cap off the night with their new cocktails (which happen to have quirky names) like Fortune Cookie Wisdom (P340) or the Spicy Bad Boy (P150). Plus, this spot is open for 24 hours—perfect for spur-of-the-moment gatherings with the gang.
The Bowery is at G/F Rizal Drive corner 29th Street, Rizal Drive, Bonifacio Global City.
The Food Hall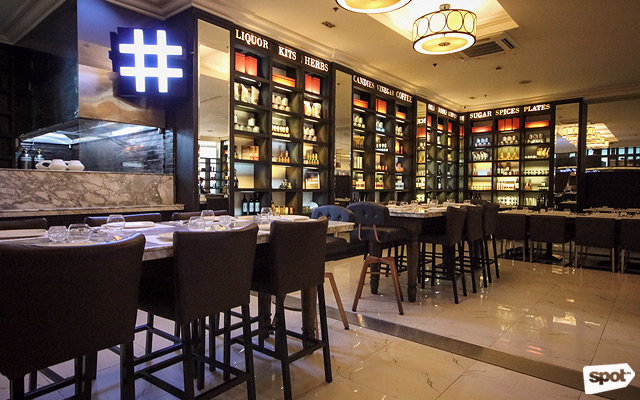 ADVERTISEMENT - CONTINUE READING BELOW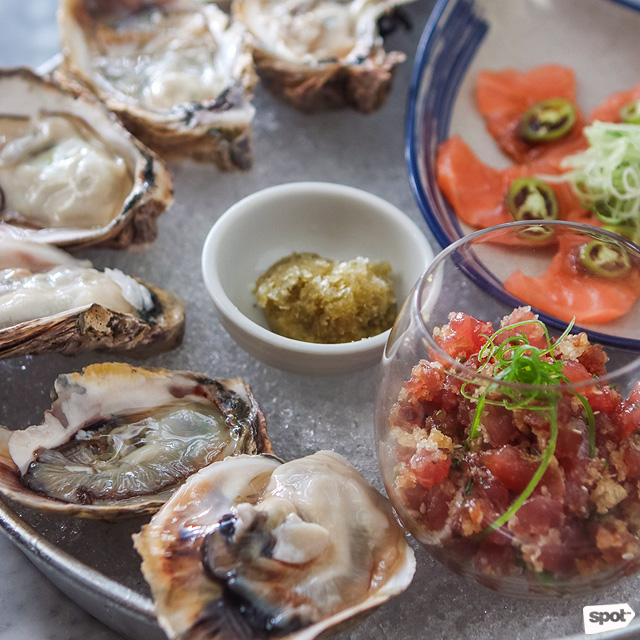 This food hall at SM Aura has been through quite a few changes over the years, but the beauty of a food hall is nobody has to go without what they love or be forced to eat what they're not into. If your group is feeling a little bold, the Raw Platter (P990) is a shareable sampler of oysters, salmon, and tuna; for a surefire hit, the Truffle Pasta is your best bet. You can also get a Flat Iron Steak (P680) cooked to your preference, plus your choice of sides that range from Creamy Mash Potato and Cream Corn to Steak Rice and French Fries. From that alone, you know every tummy will be satisfied.
ADVERTISEMENT - CONTINUE READING BELOW
The Food Hall is at 5/F SM Aura Premier, C5 corner 26th Street, Bonifacio Global City.
Motto Motto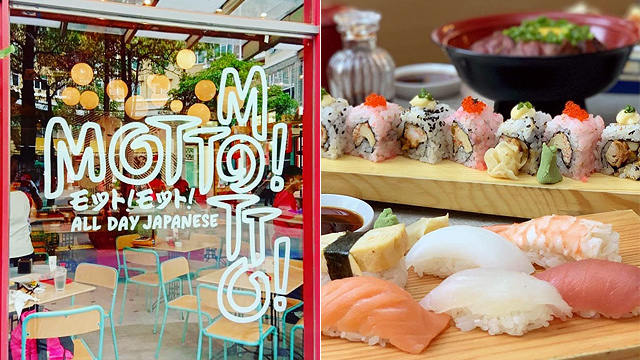 Japanese food can be a little daunting because of its range, but Motto Motto has something for everyone who loves every facet of the cuisine. Needless to say, the place is also kid-friendly. (We're at that age now where meeting your friends might also mean hanging out with their offspring!) The Omakase 5 (P675) is great for the sashimi lover, while their selection of Japanese soufflé pancakes is perfect for those in your group who can't get enough of the stuff. The real grownup among you might enjoy the Breakfast Teishoku (P675) the most, with the savory salmon and custard-like chawanmushi being the stars of the tray.
ADVERTISEMENT - CONTINUE READING BELOW
Motto Motto is at G/F Serendra, McKinley Parkway, Bonifacio Global City.
Share this story with your friends!
---
Help us make Spot.ph better!
Take the short survey
More Videos You Can Watch
Load More Stories