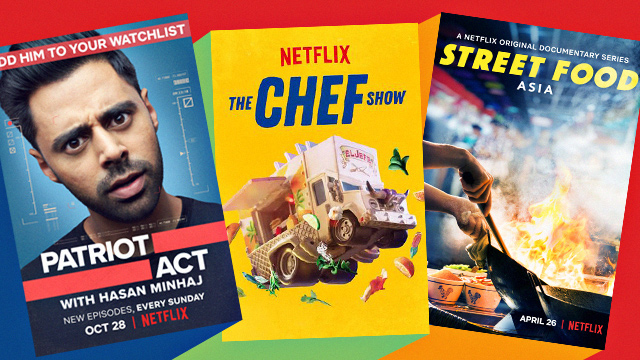 (SPOT.ph) It's come to the point where averaging three to four hours in your commute isn't exactly unheard of. While the powers-that-be work to create solutions that are actually helpful to the average commuter, all we can do is wait some more—and wait in line or for our turn to finally board the train or shuttle. Man, that's a lot of waiting. And what can you do to survive the grueling wait? You can turn to some entertainment to pass the time. There are Netflix shows you can watch while in transit—light, funny, and entertaining, with most of them running at just a little over 30 minutes—to start or end a busy day on a good note. Yes, even when getting a ride is a struggle.
Here are commuter-friendly shows on Netflix to watch to pass the time:
Aggretsuko
Aggretsuko follows the life of Retsuko, a 25-year-old anthropomorphic red panda who's a diligent worker at a prestigious trading firm by day—and a raging, death metal-belting girl after hours. Throughout the episodes, Retsuko is seen pouring out all her frustrations from work and everyday life via karaoke, and facing scenarios all too familiar to many of us: dreaming of starting a business, planning to get married, trying to survive a day at the office, and a whole lot more.
ADVERTISEMENT - CONTINUE READING BELOW
Explained
This docu series produced by Vox Media easily invalidates all excuses of being too busy with work and life happenings to learn. To give you an idea, the episodes for Explained are similar to Vox's YouTube video explainers, only a bit longer and more comprehensive. The best thing about Explained is that the topics are so diverse—there are episodes about K-Pop and astrology, as well as the gender pay gap and cryptocurrency, among others, and delivered in a way that's both entertaining and educational without sounding like a textbook.
The Chef Show
The Chef Show, which stars real-life friends, actor Jon Favreau and chef Roy Choi, boasts both food and cooking techniques and high star power, with each of its eight episodes featuring Hollywood celebrities and prominent figures from the culinary world. In one episode, the stars of the show even shared a meal with the cast of Avengers in Atlanta!
Patriot Act with Hasan Minhaj
One of the more serious shows in this list, Patriot Act with Hasan Minhaj is a variety show hosted and created by the comedian, writer, and political commentator. It's as groundbreaking as it is controversial, as Minhaj takes on a hard-hitting stance on political, cultural, and pop culture topics. You may have first heard of the show after buzz about its discussion on the Drug War and the President of the Philippines made rounds on the Internet.
Follow This
Most of us know BuzzFeed for their entertainment content, but did you know that the company also churns out news and investigative pieces? Follow This, dubbed "a new pop doc series," shows BuzzFeed reporters covering topics on tech, culture, politics, and social media. The first episode, which you certainly shouldn't miss, sets the pace for the entire show: it exposes a chilling, sobering look at how sophisticated tech can threaten reality and even destroy lives. With each episode running just under 20 minutes, you might even get to finish an entire season during your commute!
CONTINUE READING BELOW
Recommended Videos
Russian Doll
The Emmy-nominated, eight-episode Russian Doll follows the story of Nadia (Natasha Lyonne), who dies on the night of her 36th birthday and becomes stuck in a time loop as she finds herself repeating the events of that night over and over again. Throughout the rest of the show, we see her desperately trying to figure out what is happening to her. We won't give you any spoilers—you have to see the show for yourself.
Taco Chronicles
Taco Chronicles is a six-part series that explores the origins and methods of preparation of six different styles of tacos: al pastor, carnitas, canasta, carne asada, barbacoa, and guisado. It also introduces the audience to the different purveyors of the taco, giving everyone newfound appreciation for the dish. A word of caution: don't watch this when you haven't had dinner yet.
I Think You Should Leave with Tim Robinson
If you love comedy or are simply looking for something light and funny, this Tim Robinson-starrer is right up your alley. I Think You Should Leave packs short comedy sketches in 18 minutes or under, all depicting seemingly familiar and ordinary situations that pretty much escalate into something silly or outlandish. Robinson, who also co-created, wrote, and produced the six-episode series, was a former Saturday Night Live cast member. You'll see some familiar faces from the show including Adam Samberg, Vanessa Bayer, Will Forte, and Cecily Strong.
Street Food
We've already heard so much about Street Food even before it premiered on Netflix, thanks to the show dedicating one whole episode to Cebu. As its title implies, this series is a celebration of the sumptuous street food found in nine cities across East, Southeast, and South Asia, and the heroes who keep the tradition alive. Trust us when we say it'll make you want to hop on a plane soon to these places, just to chow down on all the local street food you'll see. Or maybe have a go at the street food you'd find along the sidewalk on your way home.
ADVERTISEMENT - CONTINUE READING BELOW
Love, Death & Robots
As the title implies, this science-fiction adult animated series is all about love, death, and robots—sometimes, with all themes appearing in one episode. Even if you don't have an affinity for sci-fi, Love, Death & Robots will get you hooked with mind-bending stories set in dystopian worlds and faraway galaxies, and well-crafted visuals ranging from 2D animation (as seen in the "Good Hunting" episode) to 3D computer graphics in "Beyond the Aquila Rift." None of the series' 18 episodes run beyond 17 minutes, which means you can actually finish binge-watching it in a little over five hours (hopefully, not during an entire one-way commute). Be warned: Some episodes are NSFW.
Your guide to thriving in
this
strange new world.
Share this story with your friends!
---
Help us make Spot.ph better!
Take the short survey
Load More Stories