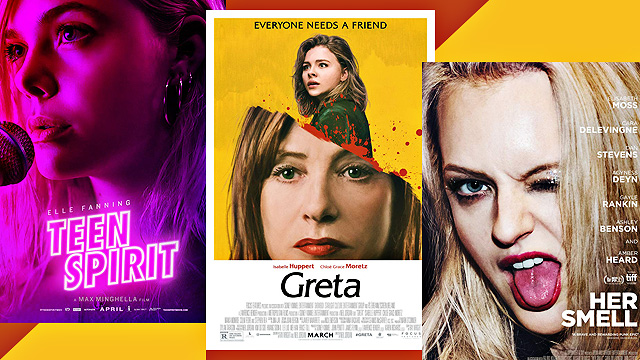 (SPOT.ph) In a year dominated by Disney, the first studio in history to have five films join the billion-dollar club in a single year (Avengers: Endgame; The Lion King; Captain Marvel; Aladdin; Toy Story 4), with more possible contenders yet to come in the forms of Star Wars: The Rise of Skywalker and Frozen 2, lots of other films have fallen off everyone's radar. Non-blockbuster movies haven't lit up the box office quite like their bigger brethren, but that doesn't mean they aren't worth seeing! Whether they just sadly didn't get a Philippine release or lost theaters due to much bigger films, we didn't get a chance to see these films.
From festival favorites to indie movies, here's a list of 10 non-blockbuster films we wish we saw in theaters this year.
Fast Color
Directed by: Julia Hart
Fast Color digs into the superhero genre in a way that blockbuster films don't. Set in a future America, Gugu Mbatha-Raw (Black Mirror's "San Junipero") stars as a woman with supernatural abilities, and due to her powers, is being chased by law enforcement and scientists hoping to prick and prod her and test her abilities. A grittier take on superpowers, Fast Color doesn't turn its superpowered heroine into a world-saving hero, but instead makes her a runaway just hoping to live her life.
ADVERTISEMENT - CONTINUE READING BELOW
The Farewell
Directed by: Lulu Wang
Sundance Film Festival hit The Farewell is all about cultural divides and family dynamics through the eyes of an Asian-American woman named Billi (Ocean 8's Awkwafina) and her closeness with her grandmother, who lives in China. Billi finds out that her grandmother nicknamed Nai Nai has been diagnosed with terminal cancer, but she then also finds out that the family has decided not to tell the grandmother about it. Instead, the family devises a complex plan that includes a wedding in order to visit Nai Nai before she passes. Critics have praised Awkwafina's against-type performance and the film's charm and balance of drama and comedy.
Her Smell
Directed by: Alex Ross Perry
A Star is Born took the headlines last year with its story about destructive and talented singers, but the indie market has several of the same that are worth seeing. Her Smell stars Elisabeth Moss (The Handmaid's Tale) as rock star Becky, who has self-destructive tendencies. After a brief spell of fame with her band, Becky goes off the deep end, causing friction among her bandmates. Critics have claimed that Moss gives an incredible performance, and have praised the way the film deals with the negatives of the rock-and-roll life.
The Souvenir
Directed by: Joanna Hogg
Unlike the tween and cutesy young-adult films usually making noise in theaters, The Souvenir takes a more dramatic route to tell a woman's coming-of-age story. Based on director Joanna Hogg's own experiences in school, The Souvenir is about a film-school student who gets into a destructive relationship with an older man, affecting the art that she creates. This film won the top prize at the Sundance Film Festival this year, and stars Honor Swinton Byrne in her first leading role alongside her mother, the one and only Tilda Swinton.
Greta
Directed by: Neil Jordan
Director Neil Jordan has directed some films you'd be familiar with—Interview with the Vampire and The Crying Game among them—so it's always exciting to see a new project from him. In his latest, Greta, a young woman (Chloe Grace Moretz) finds a handbag left in the subway, and promptly returns it to Greta (French acting icon Isabelle Huppert). The two form a bond that travels into some very disturbing territory. Said to be a campy, wild, and bonkers, this psychological thriller sounds like a good time.
Fighting with My Family
Directed by: Stephen Merchant
Many WWE fans already know the story of the professional wrestler named Paige (real name Saraya Bevis), but Fighting with My Family isn't just for wrestling fans. It's an inspiring sports drama just like other sports films out there; this just has some professional wrestling thrown in. In this film, produced by wrestler-turned-actor Dwayne "The Rock" Johnson himself, Saraya (played by Midsommar's Florence Pugh) and her brother dream of becoming professional wrestlers for the WWE, and when the opportunity presents itself, they work hard to make their dreams come true. When she is accepted, but her brother is not, family and career go head-to-head. The film also stars Lena Headey (Game of Thrones), Nick Frost (Shaun of the Dead), Vince Vaughn (The Internship) and The Rock.
Teen Spirit
Directed by: Max Minghella
Similar to Her Smell, musical drama Teen Spirit is about a young singer who dreams of stardom while living a damaged and toxic life. Directed by actor Max Minghella (The Social Network) in his directorial debut, Teen Spirit is a neon-colored dive into the world of singing contests and magical dreams. Elle Fanning (Maleficent) stars as the aspiring singer Violet. Here, she gets to show off her pipes with songs by Swedish pop sensation Robyn. The film also features songs written by Katy Perry, Ellie Goulding, Ariana Grande, and many, many more.
ADVERTISEMENT - CONTINUE READING BELOW
Gloria Bell
Directed by: Sebastián Lelio
Sebastián Lelio directs an English-language remake of his own 2013 Chilean film Gloria, this time featuring Academy Award winner Julianne Moore in the lead role. The original Gloria, Paulina Garcia, won a Best Actress award at the Berlin International Film Festival so Moore has some big shoes to fill. In Gloria Bell, Moore plays Gloria, a middle-aged woman trying to get back on track after her divorce. She spends her time at clubs dancing the night away, while dealing with a mid-life crisis and her children growing up.
High Life
Director: Claire Denis
High Life is critically acclaimed French director Claire Denis' first English-language film and it's a big one, starring former Twilight star-turned-indie darling Robert Pattinson and French legend Juliette Binoche in a sci-fi horror that's said to be visually spectacular as well as engaging and challenging. The film is about a group of criminals including Monte (Pattinson), who are serving death sentences and are experimented on by Dr. Dibs (Binoche). The crew members are sent to space to find alternative energy fuels from a black hole, but some horrific things happen along the way.
Where'd You Go, Bernadette
Director: Richard Linklater
The Before trilogy and Boyhood director Richard Linklater teams up with the always-excellent Cate Blanchett (Blue Jasmine) for this adaptation of the 2012 best-selling novel of the same name, and if that combination of names doesn't excite you, then maybe the story will. In this film, Bernadette (Blanchett) hates going outside and hates other people, but at some point, suddenly disappears. Her daughter Bee (Emma Nelson) must find out where her mother has disappeared to and what actually happened. This mystery dramedy also stars Kristen Wiig, Billy Crudup, and Laurence Fishburne.
Share this story with your friends!
---
Help us make Spot.ph better!
Take the short survey
More Videos You Can Watch
Load More Stories