Mindy Kaling's New Netflix Show Is a Much-Needed Dose of Diversity and Empowerment
Never Have I Ever is not your usual teen comedy.
(SPOT.ph) Let's be real—no one has the perfect high school experience. You might say you enjoyed it, but it's okay to admit you'd take up any opportunity to go back in time to do at least one thing differently. Maybe you'd choose to not have a crush on someone who was actually a jerk, or perhaps you wouldn't wear that one tacky outfit to a major school event. Whatever it was, it's in the past now, but it can pop up in your head when you least expect it, rendering you unable to forget it once and for all. It is nice to know that you're not alone when it comes to all those embarrassing moments, as teen comedies comfort you with the fact that everyone goes through it.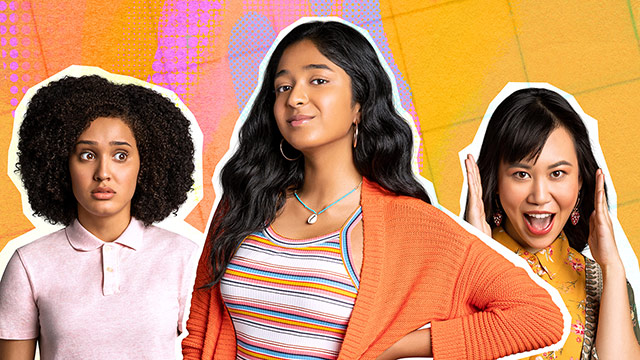 Netflix's latest teen comedy Never Have I Ever is from comedian Mindy Kaling. It's filled with familiar scenes from high school, but there is one thing that sets it apart from other teen comedies: Its protagonist is first-generation Indian-American girl Devi, who juggles classic high-school struggles with identity crises unique to her heritage. We got the chance to sit down with the Never Have I Ever cast and co-writer Kaling to talk about how the show came to be, and what makes it so unique.
ADVERTISEMENT - CONTINUE READING BELOW
Kaling is most known for her role as Kelly Kapoor in The Office, but she has gone on to write for film in TV. She created, produced, and starred in The Mindy Project, lent her voice to Despicable Me, Wreck-It Ralph, and Inside Out, and played roles in movies like the fantasy adventure A Wrinkle in Time and the heist flick Ocean's 8. Kaling does more than just television and film—with two best-selling memoirs to her name—but what she hasn't done is create and run a series about a diverse bunch of kids just trying to find their place in the cruel high school food chain. Never Have I Ever is her first dip into the genre, and it all started with a suggestion from Netflix executive Brooke Kessler.
CONTINUE READING BELOW
Recommended Videos
Kessler read both of Kaling's books titled Is Everyone Hanging Out Without Me? (And Other Concerns) and Why Not Me? Though only small portions of Kaling's books talked about her teenage years, she thought it was a great idea to turn Kaling's moments into a TV show. "I had never written anything for teenagers. And I was kind of scared of it, to be honest," Kaling admits. When asked why, she recalls that time of her life to be something totally uncool: "I think it's because my own teenage years are fraught with awkwardness and I just wasn't sure if I wanted to go delve into that world for comedy."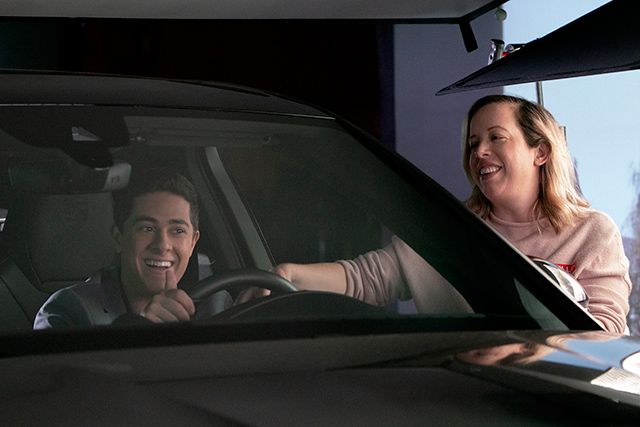 ADVERTISEMENT - CONTINUE READING BELOW
Those fears were eventually thrown out the window once she talked to Lang Fisher, a good friend who worked on The Mindy Project and 30 Rock. "We both bonded over being nerds all through high school," Kaling shares, and it's that common ground that made them "[feel] like the kind of nerds that we were had not been seen on TV." Kaling and Fisher then decided it was time for their brand of nerd to shine. "It felt like a really fun opportunity. And so [the idea to do this] really came from Netflix," Kaling says. 
There's a first time for everything, and Kaling, along with the cast of Never Have I Ever, are partaking on a number of firsts with this series. Apart from trying to write about a younger demographic for the first time ever, Kaling is also writing about a type of teenage girl not often given the spotlight in shows. "I'm so honored to be able to be the first person to depict an Indian-American teenager on TV in a starring role—that's the thing I think I'm most proud of," Kaling shares.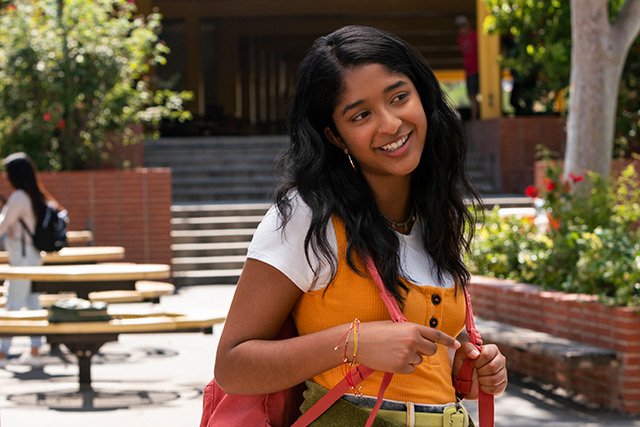 ADVERTISEMENT - CONTINUE READING BELOW
Never Have I Ever stars newcomer Maitreyi Ramakrishnan as Devi, a teenager who grew up in the United States but was born to two Indian parents. She's all set to take on another year of high school after a subpar freshman year, but she'll soon realize that it's easier said than done. Devi's life is a mix of her cultural backgrounds with every episode peppered with references to Indian culture—something new and different compared to other teen shows like Riverdale.
At its core, Never Have I Ever takes on the spirit of Kaling's younger years. While a large part of it draws inspiration from her experiences, it's also different in a lot of ways. "Obviously, I grew up in the '80s and '90s. And this character is going through high school now in the current day. So our childhoods look really different. And our families looked really different," Kaling explains. But if there is one thing that's distinctly "Mindy Kaling" reflected in the show, it's how the main character Devi practices her faith as a Hindu. Kaling provides an all-too-specific example: "Any of my white friends would think this was the weirdest thing—that we have a Hindu priest come and bless our books or our cars, things like that." It sounds bizarre for some, but she's excited to see the exact same thing on the show.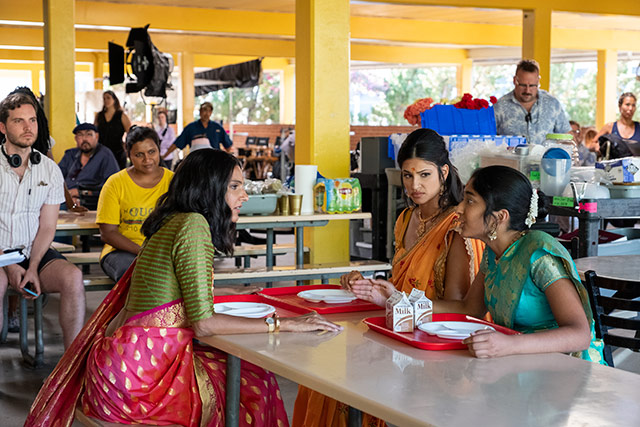 ADVERTISEMENT - CONTINUE READING BELOW
You can look forward to having to pause out of laughing too much, but there are some scenes that will have you needing to take a step back, breathe, and process all the emotions. This is the first time an Indian-American girl is taking the lead in a funny coming-of-age series, and it's not without its quiet moments of reflection. "One of the things that's unique about the show is the way that it deals with grief," Kaling expresses without spilling too much. Both Kaling and Fisher have dealt with loss, and it's something they wanted to delve into with a young protagonist.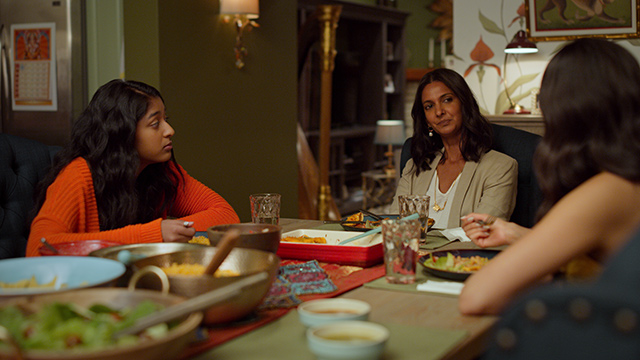 You would know by now that adolescence is a strange time—you want to be popular, you're aiming for a bright future ahead of you, you're trying your best to meet the demands of your parents, and yes, you're busy daydreaming about the cutest person in school falling for you. Devi is a ball of angst, rage, and romantic daydreams, but she also has to deal with inescapable pangs of grief. "And to me that felt unusual," Kaling muses. Wanting to get the complex concoction of emotions and experiences right, "we watched a lot of really great teen shows in preparation for this," she adds.
ADVERTISEMENT - CONTINUE READING BELOW
Kaling and Fisher also made sure of one thing: they wanted to cast actual teenagers in the roles. So no, you won't be seeing 35-year-olds attending classes or even 24-year-olds catching the bus, pretending to be high school students. Ramakrishnan plays Devi, and by her side are best friends: the eccentric Eleanor and the tech-savvy Fabiola, played by Ramona Young and Lee Rodriguez, respectively. The show pokes fun at how the friend group seems like a United Nations meeting, but Ramakrishnan, Young, and Rodriguez know how important their roles are, and what it means for young girls to see minorities in a show.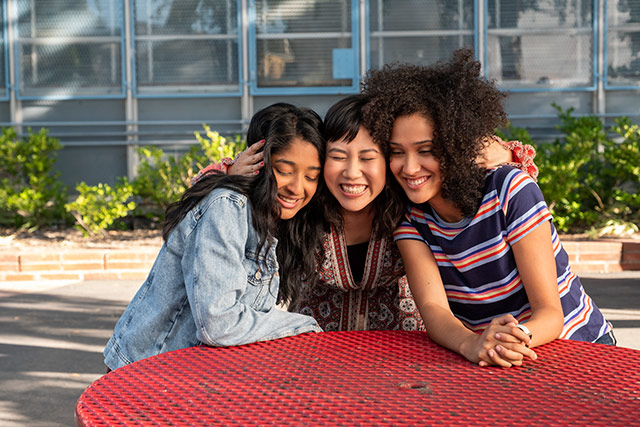 "We've waited a long time as minorities. I didn't grow up with a show with a character that looked like me. We were either the butt of a joke or the sidekick, or we just had one funny line. And that's it. That's totally not the story for us," Ramakrishnan shares. Lee thinks it's about time girls can watch a show and finally relate to someone: "I feel like [for] young girls watching, it's important for them to feel seen and represented. It's such a huge honor to do that for younger women of color and minorities."
ADVERTISEMENT - CONTINUE READING BELOW
Young echoes the same sentiments, and reiterates that their characters celebrate the many sides of being a girl. "Women can also be smart and funny and independent!" she concludes.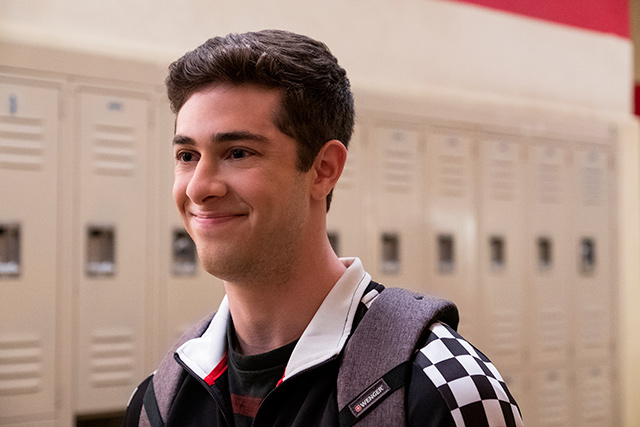 Aside from the outspoken gals on Never Have I Ever, the show is also home to two multi-layered male characters: Paxton, played by Darren Barnet, and Ben, played by Jaren Lewison. Barnet, who is of Japanese descent reveals that his character Paxton was actually given a Japanese last name when Kaling and Fisher found out about his roots. "It was very collaborative," he says when asked how the show's characters came to be. Kaling and Fisher had a vision for the teens on the show, but the actors themselves were given room to explore and add to their character.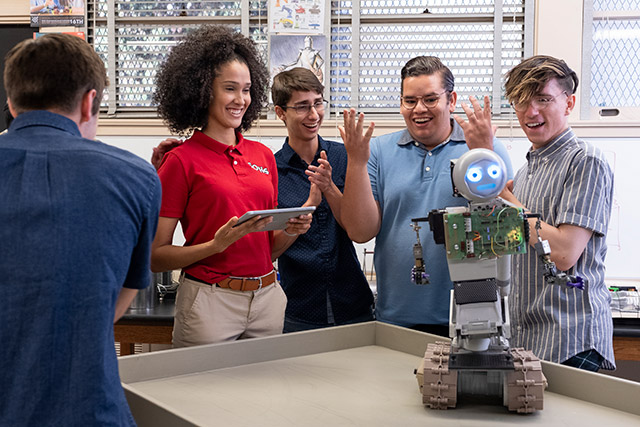 ADVERTISEMENT - CONTINUE READING BELOW
"She always give us the ability to do that to create the most honest performances," Lewison adds. Kaling leaves space for characters—and the actors—to grow along the way. "We're not afraid to try different things and see how they play out," he recalls. 
At this point, the cast got busy fangirling and fanboying over Kaling, but it all boils down to the main point: Kaling marries humor and seriousness, work and play, and control and freedom. She knows what she wants, but she's not in business of making Never Have I Ever a Kaling-only project.
She's got big boss energy, and while the cast was intimidated at first, they never felt like they couldn't speak up or share their thoughts. "I never, ever felt like I couldn't question her," Ramakrishnan muses, and adds that she's happy to have had a cool boss on her first-ever job. 
ADVERTISEMENT - CONTINUE READING BELOW
On Kaling's side, she thought the cast was more helpful to her and the team than the other way around. She goes as far to say that the reason the characters are so fleshed out is because she learned a lot from them, and took those lessons to the script. "I don't hang out with teenagers much, right? So when they join the show, and we had this idea of what the script would be, it wasn't until we met them, got lunch with them, got to hear how they talk, and what their experiences were that really helped us in the script," Kaling says.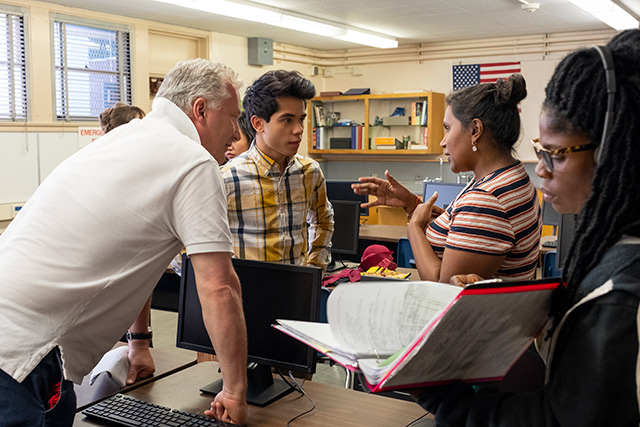 No spoilers, we promise, but we will have to say that show can get painful to watch at times—not because it's bad or unrealistic—but because it reminds you so much of how it was to be an embarrassing teenager who didn't know any better. That, and it drops truth bombs you might have been too afraid to admit or face as a teen. Kaling knows the 16-year-old version of her would never listen to the 2020 version of herself, and instead of shaming teenagers for not listening, she writes Never Have I Ever in a way that celebrates learning from your own mistake and experiences.
ADVERTISEMENT - CONTINUE READING BELOW
Barnet agrees, adding, "[Kaling] really did a great job of tips on the boundary between keeping it funny and light-hearted, but also by making it real and tackling issues without being preachy about it." Because truly, being preachy is the last thing an educated young audience wants.
Many coming-of-age shows have come and gone to drop nuggets of wisdom along the way. In the same light, countless teen comedies have seen light of day and made audiences laugh with every witty line and aptly timed joke. Never Have I Ever borrows heavily from the two genres and injects it with diversity, teenage issues, and representation without fear and reclaims the narrative for the kids who never had a voice or never saw themselves on TV. It feels familiar and foreign, predictable and unexpected, and harsh and heart-warming all at the same. It's impossible to encapsulate your teenage years into just one 30-episode, and Never Have I Ever unearths those embarrassing moments, crazy crushes, and identity crises one episode at a time. 
Never Have I Ever is now streaming on Netflix.
Your guide to thriving in
this
strange new world.
Share this story with your friends!
---
Help us make Spot.ph better!
Take the short survey
Load More Stories