10 Films You May Be Better Off Not Watching
Ever watched a film that made you want to gouge your eyes out?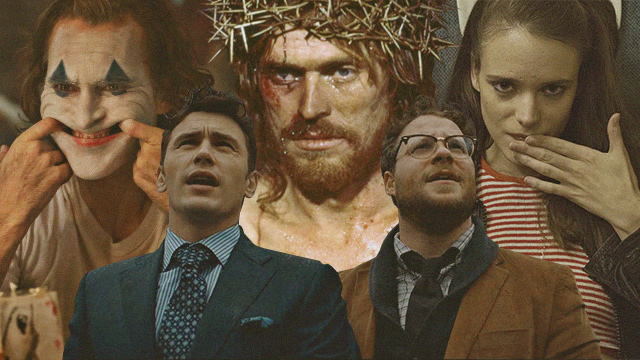 (SPOT.ph) Films, as a medium, can either convey something wondrously magnificent or something absolutely horrid—and at extreme levels, they can be representative of all the things about humanity we'd rather not face. Some movies are just terrible. Not in the way Tommy Wiseau's cult classic The Room is bad, but in that these films can make you feel both less and more human after watching them. 
ADVERTISEMENT - CONTINUE READING BELOW
We round up a few of history's most bleach-my-eyes-cleanse-my-soul-worthy flicks, from mainstream faves to art house picks, and leave you to decide if they're worth the ride. It won't just be gruesome visuals either—some have been included thanks to the controversy that follows the film, even years after its release. And since we're discussing what makes them worthy of the title of "disturbing," be prepared for spoilers!
Also read:
10 of the Most Controversial Books of All Time
10 Classic Pinoy Films You Probably Didn't Think You Could Legally Stream

Can you sit through some of the most shocking, controversial films ever made?
Salò, or the 120 Days of Sodom (1975)
CONTINUE READING BELOW
Recommended Videos
Where do we even begin with this notorious film? This unflinching look into human cruelty takes the infamous Marquis de Sade's 18th-century litany of fictional, feverish sexual abuses—a.k.a. the unfinished 120 Days of Sodom novel—and melds it with fascist, World War II-era Italy and then adds a hefty dash or two of Dante's Inferno for good measure. In it, four Italian statesmen run off to a picturesque Italian villa accompanied by a few well-hung soldiers, old prostitutes dressed almost exclusively in formal wear, and 18 kidnapped girls and boys. There is rape, sodomy, forced marriages, eating of shit and glass, gouging out of eyes, and an increasing variation of torture; all shot, not in the feverish delirium orgies usually are, but in a cold, unfeeling style. This was the last film of director Pier Paolo Pasolini before he was murdered by a 17-year-old boy he tried to pick up—though there are whispers that Pasoloni's communist ideas may have had more to do with it.
ADVERTISEMENT - CONTINUE READING BELOW
The Human Centipede (2008)
There was no way this list could skip over the body-horror cult classic that is The Human Centipede trilogy—yes, you read that right: The concept of stitching human beings together through their digestive tracts to create a "human centipede" warranted three whole movies. The first one presents the almost-predictable mad doctor and unfortunate tourists, the next one goes the meta-route and shows a fan of the first movie how to try and create his own human centipede, and the last wraps things up with a full-blown 500-person centipede. We don't know exactly what redeeming factor this series offers, but at the very least, it's...entertaining?
The Interview (2014)
It takes a special kind of person—or in this case, persons (producers and directors Seth Rogen and Evan Goldberg)—to create an irreverent comedy that could have potentially started a nuclear war. Rogen and James Franco star as journalists who score an interview with absolutely non-fictional North Korean dictator Kim Jong-Un (played by equally baby-faced Randall Park) and are subsequently recruited by the Central Intelligence Agency to assassinate him. North Korea reportedly threatened to retaliate with 9/11-style attacks should U.S. theaters decide to screen the film and Sony Pictures Entertainment was hacked. The Interview was screened in mostly independent theaters across the U.S. before making its way to streaming platforms.
ADVERTISEMENT - CONTINUE READING BELOW
Irreversible (2003)
Director Gaspar Noé is known for his slew of controversial films; everything about them is usually overt—overtly violent, overtly sexual, overtly just too much. Watching his films may be difficult for some, and Irreversible is arguably the first Noé film that cemented this fact. The story starts with a perfectly happy couple played by Monica Bellucci and Vincent Cassel—and ends with a brutal and unflinching minutes-long rape, and murder scene (we won't tell whose or how). The beauty of Irreversible (or perhaps what is most damning about it) is that the film tells the story in reverse, ending by focusing on everything the characters will end up losing—which makes their loving faces all the more difficult to look at.
The Exorcist (1973)
It isn't that the '70s film isn't scary enough by itself—demon possession is a trope that horror fanatics will probably never tire of, and this movie has the bragging rights of being one of the OG—but it's the accompanying "curse" that surrounds the film which gives it an allure that is unmatched today (The Conjuring who?). Filming was reportedly marred by a series of strange accidents, from people getting sick and fainting on set, to a mysterious fire that burned everything except the possessed child's bedroom. Paul Bateson, who played a nurse in the movie, was convicted in 1979 for murder.
ADVERTISEMENT - CONTINUE READING BELOW
A Serbian Film (2010)
We're sure you've heard of this film by Serbian director Srdjan Spasojevic before—it's also his first film, shockingly enough. This ultra-violent, ultra-graphic pure-exploitation piece—a child is sexually abused at one point, though that's probably just one shocking moment worth mentioning—isn't what one would expect a first foray into film would be like. Retired porn actor Milos (Srdjan Todorovic) is lured back into "acting" by a creepy-looking director in exchange for enough money to provide for his wife and young son for life—except that he gets no say in what scenes he acts in and what he does. The scenes-within-a-scene progressively become more and more lurid and audiences are left wondering whether what they're looking at was merely simulated or legitimately real.
Blue Is the Warmest Color (2013)
Aside from the fact that this pastel-colored dreamy lesbian tale isn't something you can watch with the usual Pinoy, Catholic family, this pop-culture phenomenon is also marred—or for some we'd rather forget, made better—by an overly long, almost gratuitous sex scene. Accusations of that sex scene (and the overall portrayal of the love-affair) being less about art and more about male voyeurism started flitting about, and that sentiment was cemented by the titular character's stars Léa Seydoux and Adèle Exarchopoulos criticizing director Abdellatif Kechiche's methods. Seydoux stated in an interview that it took 10 days of filming before the director was satisfied with their sex scene. Julie Maroh, author of Blue, the comic book which served as basis for the film, criticized it by writing on her blog, "This was what was missing on the set: lesbians."
ADVERTISEMENT - CONTINUE READING BELOW
Joker (2019)
There's no denying the magnanimity of Joaquin Phoenix's portrayal of Joker, nor can we deny the polarizing effects of Todd Phillips' thoroughly humanizing and de-humanizing take on the DC villain's origin story. Did it or did it not promote nihilistic violence? The psychological thriller was accused of carrying messages glorifying all sorts of violence including the online world of incel culture. As a statement from the company behind the movie reads, "Warner Bros. believes that one of the functions of storytelling is to provoke difficult conversations around complex issues."
The Last Temptation of Christ (1988)
Why would a Martin Scorsese-directed film portraying the life and death of Jesus Christ be banned in the Philippines? Well, simply put, because it dared to show a much-too-human side of the messiah. Willem Dafoe plays a very conflicted Jesus Christ in the three hour-long film who agonizes over the choices he must make: ultimately, save the sheep or give in to his human desires. Perhaps the most scandalous bit of the film is a lovemaking scene between Christ and Mary Magdalene (Barbara Hershey)—a sequence that the human incarnation of God only imagines. Best to note that this retelling was not based on actual gospel, but an equally controversial novel of the same name by Nikos Kazantzakis.
ADVERTISEMENT - CONTINUE READING BELOW
Nymphomaniac: Volumes I & II (2013)
Lars Von Trier is another director known for making out-of-the-box films, to put it mildly. His unofficial and so-called "depression trilogy," which consists of Antichrist (2009), Melancholia (2011), and most recently, Nymphomaniac, are all incredibly difficult to watch. Antichrist has perhaps the most-shocking storyline, where a couple's baby dies while they have sex in the next room followed by an inevitable descent into madness. Nymphomaniac is better known thanks to its graphic and explicit depictions of sex as it tells the wild tale of Joe (Charlotte Gainsbourg), a sex-addicted woman. It is, at its core, a study of a woman with a much-higher libido than society allows, but it also tests the limits, in many, many ways. 
Share this story with your friends!
---
Help us make Spot.ph better!
Take the short survey
Load More Stories