10 Adrenaline-Pumping Action Movies That Actually Have Plot
Because we all need meaning in life.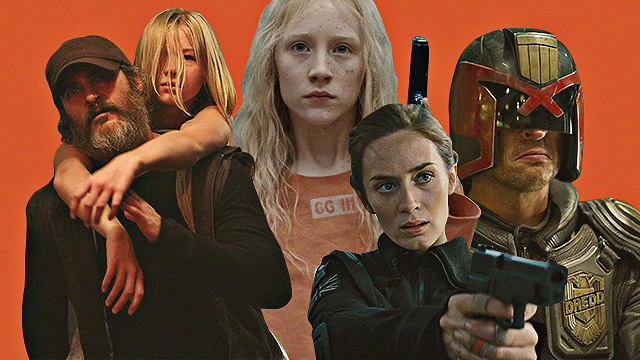 (SPOT.ph) Less brains, more brawn. That's usually how action-packed films go—not that we're complaining. Multiple high-speed chases, huge explosions, gun fights with an infinite number of bullets all in the span of an hour-and-a half? Count us in that watch-party. But sometimes, we kind of need a bit of meaning, too. We round up a couple of action-packed films that prove a good storyline can—almost—make violence sensible.
If you need rhyme or reason to make a movie watchable, these action thrillers have you covered. We stayed away from the ones that lead the pack in terms of gripping storyline and intense scenes (read: Mad Max: Fury Road, Die Hard, Inception, the Marvel Cinematic Universe, Léon: The Professional, and more) and handpicked a few you may have overlooked.
Also read:
10 Action-Packed Korean Shows to Stream If You Need a Break From Rom-Coms
10 Action-Packed Superhero Films You Can Stream on Netflix Now
ADVERTISEMENT - CONTINUE READING BELOW
Hardcore action? Check. Actual plot? Double check. Here are the movies to watch:
Oldboy (2003)
Where to stream: Shudder on Amazon
Have you ever watched a film that made you pick up pieces of your brain after? That's the effect of Park Chan Wook's Oldboy. Oh Dae Su (Choi Min Sik) is an average South Korean businessman who is kidnapped in 1988 and imprisoned in a pseudo-hotel room—only to be suddenly released in 2003 to a new millennium and a new world. Dae Su then goes on a manhunt to figure out why and who had him imprisoned for 15 years, and falls into an even worse hell than any he could have imagined. We're not going to even hint at why he was imprisoned—but trust us, the twists will have you reeling more than the gruesome fight scenes. This one's more rhyme than reason, so best prepare your brain cells.
CONTINUE READING BELOW
Recommended Videos
The Raid (2011)
Where to stream: Netflix, Amazon Prime
Known in U.S. theaters as The Raid: Redemption, this Indonesian film tracks an elite squad as they attempt to take down an entire high-rise building controlled by a fierce drug lord. The movie features the Indonesian martial art silat, alongside your typical gun-toting badassery. Rama (Iko Uwais) is a rookie on a mission; he and his team infiltrate the drug lord's building from the ground floor up—taking down and meeting all kinds of characters in each story. You never know who to trust in this movie, and that's all part of the fun of it.
ADVERTISEMENT - CONTINUE READING BELOW
Extraction (2020)
Where to stream: Netflix
A bad guy with a wonky moral compass; what's not to love about this trope? Mercenary Tyler Rake (Chris Hemsworth) is a man haunted by his past—and clearly doesn't care whether he makes it out of his missions alive. When the gun-for-hire is tasked to extract a kid named Ovi (Rudrash Jaiswal) from his kidnappers in Dhaka, Bangladesh though, his devil-may-care attitude changes. Now he's hell-bent on making sure he gets the kid away from all the forces that now want the both of them dead—even if it might just be his last mission ever.
Furie (2019)
Where to stream: Netflix
A massive, collective heart-attack wave went through audiences when Taken came out in 2008—and though Furie may also follow a parent with a mysterious background whose child is kidnapped, it's safe to say this Vietnamese film can stand on its own. Hai Puong (Veronica Ngo) is a reformed gangster, estranged from her family and trying to pick up the pieces of her life when her only daughter—and only stronghold—is kidnapped by child traffickers. She races against time, old demons, an ambiguous police officer, her own family, and the traffickers themselves to get her daughter back before it's too late.
You Were Never Really Here (2017)
Where to stream: Amazon Prime
Joaquin Phoenix plays Joe, a gun-for-hire with a messed up conscience in this psychological action film. Traumatized by his military past, Joe works as a mercenary specializing in rescuing girls kidnapped for the trafficking trade, seemingly unbothered by the missions he plays out with pretty much only a hammer as his weapon. Things go awry when he's sent on a high-profile mission to rescue the daughter of a New York senator. As the lines between who is good and who is bad becomes blurred, you'll have to figure out for yourself whom to root for. Lynne Ramsay's thriller isn't your typical damsel-in-distress tale, either, so be prepared for a story that goes far beyond on-screen violence.
ADVERTISEMENT - CONTINUE READING BELOW
Edge of Tomorrow (2014)
Where to stream: YouTube Movies, Netflix
What happens when you mix Groundhog Day with Tom Cruise? You get Edge of Tomorrow. This sci-flick features Cruise as Major William Cage, a military public relations officer who is thrown into the frontlines of a global battle against invading aliens. Cage somehow finds himself in a time loop thanks to the alien's own powers, giving him all the time he needs to find a way to defeat them. The unskilled soldier works with Sergeant Rita Vrataski (Emily Blunt) to train in combat everyday (repeatedly) and find some way to use the newfound power to take back the Earth.
Hanna (2011)
Where to stream: Netflix, Cinemax on Amazon
Before Saoirse Ronan found her way into our hearts thanks to Lady Bird and Little Women, she starred in this action flick as a girl who was trained to be an assassin. This thriller likely went under your radar, but watching this ice-blonde version of Ronan skillfully kicking ass deserves a watch. Hanna (Ronan) grew up in the wilds of Finland, raised and trained by her ex-CIA father, Erik (Eric Bana), with the intention of having her kill another CIA officer, Marissa Wiegler (Cate Blanchett)—who also wants Erik dead. Hanna eventually makes her way to the outside world to find and assassinate Wiegler. She evades trained soldiers, makes new friends for the first time—and learns the truth about who she is and why she must kill Wiegler.
Baby Driver (2017)
ADVERTISEMENT - CONTINUE READING BELOW
Where to stream: Amazon Prime, YouTube Movies
This movie got quite the following when it first came out thanks to the epic car chases, smooth visuals, intense storyline—not to mention the killer soundtrack—so if you haven't watched it yet, here's why you should. Baby (Ansel Elgort) is a getaway driver working off a debt to a morally ambiguous criminal mastermind named Doc (Kevin Spacey). He does his best to get away from a life of crime and do good by his deaf foster father Joseph (CJ Jones) and girlfriend Debora (Lily James) but is called back for one last heist—which goes bad. We then get to watch a real good guy do not-so-good things to get to live the life he wants.
Dredd (2012)
Where to stream: Amazon Prime, YouTube Movies
Here's a comic book-inspired action flick you may have missed. Based on the dystopian Judge Dredd comics, this 2012 sci-fi film follows Judge Dredd (Karl Urban), a law enforcer in a post-apocalyptic Mega-City One, and rookie enforcer Cassandra Anderson (Olivia Thirlby) infiltrate a 200-storey tower block. The Peach Trees tower they need to take down is controlled by drug lord Ma-Ma (Lena Headey), the main source for everybody's newest addiction: Slo-Mo, a drug that alters a user's reality of time and slows it down to 1%. This movie combines psychedelic slowed-down fight scenes with a disturbing look at a future that may not be as fictional as it seems. Plus, can you imagine anything cooler than police officers in souped-up armor—who are essentially judge, jury, and executioner rolled into one—trying to take down a drug lord played by the always badass Headey? No? Didn't think so.
ADVERTISEMENT - CONTINUE READING BELOW
Vantage Point (2008)
Where to stream: STARZ on Amazon, YouTube Movies
Just like real life, this film takes into play different perspectives to find some semblance of truth. Vantage Point is told and retold through several perspectives of one incident: an attempted assassination of the U.S. President. Unlike a Rashomon effect—in which the truth is left unclear—this film lines out exactly what happened through a jumble of high-speed scenes told from the point-of-view of different players. Starring big names like Sigourney Weaver, Forest Whitaker, and Dennis Quaid, this movie will have you on the edge of your seat trying to put the puzzle pieces together. 
Share this story with your friends!
---
Help us make Spot.ph better!
Take the short survey
Load More Stories