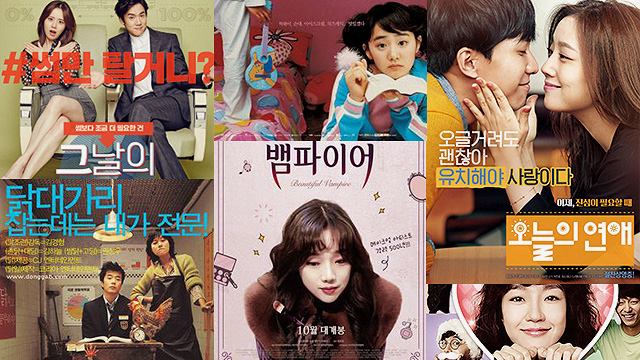 (SPOT.ph) There's much to love about the lightheartedness of a lot of K-Dramas, but not everyone has the time to binge-watch 16 hour-long episodes. The good news is you can get your dose of the funny, silly, and sometimes crazy moments often found in K-Dramas from Korean movies. This selection of movies is perfect for days when you need a breather—after all, there's nothing like a good movie to snuggle up to while you munch on your favorite snack. From quirky love stories to a heartwarming reunion and a time-traveling tale, these films have you covered.

Also Read:
Underrated Kdramas to Stream on Viu, Netflix
10 Underrated K-Dramas to Stream for Good Vibes Only
ADVERTISEMENT - CONTINUE READING BELOW
Check out these Korean movies for when you need a mood boost:
Spellbound (2011)
Jo Goo (Lee Min Ki) is a magician who meets the mysterious Yeo Ri (Son Ye Jin). He asks her to be a part of his magic shows as a ghost who hides in a closet. His horror-themed shows begin to take off and it's only after a year that he discovers Yeo Ri can see ghosts. Jo Goo is determined to help her out with that, and in finding a boyfriend—then ends up falling for her, too.
My Little Bride (2004)
Sixteen-year-old Bo Eun's (Moon Geun Young) days as a student comes to a halt as her grandfather forces her to marry Sang Min (Kim Rae Won), a guy she doesn't like. The arranged marriage stems from a pact her grandfather made with Sang Min's grandfather dating back to the Korean War. Bo Eun tries to live a double life and gets to date her long-time crush, basketball varsity player Jung Woo (Park Jin Woo). The catch? Jung Woo doesn't know that Bo Eun is married. Everything is going well until San Min becomes a teacher at their school. Will Bo Eun be able to keep things under wraps?
ADVERTISEMENT - CONTINUE READING BELOW
Recommended Videos
Love Forecast (2015)
For 18 years, Joon Soo (Lee Seung Gi) has been helplessly in love with Hyun Woo (Moon Chae Won) who works as the "Weather Goddess" for a local TV station. She's loved for her charming ways on TV but possesses a sailor's mouth off-cam. Joon Soo remains a silent supporter of Hyun Woo even after being rejected in public. Drama ensues when Joon Soo's friend, Hyo Bong (Jung Joon Young) asks him to help him land a date with Hyun Woo in exchange for all the help Hyo Bong gave Joon Soo during their military days.
Beautiful Vampire (2018)
For 500 years, the titular character Ran (Jung Yeon Yoo) has run a small makeup shop in Seoul and has suppressed her thirst for blood. She has lived comfortably on her own until the day she meets a boy (played by Song Kang) who smells the same as Jin Yi, the only man who ever accepted her despite being a vampire. This awakens not only her longing for love but also her blood-thirsty nature.
ADVERTISEMENT - CONTINUE READING BELOW
Mood of the Day (2016)
Bae Soo Jung (Moon Chae Won) and Kim Jae Hyun's (Yoo Yeon Seok) meet-cute happens on a train to Busan (sans the zombies) with one objective: to convince star athlete Kang Jin Chung (Park Min Woo) to represent their respective companies. Soo Jung is instantly appalled by Jae Hyun's straightforwardness but realizes later on that she needs to be on good terms with Jae Hyun in order to track down the athlete. They spend their stay in Busan looking for Kang Jin Chung, talking about love, sex, and life.
My Tutor Friend (2003)
Being a teacher requires a lot of patience and My Tutor Friend shows its viewers what it's like to handle this kind of pressure, especially when you don't have a choice. Su Wan (Kim Ha Neul) works as a part-time tutor to put herself through school. She somehow ends up being hired to be Ji Hoon (Kwon Sang Woo)'s tutor. Ji Hoon isn't any ordinary hard-headed student: he's impossible to teach. He is known for being the king of troublemakers in school and is repeating his senior year in high school for the third time. Su Wan is on the brink of quitting but thinking of her mother makes her go on, so she attempts to "tame" the delinquent and turn him into a mature young man.
ADVERTISEMENT - CONTINUE READING BELOW
Miss Granny (2014)
Miss Granny is a heartwarming family movie where 74-year-old Oh Mal Soon (Na Moon Hee) gets the chance to go back to her youth after a visit to a mysterious photo studio. She magically transforms back to her 20s and changes her name to Oh Doo Ri (played by Shim Eun Kyung). As Doo Ri, she pursues a career in singing and takes advantage of her regained youth, but not without going through some misadventures. Fun fact: The movie had plenty of Asian remakes after the South Korean original became a huge hit, including the Sarah Geronimo-James Reid starrer released in 2018.
Sunny (2011)
Sunny revolves around a group of girlfriends who form a bond and vow to protect and stay together. Na Mi (Shim Eun Kyung) moves to Seoul to study. She meets up with the loyal and tough Chun Hwa (Kang So Ra), the ambitious Jang Mi (Kim Min Young), the outspoken Jin Hee (Park Jin Joo), the intelligent Geum Ok (Nam Bo Ra), the future Ms. Korea Bok Hee (Kim Bo Mi), and the arrogant Su Ji (Min Hyo Rin). They form a group named Sunny and run into trouble with a rival group. After 25 years, Chun Hwa meets up with Na Mi and asks that they look for the remaining members of Sunny so she could see them for "one last time."
ADVERTISEMENT - CONTINUE READING BELOW
The Beast and the Beauty (2005)
Jang Hae Joo (Shin Min Ah) is a blind woman who flags a private car that she mistakes for a taxi. The driver, Ku Dong Gun (Ryoo Seung Bum) describes himself to Hae Joo as a different person and they end up falling in love with each other. Three years later, Hae Joo gets her sight back and Dong Gun pretends to be a different person. Things take an interesting turn when Hae Joo runs into the person whom Dong Gun pretended to look like, Tak Jun Ha (Kim Kang Woo), and ends up falling in love with him.
Finding Mr. Destiny (2010)
Who doesn't love a good old matchmaking movie? Seo Ji Woo (Lim Soo Jung) tracks down her first love, Kim Jong Ok (Won Ki Jun), whom she met a few years back in India. Coincidentally, Han Gi Joon (Gong Yoo) runs Finding Your First True Love Company takes on Ji Woo as its first client. They scour the whole of South Korea to look for her first true love, only for Gi Joon to end up falling in love with his first client.
ADVERTISEMENT - CONTINUE READING BELOW
Share this story with your friends!
---
Help us make Spot.ph better!
Take the short survey
Load More Stories