10 Anime Films That Are So #Aesthetic, You Won't Want to Look Away
Ghibli classics, works by Makoto Shinkai, and more crazy-beautiful films.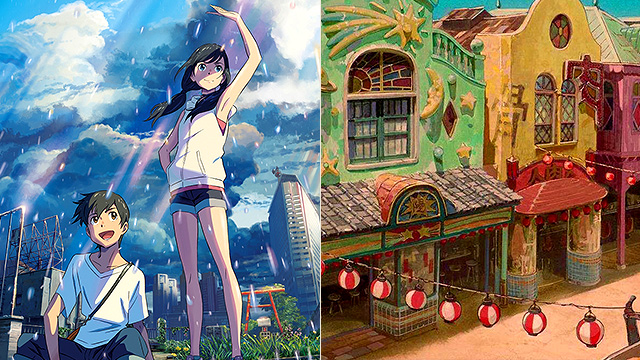 (SPOT.ph) There's something about anime films, or animated movies in general, that just hits differently. When you take a good story and couple it with amazing graphics, the whole really just becomes so much greater than the sum of its parts—and this is evident in Japanese anime films. For this list, we round up just a few of the most popular visually stunning anime films to put on your must-watch list.
Also read:
The Dreamlike World of Studio Ghibli: Essential Films to Watch
10 Classic Anime Series You Can Still Watch Online
10 Must-See Japanese Animated Films That Aren't Studio Ghibli
Go on a visual high with these 10 visually stunning anime films:
Your Name (2016)
If you still somehow haven't gotten around to watching the biggest anime film to rock the global box office since Spirited Away, then here's why you should put Your Name at the top of your to-do list. This film takes the fun body-switching trope between country girl Mitsuha Miyamizu and Tokyo city boy Taki Tachibana and mixes it with tradition, destiny, a time-bending comet, and much more. The movies of director Makoto Shinkai are known for taking the mundane everyday scenes and placing a mystical, wonder-filled lens over it—a feat you're sure to see in this film.
ADVERTISEMENT - CONTINUE READING BELOW
Weathering With You (2019)
Shinkai manages to match the visuals with his follow-up film to Your Name, entitled Weathering With You. In this movie, Hodaka Morishima is a runaway high school boy who crosses paths with Hina Amano, a girl who can control the weather through prayer. The film expertly blends the normal with the mystical yet again while tackling themes such as young love and climate change. Plus, mini-spoiler alert: the surreal rain sequences make for extraordinary visuals.
The Tale of the Princess Kaguya (2013)
If you've ever wanted to see a painting come to life, then the story of Princess Kaguya is just the ticket. It tells the story of an old Japanese folk story, The Tale of the Bamboo Cutter, but this time from the perspective of the ill-fated daughter. This film takes on a different type of animation, utilizing watercolors and drawings that are just as alive as the story itself. This is the last film of director Isao Takahata, the same brain behind the equally tragic and beautiful Grave of the Fireflies, so you can be sure to expect an emotionally moving film.
CONTINUE READING BELOW
Recommended Videos
A Whisker Away (2020)
Cat lovers will get more than just stunning animation from this film. A Whisker Away is about Miyo Sasaki (Mirai Shida), a young girl head-over-heels in love with Kento Hinode, a boy who happens to have zero feelings for her. Things take a strange turn when Miyo ends up with a mask that can turn her into a cat—then befriends Hinode while in cat form. This fun film features a stunning view of Japan, turning their cityscapes into scenes of wonder. Oh, and there are lots of lovely cats, too.
ADVERTISEMENT - CONTINUE READING BELOW
Millennium Actress (2001)
Arguably the best part about animated films is that creators can make quite literally anything they can imagine—as seen in Millenium Actress. The lines between reality and fiction blur as a once famous but now reclusive actress, Genya Tachibana, recounts her life—and her long-lost love—to a TV host and his cameraman. This film takes you on one heck of a visual story that only animation could have pulled off.
5 Centimeters per Second (2007)
…is apparently the speed at which a cherry blossom falls to the ground. This film is one of the first of director Shinkai's films to gain widespread attention and consists of three segments telling three different time periods in Takaki Tono's life—and his love for an old classmate named Akari. The poignant love story is matched by the sweet and sometimes melancholy visuals, and was a definite marker for the rest of Shinkai's films.
Whisper of the Heart (1995)
While you could probably include every Studio Ghibli film ever made on this list, this classic work holds a special place in our hearts. Tokyo has probably never looked as good as it did in this film. And with the movie's world-building matched with the tender coming-of-age of Shizuku Tsukishima (Yoko Honna), every watch is just as touching as the first. Also, who could forget the wonder you felt the first time you watched the dreamlike sequence with the Baron?
Flavors of Youth (2019)
Food in anime. Three words that, when said in that specific order, are sure to get anyone's attention. This triptych anthology anime film is from the same studio behind Your Name, CoMix Wave Films and Chinese studio Haoliners. As the shorts are set in China, the film offers a refreshing break from the Japanese scenes, and offers a new view to take in. The first segment highlights rice noodles, the second revolves around fashion, while the third follows a love story that began with recorded notes.
ADVERTISEMENT - CONTINUE READING BELOW
Paprika (2006)
If you're looking to calm yourself with smooth visual storylines, then Paprika is not the way to go. But if you want to see just how far anime can push the limits—and wonderfully so—then put this on your list. Paprika is often hailed as the precursor to the mind-boggling 2010 Christopher Nolan film Inception but it is really on another level—yup, we said it. This film tracks the adventures of a psychologist as she uses a device to enter patients' dreams—until said device is stolen and she must traverse dream after dream to get it back. It is an exhilarating and extremely surreal ride.
Spirited Away (2001)
You didn't think we would leave out the OG anime film to transcend cultural borders out, did you? The story of Chihiro and her time in the bathhouse—which contained enough of a world inside of it to become a character in its own right—and the rest of the spirit world was so wonderfully built that each watch reveals a new detail. From the chaos of the spa to the peaceful train ride to the empty train station, each scene of this movie deserves a pause and a study.
Share this story with your friends!
---
Help us make Spot.ph better!
Take the short survey
Load More Stories