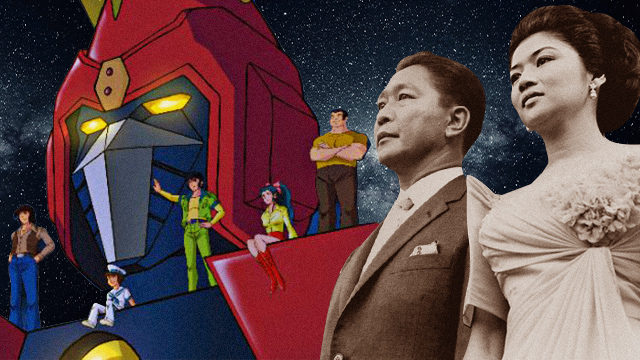 (SPOT.ph) Everything was simpler when we were children. For most of us, we would wake up, go to school, go home, eat, play, and repeat; the closest we ever got to an actual problem were the rare times we would accidentally miss our favorite TV shows. For an entire generation of Pinoy kids, this problem became all too real when one of their most beloved cartoon series was unceremoniously pulled off the airwaves a few episodes from the freaking finale.
ADVERTISEMENT - CONTINUE READING BELOW
"A very traumatic period in our youth," jokes Johnny Bozania*, a now 50-something-year-old (the first half, he asks us to clarify) fan of Voltes V in an exchange with SPOT.ph. He was only 10 years old when the show first aired, making him barely a child when Ferdinand Marcos first came into power. 
Martial law in the Philippines lasted from 1972 and well into the haze of the early '80s, giving way to a generation of children who grew up in the so-called "Bagong Lipunan" perpetuated by the conjugal dictatorship of Ferdinand and Imelda Marcos. While many of these kids grew up not realizing that things were not as they seemed in the Philippines, it was the sudden ban imposed over their much beloved, practically idolized Voltes V that was to be their first taste of totalitarian rule.
Let's Volt In!
First, what was it about Voltes V that had people hooked? Kids in the '70s were already being fed a steady diet of Japanese anime then; at the time, the schedule went Mekanda Robot on Mondays, Daimos on Tuesdays, Mazinger Z on Wednesdays, Grendizer on Thursdays, while Friday was reserved for the ultimate rating-raking Voltes V, noted Menchu Aquino Sarmiento of Business World. And yes, each one was a mecha anime with its own form of the famed Japanese super robot—but somehow, they could not hold a candle to Voltes V.
Voltes V first aired in 1978 on GMA Channel 7. In the Tagalog-dubbed version, the super robot was piloted by brothers Steve, Big Bert, and Little John—sons of the mysterious Dr. Armstrong—and Jamie Robinson, plus Mark Gordon. Each one has their own vehicle, all of which assemble into the super robot Voltes V, hence the famous "Let's volt in!" battle cry. Voltes V, once described by writer Jessica Zafra as looking "like a cross between an air-conditioner and a chicken"—would engage in epic battle and ultimately defeat monsters sent by the invading alien species, the Boazanians.
It didn't take long for the show to become every kid's obsession. Pretty soon there were all kinds of merchandise being sold and cries of "Let's volt in!" could be heard on every street where kids were playing. That is, until the show's airing was halted in 1979.
ADVERTISEMENT - CONTINUE READING BELOW
Voltes V Gets Booted Out
The kids had just witnessed the brilliant Voltes V team retrieve the missing Dr. Armstrong from the clutches of the cruel Boazanians. They were a couple half-hour episodes away from the eventual defeat and toppling of the alien race's tyrannical ruler Emperor Zanbazir when then President Marcos pulled the plug on it. The story of Voltes V was one that revolved around resistance and rebellion, themes that may not have settled so well in a dictatorial regime.
Why Marcos meddled in something as seemingly simple as a child's cartoon has long been a subject of debate and whisperings. The most obvious story is that it was banned because of its violent content. Remember Voltes V's Laser Sword and how he used it to deliver the final blow to his enemies? Good times.
Bongbong Marcos defended his father's decision in 2012. According to him, Marcos was persuaded by guardians of the children watching Voltes V. "It was actually the parents that worried about the violence that they were afraid might influence their children in a negative way."
ADVERTISEMENT - CONTINUE READING BELOW
The president was acting on the demands of these people, despite the relationship of fictional violence and actual violence being a contentious subject. "So I guess my father saw it prudent to acquiesce to their demands on an issue that was and still is not well understood," he said. 
There are also whispers of a certain Polly Cayetano of a Catholic Women's League, says Ingvar Rapido*, another now 50-something-year-old fan. It was supposedly this Cayetano that "made the request to the government" on the grounds of the show being "too violent." Now, whether these moral grounds would have fueled a strong enough petition to get the show off air without national executive power is likely or not, you decide.
One of the best arguments we heard while surveying this sudden ban in the '70s has to be, "Kasi sabi ni Ninoy mas pogi si Prince Zardoz kay Ferdinand. Nagalit tuloy si Imelda. Ayun." This, according to Archie,* another jilted 10-year-old then, still-a-fan-at-50 now. 
ADVERTISEMENT - CONTINUE READING BELOW
And while most can joke about this little incident now, for the children of the '70s, the sudden disappearance of this anime series was more than enough to leave an indelible mark. "Especially as it was replaced by Candy Candy," remembers Bozania, referring to the admittedly much less violent and much more dramatic anime series following the life of a bright-eyed, blonde orphan named, well, Candy. 
"The 'Great Ilocano' had it banned on grounds of excessive violence as a favor," is how Bozania recalls it, explaining that one crony was not pleased with the ratings the show was bringing to a competitor. "Never mind the violence his administration was perpetrating on the people."
On Anime and the Toppling of a Dictatorship
And so that is how children across the country were left bereft of closure in the '70s. It wasn't until decades later, after the Marcoses fled to Hawaii in 1986—after the political and economic turmoil that followed—that Martial Law babies were able to watch the final episodes of Voltes V. It was only when GMA aired the series again in 1999 that most were able to witness what happened between their Voltes V heroes and the Boazanians, how the resistance managed to overthrow a tyrannical ruler in a parallel between real life and TV sets.
ADVERTISEMENT - CONTINUE READING BELOW
There were three anime series banned by Marcos during martial law, Mazinger Z, Daimos, and Voltes V, the last two were re-aired by GMA in 1999, a move that is considered to have sparked the return of the anime craze in the Philippines. While we can't empirically quantify how this censorship affected children of the '70s, it was just one of many shows and forms of media that was banned by the Marcos regime—and a major lack that was certainly felt, and is still felt today. ABS-CBN, Ishmael Bernal's Manila By Night, Freddie Aguilar's "Bayan Ko," Primitivo Mijares' Conjugal Dictatorship, and the list goes on.
Voltes V would remain a part of Philippine popular culture for decades to come, with the opening theme song living on in children's toys, cellphone ringtones, and multiple parodies—as with the practically iconic "Let's volt in!"
ADVERTISEMENT - CONTINUE READING BELOW
In 2014, all the withheld childhood angst was finally able to come to the forefront though the works of artist Toym Imao, particularly a 13-foot-tall sculpture entitled "Last, Lost, Lust for Four Episodes." The massive structure featured a mishmash between Marcos and the Boazanians in the shape of Sky Rock, the warship of the Boazanian.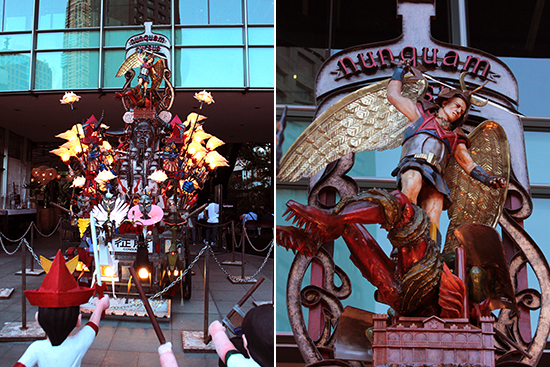 ADVERTISEMENT - CONTINUE READING BELOW
Imao was only 11 years old when Voltes V was pulled from the airwaves. "I knew that there was much talk about this martial law," Imao told Norman Sison of VERA Files. "It was only after the cancellation that I was awakened to the realities of the regime." It is hard to imagine it was not the same for many of the still-growing kids back then. As Sison pointed out, many of the kids who had been living sheltered lives were shaken out of it by the sudden cancellation—and seeing as they came of age in the '80s, it was almost poetic justice for them to join the People Power Revolution.
ADVERTISEMENT - CONTINUE READING BELOW
Imao's sculpture would make waves again in 2018 as it was exhibited on the very storied steps of Palma Hall in the University of the Philippines - Diliman, sparking discussions on the role of Voltes V during the regime more than three decades after it was first banned. Voltes V lives on as well in popular culture, with GMA even planning a live-action remake of the anime series. 
Pulling out an anime series may seem like an inconsequential move, but somehow, the story of its banning has reached an almost mythic level of power, spreading far beyond the generation of children that used to spend their Friday afternoons in front of the TV, yelling "Let's volt in!"
*Names have been changed
Share this story with your friends!
---
Help us make Spot.ph better!
Take the short survey
More Videos You Can Watch
Load More Stories