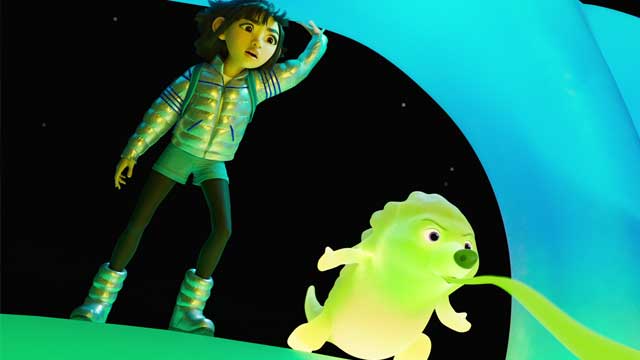 (SPOT.ph) Bet you've found yourself in this situation at least once: You're sitting on the couch or in bed, ready to chill out and watch a good show or movie, but you're not quite sure which. So you open your streaming app of choice and...10 minutes later, still haven't quite found anything you want to watch. Join the club! 
If you're on the hunt for ideas for what to watch, what with all the streaming platforms available in the Philippines and their seemingly endless collections of shows and movies, check out our list of very subjective picks for this weekend. Don't forget to make the popcorn!
Here's what we're watching this weekend:
The Queen's Gambit (2020)
Where to watch: Netflix
"I haven't had time to start watching this, but I've been hearing so many good things I'm hoping my expectations haven't gotten too high! Not too worried, though. Period pieces with great set design and good-looking costumes are one of my favorite things to watch—I last saw Anya Taylor-Joy as Emma in a gorgeous adaptation of Jane Austen's novel—and a good story to match is always a winning combination."—Jo
ADVERTISEMENT - CONTINUE READING BELOW
You Me Her (2016 to present)
Where to watch: Netflix
"You Me Her left a huge cliffhanger when the fourth season ended in 2019. Finally, 10 new episodes dropped on October 22 and I can find out if Izzy (Priscilla Faia) and the Trakarskys (Greg Poehler and Rachel Blanchard as Jack and Emma Trakarsky, respectively) are getting back together. If you need to catch up on this crazy story of a three-way romantic relationship between a free-spirited social worker and an otherwise boring suburban married couple, all five seasons (total of 50 episodes) are on Netflix."—Christa
Alice (2020)
Where to watch: Viu
"It's been a while since I lasted watched a sci-fi drama, so I'm looking forward to bingeing Alice this weekend! Interestingly enough, 'Alice' isn't a name of a person in this show; instead, it's the name of a place where time travelers come together. It is in the year 2050 when Alice was completed—around the same time a prophecy started to spread predicting the end of time travel. Yoo Min Hyuk (Kwak Shi Yang) and Yoon Tae Yi (Kim Hee Sun), a couple, are sent back to the year 1992 with a task at hand: to secure the book of prophecy. Things happen and  Yoon Tae Yi finds herself pregnant and decides to stay in the year 1992 where she changes her name to Park Sun Young and eventually gives birth to her son Park Jin Gyeom (Joo Won). As a side effect of time travel, Park Jin Gyeom is unable to feel emotions, adding an extra layer to the series' storyline. A total lunar eclipse happens in 2010—the same day his mom Park Sun Young gets murdered. Park Jin Gyeom becomes a detective to solve the mysterious case, but in 2020, he runs into a physics professor who looks exactly like his mother. Her name? Yoon Tae Yi. I'm excited to know where the story takes me!"—Jamie
CONTINUE READING BELOW
Recommended Videos
The Trial of the Chicago 7 (2020)
Where to watch: Netflix
"The Trial of the Chicago 7 tells the real-life story of a group of revolutionists prosecuted for the part they played in the countercultural protests at the 1968 Democratic National Convention held in Lincoln Park in Chicago. Though the film is a historical drama, the themes of dissent, violence, power, and democracy are purposely played out to emphasize their parallels to the divisive political landscape in the U.S. today. It was written and directed by the famous Aaron Sorkin and fans of his previous work like The West Wing, Newsroom, and The Social Network will enjoy the film's slick dialogue, unapologetic idealism, and quick-witted humor. I also urge anyone streaming the film to watch for Sacha Baron Cohen (of Borat fame) who gives an incredible performance. Eddie Redmayne, Joseph Gordon-Levitt, Frank Langella, John Caroll Lunch, Yahya Abdul-Mateen II, and Jeremy Strong also appear in the film. Plus, expect a killer, scene-stealing cameo from Batman himself, Michael Keaton."—Ashley
Over The Moon (2020)
Where to watch: Netflix
"I'm watching this animated tale this weekend mostly because I need a good emotional release, a.k.a. a feel-good movie complete with some tears and that wholesome feeling. Over the Moon follows the long line of stunningly animated children's movies with a healthy smattering of totally catchy—and sometimes achingly tender—songs with a little added flavor of its own. Think Coco, but Chinese! So yes, someone dies and a kid then goes on an amazing journey through a fantastical landscape before finally overcoming grief and learning an important lesson. Best part? Voicing the lead character, Fei Fei, is Cathy Ang, a New York-based Filipina-Chinese whose parents emigrated from the Philippines. Philippines represent!" —Mia
ADVERTISEMENT - CONTINUE READING BELOW
The Bucket List (2007)
Where to watch: Netflix
"This film isn't exactly new, but it does have an intriguing story, revolving around two cancer patients who find out they have less than a year to live and decide to fulfill a bucket list before their death. The two patients are exact opposites—Edward Cole (played by Jack Nicholson) is a self-centered billionaire, while Carter Chambers (played by Morgan Freeman) is a mechanic who gave up his dreams to raise his family—but I'm interested to see how they eventually get along in the movie! It's listed as a comedy drama, so I'm sure it delivers on the entertainment front; more than that though, I feel like it's one of those films that has a philosophical edge to it and will make you ponder on the meaning of life, the inevitability of death, and so on."—Trish
Hayop Ka! The Nimfa Dimaano Story (2020)
Where to watch: Netflix
"So what happens when you make an animated film featuring anthropomorphic animals with a teleserye-like storyline? You have Hayop Ka! The Nimfa Dimaano Story. But part of Hayop Ka!'s appeal is in the smallest, often-LOL-worthy details: Almost every scene features a pun that's either Pinoy culture-inspired or is a pop-culture reference. We got the chance to catch up with director Avid Liongoren in a press conference, where he revealed that the artists have a master list of what he calls 'stupid animal puns.' Since the movie is on Netflix, he encourages viewers to pause every once in a while. According to Liongoren, it takes two weeks for one background painting, which is on the screen for three seconds. I've already seen the movie once and I plan to rewatch to spot more easter eggs!"—MM
ADVERTISEMENT - CONTINUE READING BELOW
Hey, Spotters! Check us out on Viber to join our Community and subscribe to our Chatbot.
Your guide to thriving in
this
strange new world.
Share this story with your friends!
---
Help us make Spot.ph better!
Take the short survey
Load More Stories