Stressed AF? Here Are 10 Spotify Accounts for Classical Takes on Modern Tunes
Doja Cat, but make it classical.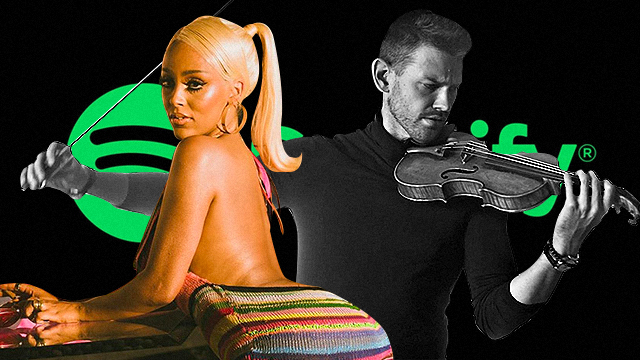 (SPOT.ph) Working from home comes with a whole lot of new distractions to (try to) ignore. Gone are the noisy workmates, sure, but say hello to all the tasty snacks just sitting in your pantry, your younger relatives (or dogs) wanting someone to play with, and even the random rooster in your neighborhood crowing at the weirdest times. Well, we offer one possible solution: classical covers of modern tracks! We round up Spotify accounts to follow for the coolest instrumental arrangements of massive pop hits and all kinds of current bangers. Pop on your headphones and prepare to zone into your work mode while listening to these cool covers.
Also read: 
10 '80s-Inspired Bops of Today to Get You Out of Your Tired Funk
10 New Songs for Your Road-Trip Playlist
10 Cool Local Podcasts to Listen to Right Now
Get focused with these 10 Spotify accounts to follow for classical covers of today's music.
VSQ
ADVERTISEMENT - CONTINUE READING BELOW
The Vitamin String Quartet is arguably one of the most popular acts to rule the rather niche genre. Technically speaking, they're not a string quartet in the traditional sense; rather, their music is created by various musicians as led by Los Angeles indie label CMH Label Group—so no, there are no permanent group members! What's cool about VSQ is that they create tribute albums for artists across all kinds of genres, from rock to pop to everything in between. They formed in 1999 and so far have around 400 albums to their name. Their latest work includes covers for the steamy Bridgerton series' soundtrack. We're currently obsessed with their intense sounding cover of Billie Eilish's "Bad Guy."
CONTINUE READING BELOW
Recommended Videos
2Cellos
Croatian duo Luka Sulic and Stjepan Hauser are well known for their intense cello covers of popular modern tracks—as well as constantly breaking their bow strings in their music videos. We don't know why but everything just sounds so much more epic with a cello, so imagine nothing more than two of them playing your fave pop and rock songs. You can check out their five albums on Spotify in case you need something to up your adrenaline without losing focus on the task ahead. Fun fact: They're behind that "Smooth Criminal" cover on Glee!
MSQ
The Midnite String Quartet is also worth a listen for their clean instrumental arrangements of tracks by artists from the '70s (Bee Gees) to today (Selena Gomez). What's cool about the MSQ is that they have a very organized discography. Their albums are arranged per artist, so if you want to listen to string covers of songs by everyone from Sam Smith to Eric Clapton, they've got you covered. We have our ears on the Hamilton one!
ADVERTISEMENT - CONTINUE READING BELOW
Daniel Jang
New Jersey-based violinist Daniel Jang skyrocketed to fame thanks to soulful violin covers of feels-filled songs by artists like John Legend and Sam Smith on his YouTube channel. Can you just imagine what their songs are like with just a violin? We know this ventures into wedding territory but hey, no judgement if that's your type of thing. While his Spotify artist's page is pure violin goodness, Jang also does guitar and piano arrangements of popular songs on YouTube.
Eklipse
Four ladies, four stringed-instruments, and countless classical reinterpretations of contemporary songs from electronic dance numbers to rock tracks—that's the specialty of Eklipse. They have a couple of albums to their name, including Electric Air, which contains oddly motivating string covers of that time's biggest bangers. Think "Titanium" but on violins! Hit play on this account when you're racing to meet a deadline.
Brooklyn Duo
What is it about cellos and pianos that just sound so good together? Couple Marnie and Patrick Laird have been producing classical covers of songs from across all of today's genres—from Camilla Cabello's "Señorita" to Hozier's "Take Me to Church"—and have quite a following on YouTube as well. What's cool is that their albums sometimes drop in truly classical pieces that somehow blend in with the rest of the current songs; you probably won't even notice them going from Taylor Swift to Mozart real quick.
The Theorist
If you need the cleaner sounds of nothing but piano keys to help you focus, then The Theorist is sure to be a gift from the music gods. Henderson Nguyen, the brains and pianist behind the popular The Theorist YouTube channel, has also put up his classical arrangements of tracks like "Redbone" by Childish Gambino and "Say So" by Doja Cat on Spotify. Plus, you can check his videos for tutorials and how-tos behind his smooth classical piano takes on today's music.
ADVERTISEMENT - CONTINUE READING BELOW
Simply Three
Classically trained string trio—yup, a trio this time!—of Glen McDaniel, Nick Villalobos, and Zack Clark have been making their own versions of modern songs since 2010. Their Spotify account is where you can find moving renditions of songs from your college years ("Chasing Cars" by Snow Patrol), today's tracks (a mash-up of The Weeknd's "The Hills" and "Can't Feel My Face"), and even original pieces.
Duomo
Axel Tenner and Daniel Belardinelli are the duo behind Duomo—and that cover of Taylor Swift's "Wildest Dreams" which played during Bridgerton's most intense sequences (read: episode six's honeymoon-sex craze). If that track got you hooked, we suggest you check out their arrangements of other songs from today's artists on Spotify. The "Wildest Dreams" cover is part of their 2018 album Berlin: Redux and plays smoothly with their takes on everything from Vance Joy's "Riptide" to Radiohead's "Creep."
The Piano Guys
Fun fact: This YouTube-famous group was originally a social media strategy for a piano store in Utah, U.S. Pianist Jon Schmidt and cellist Steven Sharp Nelson were asked by piano store owner and videographer Paul Anderson to make content for his store's social media pages, with help from Anderson's neighbor Al van der Beek—who happens to be music producer. Talk about the stars aligning. When The Piano Guys' covers proved to be an even bigger hit, the store was closed down and the team shifted their focus to creating music and videos. Now, the group produces piano and cello arrangements of classical, pop, soundtracks, and even original music! While you can still catch their cinematic videos on YouTube, you can also give their Spotify account a listen so you can focus on their cool arrangements.
ADVERTISEMENT - CONTINUE READING BELOW
Share this story with your friends!
---
Help us make Spot.ph better!
Take the short survey
Load More Stories