10 Outfits From Friends That Should Totally Stay in Their Time
TikTok better not bring these back.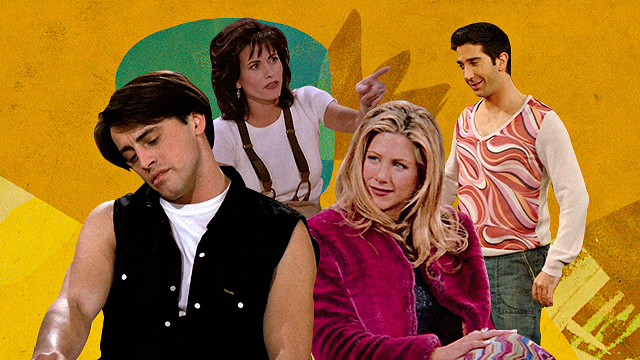 (SPOT.ph) By now you've probably heard the terrible news: Today's kids want the cachupoy and low-rise jeans back. Cue the horror. If you understand our disdain for these two trends then chances are you're a Friends-era person, too. And we know what you're thinking, why drag this fashion-setting sitcom into the faux pas mix? Those unforgettable peak '90s and early aughts outfits were always on-point, you say.
Well, you may be looking at the sitcom through nostalgia-tinted lenses—because they weren't a 100% hit. Oh yes, we're here to remind you that while Friends' influence spans generations, their outfits truly are a product of their times. For this list, we bring back some 'fits from the vault that we hope don't actually come back IRL. We veered away from the most obvious ones—think Ross Geller's leather pants—and times they wore a questionable outfit on purpose (Read: Ross's Holiday Armadillo and potato thing. Notice a pattern here?). Instead, we point out some Friends outfits that just didn't hold up on our nth rewatch of the OG sitcom.
ADVERTISEMENT - CONTINUE READING BELOW
Also read:
10 Commercials Featuring the Friends Stars From Before They Were Famous
10 Behind-the-Scenes Friends Facts You Probably Didn't Know About
10 '90s Trends You'd Probably Deny You Ever Tried
10 Fashion Trends That Defined the 2010s
May these 10 worst Friends outfits remain in their time and place forever:
Monica's Vegetable Medley from "The One Where Ross Got High"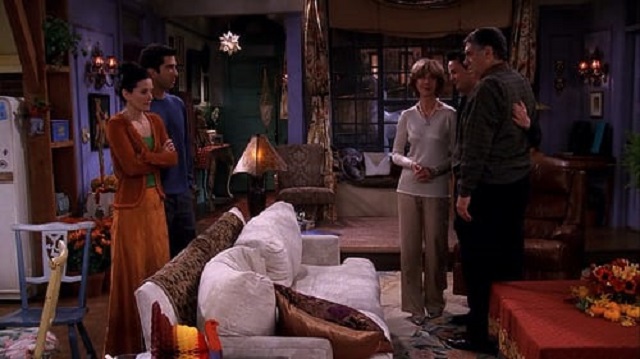 CONTINUE READING BELOW
Recommended Videos
We know Monica (Courteney Cox) is a chef but this color combination just reminds us of food in the worst possible way. The bright green top and equally bright orange skirt could have worked—but that cardigan with the strange trim is just too distracting. The saving grace is that this is the 'fit she wore when she and Ross (David Schwimmer) had an epic secret-dropping fight in front of their parents.
Rachel's Military Teacher "Power Suit" from "The One With The Tiny T-Shirt"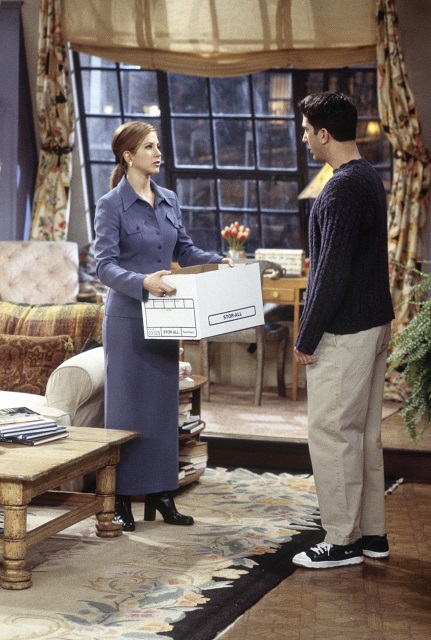 ADVERTISEMENT - CONTINUE READING BELOW
Rachel (Jennifer Aniston) was arguably the most fashionable of the group—apt, seeing as she did work in the industry. This "power suit" though? Definitely a miss. Perhaps it could have worked on someone with a bigger frame; the long skirt, which hides those killer boots, and large jacket just overpowers Rachel. Also, are those shoulder pads? Add a chunky belt and it's guaranteed Miss Trunchbull vibes.
Rachel's Bored Suburban Wife Outfits from "The One that Could Have Been"
Kitschy or just terrible? You decide. Granted, this was a "what-if" type of storyline—where the Central Perk gang imagined life if they had gone down different paths—so this is the Rachel that married Barry. Cue the loud prints, bright colors, and so, so many textures all at the same time. TBH, that black and white ensemble she wore for the intro was good enough to wear unironically IRL. Everything else was pure campy costume-y fun with a bit of '80s aerobics teacher mixed in.
ADVERTISEMENT - CONTINUE READING BELOW
Monica's Brown Suspenders (or Farm Equipment?) from "The One Where Monica Gets a Roommate"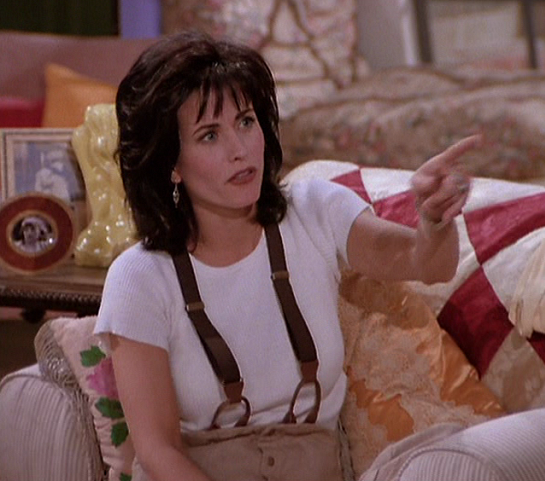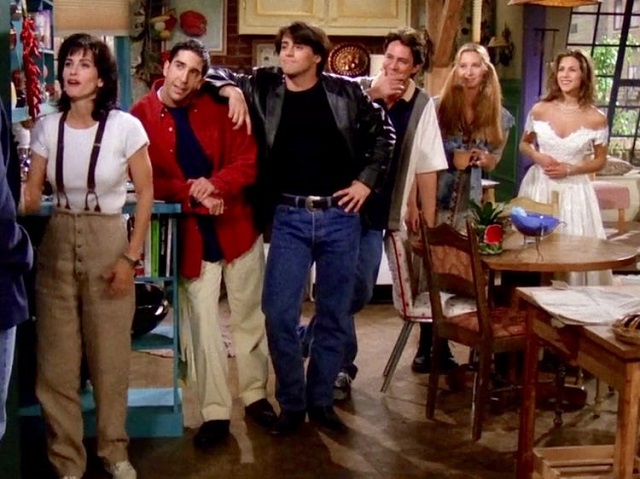 ADVERTISEMENT - CONTINUE READING BELOW
Keep in mind that this is the outfit we first see Monica in. At the café, this outfit is thankfully tempered by a light-yellow denim jacket so it's only up at her apartment that we see the harness-like suspenders she's wearing to keep her ultra-high waist beige pants up. Okay, thankfully she's got the energy—and the hair—to pull it off, and alongside the Central Perk gang's peak '90s outfits (all questionable now, in their own way), it isn't too jarring.
Joey's Cut-Offs Look from "The One Where Monica Gets a Roommate"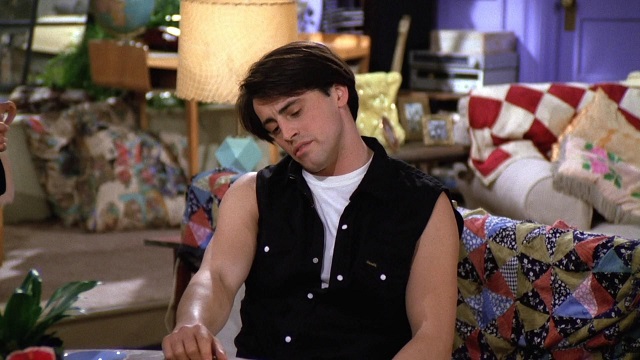 And speaking of the pilot being peak '90s, check out Joey's (Matt LeBlanc) top. We appreciate giving those guns the space to breathe but dang, does it get anymore '90s boy band than a baggy top with sleeves cut off? Add in that floppy haircut with the side-swept bangs and we doubt anybody could pull off—or want to even try to pull off—this look today.
ADVERTISEMENT - CONTINUE READING BELOW
Phoebe's '70s Curtain Get-Up from "The One With the Two Parties"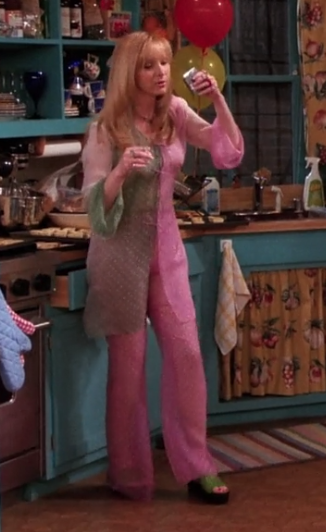 Phoebe's fashion is the most eclectic of the group. We usually love it when she wears something weird or just slightly left of center—but this one was out of the spectrum completely. The cut and style of the outfit she wore to Rachel's birthday party isn't so bad really, it's the color scheme that definitely hasn't stood the test of time. We totally see this at some '70s gathering—as a costume.
Rachel Dresses to Confuse in "The One Where Rachel Goes Back To Work"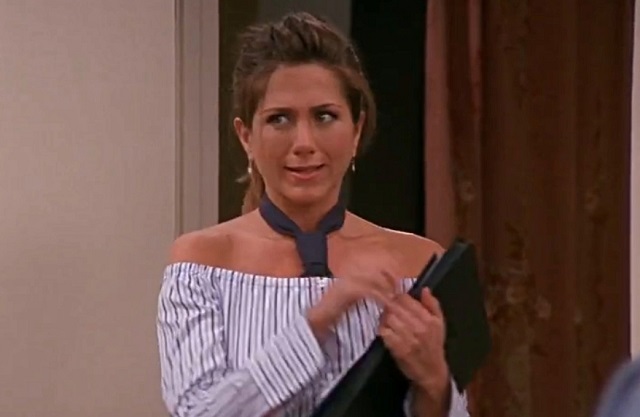 ADVERTISEMENT - CONTINUE READING BELOW
Rachel made the peak 2000s jeans-under-a-dress trend work at another point in the series' latter half—but whatever trend it was she was going for here clearly missed a mark. Was this even a trend? Where did they get the idea for this? Do you think the tie continues on under her shirt? Or did they cut it off? Or maybe the tie accent really is a part of the off-shoulder corporate blouse? So many questions.
Phoebe's Velvet Multi-Colored Jester Combo from "The One Where the Underdog Gets Away"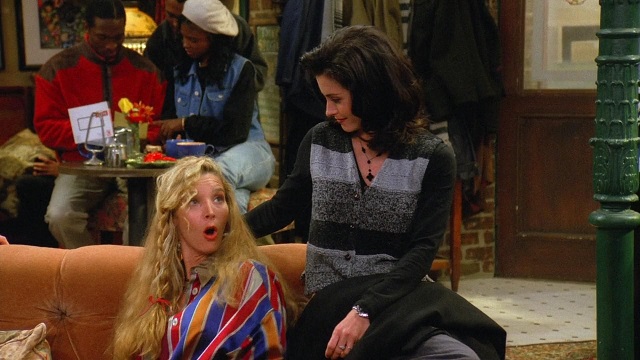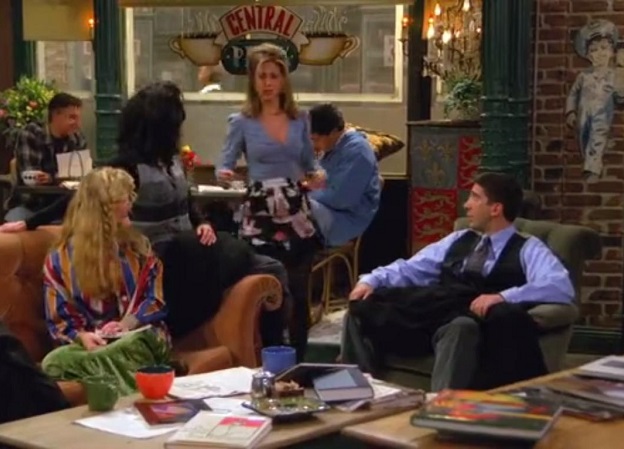 ADVERTISEMENT - CONTINUE READING BELOW
First season Phoebe's fashion was the best. Yup, we claim it. That being said though, there were a few times that even Bohemian queen Phoebe went into strange territory. Take a look at this top she wore in one of the first few episodes. We're sure there's a jester out there somewhere missing a shirt. The shirt alone would have been slightly okay, but that velvet-looking green skirt is just the cherry on top of this sundae.
Rachel's Peak Aughts Outfit in "The One With the Cake"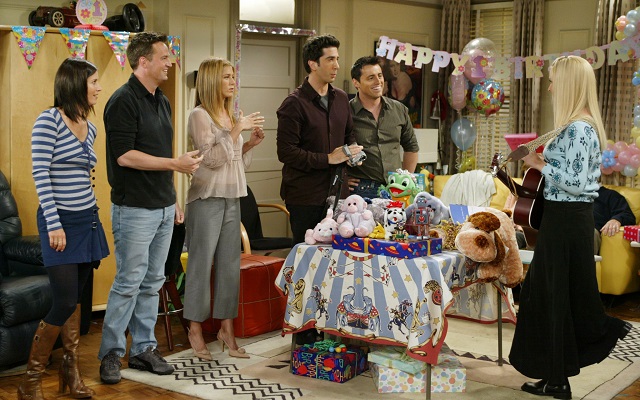 In need of an intense flashback? Just take a look at all the outfits the gang wore for Emma's first birthday. We were incredibly distracted by Monica's nautical skirt and tights combination at first but the longer we look at this pic, the more Rachel's peasant blouse, capris pants, and kitten heels with the killer points yell. This was exactly how we all wanted to dress—back then, that is.
ADVERTISEMENT - CONTINUE READING BELOW
Ross Sporting a Woman's Top in "The One With the Birth Mother"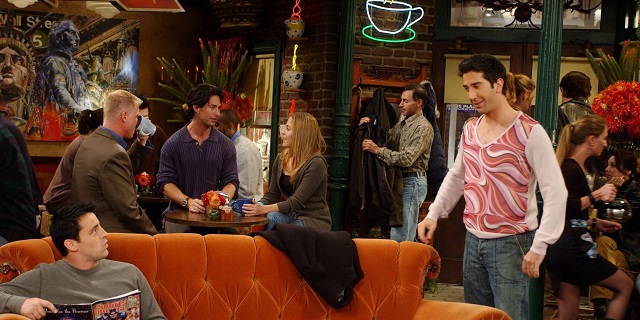 Ross arguably had the least fashionable erm, fashion sense, though kudos to him for always being willing to try new things—almost always to hilarious sartorial results. Remember when he accidentally took Rachel's clothes and decided that she totally meant for him to wear this blouse? That he's a man wearing a woman's blouse isn't the problem; it's that first, he refuses to acknowledge that he is indeed wearing a woman's blouse, and second, he doesn't even look remotely good in it. 
Hey, Spotters! Check us out on Viber to join our Community and subscribe to our Chatbot.
We are now on Quento! Download the app and enjoy more articles and videos from SPOT.ph and other Summit Media websites.
ADVERTISEMENT - CONTINUE READING BELOW
We are now on Quento! Download the app and enjoy more articles and videos from SPOT.ph and other Summit Media websites.
Share this story with your friends!
---
Help us make Spot.ph better!
Take the short survey
Load More Stories