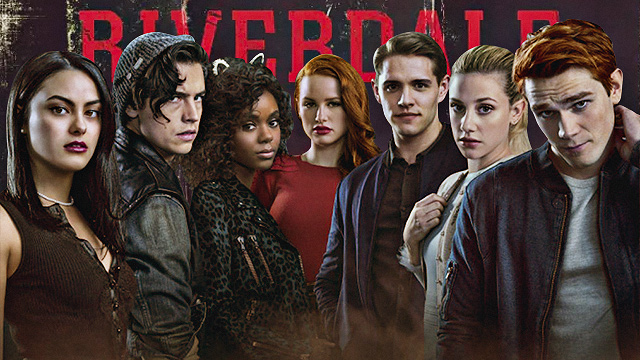 (SPOT.ph) A couple of months back, The CW announced that their live-action series based on Archie comics, Riverdale, will be airing its seventh and final season next year. This was met with shock from the Internet, as many were surprised that the show was still airing, because, really, don't we all just collectively absorb its latest storylines via tweets and no-context screencaps? 
In any case, we thought it was time to look back on the craziest and weirdest storylines from Riverdale, because it just brings so much joy to know that a modern show has embraced its trashy nature as much as Riverdale has—the key to its success, perhaps.
Also read: 10 Netflix Characters for Some Instant Halloween Costume Inspo
From high schooler Archie (KJ Apa) having an affair with his teacher all the way back in the first season, to alternate universes, to crossovers with Sabrina the Teenage Witch (Kiernan Shipka), Riverdale has certainly been a rollercoaster. Truly a show with storylines jucier than Cole Sprouse's, uh, recent Instagram post (don't look it up, we beg of you). We break down these storylines below.
ADVERTISEMENT - CONTINUE READING BELOW
Here are the 10 weirdest storylines from Riverdale:
Archie Forming a Vigilante Group (Season 2)
While neighborhood watches and groups of hot-blooded jocks denying the local police and going off to hunt down a serial killer on the loose are certainly not unusual storylines to occur in mainstream media (anyone who's seen the latest Stranger Things can attest to that), Riverdale does get crazy points for having Archie assemble a "legion" of vigilantes, who all don red ski masks, to hunt down a single man. What makes this development hilarious is that the vigilante group, known as the Red Circle, was only active for a couple of episodes before disbanding... without even catching the guy they were after.
Archie Going to Jail (Season 3)
At the start of Riverdale's third season, Archie is framed for murder and is sentenced to two years in juvenile prison, and some weird stuff goes down in this prison storyline. Aside from the well-known "epic highs and lows of high school football" line, this storyline also gave us Veronica (Camila Mendes) and the cheer squad dancing to "Jailhouse Rock" for all the, uh, deprived inmates, Archie joining an underground prison fight club, and a prison break attempt made by teenagers in high school. The Shawshank Redemption only wishes it could go this hard.
The Mass Seizures (Season 3)
A recurring mystery throughout the third season is why some of the teenage girls just start randomly having seizures. It's later revealed to be due to someone unintentionally poisoning the town's water supply by dumping runoff of a drug called Fizzle Rocks into the nearby river. As for why only the young women in the town experienced seizures and why its effects were only felt in one instance, the show just shrugs and moves along. Best not to think about this stuff too much.
CONTINUE READING BELOW
Recommended Videos
The Gargoyle King (Season 3)
Taking more cues from Stranger Things, one of the main antagonists of Riverdale's third season is a serial killer/folk monster that comes to Riverdale, alongside the popular board game Gryphons and Gargoyles (basically, their version of Dungeons and Dragons). This creepy killer is like a blend between the Demogorgon, Slender Man, the King in Yellow from True Detective, and Paimon from Hereditary. Not the type of villain you'd think would go up against a dude named "Jughead," but Riverdale found a way to make it happen.
Archie Getting Mauled by a Bear (Season 3, Episode 9)
As a follow-up to the "Archie going to jail" storyline, it's incredibly hilarious that once he escapes prison, he almost immediately gets mauled by a bear in the woods and nearly dies. It would've been a 10 out of 10 plot development, had we actually seen Archie try to fight off the bear a la Leonardo DiCaprio in The Revenant. Please, just dump all the budget on a one-minute rematch in the final season. It's what we need right now.
ADVERTISEMENT - CONTINUE READING BELOW
The Organ-Harvesting Cult (Season 3)
Oh, you thought the third season's shenanigans ended at the bear attack? Not even close. Yup, aside from the supernatural serial killer and the prison fight club, Riverdale's third season also had an organ-harvesting cult, going by the not-very-subtle name "the Farm." Chad Michael Murray charismatically portrays the cult leader Edgar Evernever, a great name that's almost equally as great as his death scene, where he tries to escape arrest and the destruction of his cult by being shot out of a rocket Evel Knievel-style.
Cheryl Keeping Her Dead Brother's Corpse (Season 3 to 4)
As part of the said cult storyline, our favorite red-head Cheryl Blossom (Madelaine Petsch) joins the cult out of fear of the Black Hood serial killer. The cult later digs up her dead brother Jason's corpse, which she soon brings home to have daily conversations with, as if he's still there. Real creepy on its own already, before you even factor in that his corpse looks like Michael Myers (from Halloween, not Shrek. Oh God, how creepier it would have been had it been Shrek?).
Jughead Faking His Own Death... For Reasons (Season 4)
In the fourth season of the series, Jughead (Sprouse) was being hunted by a few prep schoolers who were out to kill him. In response, Jughead orchestrated a scheme, along with Archie, Veronica, Betty (Lili Reinhart), his dad, and a few others, to fake his death in order to give him more time to solve the mystery of why he's being targeted. The group was successful thanks to slick lies, a fake romance between Archie and Betty, a helpful coroner, and, of course, Jughead's beanie that saved him from a serious head injury.
ADVERTISEMENT - CONTINUE READING BELOW
The Tickle Fetish Videos (Season 4)
The fourth season takes a turn with one of its more prominent side characters Kevin Keller (Casey Cott) going on a date with Terry, who makes videos that cater to, uh, tickle fetishes. While the show wants you to know that it's definitely not porn (not at this maturity rating), it does get a bit awkward when Terry says that he's filmed hundreds of "tickle videos" prior to Kevin's involvement, that there's a pleasure to have in not being able to resist the tickles, and that his audience likes it when body types and the actor's races contrast. Kevin later gets caught up in the peddling of tickle videos too. Possibly one of the most insane storylines to have come out on this show.
The Curse of La Llorona (Season 6)
Ending this list is the La Llorona storyline from "Rivervale," the alternate universe arc from last season. Putting aside that the show even had a five-episode alternate universe arc, to begin with, it's even more rad that one of the episodes was a horror-themed one centered on a grieving mother summoning a demon to kill another woman's baby. It even ends with the other woman sacrificing her own life to become La Llorona, in order for the spirit to spare her child. Don't think any of us foresaw this is what Riverdale would cover when it began, not too long ago, in 2017.
Riverdale is currently streaming on Netflix.
Hey, Spotters! Check us out on Viber to join our Community and subscribe to our Chatbot.
ADVERTISEMENT - CONTINUE READING BELOW
We are now on Quento! Download the app and enjoy more articles and videos from SPOT.ph and other Summit Media websites.
Your guide to thriving in
this
strange new world.
Share this story with your friends!
---
Help us make Spot.ph better!
Take the short survey
Load More Stories