(SPOT.ph) No matter how strange the world outside gets, there's no doubt you probably find your family at home even stranger. Don't exclude yourself here, now. But that's part of the magic, isn't it? Families ought to be the one group of people who will accept and love you unconditionally—though that isn't always the case, as many recent Disney films can attest. And it looks like we're about to explore the trauma via another big one from the same studio that brought you Encanto and Big Hero 6. Ready your hearts for Strange World, dropping exclusively in cinemas on November 23. To bring it even closer to home, we got to chat with a few Filipino-American makers behind the film, modeler Virgilio "John" Aquino and animator Mikee Sevilla.
Also read: 
All the Ways Encanto's Madrigal Family Hits Too Damn Hard
Zootopia Goes the Delightful Slice-of-Life Route in a New Disney+ Series
Why Pixar's Turning Red Is Good for Your Mental Health and Your Parents'
ADVERTISEMENT - CONTINUE READING BELOW
Pinoy Animators behind Disney's Strange World talks the film's take on acceptance
This action-packed animated adventure film will take you on one heck of a ride in terms of both the setting—a literal strange world that is either inside or outside space, think  a brighter Jules Verne and Treasure Planet mix but in 3D animation—and its story. Jake Gyllenhaal voices Clade, a family man who, after having discovered a plant-based power source, settled in nicely and made solid roots with his own family, including a teenage son Ethan (voiced by Jaboukie Young-White). When things go awry in their world of Avalonia, Clade is called upon on an expedition far outside his comfort zone—and right into the strange world where he reunites with his explorer dad Jaeger (voiced by Dennis Quaid). So that's three generations, three different outlooks, and one goal. Think this would go down well in your family? 
ADVERTISEMENT - CONTINUE READING BELOW
Recommended Videos
"Disney always strives to tell different stories; we always deal with different themes. In the case of Strange World, we have three generations of the Clades, and they're trying to get along and they're trying to hear each other out. Everyone has their own dream." says Aquino. He highlights the character of Ethan, the teenage kid who stows away on the adventure. "When kids see themselves, you know they're gonna relate to young Ethan. All the kids aspire to be themselves and just be accepted, to be who they are. You know, allow them to be dreamers."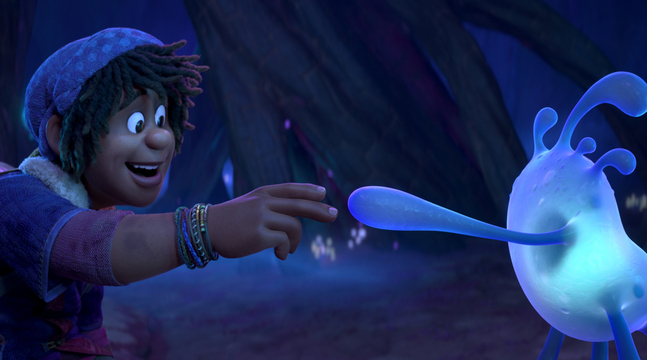 ADVERTISEMENT - CONTINUE READING BELOW
As the modeler, Aquino worked on developing the ship, Venture, which is the motley crew's main way to get out and in the fantastical worlds. Aquino shares that he's been with Disney for quite some time now, having even worked on Treasure Planet, so Strange World is full circle for him. Sevilla, meanwhile, was a pandemic hire, and shares that she's excited to be able to spend more time in the actual studios to create films helping create characters. And with the steps Disney has been taking with their narratives, we're happily talking more characters like Ethan.
Also read: So You Want Both Disney+ and Netflix? How to Stream What You Want Without Breaking the Bank
"Working on Ethan was definitely very meaningful for me because I got to be involved in pre-production on the character. So that's really figuring out who this character is, and how this character moves and behaves," says Sevilla. "Although Ethan is, I would say, generally masculine, everyone has both feminine and masculine sides to them. And I think being playful, creating this character, and incorporating feminine [aspects], showing his softer side, that was really fun to do."
ADVERTISEMENT - CONTINUE READING BELOW
Sevilla cheekily shares that she even gave Ethan one of her own mannerisms: "You'll see that at some point in the film, Ethan is walking through a dark tunnel and he does this." Be sure to watch Ethan's arms whenever he walks through a tunnel in the movie to catch it.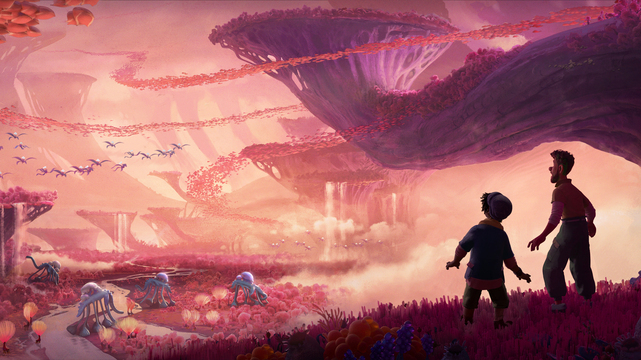 ADVERTISEMENT - CONTINUE READING BELOW
"I think it's very important to have representation in films and that's something that we're always trying to strive for. Hopefully this film inspires young kids to just be themselves and be who they are and, you know, allow them to be more comfortable," says Sevilla. And while we real-world folks may never end up on a life-changing fantastical adventure through crazy, sci-fi landscapes, culminating in that much coveted emotional growth and character development, we say a movie like Strange World might just help us take at least a step towards it. 
Strange World drops in PH cinemas on November 23.
Share this story with your friends!
---
Help us make Spot.ph better!
Take the short survey
Load More Stories