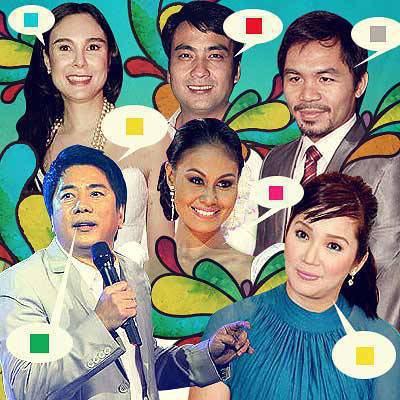 From inspiring words to plain verbal diarrhea, SPOT.ph gathers 50 of the year's most interesting sound bites (in no particular order).
1. "Kayo ang boss ko... Walang wang-wang, walang counterflow, walang tong."

--Part of President Noynoy Aquino's inaugural speech
2. "In my 22 years of existence, I can say that there's nothing major major, I mean, problem that I've done in my life because I am very confident with my family and the love that they are giving me."

--Miss Philippines Venus Raj answers Miss Universe judge William Baldwin's question "What is one big mistake you've made in your life and what did you do to make it right?"
3. "Isa po akong psychology."

--Actress Marian Rivera, a psychology graduate, defends then presidentiable Noynoy Aquino against rumors about his mental health. The viral quote came from Rivera's statement: "Isa po akong psychology at nakikita ko na wala naman siyang diperensya. Kaya sa kanya pa rin ako kahit anong sabihin nila."
4. "Villar."

--Then presidentiable Noynoy Aquino's nephew Baby James Yap utters the name of Aquino's opponent during a campaign program in Bacolod in March.
5. "Satan, get away from us! Walk out! Now! While you're still alive, change! Bastos! Damaso is just a fake; you are fakes! Satan, get out!"

--Pro-Life Philippines President Eric Manalang casts out the demons that have supposedly possessed the Reproductive Health Bill advocates at a Pro-Life gathering in Manila Cathedral.
ADVERTISEMENT - CONTINUE READING BELOW
6."They cannot be more popish than the Pope."

--Presidential Spokesperson Edwin Lacierda and Presidential Communications Development Secretary Ricky Carandang saying local bishops should follow the Vatican's views on the use of condoms.
Vietnam Football Coach Henrique Calisto at a Suzuki Cup press conference
7. "Football is not putting eight players in front of the area with no offensive system... They put the bus in front of the goal and shoot, shoot, shoot, and pray... If the Philippines thinks they can win playing that way then my dear, poor, poor football in this region."
--Vietnam Football Coach Henrique Calisto on the winning Philippine team
8. "Mga p*tang ina."

--Then Makati City Rep. Teodoro "Teddy Boy" Locsin Jr. cursed Smartmatic representatives on Umagang Kay Ganda, a day after he called them "sons of bitches" during a House inquiry on alleged electoral cheating
9. "Lagi ko ngang sinasabi, hindi pa ako kinu-call sa Magkaribal kasi hindi ako type sa casting. Huwag sana akong idamay sa promotion. Kung gusto niyang mag-promote, mag-promote siyang mag-isa."

--Actress-host Angelica Panganiban on her controversial tweet ("Tarrrraaaayyy!!! Single ka teh? :)") reportedly directed to actress Gretchen Barretto, whom she had a supposed word war with over her boyfriend Derek Ramsay
10. "Ako si Victoria. Suot ko ang pag-ibig at hindi susuko at lalaban magpakailanman. You want war, I'll give you war. I'll be there in my red stilettos."

--Actress Gretchen Barretto quotes her Magkaribal character's line when asked for a comment on her supposed word war with actress-host Angelica Panganiban over Derek Ramsay
CONTINUE READING BELOW
Recommended Videos
11. "Well, I'm sure that after your marriage you've had some insertions."

--Then Sen. Aquilino Pimentel Jr. responds to what then Sen. Mar Roxas said ("I have no insertion of the matter") in January during a chamber debate on Sen. Manny Villar's alleged unethical conduct
12. "Si Ruffa every Sunday binabara niya... Naiinggit siya kay Ruffa! Kaya ako nananawagan sa taong bayan, huwag n'yo iboboto si Noynoy kasi hindi pa nga nananalo si Noynoy, e, ang yabang-yabang na ni Kris. Akala mo siya ang may-ari ng showbiz!"

--Annabelle Rama on her daughter Ruffa Gutierrez being supposedly maltreated by Kris Aquino on The Buzz, before Gutierrez left for Paparazzi
13. "Umm... You? Parang gini-grill mo ako dito ha. (laughs)."

--Then Quezon City councilor candidate Ara Mina on the Visiting Forces Agreement after Mo Twister asked her to comment on the VFA when he interviewed her for In My Opinion in January.
14. "Hayden is definitely back in my life. He was never gone actually."

--Cosmetic surgeon Vicki Belo on Hayden Kho, Jr., who figured in sex video scandals last year while he was in a relationship with her. They have since supposedly split up for good. As of this writing, at least.
15. "Ted, 'di ba textmate naman tayo talaga? At 'di ba may dinner tayo in two weeks? Puwede ba kitang anyayahan (sa Dalaw premiere) para magtabi kayo ni Noy (Aquino)? Malay mo maging brother-in-law mo siya in the future."

--Kris Aquino, in an interview with TV Patrol World's Ted Failon
ADVERTISEMENT - CONTINUE READING BELOW

QTV report: Coach Freddie Roach fears Pacquiao may lose to Margarito
16. "I said to him, '(Expletive) the president. We have a fight coming up you need to get ready for... I mean, he can meet the President anytime he wants. Why does he have to meet him on my time?"

--Coach Freddie Roach on Manny Pacquiao taking a day off from their training for the boxing champ's bout against Antonio Margarito to meet with President Noynoy Aquino
17. "When you think about (it), a Cebuana can hardly speak English and, of course, Tagalog. Maybe she should answer in Bisaya."

--Miss Universe 1969 Gloria Diaz says Filipina beauty queens need pageant interpreters. This statement got her declared persona non grata (personally unacceptable) in Cebu for supposedly belittling the English-speaking ability of Cebuanos.
18. "Parang lahat ng kasalanan ay ibinubunton niya (Kris) sa anak ko (James). Sana 'wag naman kasi hindi naman tayo perfect. Ang diyos lang ang perfect. Kung may kasalanan ang anak ko, natural lang siguro sa mag-asawa na mag-away 'di ba, pero 'wag naman niya lahat ibunton sa anak ko... Naawa ako sa anak ko kasi mabait ang anak ko. Sa totoo lang."

--Annie Yap, James Yap's mother, reacts to her son and Kris Aquino's marital woes
19. "Isa ito sa mga big preparations namin for Glee. Gusto ko naman mag-mukhang fresh paglabas sa kamera."

--Pinay singing sensation Charice on the controversial Botox and Thermage procedures she underwent
ADVERTISEMENT - CONTINUE READING BELOW

Saksi report: Tim Yap says sorry to reporter he wrongly tagged as grand lotto winner
20. "The first thing that crossed my mind was how clueless Yap was on the subject. The PCSO does not disclose the identity of any winner for obvious security reasons... The damage had been done... With the desperate times as indicated by the surge in petty crimes in the streets, I feared for our safety."

--Philippine Daily Inquirer reporter Miko Morelos on being wrongly proclaimed the Grand Lotto winner of P741 million by TV host Tim Yap
21. "Let's just move on, it's 2010! I'm so sawa na!"

--Sexy actress Krista Ranillo, alleged mistress of boxing champ Manny Pacquiao
22. "I want to show myself because I've been hearing all those things (about) my presence or absence... You can be here even if you're not on the floor. It is just like you are in an official trip but you can be present, and not on the floor."

--Negros Occidental 1st District Rep. Jules Ledesma attends the House plenary on August 17, following reports that he has shown up at the 15th Congress only once since it opened on July 26
23. "I think it's the most outrageous tsismis ever sa industriya natin! Masyado ho (yatang) nanonood ng Grey's Anatomy."

--Shaina Magdayao on the "penis captivus" rumor that hounded her and boyfriend John Lloyd Cruz
ADVERTISEMENT - CONTINUE READING BELOW
24. "Let him investigate. What will come out there is nothing. There's nothing that she did that's bad."

--Former First Gentleman Mike Arroyo on President Noynoy Aquino's campaign promise to investigate the Arroyo administration controversies
25. "(My protest was) an appeal to (the Catholic Church) not to be the new Padre Damaso in the new millennium because they really shouldn't be getting involved in affairs of the state. They threatened civil disobedience. I said, 'Why don't I show them what civil disobedience is about and see if they like it?' I really am sorry for the method but I hope you heard my message loud and clear. My message is unapologetic. But for interrupting the mass and ruining your day, sorry about that."

--Performance artist, activist and Intramuros walking tour guide Carlos Celdran on his "Damaso" protest against the Catholic Church's opposition to the Reproductive Health Bill
26. "Pagod na pagod na ako na tinatawag kaming sinungaling! Hindi ba puwedeng maging masaya na lang? Ito na nga, inilabas na ang totoo, sinungaling pa rin, may butas pa rin."

--Mariel Rodriguez on her and Robin Padilla's controversial wedding
27. "Never. I'm sorry, but never. I'd wear anything cheap but (not) that... Because I'm always ready."

--Gretchen Barretto when asked if she would dare to wear cheap underwear
28. "What I notice is that dresses now are getting lower here (points to his chest) and upper here (points to his legs). Sana buhay pa ako ('pag) nagtagpo 'yang dalawang 'yan."

-- Quezon City 3rd District Rep. Danilo Suarez on some underdressed House members
ADVERTISEMENT - CONTINUE READING BELOW
29. "Kahit ako, the minute after the SONA ended, I could answer each and every point without doing my research, eh mas bright sa akin si Ma'am (Gloria Macapagal-Arroyo). Kung kaya ko sagutin, mas kaya niya pero since nasagot na namin, 'di na niya kailangan sumagot."

--Gloria Macapagal-Arroyo's spokesperson Elena Bautista-Horn says the former President does not need to respond to allegations President Noynoy Aquino said in his first State of the Nation Address
Django Bustamante wins his first world pool title
30. "By finally winning the world 9-ball, which is every pool player's dream, I can now say that I am a complete billiards player."

--Django Bustamante, 46, on his first world pool title in the World 9-Ball Championship. He has been playing pool since he was 10 years old.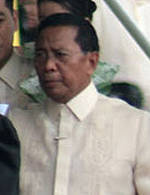 31. "I'll get a rash staying here."

--Vice President Jejomar Binay comments, "in jest," on his new office at the Philippine National Bank Building in Pasay
ADVERTISEMENT - CONTINUE READING BELOW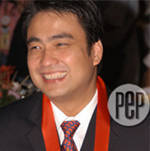 32. "No amount of perfume could ever take away the stench of (Kho's) dirty deeds."

--Sen. Bong Revilla on Hayden Kho after Kho called him "narrow-minded" for asking the public not to forget the former cosmetic surgeon's sex tape scandal.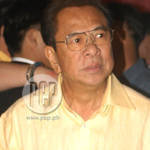 33. "'I have twelve tiger. When I home, I swim with them every day. But now I want to make liger, yes?' The product of a lion and a tiger. 'So I bring lion in, and he do this, yes?' The Governor made a fucky-fucky motion with his right index finger and his closed left fist. 'And he do, and he do. No liger. And so I make him do, and do some more. And then...acchhhhh!' The Governor clasped his hands to his heart and rolled his eyes back in their orbits; his lion stud had literally died of a cardiac infarction while being made to copulate for the umpteenth time with one of his tigresses. 'No liger,' the Governor said dejectedly."

--An excerpt from the GQ article on Manny Pacquiao in which Ilocos Sur Gov. Chavit Singson boasted about a genetic experiment
ADVERTISEMENT - CONTINUE READING BELOW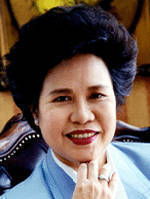 34. "Let's get some neurons in our brains working. The neurons are not working. 'Pilipinas Kay Ganda' is just, I think, ignorant, and ignorance is boring."

--Sen. Miriam Defensor-Santiago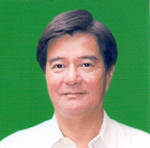 35. "Let us put things in their proper perspective. Undersecretary Romano resigned already and has taken full responsibility for it. Nothing was stolen from the country, and P5 million [allegedly spent on the logo launch] is not that big compared to what was stolen from the country in the past."

--Department of Tourism Sec. Alberto Lim on DOT Undersecretary Enteng Romano's resignation over the scrapped "Pilipinas Kay Ganda" campaign
ADVERTISEMENT - CONTINUE READING BELOW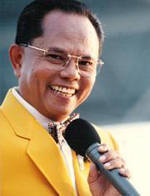 36. "It could (mean) that the Pope is allowing prostitution; just protect yourself with (a) condom."

--El Shaddai leader Bro. Mike Velarde on Pope Benedict XVI's stand allowing the use of condoms to prevent HIV transmission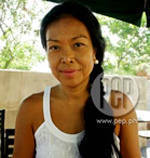 37. "We are genius(es), borderline insanity. My intelligence is way above most people. Does that make me insane?"

--Marlene Aguilar, mother of road rage suspect Jason Ivler, defends herself against some listeners of dzMM calling her crazy for claiming her enemies framed Ivler
ADVERTISEMENT - CONTINUE READING BELOW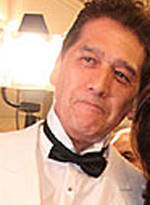 38. "Go ahead. Sue, Claudine. Make our day! Para bellum."

--The reaction of Johnny "Mr. M" Manahan, the first head of ABS-CBN's talent arm Star Magic, to Claudine Barretto threatening to charge ABS-CBN star Angelica Panganiban with libel or slander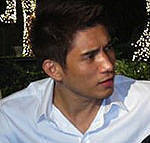 39. "Respeto lang po kay Presidente Noynoy (Aquino)... He will take his oath of office tomorrow at ayoko namang agawan siya ng eksena. Our country has a lot of problems. Ewan ko ba kung bakit ang problema namin ng asawa ko ang pinagtutuunan ng pansin ng tao."

--James Yap on his breakup with estranged wife Kris Aquino
ADVERTISEMENT - CONTINUE READING BELOW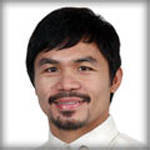 40. "Hindi naman sinabi na 'Go out and multiply' pero dalawa lang ang anak."

--Sarangani Rep. Manny Pacquiao opposes the Reproductive Health Bill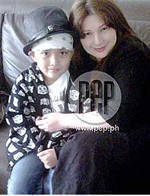 41. "Akala ko ba inaalagaan ni Mariel si Ali? Bakit may kuto at ang daming lisa ni Ali?"

--Liezl Sicangco questioning her ex-husband Robin Padilla's and his new wife Mariel Rodriguez' claim that they took care of Sicangco's children


ADVERTISEMENT - CONTINUE READING BELOW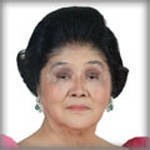 42. "Because I'm the number one major victim of human rights, I have not had my justice since 1986 but anyway I'm sure things will come out right. I'm very positive and I'm very excited about this because united, this country has so much potential."

--Ilocos Norte Rep. and former First Lady Imelda Marcos on supporting the human rights compensation bill which would benefit the families of the victims during the dictatorship of her late husband, Ferdinand Marcos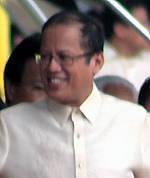 43. "Mislang is young and could easily make mistakes."

--President Noynoy Aquino on his speechwriter Maria Carmen Mislang's "arrogant and insensitive Tweets" during a state visit to Vietnam


ADVERTISEMENT - CONTINUE READING BELOW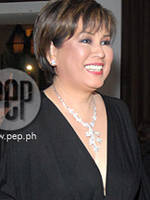 44. "Naging star lang siya dahil sa akin. Matagal na siyang nalaos! Wala siyang project; sa akin lang siya nabuhay. Binuhay ko lang ang kanyang patay na career... Sa tagal ko na sa industriya, sa tagal ko nang manager, yung mga walanghiyang talent, ingrata, walang utang na loob, malalaos din 'yan! Hindi ako papayag. 'Yang mga walang utang na loob, mga ingrata, hindi sisikat 'yan. Kakarmahin 'yan sa akin!"

--Annabelle Rama on Heart Evangelista, her ward who decided not to renew her contract with Rama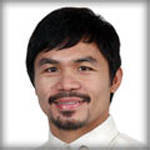 45. "I don't want to be just your boxing idol. I also want be your idol in public service."

--Then congressional candidate Manny Pacquiao during the campaign season


ADVERTISEMENT - CONTINUE READING BELOW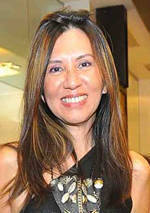 46. "Where do we go from here? Just slug it out in Facebook and Style Bible? It is sad to say that we fashion designers have organized a legitimate council (the Fashion Design Council of the Philippines) but have never lead it to maturity to discuss and tackle issues related to the betterment of our sector. We have so far used our council as a marketing vehicle instead. Then, we become too busy to take time to share and participate further, thinking it is no longer worth our time."

--Past FDCP President and veteran knitwear designer Lulu Tan Gan on the Rajo Laurel cobweb "copying" issue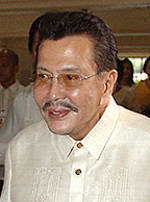 47. "Bago eh (the new automated voting system). Pati nga si JV (his son who is running for Congress) nakaligtaan ko eh."

--Former presidentiable Joseph Estrada on failing to vote for his running mate, now Vice President Jejomar Binay, and his son JV Ejercito


ADVERTISEMENT - CONTINUE READING BELOW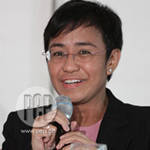 48. "(The hostage crisis) was a disastrous example of incompetence, political factionalism and lack of national leadership... The coming weeks will show whether (the President) can learn from his mistakes, or whether the Philippines is in for another Aquino presidency that has good intentions but bungled outcomes."

--Maria Ressa, outgoing head of ABS-CBN News and Current Affairs, says in her article for the Wall Street Journal, "Noynoy Flunks His First Test"
49. "I cannot just sit idly by and watch the death of a show (Wowowee) that has brought joy and hope in so many ways to our less fortunate countrymen... If I made a mistake, I think it is loving Wowowee too much and making it my life. Thus, when it was cancelled, it was as if my life was consumed as well."

--Part of former Wowowee host Willie Revillame's letter addressed to ABS-CBN Chairman Eugenio Lopez III dated August 9


ADVERTISEMENT - CONTINUE READING BELOW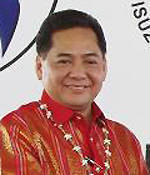 50. "Ang importante siguro-huwag naman magagalit kung tayo ay magmumungkahi na muli-mamili ng medyo cute na mga makakasama sa kapaligiran."

--Then deputy presidential spokesman Rogelio Peyuan on then leading presidentiable Noynoy Aquino's possible Cabinet members


Read: "SPOT.ph's 50 Quotable Quotes of 2009" (Part 1 and Part 2)
Artwork by Warren Espejo. Photos by Jose Santos P. Ardivilla (Jejomar Binay and Noynoy Aquino), Girlie Rodis (James Yap and Gretchen Barretto) and Jim Punzalan (Erap Estrada), and from Senate.gov.ph (Miriam Defensor-Santiago), Tourism.gov.ph (Alberto Lim), Congress.gov.ph (Manny Pacquiao and Imelda Marcos, PIA.gov.ph (Rogelio Peyuan), El Shaddai Online (Mike Velarde), and PEP.ph (Bong Revilla, Marlene Aguilar, Willie Revillame, Johnny Manahan, Chavit Singson, Annabelle Rama, Maria Ressa and Liezl Sicangco with son Ali).

Share this story with your friends!
---
Help us make Spot.ph better!
Take the short survey
Load More Stories