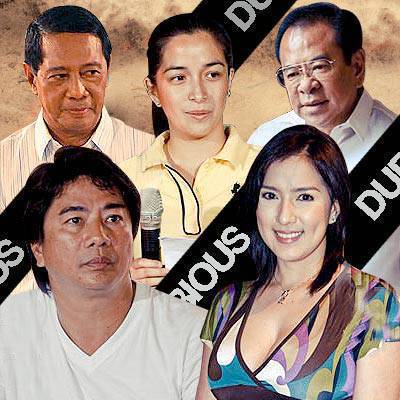 The Philippines had its fair share of FTW moments this year but the WTH ones weren't far behind. SPOT.ph dredges up some "achievements" that may not deserve to be called as such.
25. An elementary school in Quezon City requires students to wear pajamas to school to avoid dengue.

In August, it was reported that the Rosa L. Susano-Novaliches Elementary School in Quezon City required its students to wear pajamas or pants and long-sleeved tops to school instead of uniforms, to avoid dengue. The World Health Organization does advise people to wear "full-sleeved clothes and long dresses" to avoid mosquito bites but a mandatory use of pajamas went a tad overboard. Besides, won't the kids get the Pavlovian urge to sleep in class?
24. Fugitive has his mole removed to avoid capture but still gets caught.

Benley Pua, a fugitive for three months after he escaped from Sablayan Penal Farm in Mindoro Occidental, had a not-so-prominent mole near his lips removed to hide his identity. It obviously didn't work because he was caught and brought back to jail where his maximum-security status was reinforced.
23. Presidentiable Dick Gordon dances with Moymoy Palaboy during the campaign season after saying, "I sing but I don't dance."

At the start of the recent campaign season, Presidentiable Dick Gordon reportedly said, "I sing but I don't dance." However, viral Youtube videos-one of which has been blocked-show otherwise. The former Senator loosened up with comedic duo Moymoy Palaboy; he reportedly sang and danced to the tune of "The Lion Sleeps Tonight" and also danced to "Doctor Jones."
ADVERTISEMENT - CONTINUE READING BELOW
The ouster of Jose Mari Martinez in November
22. The leadership issues in the Philippine Football Federation

Twenty six of 33 provincial associations voted to oust Philippine Football Federation (PFF) President Jose Mari Martinez in November but he is still recognized by FIFA as the PFF head. As such, it was Martinez, and not elected PFF Interim President Mariano Araneta Jr., who joined in the negotiations of the Asean Football Federation (AFF) Suzuki Cup. This unresolved problem in leadership especially figured when Martinez decided to hold the home game in the semi-final series between the Philippines and Indonesia in Jakarta, supposedly without consulting the Philippine football team.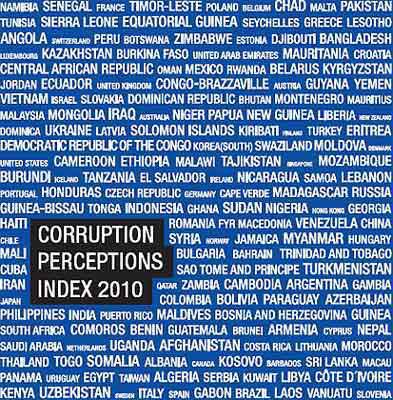 Screencap from Transparency International's 2010 Corruption Perceptions Index
21.  The Philippines moves up from 139th to 134th in 2010 Corruption Perceptions Index.

Although the Philippines improved its ranking in Transparency International's 2010 Corruption Perceptions Index, the country remained "highly corrupt" with a score of 2.4, the same as last year's. Nevertheless, Malacañang said the improvement "says something about (the government's) determination to promote good governance."
CONTINUE READING BELOW
Recommended Videos
20. Charice gets BoTox for Glee, but her rep later says it was for her jaw pain.

Pinay singing sensation Charice, 18, underwent Botox and Thermage procedures in July supposedly in preparation for her Glee guest role. Her doctor and godmother, Vicki Belo, reportedly said these were done to make Charice' "naturally round face" narrower. But a few days later, after news of Charice going under the knife made the rounds in the international press and blogs (Perez Hilton called it "SICK!!!"), her rep told Us Weekly that she got injected with Botox "to relieve a jaw problem."
19. The whole Wowowee versus Willing-Willie spectacle

The defunct Wowowee and its alleged copycat Willing-Willie both dominated the headlines this year-but not solely because of the shows' programming strengths. The main host of both variety shows, Willie Revillame was caught in a tangle of legal battles after he jumped ship to TV-5 and rescinded his contract with ABS-CBN, which, of course, the network did not take very well.
Shalani Soledad's first day as Willie Revillame's co-host
18. Shalani Soledad joins Willing-Willie as co-host.

Some women get a drastic haircut after a breakup, but for Valenzuela Councilor Shalani Soledad, life after P-Noy involved taking on a hosting gig with Willie Revillame. The meek-looking politician defended her new career path by saying she was convinced by Revillame's promise of weekly gift-giving to the less fortunate. "He presented the offer in such a way that I'm not, until now, seeing this as showbiz. To me, it's just another opportunity to reach out and help, just another medium." About a month after Soledad's debut in Willing-Willie, PEP.ph confirmed rumors that Revillame is indeed courting her.
ADVERTISEMENT - CONTINUE READING BELOW
17. Kris Aquino announces plans to run for public office in 2016.
Inspired by actress and Batangas Gov. Vilma Santos, the "Queen of All Media" announced that she wants to run for governor of Tarlac, the Aquino bailiwick, in 2016. The actress-host said her mother, the late President Corazon Aquino, told her that if there's anybody in showbiz she should be emulating, it should be Santos. It can be remembered that Santos served three terms as mayor of Lipa City before running for governor of Batangas.
16. Noynoy and Kris Aquino's respective dating lives after breaking up with their partners

The high-profile siblings broke up with their respective partners this year-Noynoy with girlfriend Shalani Soledad and Kris with husband James Yap-and the whole world knew about it. The President is keen on maintaining his privacy but not if his celebrity sister can help it-or so it seems. For instance, Kris recently confirmed that the President is dating stockbroker Len Lopez. She said in a mix of Filipino and English, "I don't think he would be mad that I confirmed that he's dating Len because she's not a public person. She works in a private industry. In the spirit of Christmas, maybe we could give him the gift of privacy until January."
15. The dancing female flight attendants of Cebu Pacific get the world's attention...
...But the feedback wasn't all good. While the likes of  American Idol host Ryan Seacrest and website Yahoo Music raved about the airline's gimmick, there were also those who did not find it entertaining. CNN Anchor Anderson Cooper said, "I've got to say this is the point where I would have demanded to get off the airplane." The gimmick has also been called "sexist" and "exploitative." (A video of dancing male flight attendants surfaced on Youtube a few days later.)

Some also questioned whether the first video was staged. Yahoo Music wrote, "But if so...who cares? Clearly the marketing execs over at Cebu are geniuses. And besides, these attendants are actually getting passengers to pay attention to safety demonstrations for once, and they're making the skies just a little friendlier (and funkier). So everyone wins."
ADVERTISEMENT - CONTINUE READING BELOW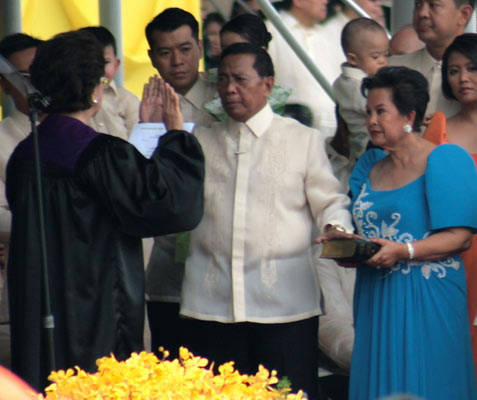 Jejomar Binay takes his oath of office as the Vice President of the Philippines. Photo by Jose Santos P. Ardivilla.
14. Vice President Jejomar Binay complains "in jest" about his austere new office on his first day on the job.

Binay started off his vice presidency by saying he'll "get a rash" staying in his office on the seventh floor of the Philippine National Bank Building in Pasay City. Finding it "too bare" and "a bit warm," he said, "Dapat may konti ring yabang, 'wag lang 'yong sosobra... There must be dignity commensurate to the occupant of the office." He added, "With my size, I can't rest my back (on my chair). How did (former Vice President) Noli de Castro do it? This is only for six-footers."
13. Congress cuts budget for condoms from P880 million to zero.

The bicameral conference committee recently reduced the Department of Health's budget for condoms from P880 million to zero. This proposal allegedly encountered "no major difficulty with the House panel, which included Minority Leader Edcel Lagman, chief proponent of the Reproductive Health Bill," Inquirer.net reported, citing Sen. Vicente Sotto III. Sotto said, "My thesis was strong-the bicam was not the venue for debates on the RH bill."
ADVERTISEMENT - CONTINUE READING BELOW
12. Pro-Life Philippines President Eric Manalang casts out "Satan" in Reproductive Health Bill advocates

During a heated discussion in November at the Manila Cathedral, Pro-Life Philippines President Eric Manalang told Reproductive Health (RH) Bill advocates, "Satan, get away from us! Walk out! Now! While you're still alive, change! Bastos! Damaso is just a fake; you are fakes! Satan, get out!" He defended this controversial statement by saying in Filipino, "I realized that these people may have been possessed by demons. As a practicing Catholic, I know it is possible. So I cast out Satan."
11. Gloria Macapagal-Arroyo appoints her manicurist and gardener to government positions during her term as President.

During her administration, former President Gloria Macapagal-Arroyo appointed her manicurist Anita "Nitz" Carpon, as board member of the Pag-IBIG Housing Fund and her gardener Armando Macapagal, as deputy of the Luneta Park Administration. Then deputy presidential spokesman Gary Olivar defended Arroyo's decision, saying Carpon will represent small employees who need the services of PAG-IBIG.

However, Jarius Bondoc of the Philippine Star wrote, "A third insider doubts the two appointees' credentials. Macapagal supposedly landscapes Malacañang lawns but does not manage people. Carpon is not known for financial expertise to oversee the multibillion-peso housing mutual fund of all employees. Nicknamed Nitz, she is often scolded by Arroyo for mismatching presidential handbags and shoes."


10. The government reportedly boycotts the awarding of the Nobel to an imprisoned Chinese dissident.

The Philippine government declined to attend the awarding of the Nobel Prize to imprisoned Chinese dissident, Liu Xiaobo, which some took to mean that the Philippines was aligning with China. Presidential Communications Secretary Ricky Carandang first said it was because of a conflict in the schedule of the Philippine ambassador to Norway. However, citing President Noynoy Aquino himself, Inquirer.net reported that the President "did not want to jeopardize efforts to spare five Filipinos sentenced to death for drug trafficking in China." Aquino said, "It's in our national interest that we do not at this time send a representative to the Nobel award rites. But we remain firmly committed to human rights."

Inquirer.net also reported the two other reasons the President mentioned: "the Philippine government was in the process of achieving 'closure' with China on the (hostage crisis) where eight Hong Kong tourists were killed" and the "safety of Filipinos who might be affected by the tension between South Korea and North Korea."
ADVERTISEMENT - CONTINUE READING BELOW
9. Venus Raj's "major major" answer in Miss Universe 2010

The "major major" answer of Miss Philippines Venus Raj, an early favorite in the Miss Universe 2010, instantly became a hit catchphrase but it may have cost her the crown, some argue. Saying she has never made a mistake in her 22 years of existence "may have been the biggest mistake of her life," said ABC News. Meanwhile, E Online flat out called her a "bimbo," a "babbling beautiful woman." Raj, for her part, has consistently waved off the backlash, once saying, "At least I was part of people's everyday conversation." If it's any consolation to the Miss Universe fourth runner-up, former U.S. President George W. Bush was also stumped by practically the same question. He told a reporter, "I wish you'd given me this written question ahead of time."
8. Ara Mina gets grilled on In My Opinion, says show host Mo Twister should have been "gracious or polite."

Sexy actress Ara Mina, who ran for Quezon City councilor this year, gave controversial answers in an interview with Mo Twister on In My Opinion in January. Perhaps the most eyebrow-raising moment in the interview was when Mo Twister asked if she was for or against the Visiting Forces Agreement. She said, "Umm... You? Parang gini-grill mo ako dito ha (It's as if you're grilling me). (laughs)" After an edited video of her interview went viral, she reiterated and defended her answers. Of Mo Twister, she said, "Bisita ako doon; tama lang na maging gracious o polite siya sa akin. (I was a guest on his show; he should have been gracious and polite to me.)"
ADVERTISEMENT - CONTINUE READING BELOW
7. Former President Gloria Macapagal-Arroyo is now the House Representative of Pampanga.

After holding the highest position in the land for almost a decade, Gloria Macapagal-Arroyo refused to take a break from politics. In May, the former President returned to the welcoming arms of her kabalens as the elected representative of Pampanga's second district. She replaced her son, Mikey Arroyo.
6. Mikey Arroyo represents security guards in Congress.

In June, former Pampanga Rep. Mikey Arroyo was nominated as a representative of the party-list group Ang Galing Pinoy, which claims to represent security guards, tricycle drivers and farmers. Tricycle driver Danilo Antipasado later filed a petition to disqualify Arroyo, saying, "(He) is the scion of a rich and landed family of the Macapagal and Arroyo clans. He is a son of a (former) President of the republic and is himself a former vice governor of his province and a two-term congressman of his district  (He is neither a tricycle driver nor a security guard) and therefore cannot claim to truly represent them in Congress."
This month, the Supreme Court ruled that they no longer have jurisdiction over the matter; Arroyo's case is now in the hands of the House of Representatives Electoral Tribunal. For his part, Arroyo said, "I am a member of AGP. It just so happens that majority members of AGP are security guards and tricycle drivers. When I legislate, it is for the benefit of the group."
ADVERTISEMENT - CONTINUE READING BELOW
24 Oras video: Mislang's tweets draw criticism
5. Mai Mislang criticizes Vietnam on Twitter while in the Asian country for the Asean Summit.

It seemed like Malacañang speechwriter Carmen "Mai" Mislang needed a Twitter editor. While in Vietnam for the Asean Summit with the presidential delegation, Mislang reportedly Tweeted that the wine served at a state banquet "sucked," that there were "no handsome men" in the country, and that it would be easy to die in the "motorcycle-laden streets of Hanoi." President Noynoy Aquino came to her defense, saying she is "young and could easily make mistakes." Mislang has apologized to the President, and her Twitter account has been taken down.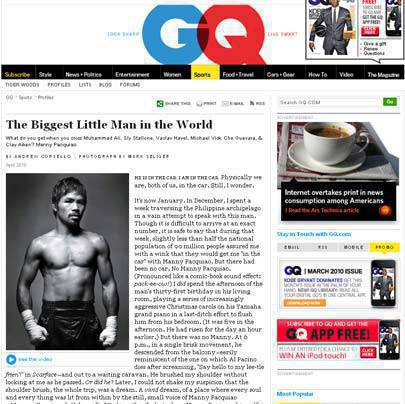 Screencap from GQ.com.
4. Chavit Singson boasts about his "liger" experiment to GQ writer Andrew Corsello.

In a profile story on boxing champ Manny Pacquiao in March, current Ilocos Sur Gov. Chavit Singson gave a detailed account of his failed "liger"-the offspring of a lion and tiger-experiment. GQ wrote, "His lion stud had literally died of a cardiac infarction while being made to copulate for the umpteenth time with one of his tigresses. 'No liger,' the Governor said dejectedly." Corsello described this strange experiment after recounting how Singson allegedly gave gambling kickbacks worth millions of dollars to former President Joseph Estrada, and allegedly beat up his mistress and her lover, whose genitalia supposedly had to be surgically cut off after Singson's men "whacked it with a hammer."
ADVERTISEMENT - CONTINUE READING BELOW
News on Q video: PNP defends action in Manila hostage crisis
3. The handling of the hostage crisis in August

There's no doubt that local authorities could have handled the Manila hostage crisis in August infinitely better. International security experts criticized the live coverage of the hostage taking, the "stop-go negotiations," and the "badly prepared and risky" bus assault of the police who "visibly lacked adequate equipment and tactical competence."

Citing Philippine National Police spokesperson Senior Supt. Agrimero Cruz, Inquirer.net reported that "these (defects) include 'side issues and events that further agitated the hostage taker,' inadequate capability, skills, equipment and planning of the assault team, improper crowd control, and the noncompliance to media relations procedures in hostage situations." However, Cruz said, "In our point of view, given the situation and our meager resources, we did well... Our policemen were brave. Even without protective clothing, they did their job because the order was to assault... There is nothing perfect. We always have to improve."
2. Cops and civilians have their photos taken while smiling in front of the hostage bus.

Yes, this is also related to the hostage crisis mentioned above but this epic fail of a move deserves a number of its own. These photos instantly went viral on Facebook, seemingly adding salt to the wound, especially among the families of the eight casualties from Hong Kong.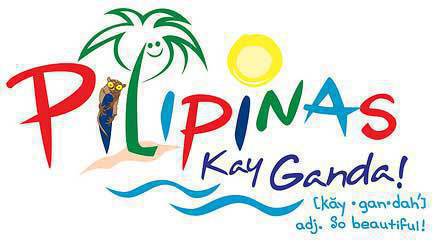 ADVERTISEMENT - CONTINUE READING BELOW
Screenshot from GMANews.tv
1. The P5 Million "Pilipinas Kay Ganda" tourism campaign

No tourism campaign of ours was ever as controversial as the scrapped "Pilipinas Kay Ganda" campaign. First, some argued that foreigners-the campaign's target audience-would have trouble understanding a slogan in Tagalog. Second, its error-filled website beautifulpilipinas.com was taken down after a few people pointed out it was one letter away from a porn site's URL. Third, the slogan bore eerie similarities to Poland's tourism campaign logo "Polska," prompting allegations of plagiarism. Fourth, Tourism Undersecretary Enteng Romano resigned from his post, taking full responsibility for the widely criticized campaign, which reportedly cost P5million just to launch. Department of Tourism Secretary Alberto Lim said, "Let us put things in their proper perspective. Undersecretary Romano has resigned already and has taken full responsibility for (the campaign). Nothing was stolen from the country and (the) P5 million (spent on the scrapped campaign) is not that big compared to what was stolen from the country in the past."
Artwork by Warren Espejo.
Share this story with your friends!
---
Help us make Spot.ph better!
Take the short survey
Load More Stories