10 of the Philippines' Most Well-Known Political Dynasties
They have their own bailiwicks.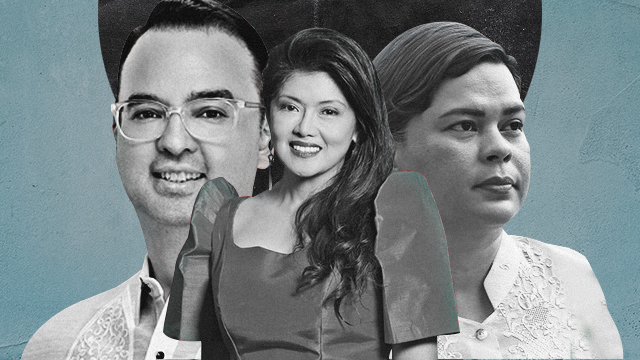 (SPOT.ph) Political dynasties have existed in the Philippines for centuries. It can be traced back to pre-colonial society during the time of the datus when the position could be transferred from the head of the family to the next of kin—though the seat had to be relinquished when the needs of the barangay were not put first. When the Spaniards came, the datus were offered positions in local government where they were given the power to collect tributes from their constituents and exemption from paying taxes or doing forced labor. It didn't help that the status of the datus-turned-principalia could be inherited as well. During the American colonial period, political families became even stronger as the right to vote was only given to the Filipino elite. This meant that the power remained in the upper class, which is still common to this day.
There has been a lot of debate on the effect of dynasties in the country's political and economic landscape. And while the 1987 Constitution of the Philippines states that "The State shall guarantee equal access to opportunities for public service, and prohibit political dynasties as may be defined by law," there really isn't any law prohibiting it.  
ADVERTISEMENT - CONTINUE READING BELOW
Several anti-dynasty bills have been filed, but these have always been passed over in Congress since 1987. Most recently, Senator Francis Pangilinan and Senate Minority Leader Franklin Drilon have been urging President Rodrigo Duterte's administration to ban political dynasties. According to them, this would end the "real oligarchy." 
Some of the most prominent political families that still hold positions in the Philippine government:
Cayetano
The Cayetanos' foray into Philippine politics started with family patriarch Rene Cayetano who served as the representative of what was then the combined legislative district of Muntinlupa, Pateros, and Taguig from 1984 to 1986. He was later elected senator in 1998, and authored bills and resolutions that would speed up court hearings for criminal cases. The elder Cayetano was also one of the 10 senator-judges who voted for the opening of the controversial second envelope during the impeachment hearing against former President Joseph Ejercito Estrada—eventually triggering the second People Power Revolution. 
CONTINUE READING BELOW
Recommended Videos
Cayetano's children took over local-government positions in Taguig: Alan Peter's wife Ma. Laarni "Lani" L. Cayetano served as mayor from 2010 to 2019 and was succeeded by his brother Lino Edgardo, who has been mayor from 2019 to present. The congressional seat in the second district was held by Lino Edgardo (2013 to 2016) and then Pia (2016 to 2019). Meanwhile, Alan Peter and Lani are currently representing Taguig City's first and second districts, respectively. Siblings Alan Peter (2007 to 2017) and Pia (2004 to 2016; 2019 to present) also served in the Philippine senate. 
ADVERTISEMENT - CONTINUE READING BELOW
Alan Peter, who also served as the chairman of the Philippine Southeast Asian Games Organizing Committee in 2019, came under fire for the dubious spending and other inconveniences before the competitions started. In 2014, he and his wife faced graft and plunder complaints filed by a civil society group. The complaints alleged that the former senator misused his Priority Development Assistance Fund from 2007 to 2009, while former mayor Lani allegedly purchased overpriced multicabs during his term. 
Gatchalian
The Gatchalian siblings hail from Valenzuela City, where Sherwin was representative from 2001 to 2004, and then again from 2013 to the present, while his brother Rexlon took over the same position in between (2004 to 2013). The mayoralty position, on the other hand, passed from Sherwin (2004 to 2013) to Rex (2013 to present). 
Rex, in 2017, faced criminal charges for graft and reckless imprudence for his alleged negligence in the Kentex fire tragedy. The complaints were dismissed. Amid the COVID-19 pandemic, Valenzuela's mayor got a high approval rating in an online survey conducted by PUBLiCUS Asia, Inc. He started targeted mass testing for his constituents as early as April 11. 
Duterte 
President Rodrigo Duterte comes from a long lineage of politicians from Davao. His father Vicente Duterte was appointed as mayor of Danao, Cebu—hometown of the president's grandmother—by then President Sergio Osmeña. The family moved to Davao in 1949, and Vicente became governor from 1959 to 1965. His son Rodrigo became vice mayor (1986 to 1987, 2010 to 2013), mayor (1988 to 1998, 2001 to 2010, 2013 to 2016), and congressman (1998 to 2001) of Davao City. 
ADVERTISEMENT - CONTINUE READING BELOW
Rodrigo's brother Benjamin was city councilor from 1998 to 2001, while his children also held positions: Paolo as vice mayor from 2013 to 2018 while his father was mayor in the first three years; Sara, who was mayor in the next two years; and Sebastian as vice mayor from 2019 to present while his sister again served as mayor. Paolo is currently a member of the House of Representatives from the city's first district, while his wife January serves as barangay chair of Cataluna Pequeño. 
Should there be a law banning political dynasties in the country, President Duterte said in 2019 that he would support such a measure, while expressing doubts that it would be passed by Congress.
Binay
Before Jejomar Binay was vice president of the Philippines during the presidency of Benigno Aquino III, he was Makati City mayor (1986 to 1987, 1988 to 1998, and 2001 to 2010). When he vacated the post between 1998 and 2001, his wife Elenita took over. As he went on to higher office in 2010, his son Junjun took over as city mayor until 2015. In 2016, Abby was elected mayor of Makati after serving as congresswoman of the city's second district. 
In 2018, both Jejomar and his son faced charges of graft and falsification of public documents over alleged irregularities in the procurement for a 10-storey building of the Makati Science High School in 2007. Junjun was also investigated in 2015 for alleged anomalies in the construction of the P2.3-billion Makati City Hall Building II.  
ADVERTISEMENT - CONTINUE READING BELOW
Aguilar - Villar 
The Aguilar-Villar family's bailiwick is in Las Piñas, where Filemon Aguilar was mayor from 1964 to 1986. The patriarch also served as congressman from 1987 to 1992, representing the lone district of what was then the municipalities of Las Piñas and Muntinlupa. His wife Imelda and son Vergel alternated as mayors: 1995 to 2004 was Vergel, 2004 to 2007 was Imelda, 2007 to 2016 was Vergel, and then Imelda again at present. 
Filemon's daughter, Cynthia Aguilar-Villar, was representative of the legislative district of Las Piñas for nine years (2001 to 2010) before running and winning as senator in 2013. Cynthia's wife Manny served as congressman of Las Piñas for eight years (1992 to 2001), right after Filemon, before serving in the senate from 2001 to 2013. Mark, their son, took over as representative from 2010 to 2016 before becoming Secretary of Public Works and Highways. Cynthia also serves as Chair of the Philippine Senate Environment and Natural Resources Committee. 
The Villars own Vista Land, one of the country's biggest property developers and the holding company of Brittany, Crown Asia, Camella Homes, Communities Philippines, and Vista Residences. Most recently, the real estate business was called out online after cutting down 53 Benguet pine trees and one Norfolk fir tree in Baguio to make way for a Vista Residences project. The Department of Environment and Natural Resources ruled that this was done with the necessary permits and requirements. 
Revilla
Ramon Revilla Sr. (real name: Jose Acuña Bautista Sr.) wasn't only the "Hari ng Agimat" in Filipino films, but also a senator from 1992 to 2004. His son Ramon "Bong" Revilla Jr. likewise served in the senate, but the Revillas became prominent through local positions in Cavite. Revilla was vice governor (1995), then governor (1998 to 2001); his wife Lani Mercado was congresswoman representing the second district of Cavite from 2010 to 2016 before becoming mayor of Bacoor. Their son Jolo has been vice governor of Cavite since 2013. Ramon Sr.'s other son Strike was former mayor of Bacoor from 2007 to 2016, then congressman since 2016; while his daughter Rowena Bautista-Mendiola was elected councilor in 2013, 2016, and 2019. Andrea Bautista-Ynares, one of Ramon Sr.'s seven children, is currently serving as mayor of Antipolo City. The Ynares clan is a political family in Rizal. 
ADVERTISEMENT - CONTINUE READING BELOW
Bong was imprisoned for more than four years after facing plunder and draft charges in 2013. He was allegedly one of the patrons of dubious non-government organizations linked to Janet Lim Napoles, and shared a four-room bungalow in Camp Crame with two other accused public officials, Juan Ponce Enrile and Jinggoy Estrada. He was acquitted in December 2018 and ran for senate in the 2019 national elections. 
Remulla 
Jesus Crispin Remulla, former governor (2016 to 2019) and congressman of Cavite (2004 to 2010, 2019 to present), has been getting a lot of airtime after playing a major role in the congressional hearings for the franchise renewal of ABS-CBN. He was also under fire for failing to stand during the singing of the national anthem on July 10, an act called out by his younger brother and current Cavite governor, Jonvic Remulla, Jr. 
Their father, Juanito Remulla, Sr., was the longest-sitting governor of Cavite from 1979 to 1986, and then again from 1988 to 1995. He served as vice governor from 1972 to 1979. Juanito's youngest son, Gilbert, was a reporter for ABS-CBN before becoming one of the youngest members of Congress.  
Sotto
The Sottos are actually all over the Philippines. It started with Filemon Sotto who represented Cebu's third district in the House of Representatives (1907 to 1909, 1909 to 1912, and 1912 to 1916), then served in the senate until 1922. His younger brother, Vicente Sotto, also served both in the lower house (representing Cebu's second district) and the upper house, where he authored the Press Freedom Law (Sotto Law) that protects journalists from being compelled to name their news sources. 
ADVERTISEMENT - CONTINUE READING BELOW
It was Vicente's grandchildren, Vicente "Tito" Sotto III and Val, who continued the family's legacy in politics. Tito was vice mayor of Quezon City from 1988 to 1992, then senator (1992 to 1998, 1998 to 2004, and 2010 to present). Val, on the other hand, served as councilor in the second district of Parañaque from 2004 to 2013. Tito's son, Gian, is currently the vice mayor of Quezon City; Tito's daughter, Tala, is currently one of Quezon City's councilors; and Val's son, Wahoo, is incumbent Parañaque councilor. 
Tito Sotto, currently the Senate President, is often in the news for his baffling "Sotto-isms." This includes the confusing  "the SOGIE bill [as] a bill against women's rights," saying that "the fish could be coming from China," and downplaying molestation as "nahipuan lang." 
Pasig City Mayor Vico Sotto is the son of Vic Sotto and actress Coney Reyes. The younger Sotto has said he always wanted to emulate his great-grandfather Vicente. "I never met him, but if you read the history books, he was a principled man who was really brave. He stood up for what he believed in," he said. He also assured the public that he will not establish a political dynasty in his hometown. "Ako lang naman ang Sotto sa Pasig. Definitely hangga't ako ang nakaupo dito sa Pasig wala akong ibang immediate family or malalapit na kamag-anak na tatakbo dito. Hindi ako papayag," he said in 2019.  
Ampatuan
The surnames Mangudadatu and Ampatauan caught the attention of national news after the Maguindanao massacre on the morning of November 23, 2009. Up to 58 people were killed that day, including then Buluan Vice Mayor Esmael "Toto" Mangudadatu, his family members and supporters, and 32 journalists. The Ampatuan brothers, namely Datu Andal Ampatuan, Jr. and Zaldy Ampatuan, were convicted of 57 counts of murder and sentenced to reclusion perpetua without parole. Both families have a stronghold in Maguindanao. 
ADVERTISEMENT - CONTINUE READING BELOW
The Ampatuans have been in the province since the '60s, tracing their roots to Muslim preacher Shariff Aguak. According to University of the Philippines history professor Arnold Esguerra in a BBC report, it wasn't until the early part of the 20th century when the name started appearing in official documents.  
While they were influential as traders, their social status was below the datus of the tribes; but things changed in the '70s when then-President Ferdinand Marcos chose the Ampatuans to take over the province. Andal Sr. became mayor of Magonoy, then was appointed officer-in-charge of Shariff Aguak in 1986. He later became governor of Maguindanao for three terms. His son, Zald, became governor of the Autonomous Region of Muslim Mindanao while Andal Jr. became mayor of Datu Unsay. During the time of the massacre, most of Maguindanao's municipalities were run by extended family members. 
According to a report by BBC through the International Crisis Group, Gloria Macapagal Arroyo's government provided Ampatuans funds for the region. Then-president Arroyo issued an executive order that allowed the family to have a private army. They had mansions, luxury cars, large areas of land, control over the police and local judiciary, and other armaments. 
Marcos 
The Marcoses' venture into politics started with Mariano Marcos who represented Ilocos Norte's second district in Congress from 1925 to 1931. After one Julio Nalundasan beat Mariano for a national assembly seat in 1935, the newly elected assemblyman was killed by a bullet that ripped through his back and heart. The suspect? Ferdinand E. Marcos, who was convicted of murder and sentenced to imprisonment of 10 to 17 years on January 11, 1940. He was, however, acquitted by Justice Jose P. Laurel Sr. in the Supreme Court on October 22, 1940. 
ADVERTISEMENT - CONTINUE READING BELOW
Ferdinand went on to become representative of Ilocos Norte's second district from 1949 to 1959, a senator from 1959 to 1965, and president of the Philippines for 21 years starting from 1965. His wife, Imelda, was governor of Metropolitan Manila starting from 1975. His son Bongbong was vice governor of Ilocos Norte from 1980 to 1983, then governor. His daughter Imee became part of the assembly representing Ilocos Norte in 1984. Ferdinand's dictatorship fell after the People Power Revolution in 1986, and the whole family was forced to leave the Philippines and live in exile in Hawaii. 
Bongbong returned as governor of Ilocos Norte in 1998, then congressman in 2007, and then senator in 2010. Imee became representative of Ilocos Norte's second district in 1998, and Imelda was representative of Leyte's first district in 1995, then representative of Ilocos Norte's second district in 2010. 
In August 2019, Imelda was found guilty of seven counts of graft by the Sandiganbayan Fifth Division for using her position as Minister of Human Settlements to maintain Swiss bank accounts during her husband's regime. This conviction sentenced her to imprisonment of six years and one month to 11 years for each of the seven counts, with perpetual disqualification from public office. But she posted bail amounting to P300,000. 
In the same year, Imee was elected senator and her son Matthew was elected governor of Ilocos Norte. Bongbong, however, lost his bid for the vice presidency to Leni Robredo. 
According to the Philippine Commission on Good Governance, the Marcos family's ill-gotten wealth "is estimated between U.S. $5 billion to U.S. $10 billion, the bulk of it being deposited and hidden abroad." That's at least P251 billion, only P170 billion of which has been recovered in the last 30 years.
ADVERTISEMENT - CONTINUE READING BELOW
Share this story with your friends!
---
Help us make Spot.ph better!
Take the short survey
Load More Stories