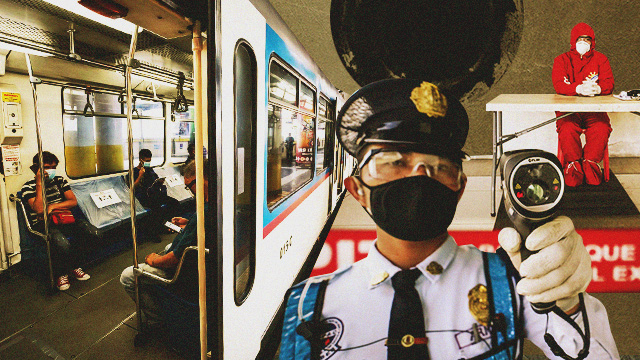 (SPOT.ph) Metro Manila more or less managed to survive sans public transportation—a little less than more, to be honest—while under enhanced community quarantine. The much-awaited return of our trains and other public utility vehicles was greeted with a bit of chaos when we shifted to a general community quarantine on June 1. Not all modes of transport could return immediately, and so a large number of people were left stranded. More and more public utility vehicles were allowed back on the road over the next few weeks—with modern jeepneys and buses starting on June 22—albeit with a whole truckload of new rules.
ADVERTISEMENT - CONTINUE READING BELOW
Unsurprisingly, commuting via public transportation in the capital has not gotten any easier for most folks. We've needed to adjust a lot to the continuing demands and changes of Metro Manila. In this guide, we round up everything you need to know about how moving around in the Metro is like during the pandemic: from hygiene practices to road schemes. There's a lot to take in, but we think Metro Manila will always be worth it.
Also read:
Five-Minute Guide: Everything You Need to Know About Protective Face Masks
10 Ways Metro Manila Transportation Will Change After the COVID-19 Pandemic
Reimagining a Metro Manila Where Commuters Can Actually Be Happy
All you need to know about moving around Metro Manila under a pandemic:
How social distancing measures factor in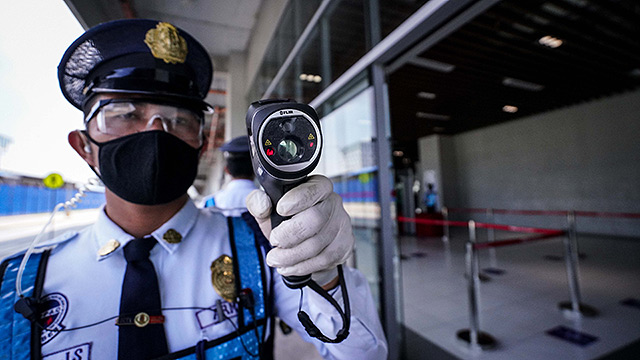 ADVERTISEMENT - CONTINUE READING BELOW
Recommended Videos
Aside from the expected sanitary measures—temperature checks, constant disinfection, mandatory masks, et cetera—public utility vehicles (PUVs) are expected to carry much less than their usual capacity. This will ensure that distance between passengers is followed. Cashless transactions are now being pushed as a major factor of the new norm, with the government partnering up with PayMaya to set up a system in taxis and other public utility vehicles. Tollways have also began pushing for folks to go cashless; the San Miguel Corporation is phasing-in RFID payments only on their expressways. 
Trains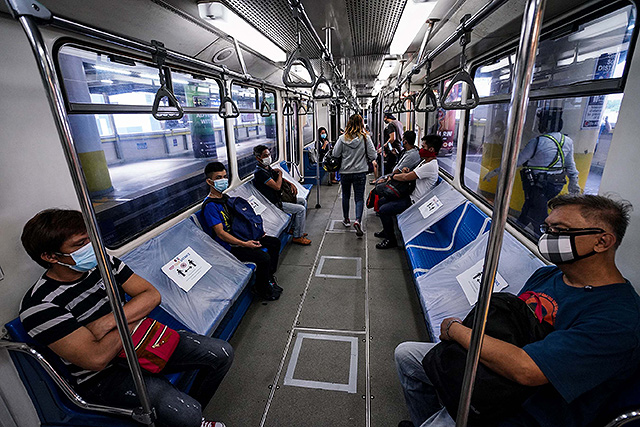 ADVERTISEMENT - CONTINUE READING BELOW
The Metro's train lines opened again on June 1 after a couple months of inactivity. The carrying capacity has been set for the Metro Rail Transit Line 3 at just 153 passengers per trip, or just 13% the usual capacity. The Light Rail Transit Line 1 carries 158 passengers, which is 12% the full capacity, while the Light Rail Transit Line 2 carries 160 passengers, 10% of the original—not to mention the fact that the Santolan, Katipunan, and Anonas stations are still shut down due to a fire in October 2019. The Light Rail Authority aims to have these stations operating again by September 2020. Meanwhile, trips by the Philippine National Railway are limited to around 148 passengers, or 20% the usual capacity.
ADVERTISEMENT - CONTINUE READING BELOW
ADVERTISEMENT - CONTINUE READING BELOW
Following the announcement of the limited train capacity, folks were told to brace for longer-than-usual waiting hours. Bus augmentation services were rolled out by the Department of Transportation as a way to help ease the load off the train system.
Buses, Jeepneys, and UV Express
Initially, buses and modern jeepneys were not allowed to operate due to the difficulty of ensuring a safe distance between passengers. They were let back on the road on June 22—while the traditional jeeps were not.
ADVERTISEMENT - CONTINUE READING BELOW
Buses should carry only half their maximum capacity while modern jeepneys are set to just 20% of theirs. Modern jeepneys will be allowed to operate at up to 50% their capacity if they install impermeable barriers to isolate the driver and between seats that are less than one meter apart, according to the Land Transportation Franchising and Regulatory Board (LTFRB). Base fare is at P11 for the first four kilometers. Each succeeding kilometer will add P1.50 for non-air-conditioned units and P1.80 for air-conditioned ones. Check out the full list of available routes.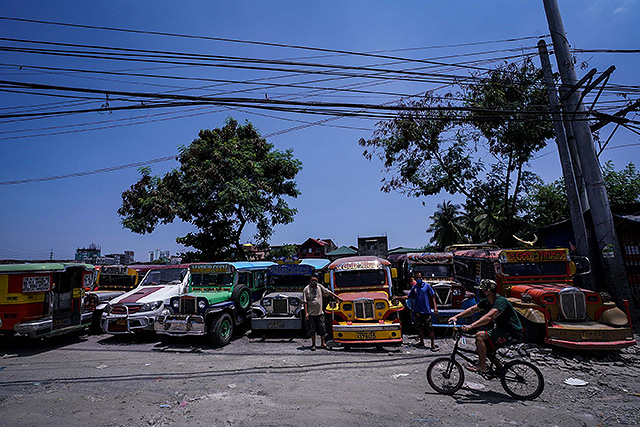 ADVERTISEMENT - CONTINUE READING BELOW
There is no set date for the return of UV Express services, but they will be limited to just nine passengers per trip, according to a CNN Philippines report. The stringent rule means that they will be implementing a P2 fare hike, said Coalition of Operators and Drivers of UV Express Atbp. President Rosalino Marable. As for both UV Express services and traditional jeepneys, the Land Transportation Franchising and Regulatory Board is looking at letting them resume operations before the end of June, after all modern jeepney routes have been deployed.
Private Vehicles
Only authorized personnel are allowed out and about on the roads—subject to a P3,000 fine based on the charge of "driving without a valid license," said Land Transportation Office's Mercy Jane Paras-Leynes, chief of operations lawyer, in a Philippine News Agency report.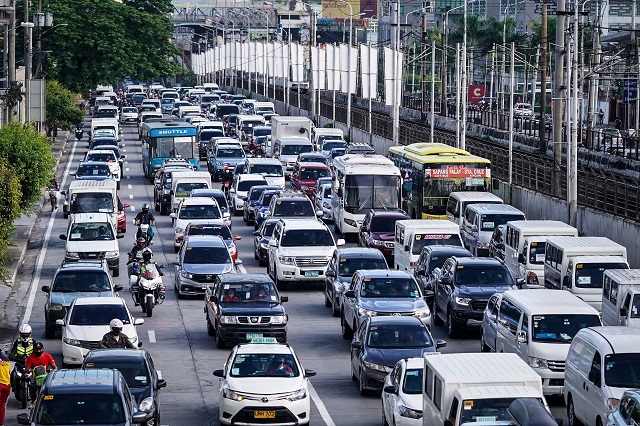 ADVERTISEMENT - CONTINUE READING BELOW
Private vehicles can only carry up to 50% capacity, with only one other passenger in the same row as the driver. Succeeding rows cannot exceed two passengers. Masks must be worn at all times, unless you are the only person in the vehicle, according to the Department of Transportation. You may be charged with "reckless driving" for not following sanitary protocol or "overloading of passengers" if you exceed the allowed number.
Talks of a "modified coding scheme" was also pushed by the Metropolitan Manila Development Authority, which would allow all vehicles regardless of license plate to be on the road if it carried more than one person. Implementation of this scheme has been postponed as of June 7.
EDSA
ADVERTISEMENT - CONTINUE READING BELOW
The age-old debate of buses on EDSA is headed for another chapter—whether it is the final one we'll have to wait and see. With the entry of a general community quarantine (GCQ), an updated Public Transport Guidelines and Protocols were released by the Department of Transportation (DOTr). It contained several points on hygiene and safety, but the biggest change was arguably the official plans for EDSA.
ADVERTISEMENT - CONTINUE READING BELOW
Yellow lanes are no longer part of the formula. Instead, the Department of Transportation (DOTr) has plans of creating a busway in the innermost lanes of EDSA; private cars will have their own lanes as well, with at-grade pedestrian crossings for commuters to get to the bus stops.
There are sure to be a lot of kinks and the timeline has not been fleshed out, but according to the Land Transportation Franchising and Regulatory Board (LTFRB), these busways will create a much more efficient transport system. Buses will be able to move faster, have a more predictable schedule, a faster turn-around, and will also be more PWD-friendly thanks to better-equipped bus stops. According to the regulatory board, they are "putting in place now a modern road transport system that reflects the needs of the present, and geared towards being able to anticipate the future."
Shift towards biking and walking
Part of the shift during quarantine includes more space for bikers and pedestrians. As seen in the DOTr's plans for EDSA, dedicated bike lanes and actually walkable sidewalks are part of their vision. A bill has been filed in the senate pushing for "Safe Pathways" across the Philippines, focusing on creating the proper infrastructure.
ADVERTISEMENT - CONTINUE READING BELOW
In Metro Manila, several cities have created pop-up bike lanes in their jurisdictions—Pasig City, Taguig City, and San Juan City—as well as put out incentives, such as loans, for bikers. Meanwhile, the Metropolitan Manila Development Authority continues to push for elevated bike lanes, as these are safer. The agency was scheduled to begin construction of bike lanes along EDSA on June 13.
ADVERTISEMENT - CONTINUE READING BELOW
Your guide to thriving in
this
strange new world.
Share this story with your friends!
---
Help us make Spot.ph better!
Take the short survey
Load More Stories