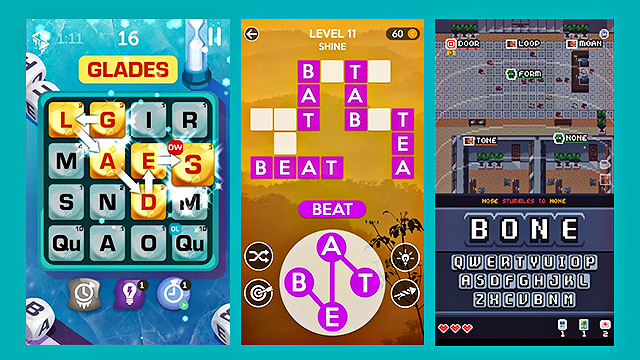 (SPOT.ph) Wordle, a web-based word game, is recently taking social media by storm as users boast about guessing the word of the day with as few tries as possible. And after getting all pumped up, especially after playing all three rounds of Saltong (the Filipino clone), you'd have to wait another 24 hours for another five-letter puzzler. To keep your momentum going, we list down other word games if you liked playing Wordle.
ADVERTISEMENT - CONTINUE READING BELOW
Also read:
10 Classic Board Games to Play on Your Phone If You Hate the Mess
10 Fun Online Games to Level Up Your Next Virtual Party
10 Fun Games to Check Out If You Liked Among Us
Looking for an educational game to challenge your brain cells? Here are word puzzles to play on your phone.
Wordscapes
If you're fond of crosswords, anagrams, and word search, the mobile app Wordscapes combines all those in one game. You can try to beat your own score or up the ante by getting competitive on the leaderboard. Players can also choose from their selection of serene backgrounds. 
Available for free on Android and iOS. 
Word Forward
Most word-based guessing games have the same goal: to spell out a new word from blocks of letters. But Word Forward gives players an added twist: Figure out the anagram and earn cool power-ups along the way. This brain teaser requires you to choose the most strategic words, not necessarily the longest one, so you can quickly clear the board. 
Available for free on Android and iOS. 
Boggle with Friends
This modern take on the classic board game from Hasbro is just like the OG minus the mess of the blocks of letters. You can go head-to-head virtually for a two-minute game, improve your word smarts in solo mode, or compete in daily or weekly challenges against other online players. 
Available for free on Android and iOS. 
Hangman
We're pretty sure you've played at least one game of Hangman in between classes way back in grade school. This childhood classic requires you to enter one letter at a time to give you just enough clues to complete a word. Give a wrong letter and another line is added to the stick figure of a hanged man. The pen-and-paper version was a lot more fun, of course; but the color and animation of the mobile version give fans of the game a whole new experience. 
ADVERTISEMENT - CONTINUE READING BELOW
Available for free on Android and iOS. 
Scrabble GO
Playing Scrabble is pretty straightforward: Spell out a high-scoring word with the tiles on your rack to win a round. But Scrabble GO by Scopely lets you try four other modes: Duels, a five-round head-to-head timed game; Word Drop, where tiles are switched out every round; Tumbler, which is similar to anagram; and Rush, which is a solo-player mode. There's also a chat box for when you want to talk virtually with the other players while playing a game or two of this classic that's been around since 1938.  
Available for free on Android and iOS. 
Anagraphs 
Anagraphs rely on, well, your ability to figure out anagrams. But unlike your usual sets where you can rearrange the letters to form new words, this app lets you twist and rotate characters. The letter "m," for example, can be a letter "w" if you want it to be. As you unlock new levels, the puzzles just become more and more challenging. 
ADVERTISEMENT - CONTINUE READING BELOW
Available for free on Android and iOS. 
Deadword
Whoever said word games are boring has not played Deadword. In this app, you have to guess four-letter puzzles to avoid zombies, gather supplies, and make it out through a level alive. There are 30 chapters to go through, which follows a zombie apocalypse storyline told through old-school pixelated animations. 
Available for free on Android and iOS. 
Words for a Bird
In this elegantly designed app, you have to think outside the box to complete a simple narration about—well, a bird. Your clues in this guessing game include all the available letters on your screen (and on the leaves of a teal-colored tree), the placement of the letters, and the white tile at the center of the interface. The music's hypnotic, too; as if encouraging you to play some more. 
Available for free on Android and iOS. 
TypeShift
TypeShift is all about arranging letters in a row to form new words. As easy as that sounds, it gets a bit tricky when you have to shift columns of letters up and down until you use up everything. There's also a Clue Puzzles feature, which is a combination of crossword and anagram to level up the difficulty. 
ADVERTISEMENT - CONTINUE READING BELOW
Available for free on Android and iOS. 
Alphabear
If we're talking about cuteness, Alphabear tops this word-game list. Adorable animals are assigned blocks on your screen, where the goal is to form words from the tiles around them as if you're playing Scrabble. Rack up points and you can dress up your bear avatars with the coolest costumes.
Share this story with your friends!
---
Help us make Spot.ph better!
Take the short survey
More Videos You Can Watch
Load More Stories