(SPOT.ph) If you're one of those guys who feel like getting a haircut is a chore, don't worry—we totally get you. What if we told you that a trip to the barber doesn't always have to be a drag? Getting the haircut you actually want is entirely possible and whether you want something that's quick and reliable, or prefer a full-blown pampering session you didn't know you needed, there are a number of barbershops in the city that can give you that and more. Below, we ranked the 10 best barbershops in the Metro based on ambience, quality of service, and value for money.
Also read:
Top 10 Yoga Studios in Manila
Top 10 Sneaker-Cleaning Places in Manila
Top 10 Places to Get a Facial in Manila
Top 10 Spas in Manila
All SPOT.ph Top 10 lists are researched for, paid for, tested, and selected by the writers and editors. They are discreetly conducted without any notice made to the establishments or their owners.
ADVERTISEMENT - CONTINUE READING BELOW
10. Talas Manileño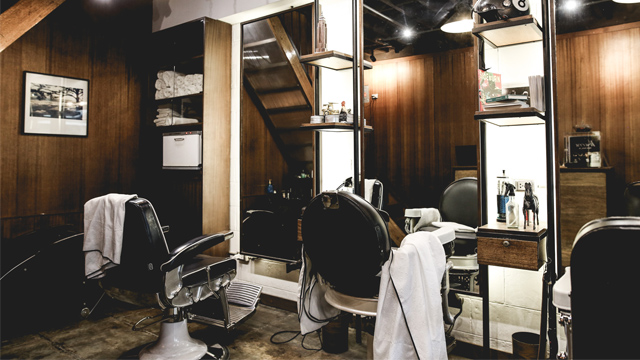 How much to shell out: Haircut (P300)
The lowdown: "Talas Manileño gets talked about a lot, so I expected something real big from it. The place looked good, with vintage furnishings and even a chess table for those waiting for their turn. The actual equipment they used looked nothing out of the ordinary. I was part of the last call, at around 8:30 p.m., but it was good that the staff were still polite and accommodating considering the late appointment. My barber gave me a quick and clean cut that's nothing extraordinary, and that's all right for P300. The place felt promising enough for me to return—definitely at an earlier time, though."— Carlo
The verdict: Talas Manileño offers more than just a fresh haircut—it can take you back to the past, too, thanks to vintage décor that will make you feel like you stepped right into Old Manila. Known for their Old-World charm and suave cuts, Talas Manileño is where you can freshen up your look in style without breaking the bank.
Talas Manileño is at Cubao Expo 38 General Romulo Avenue, Barangay Socorro, Cubao, Quezon City. For more information, log on to Talas Manileño's Facebook page.
9. Bruno's Barbers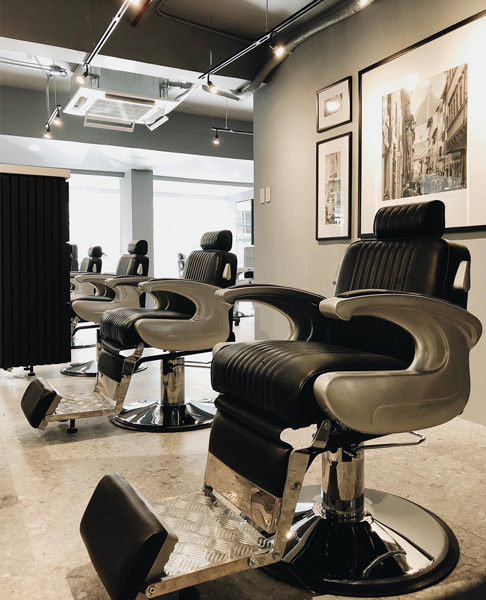 ADVERTISEMENT - CONTINUE READING BELOW
How much to shell out: Haircut (P280)
The lowdown: "You can always count on Bruno's Barbers for no-nonsense, reliable service. Plus, it helps that their rates are pretty affordable, so it's easy to make it your regular barbershop. 
"I usually text my barber whenever I plan to get a haircut, but this time, I tried walking in to see if I'd be accommodated immediately. I waited for about five minutes, which isn't bad at all considering the barbershop seemed pretty busy.
"For P280, I was shampooed, massaged, and walked out with a clean haircut—I was in and out in about 30 to 40 minutes. While the barbershop doesn't offer anything fancy, they get plus points for their accessibility. Take a shot every time you see a Bruno's and you'll probably get drunk faster than you can say 'barbershop!'"— Junie
The verdict: If you're in a hurry and in desperate need of a haircut, Bruno's Barbers is your best bet. They have skillful barbers who can freshen up your look in a jiffy and their cuts won't burn a hole through your pocket. Plus, there's a good chance you'll find a branch wherever you may be.
ADVERTISEMENT - CONTINUE READING BELOW
See a list of Bruno's Barbers branches.
8. Elephant's Nook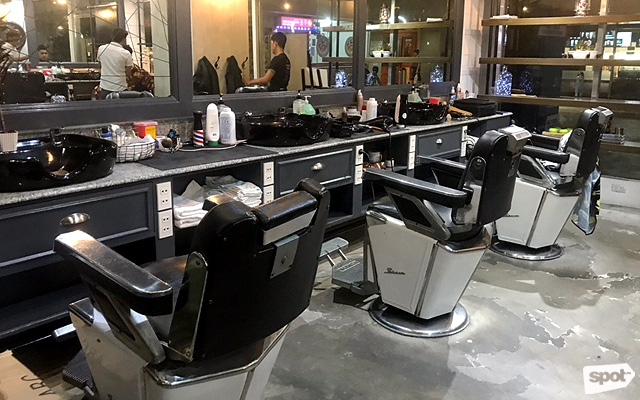 How much to shell out: Cut + Styling (P300)
The lowdown: "I made a reservation at Elephant's Nook over the phone and they were able to accommodate me very easily. The barbershop has just about six seats in total so I don't expect it would ever get too crowded or noisy. The space has a cool, vintage-industrial feel to it and there was some music playing when I dropped by. I came in around 8 p.m. and we started right away, no waiting time.
ADVERTISEMENT - CONTINUE READING BELOW
 "What really impressed me was the barber—he asked what style I wanted and asked me each step of the way if I was satisfied with the cut. He paid very close attention to each detail and made sure I was happy with the result. For just P300, you can get a quick reservation that's good for when you want to get a haircut after work (they close at 9 p.m.), with barbers who will give you exactly what you ask for. I would definitely go back." — Ryan
The verdict: Looking for a quiet place to wind down (and get a haircut) after work? Elephant's Nook is a great option for those who work or reside in Pasig City. They've got a cozy atmosphere with just a few seats so you can enjoy some quiet time while getting a haircut. Plus, if you've got a specific style in mind, the barbers are more than willing to help you achieve the look you want—which is good if you want to wear your hair a certain way. 
ADVERTISEMENT - CONTINUE READING BELOW
Elephant's Nook is at 8101 Pearl Plaza, Pearl Drive, Barangay San Antonio, Ortigas Center, Pasig City. For more information, log on to Elephant's Nook's Facebook page.
7. Burnside Barber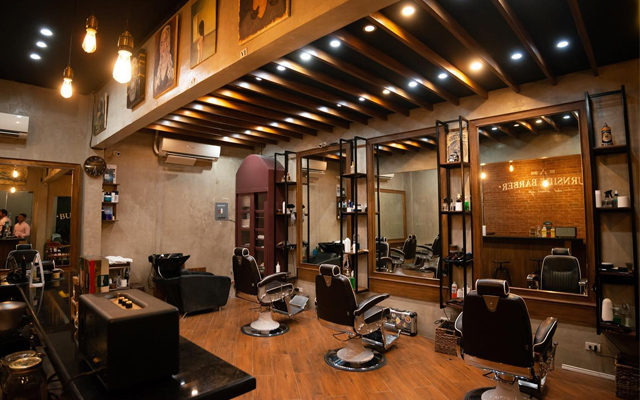 How much to shell out: Prime Cut (P400)
The lowdown: "Burnside Barber is a little hard to find, nestled on the second floor of a nondescript building. It was also a little hard to park, with only a few slots. I walked into the strains of 'Hey Jude' and found myself feeling at home. It's a very decent, spartan, clean, no-nonsense shop. I declined the drink and went straight to the well-appointed chair. 
ADVERTISEMENT - CONTINUE READING BELOW
"With no small talk, and with no nameplate to suggest conversation, the barber whipped up his tools from a side holster and proceeded with military precision. The bib had a transparent cut-out so you can use your phone during the entire service. 
"With no back mirror, one just has to trust the barber—he was worthy of the trust. He knew what he was doing and proved to be an expert masseur as well. It was 30 minutes well spent, and the P400 likewise. It was the cheapest way to feel like a new man.
"Then I took the drink. One sip immediately reminded me that I was not in a café, but in a barbershop."— Mike
The verdict: Burnside Barber is a neighborhood barbershop where you can sit back, relax, and let the barbers work their magic. For P400, you get a haircut, massage, and a complimentary beverage which makes the trip worth it. Just make sure to make an appointment and cross your fingers you find a parking spot in the building!
ADVERTISEMENT - CONTINUE READING BELOW
Burnside Barber is at 50B Katipunan Avenue, Quezon City. For more information, log on to Burnside Barber's Facebook page.
6. The Men's Room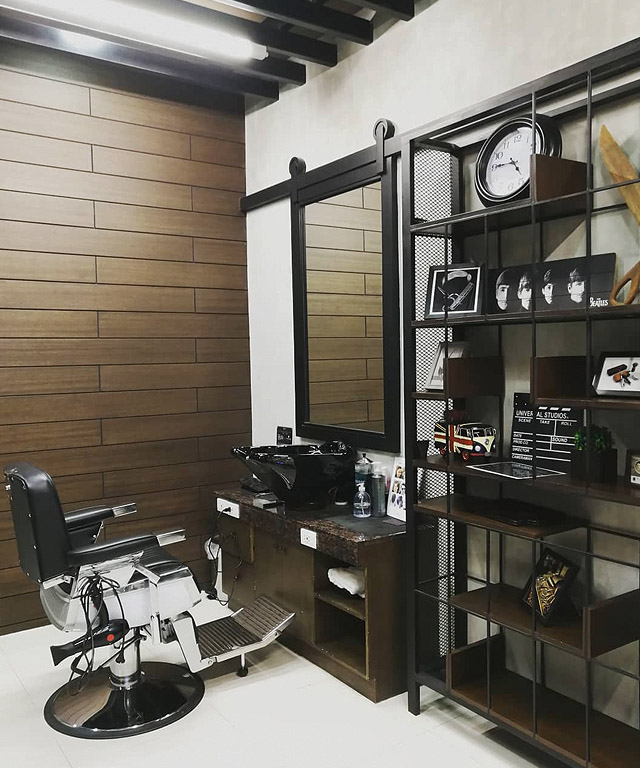 How much to shell out: Haircut (P300)
The lowdown: "It has been a year since my last trip to the barbershop, so this was [inevitably going to be] a strange experience. A friend referred The Men's Room in SM Megamall, where I went for a classic haircut as a walk-in.
ADVERTISEMENT - CONTINUE READING BELOW
"Despite the spontaneous visit and commercial location, I was able to get seated and even offered a complimentary cup of coffee by the warm receptionist. Most old-school barbershops tend to overdo the vintage theme, but The Men's Room manages to strike a balance between classic and cozy. From the aesthetic to the service, the grooming place does what it does best without trying too hard. More importantly, though, its staff makes just the right amount of conversation. My barber must have felt that I was not as chatty as the patron next to us, so he only asked the important questions.
"For my part, not feeling the need to check up on the barber's work every five minutes was indicative of razor-sharp skills. I spent P300 for a classic haircut, which was a fairly good deal if you consider the quick massage, complimentary coffee, and mall accessibility that come with it. If I decide to keep the clean look, then a return to The Men's Room is imminent." — Pau
ADVERTISEMENT - CONTINUE READING BELOW
The verdict: The Men's Room is proof that you won't have to splurge to get VIP treatment. Haircuts start at P300, which includes a quick massage complimentary drink. Plus, the barbershop is easy on the eyes, too, featuring vintage-themed décor that'll make you want to snap photos. Here, you'll instantly feel like you're in good hands thanks to their trained barbers. Plus points for the prime location, too, because this means you can squeeze in a pamper sesh while your companions are out doing some shopping!
See a list of The Men's Room branches. For more information, log on to The Men's Room's Facebook page.
5. 28 Cavalry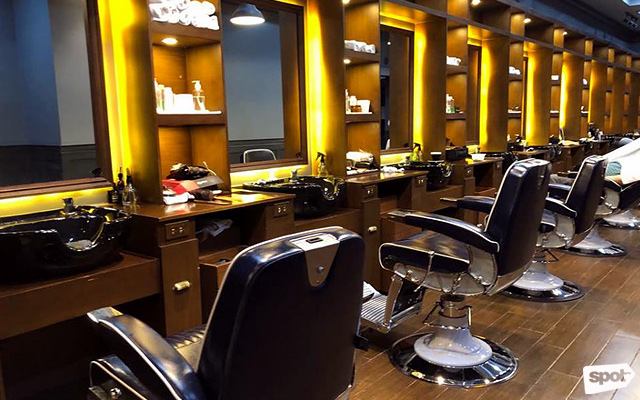 ADVERTISEMENT - CONTINUE READING BELOW
The lowdown: "Upon entering 28 Cavalry, I was offered a choice of signature cocktails. I chose whisky on the rocks, served with a perfectly round ball of ice; a drink in the same amber hues as the light spilling into the classy, cavernous joint. 28 Cavalry is big, but not crowded, with its nine seats promising a luxurious treatment. Cuts are efficient (and you can select what you want from an iPad instead of describing to your barber what you want to happen to your hair), though the massage was a bit on the tentative side. 
"It could be the whisky talking, but getting a haircut here felt very mellow. I'll still need to see how it feels like when all nine seats are filled, but for what I experienced, I'd hop on board this Cavalry again."— Lio
The verdict: At 28 Cavalry, you get to have a haircut, a quick massage, with a whisky in hand (which is completely free) while sitting on one of their comfy recliners in their sleek barbershop—all that for P400. Plus, the barbers aren't into small talk, which is a plus for introverts. Others might find the massage to be too gentle, though that is a matter of personal preference.
ADVERTISEMENT - CONTINUE READING BELOW
28 Cavalry is at 4/F The Podium, ADB Avenue, Ortigas, Mandaluyong City. For more information, log on to 28 Cavalry's Facebook page.
4. BOSSMAN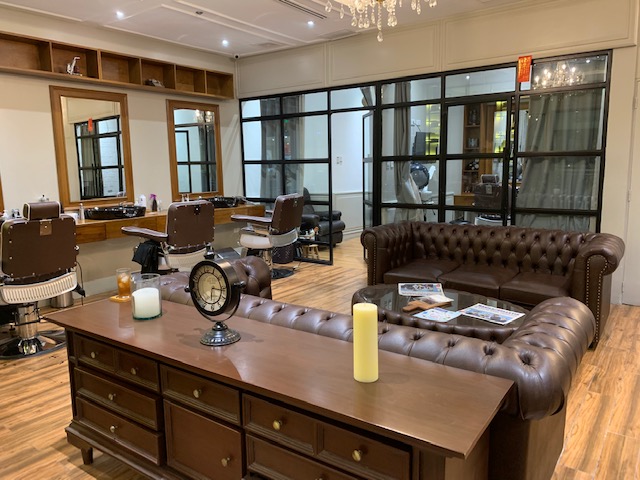 How much to shell out: The Head Honcho (P560)
The lowdown: "I never really thought of haircuts as a pampering experience—just part of my regular grooming that I had to get around once a month. Little did I know that by adding around P200 more, I could upgrade my basic haircut into something more special. It's called 'The Head Honcho' at BOSSMAN, a barbershop at Ayala Malls The 30th in Ortigas Center. The mall doesn't have that much foot traffic on weekdays, so no appointment was required. If you have to wait, however, you probably wouldn't mind as they have two large comfortable sofas, a selection of magazines, and free WiFi.
ADVERTISEMENT - CONTINUE READING BELOW
"After quickly filling out a customer form, I plonked down on the barber's chair for my selected treatment. The skilled barber asked me what kind of cut I wanted. Having short hair, it was over pretty quickly, so I got a shampoo with warm, soothing water soon after. Then came a relaxing five-minute head massage followed by their signature 'four-hands' massage, where the barber and a masseuse take turns vigorously massaging your arms, from your shoulders down to your fingers for a good 10 minutes or so, which really gets the circulation going! It's finished with a quick back rub. At P560, it seems like quite a steal—plus, the package comes with a complimentary drink, which can be coffee, iced tea, or a shot of whisky. I'll have some of that!"— Pierre
The verdict: If you're willing to spend just a little bit more than your usual haircut for extra relaxation, BOSSMAN  is where you can do just that. Apart from their skillful barbers that can give you fresh cuts, their signature massage will make you want to keep coming back. Not to mention the thoughtful layout of the barbershop lets your companions wait comfortably on their plush couches in the center of the shop. Also, free WiFi, anyone?
ADVERTISEMENT - CONTINUE READING BELOW
Bossman is at 2/F Ayala Malls The 30th, Meralco Avenue, Pasig City. For more information, log on to BOSSMAN's Facebook page. 
3. Felipe & Sons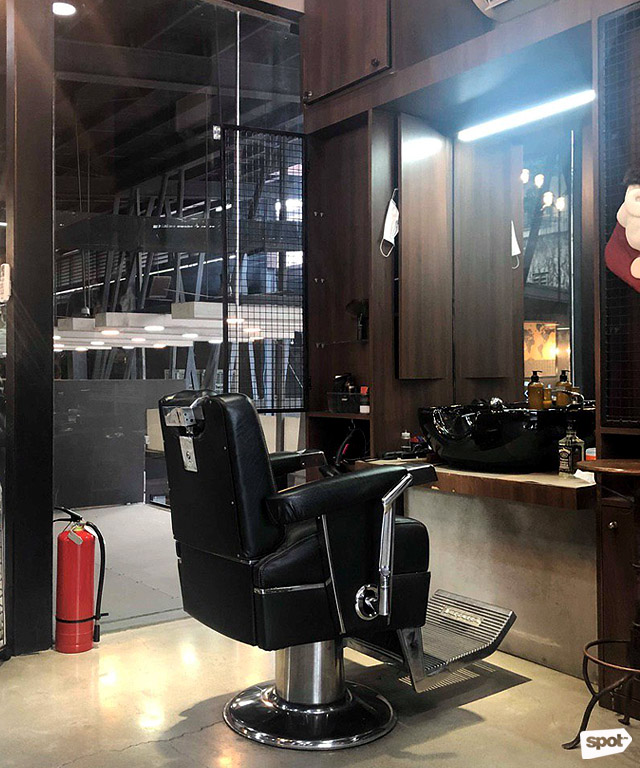 How much to shell out: Afternoon Delight (P775)
The lowdown: "It was my first time to visit Felipe & Sons. The store was clean and the interiors stood true to its branding—sleek and classy for the modern guy. I made an appointment via their website and it was hassle-free.
ADVERTISEMENT - CONTINUE READING BELOW
"When I got to the barbershop, I was greeted by their receptionist and was endorsed to my assigned barber right away. The barber went straight to business. He asked me what kind of haircut I wanted and he delivered. The service was pretty straightforward—no small talk, which was fine. The service was fast and neat, plus the massage was relaxing.
"The barbers also looked sharp in their uniform, adding plus points to the overall experience. For someone who rarely spends more than P250 for a haircut, the rates at Felipe & Sons were actually a bit steep for me. However, given the ambience and quality of service which they provided, I'd say their services are worth the splurge."— Symon
The verdict: Felipe & Sons is where you can go for a head-to-toe makeover, from a new haircut down to a brand-new bespoke suit. The sleek barbershop is where you can spend some alone time while getting a stylish haircut. What you're paying for here, apart from the fresh haircut, is the overall experience—the sophisticated interiors give the shop an Old-World vibe that lets you escape reality while you're there. Plus, the barbers at Felipe & Sons know what they're doing and they make sure they get your haircut just the way you want it, so you'll walk out feeling great about your hair all the time.
ADVERTISEMENT - CONTINUE READING BELOW
See a list of Felipe & Sons branches. For more information, log on to Felipe & Sons' Facebook page.
2. The Refined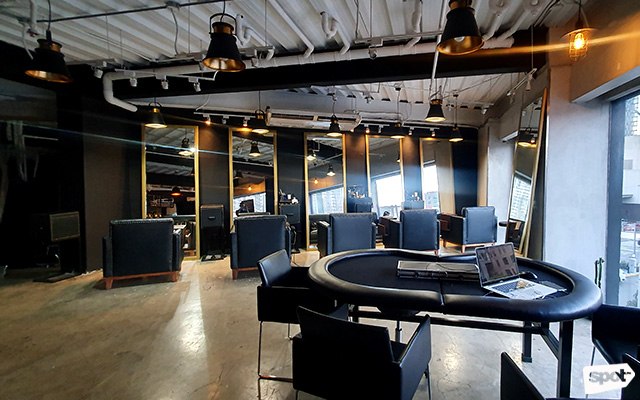 How much to shell out: Alpha (P1,000)
The lowdown: "Every once in a while, I like to treat myself to a good haircut. I was able to book an appointment for a haircut at The Refined easily online, where I was asked to choose the package I wanted to get.
ADVERTISEMENT - CONTINUE READING BELOW
"As I entered the shop, I got that feeling of exclusivity being inside a gentleman's lounge. During my short wait (I arrived a bit late for my appointment), I was offered a complimentary beverage. The service started with a relaxing shampoo treatment, which is personally my favorite part. Upon getting to my assigned seat, I noticed that The Refined doesn't use the usual barber chair. Instead, they use plush couches which makes the experience all the more comfortable. I sat down and one of the staff gave me a quick shoulder and back massage before starting with the haircut. The barber had gentle hands and I didn't feel any stress on my neck and head.
"I left feeling relaxed and very satisfied with my haircut. If I had extra cash to spare, I might consider coming back regularly or availing of their monthly membership which is P2,750 per month—this gets you unlimited haircuts, a free spa service once a month, and discounts on their drinks." — Arvin
ADVERTISEMENT - CONTINUE READING BELOW
The verdict: If you're all about taking self-care seriously (which you should!) and feel like spoiling yourself silly, The Refined is where you should go next. Here, everything is made easier for you: booking online is a breeze, they'll  accommodate your requests, study your hair and the haircut you want in detail, and they'll make sure you're relaxed from the beginning of your service till the end. You might even be tempted to avail of their monthly packages just so you can keep coming back! Either way, getting a haircut at The Refined is most definitely a splurge, but it's one you won't regret.
The Refined is at 2/F Fort Point II Building, The Fort Strip, Bonifacio Global City. For more information, log on to The Refined's Facebook page.
1. Covent Grooming Lounge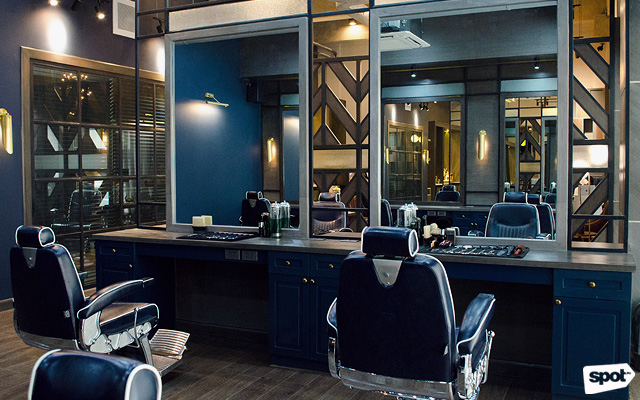 ADVERTISEMENT - CONTINUE READING BELOW
How much to shell out: Haircut + Beard Shave/Trim (P900)
The lowdown: "I called them up to set a schedule a few days ahead, but they also have a site for appointments which I think is convenient. Upon entering Covent, I noticed that the place looked sleek and masculine without being too overbearing or intimidating. They have a spacious waiting area which I liked. The accommodating staff offered me coffee or soda apart from the usual water. They also offered me a shot of whisky on the house, which is always a welcome treat!
"The staff were extremely professional and the barber assigned to me really took his time to give me a precise cut. Most barbers in a rush only use one shaver the entire time, but given the selection of tools and wide assortment of shavers, I knew care was being put into the service. The massage was a nice bonus and the shave was really clean. I also liked that there were only a few chairs and it wasn't cramped like the usual mall barbershops. 
ADVERTISEMENT - CONTINUE READING BELOW
"Overall, for P900, I'm pleased with my haircut and the service. The experience felt less like a chore and more of being pampered, and I'd definitely go back the next time I feel like spoiling myself." — Patrick
The verdict: If you can shell out some extra cash for superstar treatment, Covent is where you'll get your money's worth. For P900, you get a new haircut, a clean shave, a relaxing massage, and a drink (or two!) on the house! From the hassle-free booking experience, the barbershop's polished yet relaxing ambience, their warm and accommodating staff, and skillful barbers, Covent Grooming Lounge gets a perfect score in our book, which makes the P900 feel like every peso is worth it. Go ahead, spoil yourself a little! You'll thank us later.
Covent Grooming Lounge is at The Grand Midori, 160 Legazpi Street, Makati City. For more information, log on to Covent Grooming Lounge's Facebook page.
ADVERTISEMENT - CONTINUE READING BELOW
Share this story with your friends!
---
Help us make Spot.ph better!
Take the short survey
More Videos You Can Watch
Load More Stories