Top 10 Pilates Studios in Manila (2020 Edition)
The road to fitness starts here!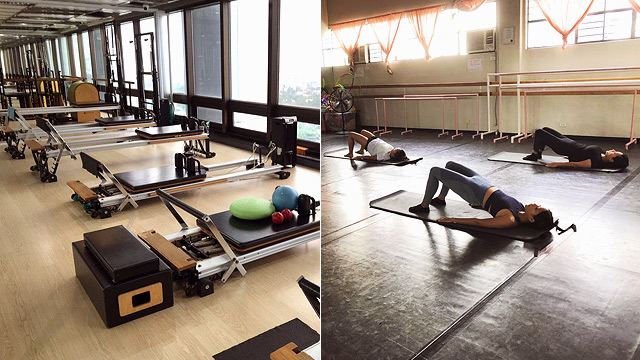 (SPOT.ph) We're claiming it, and you should too: This is going to be the year we reach our fitness goals and actually start (and sustain) a healthy habit. Whether it's being mindful of what you eat or making exercise an integral part of your weekly routine (or both!), it's important to listen to your body and understand its needs. If you're looking for a workout that you'll actually look forward to doing, consider Pilates.
Don't be intimidated—Pilates is a low-impact exercise that strengthens the core, improves posture, builds flexibility, and boosts endurance. It's a workout that burns calories without having your heart rate reaching its maximum. The best part? Pilates is very personal—every person has a unique body, and a good Pilates session is one that's tailor-fit to your body's needs. More than a physical workout, Pilates is also a mind-body exercise because it requires you to be aware of your every move and every breath, much like yoga. 
If you want to try Pilates but not sure where to go, then you've come to the right place. We ranked the best Pilates places in the Metro based on the ambience, amenities, quality of service, and value for money. 
Also read:
Top 10 Yoga Studios in Manila
Top 10 Sneaker-Cleaning Places in Manila
Top 10 Barbershops in Manila
Top 10 Spas in Manila
All SPOT.ph Top 10 lists are researched for, paid for, tested, and selected by the writers and editors. They are discreetly conducted without any notice made to the establishments or their owners.
ADVERTISEMENT - CONTINUE READING BELOW
Here are the 10 best Pilates studios in Manila, ranked:
10. White Space Mind and Body Wellness
CONTINUE READING BELOW
Recommended Videos
How much to shell out: 2 Session Class Card (P900/for first timers), 4 Session Class Card (P1,800), 8 Session Class Card (P3,500), 12 Session Class Card (P4,900)
The lowdown: "I'm no stranger to Pilates but my introduction to it happened years ago, so it's been a minute. I was happy to see that the routine (or at least the one performed that day) gradually got more upbeat and intense, combining aerobic elements as well as what to me is basic yoga. There were lockers and a more than serviceable bathroom, plus the receptionist was friendly. Also, when I inquired via e-mail about their services prior to the class, they replied promptly.
There's a community vibe at White Space so it's easy to blend in and laugh if you mess up (because you will, but it's no big deal). I know we're docking points for the lack of machines but I actually enjoyed the fact that there weren't any. The are other tools that may or may not be standard to the Pilates experience: Foam blocks and stretch bands help with stretching muscles you might normally require a trainer's help with in any other workout, as well as creating resistance so you don't have to push yourself too far.
ADVERTISEMENT - CONTINUE READING BELOW
I've found that more and more classes and studios for different workouts put an emphasis on going at your own pace and only stretching as far as you're comfortable doing, and White Space is no different. Add in a very Zen sort of atmosphere and attentive, encouraging instructors, and you might just find a new workout you'll actually love." — Michiko
The verdict: If you work or reside near the busy Katipunan area and need a place where you can squeeze in a peaceful sweat session, White Space Mind and Body Wellness Studio is where you can go. While they don't have Reformers in the studio, they offer Mat Pilates classes that you can try. The best part is that their rates are very budget-friendly, so you can start a new healthy habit without breaking the bank. Plus, if you book a class during the Golden Hour, you'll get the most breathtaking sunset view.
White Space Mind and Body Wellness Studio is at 6/F Regis Center, 327 Katipunan Avenue, Loyola Heights, Quezon City. For more information, log on to White Space Mind and Body Wellness Studio's Facebook page.
9. Elan Ballet & Pilates Studio
ADVERTISEMENT - CONTINUE READING BELOW
How much to shell out: Mat Pilates (P800), Reformer Pilates (P1,850)
The lowdown: "You can find Elan Ballet & Pilates Studio's class schedule online, though I found it a little difficult to book my reservation at first because I couldn't seem to properly contact the studio. I ended up texting them to book a class and I appreciate that their receptionist kept me updated and responded to my inquiries regarding the availability of classes and their rates for studio rental.
"I'm a beginner in Pilates, but I think the instructors in Elan Ballet & Pilates Studio were able to guide me well for my first time. I enrolled in their Mat Pilates Group Class where I was asked to bring my own mat (take note, if you plan to enroll in their Mat Pilates class). The class itself wasn't crowded with too many people (there were less than 10 of us), so the instructor was still able to focus on each person in the class, making sure we were all doing the proper form and movements.
The studio has a shower and dressing room area, so it's great to drop by at the start or end of your day for a quick exercise. Plus, they offer free parking! Overall, I would come back for the convenience and the quality instruction." — Ashley
The verdict: Elan Ballet & Pilates Studio has some well-trained instructors that can focus on every person even if you enrolled in a class—which is a tough thing to do especially in a Pilates class. Whether you're booked for a Mat class or a Reformer session, you're sure to get a full-body workout that'll help you power through the rest of the day. It helpds that parking is free and it's easily accessible along Pioneer street—great for those who work in nearby offices.
ADVERTISEMENT - CONTINUE READING BELOW
Elan Ballet & Pilates Studio is at Level D, Sparta Complex, 126 Pioneer Street, Mandaluyong City. For more information, log on to Elan Ballet & Pilates Studio's Facebook page.
8. Integrated Body Arts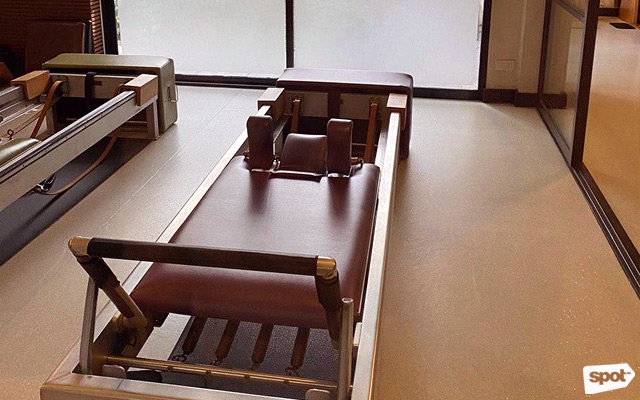 How much to shell out: Apprentice Teacher (P500), Junior Teacher (P1,500), Senior Teacher (P1,600), Levelled Teacher (P1,800)
The lowdown: "Making an appointment at Integrated Body Arts was easy—the staff replied to my text messages promptly and even sent me a copy of their price list. The studio is located right across SM Jazz Mall, so it wasn't hard to get to. But finding the studio itself was a bit tricky because there was no large signage, and the reception was pretty sketchy—think old abandoned government office—but the studio was conducive for working out, which is what mattered to me more.
"My private session started with a few mat exercises, followed by some exercises on the Reformer. There was an area for mat exercises and another area for the machines. The instructor assigned to me was an apprentice, but she made sure that I understood the basics of Pilates since it was somewhat my first time (the last time I practiced was almost a decade ago). Overall, my session focused more on getting the breathing and movements correct, more than a sweat sesh. I didn't mind because Pilates is something I want to keep doing, and it's important to master the basics first—my instructor did a good job at that.
ADVERTISEMENT - CONTINUE READING BELOW
"The studio has its own changing room, but since it's part of the old building, it could use a face-lift. They get plus points for having lots of options, though. I chose a private session with an apprentice, which only cost me P500—waaay cheaper compared to other Pilates studios. The rates for junior to senior teachers go from P1,500 to P1,800 which is pretty much the average. Integrated Body Arts is a good option for Pilates for those who work or reside around the area and for those who want to practice regularly without breaking the bank." — Jamie
The verdict: For first-timers who want to take it slow and really understand the basics of Pilates, then Integrated Body Arts Pilates is worth a try. The instructors won't let you get away with doing exercises with a wrong form—they even make sure your breathing is correct. It's good that you can choose an apprentice as your instructor, because you won't find that P500 private Reformer session anywhere. Just don't expect a full-on sweat sesh on your first visit.
Integrated Body Arts is at 227 Nicanor Garcia Street, Bel Air 2, Makati City. For more information, log on to Integrated Body Arts' Facebook page.
7. Options Studio
ADVERTISEMENT - CONTINUE READING BELOW
How much to shell out: Single Private Session (P1,800)
The lowdown: "It was my first time to try Pilates so I was quite anxious on my way to the studio. I arrived 30 minutes earlier since I assumed that I'll be walked through the machines before starting. I approached the receptionist and told him that I was there for the 12 p.m. class. When he found my name and reservation, he asked me to fill up a client information sheet, and wait for my turn. That's when I found out that I booked a private session instead of a class.
"When I was called inside the studio, I was told to leave my slippers in a small shoe rack by the entrance. As I turned to go inside, I saw that my instructor went ahead of me so I looked like a lost kid looking around to find her mom since there were a couple more people lounging inside. Finally, my instructor turned and beckoned me to come near him, introduced himself, then proceeded to ask me a few questions before starting the workout. I wasn't asked to put by bag away so it was just on the floor beside the machine I would be using but later on I saw a row of lockers which I wish they told me about before my session started.
"He did a quick assessment and made me do a few exercise reps similar to yoga. He proceeded to set up the machine, coached me how to settle myself in, how to position myself, and how to move the machine. I expected that he would tell me the parts of the machine before proceeding, but we started the session anyway. I did around five to six exercises on two different machines and felt the tension on my muscles, though I didn't feel confident the entire time because I wasn't sure if I was doing it right. My instructor would either tell me what to do or use his hands (he asked me first if it was okay for him to lightly touch certain parts of my body to guide my posture) to guide my body as I moved through the exercise: tuck in your tailbone, elongate your ribs, round your back, use your abs to push yourself, et cetera. But there were still times I couldn't understand what I should be doing in one breath.
ADVERTISEMENT - CONTINUE READING BELOW
"I felt like I was treated as if I was a regular, even if my instructor knew it was my first time. An hour went by so quickly, and after doing a few cool-down exercises with his instruction, he asked me how I felt and that I should come back if I wanted to improve my posture especially with my mild scoliosis. He thanked me and proceed to chat with another client who I assume is a regular and is taking the next class. Overall, the session felt more like an assessment rather than an actual workout." — Anya
The verdict: If you've been practicing Pilates for a while or if you already know the basics and just want to get back into the practice, then Options Studio is right up your alley. They have studios around the Metro and all are equipped with what you need for a good workout session. Options Studio offers a lot of...options when it comes to their classes, so whether you want to enroll in a sports and rehab class, suspension training, or a class that focuses on abs and arms (or butt and thighs), you can definitely find a class suited for you.
See a list of Options Studio branches. For more information, log on to Options Studio's Facebook page.
6. B+B Studio
ADVERTISEMENT - CONTINUE READING BELOW
How much to shell out: Group Session (P1,200), Private Session (P2,800)
The lowdown: "I initially wanted to take a group class, but since it was my first time to try Pilates, they suggested that I take a private class. Booking an appointment was easy—I got in touch with the studio a day before my appointment and upon confirmation, they asked me a couple of questions so they could cascade important info to my trainer.
"Upon arriving at the studio, I was instructed to leave all my belongings in my assigned locker and was subsequently introduced to my trainer, Katrina. The place was spacious and had floor-to-ceiling windows, allowing the sunlight to illuminate the area.
"We started the session with a postural analysis, where I was made to stand still while my trainer had a comprehensive checklist as her guide. Katrina was very thorough with her assessment, and the explanation for the technical terms in the checklist were explained when we got to the machines.
"I got to try some exercises on both the Cadillac and the Reformer, but only for a couple of minutes each. The trainer provided clear instructions for each movement and I appreciated how she explained the importance of each move and how it affects the rest of my body. Overall, I liked how it was personalized to my needs; since she was monitoring my every move, she would recommend what I should and shouldn't do.
"I didn't break into a sweat as it was mostly an assessment than a full-blown Pilates session, which only goes to show that it's not a one-off workout; it requires commitment and time. Nevertheless, I had a newfound appreciation for my body and surprisingly enjoyed the session. Honestly, I am curious how the succeeding sessions would be like." — MM
ADVERTISEMENT - CONTINUE READING BELOW
The verdict: B+B Studio is a great option for Pilates newbies who don't mind splurging, whether it's a group class or a private session. The studio offers different classes on the mat or on the Reformer that target specific needs, like Strength+Balance, Sculpt+Tone, Age+Strong, Mindful+Core, and more. If you plan to take your fitness journey seriously and don't mind spending a little extra on it, then B+B Studio is a good choice especially for those in the BGC area.
B+B Studio is at 9/F Menarco Tower, 32nd Street, Bonifacio Global City. For more information, log on to B+B Studio's website.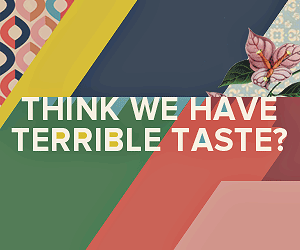 5. All Core Pilates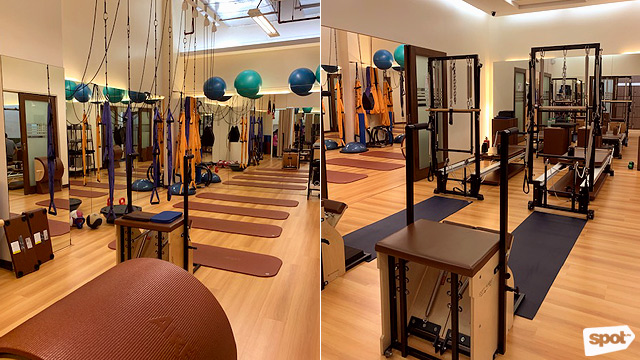 How much to shell out: Single Semi-Private Session (P1,400/person), Single Private Session (P1,800), 5 Private Sessions (P8,250/valid for 1 month)
The lowdown: "This studio is impressive in that it's well-maintained and complete in terms of equipment and facilities, but your overall satisfaction with your experience will depend on how well your trainer familiarizes himself or herself with your concerns and goals.
ADVERTISEMENT - CONTINUE READING BELOW
"Trainers are assigned by the studio depending on who has an available slot for your trial session, and you'll be asked a few questions prior to the workout, but they'll guide you through every step to make sure your form is correct and you're breathing properly through the exercises. If you do decide to sign up for a package, make sure to ask if your trainer will be available at times that work for you—since there are a limited number of instructors here, finding a fixed slot might require some adjustments.
"All Core Pilates provides a locker area, two heated showers, and two dressing areas, so freshening up after your session is a breeze. Overall, the studio is a convenient option for anyone looking to get into Pilates as a beginner." — Sam 
The verdict: If you're a beginner at Pilates who wants to get into the practice, All Core is a good place to start. The studio has everything you need and is well-maintained, so you won't feel iffy using their showers to freshen up after your workout. Their rates are pretty average, too, but considering the amenities that are available and the quality of instructors, you're sure to get your money's worth at All Core.
All Core Pilates is at 4/F The Podium, ADB Avenue, Mandaluyong City and UG/F Commerce Mall, Alabang Town Center, Muntinlupa City. For more information, log on to All Core Pilates' Facebook page.
4. Pure Pilates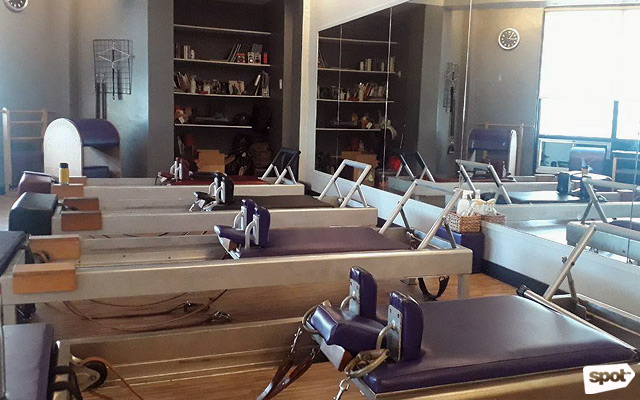 ADVERTISEMENT - CONTINUE READING BELOW
How much to shell out: Mat Pilates Group Class (P800), Reformer Pilates (P1,600)
The lowdown: "The closest I've ever been to Pilates is doing crunches on my bedroom floor so I was excited to try out the real experience. I texted the Pure Pilates number to see when there was a free slot, and spoke with Linzi, who told me that they regularly have group classes. One-on-one sessions were already full, but she assured me group classes were fine for beginners. 
"It was a little difficult to find the studio, especially since you need the guard to key in the door code. But the moment I finally found the actual place, the gym looked super promising—and just a little bit scary with all the strange-looking equipment. Before the class started, I got to talk to Linzi, who turned out to be our instructor. She checked my uh, exercise 'history' before we started and she got me prepped on what to expect. I had around five classmates as classes are limited to eight people.
"The class itself was not too strenuous. I really appreciated the pace Linzi kept—challenging but not enough to make me want to give up. Plus, she clearly knew each of her students' strength and weaknesses and better, she knew all our names. She spotted for me during the extra difficult routines (poses) and made me feel very much at ease! We didn't use any of the machines, so we all had to rely on our own strength. 
ADVERTISEMENT - CONTINUE READING BELOW
"I paid P800 for the group class, which I felt was money well spent, especially when you compare it to the prices for one-on-one classes (Pure Pilates has it for P1,600 a session). Overall, it was a great experience and something I see myself doing regularly—if I had the money." — Mia
The verdict: Apart from having quality mats and machines, Pure Pilates has quality instructors who really put an effort in getting to know their students, whether it's a group class or a private session. They have a pretty competitive rate of P1,600 for a Private Reformer Session, so if you're looking for a place where you can get a solid Pilates workout, this studio is worth checking out. Though finding it can be a bit tricky, you'll find that the trip will be worth it.
Pure Pilates is at 1176 Quezon Avenue corner Scout Magbanua Street, Quezon City. For more information, log onto Pure Pilates' Facebook page.
3. Ritmus Pilates & Wellness
ADVERTISEMENT - CONTINUE READING BELOW
How much to shell out: Single Private Reformer (P1,800)
The lowdown: "It was my first time to try Pilates, but Ritmus Pilates and Wellness Studio made sure that I was comfortable doing the routine. The warm vibe of the place started as early as reservations because they can easily be reached through text message and you can easily change your appointment date. I was advised to come 10 minutes early, which was enough time to change into my workout clothes in their spic-and-span restroom and relax before my session.
The session started with a postural analysis; and according to the instructor, the routine is customized based on your posture and bone deformities, if any. She explained the breathing principles and every basic movement in Pilates—which were very confusing for me, but she was patient in reminding me on what breathing corresponds with what movement. If Pilates wasn't an expensive type of workout, I would go back for the private sessions." — Christa 
The verdict: If you're a Poblacion dweller or you just happen to find yourself in that neighborhood a lot, you might want to check out Ritmus Pilates & Wellness. They offer both mat and Reformer Pilates as well as group classes and private sessions, giving you options which is great if you have a budget to keep in mind. The studio is equipped with well-maintained machines as well as clean bathrooms, which is important for those who want to freshen up after a session. If you're a seasoned practicer of Pilates and don't mind group classes, that P850 rate for their Group Class Reformer is well worth your money.
ADVERTISEMENT - CONTINUE READING BELOW
Ritmus Pilates & Wellness is at 2/F SJG Centre, 8463 Kalayaan Avenue, Barangay Poblacion, Makati City. For more information, log on to Ritmus Pilates & Wellness' Facebook page.
2. Mindful Movement Asia Pilates Studio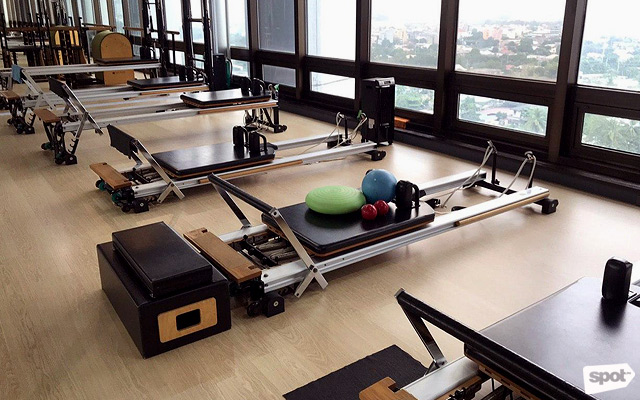 How much to shell out: Single Private Session (P1,850)
The lowdown: "I have experience in basic weight-training and do cardio regularly, but my experience in Pilates is limited, so I booked a (private) beginner's class at Mindful Movement (formerly Vivian Zapanta Pilates Studio). The staff was super friendly and definitely succeeded in making me feel at home, and I was given a locker to keep my stuff in while I went on with the class. The space at the Makati branch is relatively small, but they have a shower room and a changing area in the bathroom. 
"We employed a Reformer, and the instructor took the time to explain the proper form (particularly the alignment of your back against the Reformer) and proper breathing techniques. From there, we did a couple of exercises that primarily involved the legs while on the Reformer. To be honest though, I found the exercises to be only mildly challenging—my legs were shaking at one point, but beyond that, I found it rather easy to drift off. I'm not sure if it's because I wasn't engaging enough (though the instructor didn't mention anything about that apart from the breathing exercises). Overall, I still think it's a great option for beginners, because of how they focus on your form. I just wish it could be a touch more challenging!" — Trish
ADVERTISEMENT - CONTINUE READING BELOW
The verdict: Mindful Movement Asia Pilates Studio offers a complimentary session for first-timers, which is enough reason for you to go ahead and try. Once you're in the studio, you'll find that they have complete amenities from lockers to shower rooms to changing rooms, which is great if you have somewhere else to be after your session. Don't expect an intense workout, though, because the first session is all about learning the basics and understanding your body. Overall, Mindful Movement is a great motivation to get into the workout and actually sustain it.
Mindful Movement Asia Pilates Studio is at Pacific Star Building, Sen. Gil Puyat Avenue corner Makati Avenue, Makati City and 15/F Ecotower Building,
32nd Street corner 9th Avenue, Bonifacio Global City. For more information, log on to Mindful Movement Asia Pilates Studio's website.
1. Onelife Studio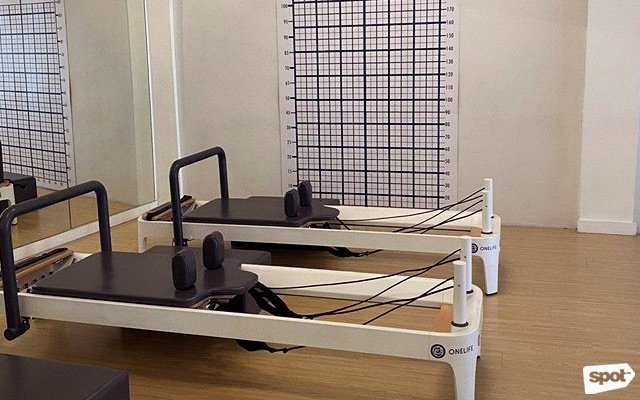 How much to shell out: Single Private Session (P2,500)
ADVERTISEMENT - CONTINUE READING BELOW
The lowdown: "I've heard lots of great things about Onelife, so you can say I was really excited and had high hopes for my session. Onelife currently has three studios which are spread out in the Metro (they have one in San Juan, Makati, and Alabang—and they're opening a new studio in Pasig in February), making it pretty accessible to people who want to practice Pilates wherever they may be.
"Booking a session was a breeze—you can easily reach the studio you plan to visit through text. I booked two days before my session and the experience was seamless from start to finish. I arrived on time and was immediately attended to by my assigned instructor. The first part of the session involved me using a Karada Scan (a weighing scale-like machine that assesses your body fat-to-muscle ratio) and standing in front of what looked like a giant graph on the wall so the instructor could study my posture—this is how I found out my right shoulder hangs lower than my left, but that's for another story.
"We began a few strength-test exercises just to gauge how strong I currently am (spoiler alert: not very). The instructor used her 'findings' as a basis for my workout, which included a lot of arm, core, and leg exercises (a.k.a. I am pretty much weak everywhere). 
"What I liked most about my experience at Onelife is that my session was very personalized. My instructor really took her time to understand the current state of my body and made me do exercises tailor-fit to my needs. Even though it was my first time, it didn't feel like the session was just a 'trial' since I actually did sweat and my whole body was sore (in a good way) afterwards. Plus, she did a thorough job on teaching me about the parts of the Reformer, how to properly get on and get off the machine, and the proper pace of the movements.
ADVERTISEMENT - CONTINUE READING BELOW
"Onelife doesn't offer group classes, which makes sense since they make sure that the workouts you do are suited to your body's needs and your strength level—which you simply can't achieve in group classes. A private session costs P2,500 and while it's on the steep side, I feel like I got more than my money's worth. I liked my session so much, I ended up getting a starter package for the Estancia branch! TL;DR, if you've been wanting to try Pilates but want to find a place that would make you feel at home (and not feel like a noob), you can't go wrong with Onelife." — Jamie 
The verdict: If you're looking for a Pilates studio that takes their time to understand your body's strengths and weaknesses while giving you an intense workout right off the bat, then Onelife Studio is the perfect studio for you. The effort they exert in getting to know each person who walks into their studio is unmatchable—and by that, we mean they really put a premium on personalized programs that deliver results in just a few sessions. Their amenities are complete, so you can go from workout to office (or workout to party), no problem. They get plus points, too, for having studios conveniently located in almost every corner of the Metro. While the P2,500 price point is steep compared to every other studio, you won't feel like you blew cash for nothing. In fact, you might even end up getting more sessions once you experience their ultra-personalized programs. Besides, you gotta invest in yourself if you really want to see positive changes in your body, right?
ADVERTISEMENT - CONTINUE READING BELOW
See a list of Onelife Studio branches. For more information, log on to Onelife Studio's website.
Share this story with your friends!
---
Help us make Spot.ph better!
Take the short survey
Load More Stories