Smackdown: Apple AirPods Pro vs. Samsung Galaxy Buds Pro
Which one is easier to connect to a device? 
(SPOT.ph) On August 11, Samsung officially unveiled their new Galaxy Buds 2, a highly anticipated follow-up to their original wireless earbuds released in 2019, but lower in price compared to the Galaxy Buds Pro, which were launched in early 2021. Meanwhile, Apple is expected to release their third-generation AirPods later this year some time between September and November. Industry leaks suggest that the latest iteration of the earbuds will be priced similarly to the AirPods 2, meaning more budget-friendly than 2019's AirPods Pro.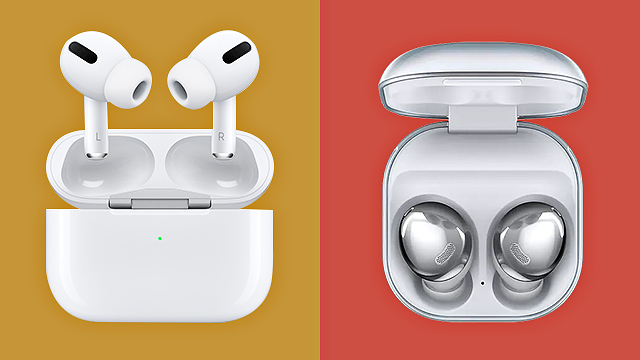 That means—at least if the Apple leaks are to be believed—both tech giants seem to be following a similar pattern of updating a flagship device, but keeping their Pro versions the more premium models. That means even as new models are released, the Samsung Galaxy Buds Pro and the Apple AirPods Pro will continue to be the brands' most top-of-the-line iterations as far as wireless earbuds go and consequently, be one that tech geeks and audiophiles consider splurging on. With that in mind, you may be wondering which pair would be the best pick? Below, we compare both models.
ADVERTISEMENT - CONTINUE READING BELOW
Now keep in mind, this isn't necessarily a contest, just a handy rundown of each device's most notable qualities that you may want to consider before making a purchase. The true winner will be decided by your own personal preferences. Plus, we know you Apple and Android users love a little friendly competition, so we're more than happy to stir the pot.
Also read:
10 Things Android Users Can Do That iPhone Users Won't Get
10 Things iPhone Users Can Do That Android Users Won't Get
Ready for an Apple vs. Samsung smackdown? We compare the AirPods Pro and Galaxy Buds Pro:
Price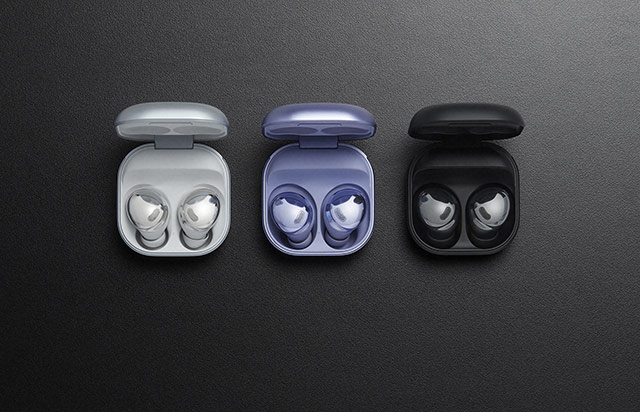 CONTINUE READING BELOW
Recommended Videos
Right off the bat, the Galaxy Buds Pro will be a little bit more wallet-friendly with a price tag just under P10,000—a whole P5,000 cheaper than the AirPods Pro and around the same price as Apple's regular AirPods if you opt for the model without the wireless charging feature (P9,490). So if price is your one and only concern, then the choice is pretty obvious.
ADVERTISEMENT - CONTINUE READING BELOW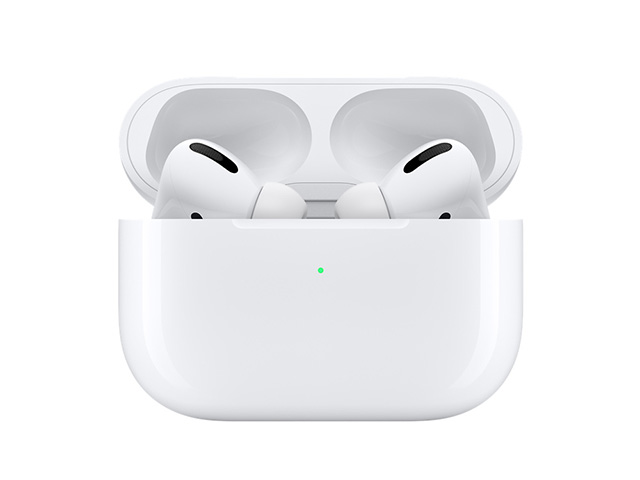 Design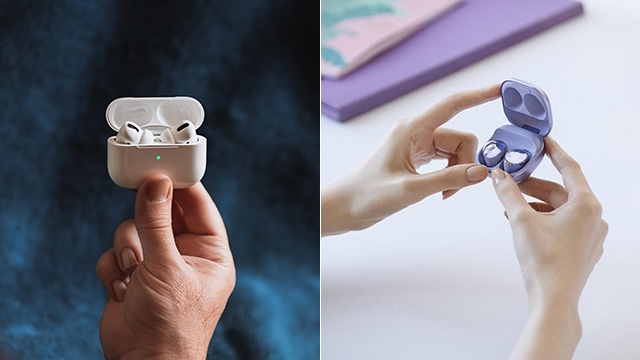 Looks-wise the AirPods Pro and Galaxy Buds Pro have different designs. The Galaxy Buds Pro definitely allow for more variety and distinction with a mix of glossy and matte textures on the device as well as three color options (the device is available in Phantom Black, Phantom Violet, and Phantom Silver). The AirPods Pro, on the other hand, keep it simple with a case and earbuds decked out in white inside and out—this may be considered a limitation for some, but it is fit for Apple's minimalist design philosophy.
ADVERTISEMENT - CONTINUE READING BELOW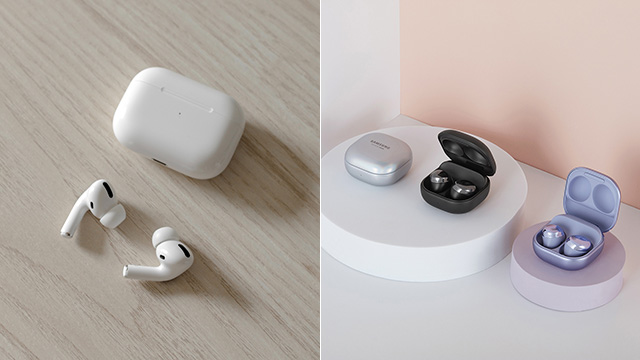 As far as shape and size, the Galaxy Buds Pro are more compact. The earbuds sport a rounded design that sits seamlessly inside the ear without sticking out, though they do have a slight protrusion on the outer side. The AirPods Pro stay closer to the original AirPods design with a stem sticking out of the ear—reminiscent of the brand's OG wired earphones—though much shorter than the non-Pro iteration. Both models make use of an in-ear design on the buds with silicone tips on the end that facilitate that ever-coveted noise-cancelling technology.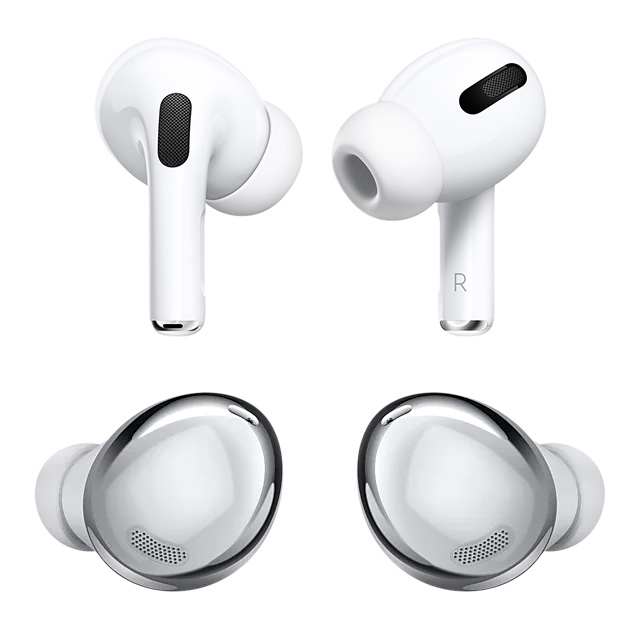 ADVERTISEMENT - CONTINUE READING BELOW
Connectivity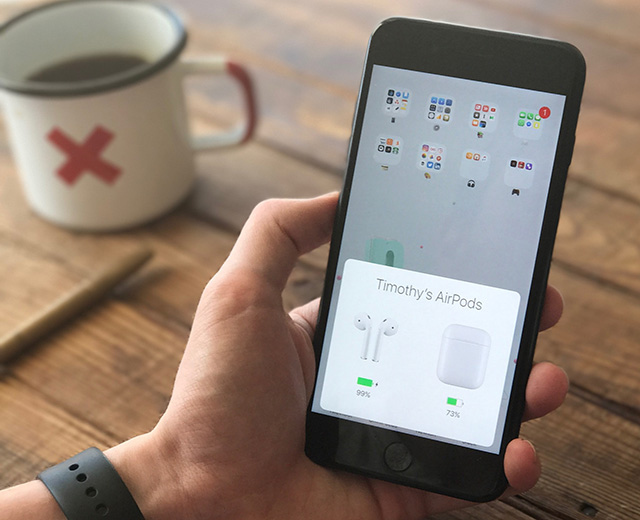 As you might expect, each device is designed to work seamlessly with their own brand's smartphones, though the AirPods Pro are perhaps more user-friendly—all you have to do is open the case and pull out the earbuds and your iPhone will automatically detect them. Anyone who likes to take advantage of the Apple ecosystem would appreciate the quick setup. As soon as you connect your AirPods to your iPhone, they'll automatically be recognized by all the Apple devices on your iCloud account.
The Samsung Galaxy Buds Pro can seamlessly connect to Samsung devices, too, but as with most Android processes, require a few more steps—this can be an advantage or disadvantage depending on your preferences. The pairing process will require you to download the Samsung Galaxy Wearable app—making for a more tedious setup—but this will also give you more control over your connection. The app also lets you access EQ settings and presets as well as noise-cancelling settings.
ADVERTISEMENT - CONTINUE READING BELOW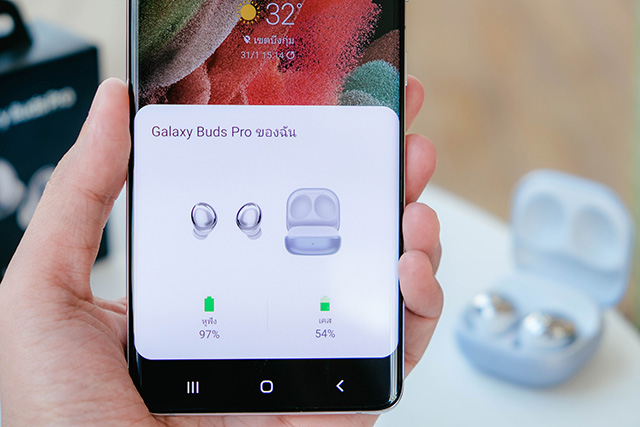 Now, as far as connecting the earbuds to devices of different brands, the process can never really be as streamlined, but it's as simple as manually pairing each with your phone via Bluetooth. With the Galaxy Buds Pro, you'll likely have less access to customization and support apps when using an iPhone. With the AirPods Pro, an Android phone won't provide your earbuds the same easy access to your other devices and also won't optimize your AirPods' battery power.
Waterproof Rating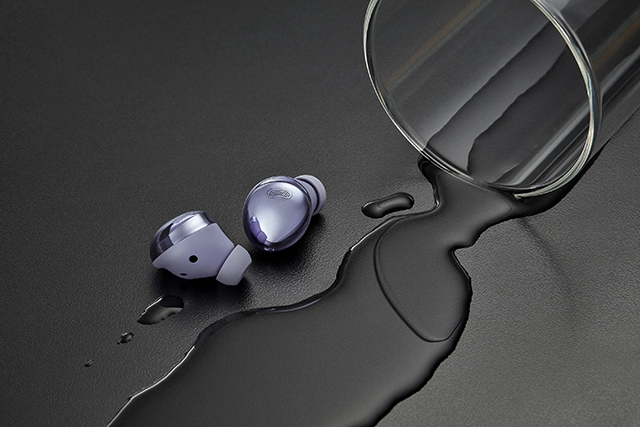 ADVERTISEMENT - CONTINUE READING BELOW
The AirPods Pro have an IPX4 waterproof rating while the Galaxy Buds Pro have an IPX7 rating, making the latter the clear winner in this respect, at least on paper. Take note, however, that while the Galaxy Buds Pro have a higher waterproof rating, you won't be able to use them underwater, so if you were looking for swim-safe earbuds, neither of these models would be up your alley. The advantage here will be that Samsung's Pro wireless earbuds will be much more forgiving should you ever drop them in the pool (or worse, the toilet)—a smarter choice for the clumsy ones out there.
Battery and Charging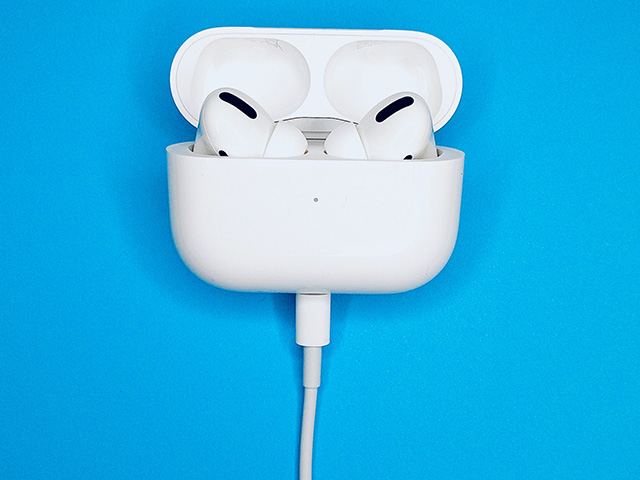 According to Sound Guys, both devices offer more or less similar battery performance. The AirPods Pro promise up to five hours of nonstop playback on a single charge while the Galaxy Buds Pro provide up to eight hours. In total, the Galaxy Buds Pro promise up to 28 hours total on a fully charged case while the AirPods Pro provide "more than 24 hours," according to Apple's website. When it comes to quick charging, the AirPods can provide up to one hour of listening time after five minutes of charging while the Galaxy Buds Pro provide about 85 minutes on a 10-minute charge.
ADVERTISEMENT - CONTINUE READING BELOW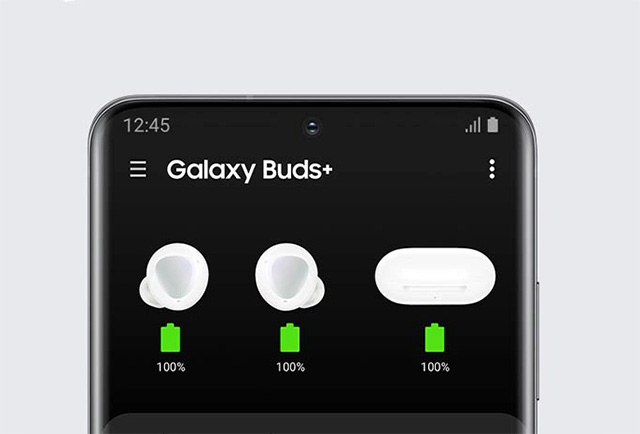 Note, however, that the battery life decreases significantly when Active Noise-Cancellation is turned on and keep in mind again that the AirPods Pro may have less efficient battery optimization when connected to non-Apple devices. Both devices support wireless charging, though if you opt for wired charging, the AirPods Pro can only be charged with Apple's lightning chargers while the Galaxy Buds Pro can be charged with any USB-C cable. The latter is considered more universal and may be more widely available, so that could be worth considering if you often break your cables or like to keep multiple chargers in different places.
Sound Quality and Active Noise-Cancellation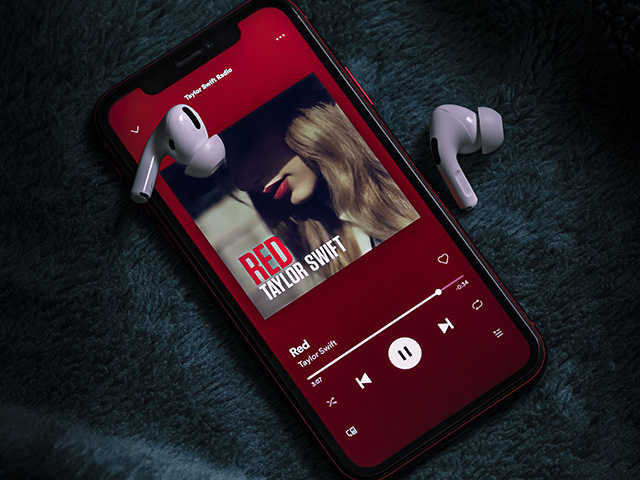 ADVERTISEMENT - CONTINUE READING BELOW
Both the Galaxy Buds Pro and AirPods Pro offer Active-Noise Cancellation and spatial audio, the former allowing the device to block out external noises and the latter creating immersive, 360-degree sound quality. CNET describes the Galaxy Buds Pro as having a "warmer sound profile and more pronounced bass," not to mention they allow users to adjust the sound equalizer manually with various presets. With that in mind, Samsung's wireless earbuds may be the better option for dedicated sound trippers who want to have full control of their audio.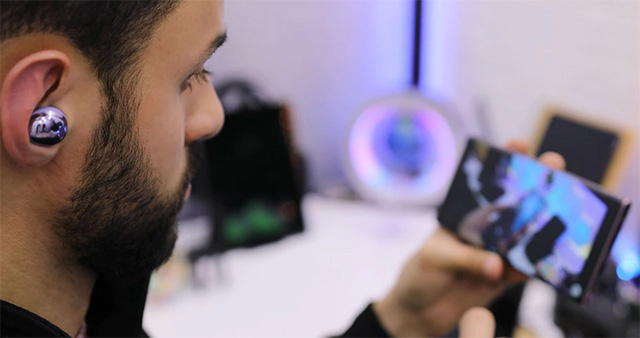 The AirPods Pro, on the other hand, produce a more neutral sound output—not a bad thing, especially if you like your tunes to be true-to-production. Plus, it may be the more useful option if you'll be using your AirPods Pro for phone calls, video meetings, and other non-music functions. Though you won't be able to adjust the audio settings on Apple's earbuds, they do have an adaptive equalizer that will automatically adjust the sound for you when necessary. In that respect, the AirPods Pro may overall be the ideal option for beginners who want reliable sound with no fuss.
ADVERTISEMENT - CONTINUE READING BELOW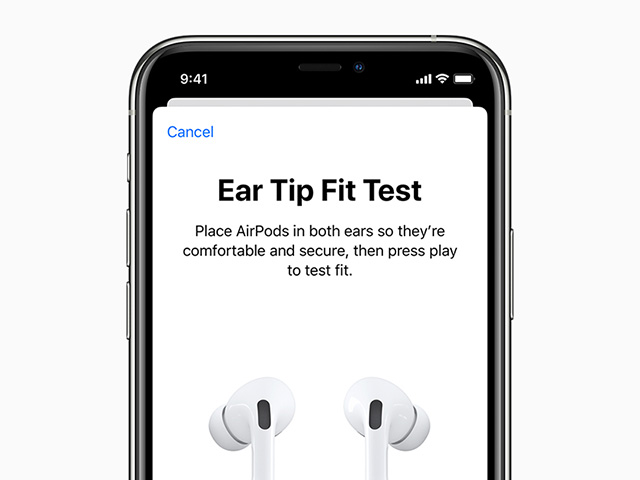 "The AirPods Pro are a touch more effective at drowning out white noise like the sound of an overhead fan or plane engines," notes CNET's Lexy Savvides. Sound Guys' Sarah Carbone, however, states that the Galaxy Buds Pro outperform the AirPods Pro in terms of low-end attenuation or the kind of incoherent sounds you might hear on a noisy commute. Overall, the differences between the two seem to be fairly mild with both doing a fairly decent job at canceling out ambient noise. The Samsung Galaxy Buds Pro may be considered more advantageous if—as has been consistent in this comparison review—you like to keep a close on your sound settings. Their Active Noise-Cancelling feature lets you choose between high and low settings—the former is better for blocking out background noise and the latter obstructs the sound of people talking. It should be noted that efficacy of Active Noise-Cancellation in both cases will largely depend on how well your earbuds fit.
ADVERTISEMENT - CONTINUE READING BELOW
Conclusion
All in all, the Samsung Galaxy Buds Pro will be a better option for more tech-savvy folks or nitpicky audiophiles who like to have the option to control sound settings. Meanwhile, the AirPods Pro can give you nearly identical sound quality and Active-Noise Cancellation features with little to no fuss.
Unsurprisingly, both devices will work better with smartphones made by their own home brands. In that case, price seems to be less of a deciding factor—you'll spend less if you buy the Galaxy Buds Pro, for example, but if you own an iPhone, you'll likely get less bang for your buck as those nifty sound settings will be less accessible to you. Conversely, you may want to splurge on the AirPods Pro whether for its minimalist design or user-friendly features, but if you own a Samsung phone (or any Android phone, really), you may not be able to enjoy all the efficiency it offers. In the end, it's largely a matter of preference—not just of audio quality, but of overall usability.
Hey, Spotters! Check us out on Viber to join our Community and subscribe to our Chatbot.
We are now on Quento! Download the app and enjoy more articles and videos from SPOT.ph and other Summit Media websites.
Share this story with your friends!
---
Help us make Spot.ph better!
Take the short survey
Load More Stories