10 Beautiful Churches in the Philippines for Your Bucket List
How many have you seen in person?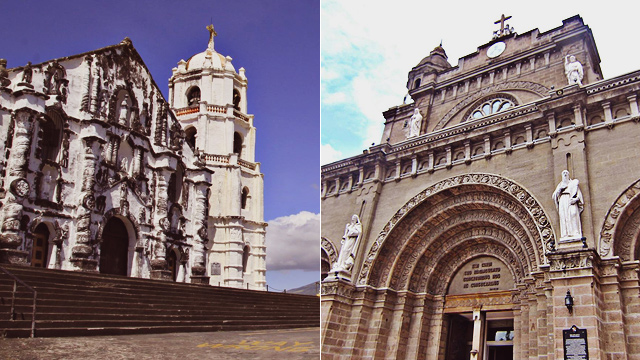 (SPOT.ph) Considering our country's long history with the Roman Catholic Church during the Spanish period, it shouldn't be a surprise that a number of old churches can be found in many of our provinces. Whether you go for some spiritual reflection or just to admire the gorgeous architecture, they are certain to provide plenty of inspiration. How many have you seen in person?
ADVERTISEMENT - CONTINUE READING BELOW
We round up a few that are must-haves on your bucket list.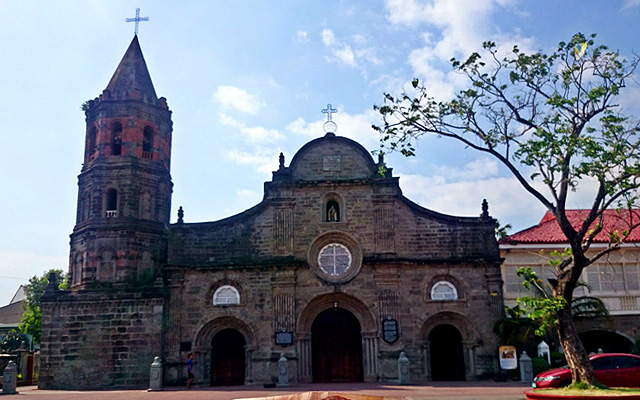 Our Lady of Mount Carmel Parish
Malolos, Bulacan
Barasoain Church or Our Lady of Mount Carmel Parish in Malolos City, Bulacan is such a big part of Philippine history that it would be a shame not to visit it at least once in your lifetime. It was also dubbed the "Cradle of Democracy in the East" upon having been chosen as the site of the First Philippine Congress after the Spanish-American War. So important was the church that it was immortalized through Philippine monetary bills: the one-peso note in 1951; the 10-peso bill in 1967, 1973, 1985, 1997; and the 200-peso denomination in 2010.
ADVERTISEMENT - CONTINUE READING BELOW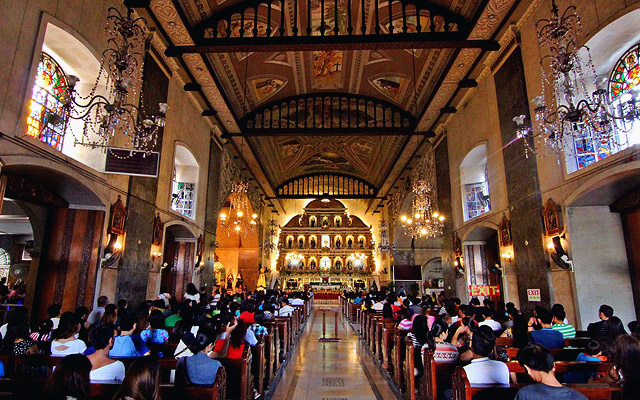 Santo Niño de Basilica
Cebu City, Cebu
A list of Philippine churches wouldn't be complete without the country's oldest Roman Catholic Church. Basilica Minore Del Santo Niño was erected by Augustinian priests in 1565. It was destroyed twice by a fire and was rebuilt in 1629 and 1737. The present building has been designated by the Holy See as the "Mother and Head of all Churches in the Philippines." The basilica's centuries-old bell tower was heavily damaged by a 7.2-magnitude earthquake that hit Cebu and Bohol in 2013, but was restored three years later.
ADVERTISEMENT - CONTINUE READING BELOW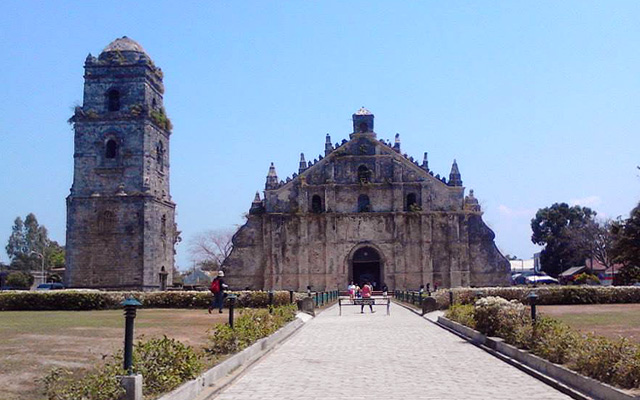 Church of Saint Augustine
Paoay, Ilocos Norte
Church of Saint Augustine, along with San Agustin Church in Manila, Santa Maria Church in Ilocos Sur, and Miag-ao Church in Iloilo, was designated as a UNESCO World Heritage Site in 1993 under the collective title "Baroque Churches of the Philippines." But unlike the European Baroque style, the structure was made to withstand seismic conditions in the country, which is why it has large buttresses at its sides and back. It's also been called the "Earthquake Baroque Church of the Philippines." Even the three-storey coral bell tower stands at a safe distance from the main church, to avoid any major damage during an earthquake.
ADVERTISEMENT - CONTINUE READING BELOW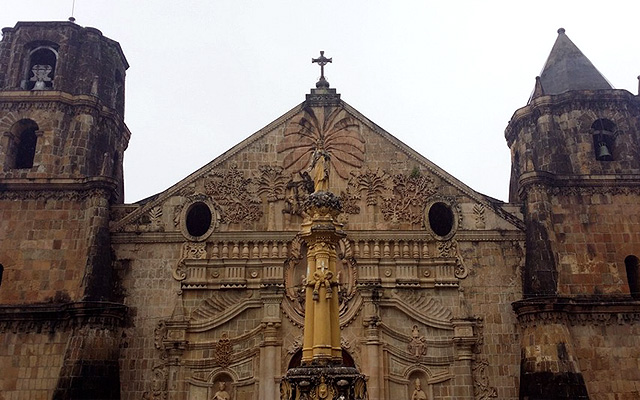 Church of Santo Tomas de Villanueva
Miag-ao, Iloilo
Sto. Tomas de Villanueva Parish Church (a.k.a. Miagao Church), another UNESCO World Heritage Site, has its own interesting history. It once served as a fortress to protect the area against Moro slave traders and pirates during the late 17th to early 19th Centuries. The two belfry towers differ in design because they were commissioned by two different parish priests, rendering the whole structure almost asymmetrical. The façade of the church is also something worth noting, having an ornately decorated bas relief featuring St. Christopher dressed in local clothing (i.e. bahag) while holding a huge coconut tree and carrying the Child Jesus on his back.
ADVERTISEMENT - CONTINUE READING BELOW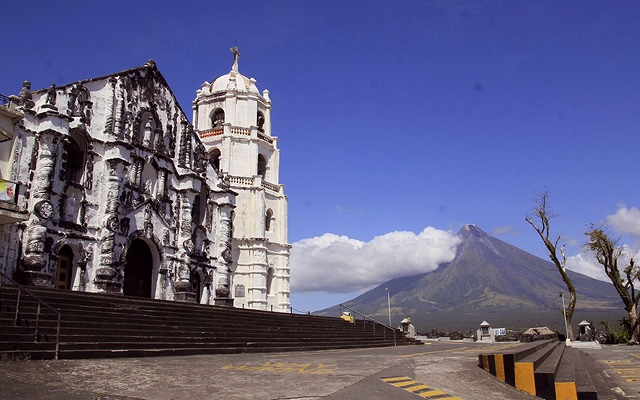 Nuestra Señora de la Porteria Church
Daraga, Albay
In the 1720s, Cagsawa—then a sitio of Albay—began to progress, but its 4,000 inhabitants still saw its location at the foot of Mayon Volcano as a threat to its livelihood. So they asked that their town and church be transferred to Daraga, a village farther south of Cagsawa. The structure atop a hill and overlooking the majestic Mayon was then consecrated in 1854 as Nuestra Señora de la Porteria Church. Now, Daraga Church is famous for its mixture of Renaissance Gothic and Mexican Baroque, according to historian Alicia M. L. Coseteng in her book Spanish Churches in the Philippines. It is the only surviving church in the country that has adapted the salomonica columns (the four spiral columns in its façade).
ADVERTISEMENT - CONTINUE READING BELOW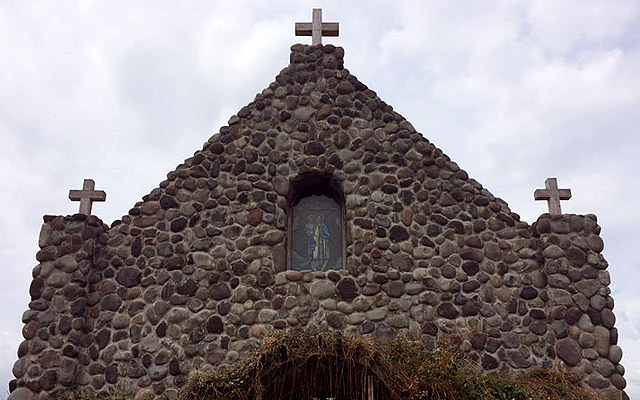 Mt. Carmel Chapel
Basco, Batanes
Batanes doesn't have a lot of churches, so the influential Abad family spearheaded the construction of a chapel as an alternative to Basco Cathedral (which is about three kilometers away). Mt. Carmel Chapel or Tukon Chapel was completed in 2008 through the help of local masons, carpenters, and craftsmen. The design was inspired by traditional Ivatan stone houses, said to be strong enough to weather strong winds and frequent storms in the northern end of Luzon. The church also made an appearance on the film You're My Boss starring Toni Gonzaga and Coco Martin.
ADVERTISEMENT - CONTINUE READING BELOW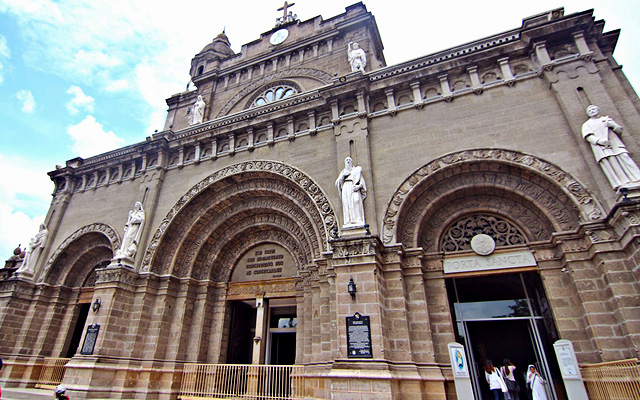 Basilica of the Immaculate Conception
Intramuros, Manila
Manila Cathedral was a simple parish made of nipa and bamboo in 1581. It went through several reconstructions after being destroyed by earthquakes and typhoons through the years, and even the Battle of Manila in 1945. The structure that we see today was the reconstructed church in the 1950s. Its façade features statues of famous saints—St. Rose of Lima, St. Jacob, St. Andrew, St. Anthony the Abbot, St. Francis Xavier, and St. Polycarp—all sculpted in Roman travertine stones. It also has more than a hundred stained glass windows made by Filipino artist Galo Ocampo.
ADVERTISEMENT - CONTINUE READING BELOW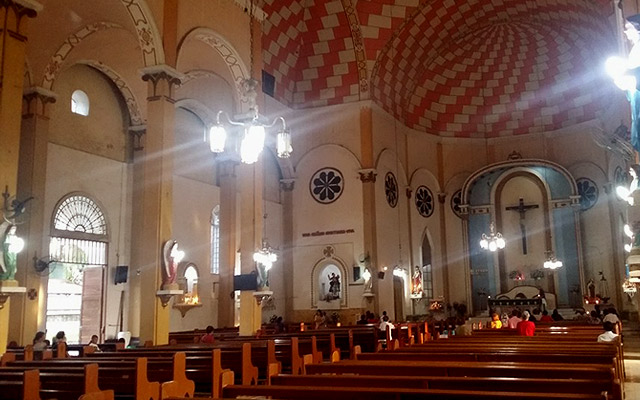 St. James Parish Church
Dapitan City, Zamboanga del Norte
St. James Parish Church was built in 1871 in honor of St. James the Great, patron saint of Dapitan City, Zamboanga del Norte. It is said that Jose Rizal frequented this church during his exile from 1892 to 1896. It houses a German-made pipe organ that bears the marking "1827" and is believed to have been brought into the church by Augustinan recollect priests. The exterior may not impress visitors, but wait until you enter the church and look up. The ceiling of its arched doorway is almost hypnotic, thanks to the interlocking white-and-pink triangles that seem to swirl around the domes and arches.
ADVERTISEMENT - CONTINUE READING BELOW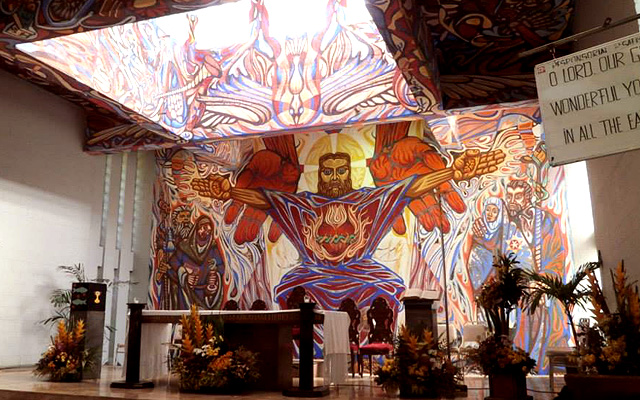 Church of the Angry Christ
Victorias City, Negros Occidental
St. Joseph the Worker Church was later known as Church of the Angry Christ because of its famous (and controversial) mural titled "The Last Judgment" by Filipino-American artist Alfonso Ossorio. There are also mosaics all over the structure, from its façade to the walls by the entrance, made by Belgian artist Ade de Bethune. The church itself was designed by Czech architect Antonín Raymond, who employed a modern design when it was built in 1949.
ADVERTISEMENT - CONTINUE READING BELOW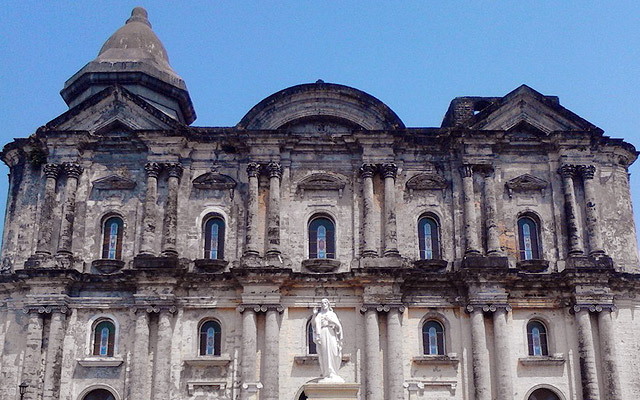 Minor Basilica of Saint Martin of Tours
Taal, Batangas
Construction of Taal Basilica started in 1856, but it was only in 1878 when the structure was finally completed. The main altar measured 79-feet high and followed the Doric style, so columns are stout and have round tops and bottoms. It was declared as a Minor Basilica in 1954, making it the third church in the country to be given such an honor. In 1974, it was declared a National Shrine. Taal Basilica was heavily damaged after the April 10 earthquake that hit Mabini and Tingloy, Batangas. This also pushed the local government to take action and preserve what is considered the largest church in the Philippines and Asia.
ADVERTISEMENT - CONTINUE READING BELOW
Load More Stories