(SPOT.ph) Negros Occidental in the Visayas is known for its sweet treats, delicious chicken inasal, rows of ancestral houses, the colorful Masskara Festival and—of course—having the City of Smiles: Bacolod City. Located on the northwest coast of Negros Island, it is the recommended jump-off point for exploring the rest of the province. It has a selection of value-for-money accommodations to luxurious city hotels, malls that house popular Negrense food outlets and Bacolod stores, and transportation options to bring you to nearby places. Flights from Manila to Bacolod-Silay Airport are also frequent, giving you the chance to fly in and out for a weekend getaway if you've run out of vacation leaves.
Also read:
The Haunting Story Behind "The Mansion" in Silay City, Negros
This Art Deco House in Bacolod Might Just Make You Believe in Unicorns
Here's a tried-and-tested Bacolod itinerary if you only have a weekend to spare in Negros Occidental:
Day 1 in Bacolod, Talisay and Silay
Capitol Park and Lagoon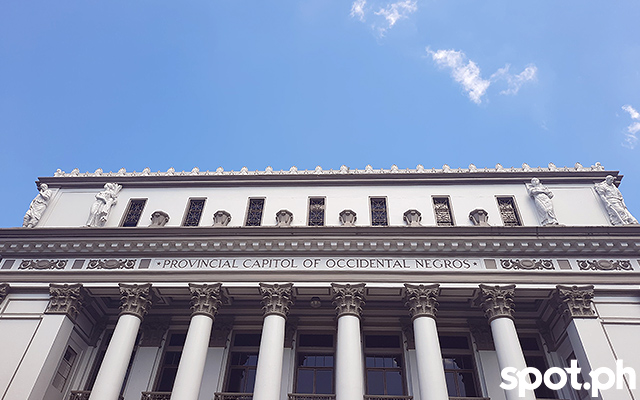 ADVERTISEMENT - CONTINUE READING BELOW
If you're in Bacolod City, it's hard to miss the Capitol Park and Lagoon located along the city's main thoroughfare: Lacson Street. It has, of course, the Negros Occidental Provincial Capitol building, which was completed in 1933. The Capitol follows Daniel Burnham's Neo-classical architectural design and vision, which was executed by Juan Arellano. At the Capitol's facade are four sculptures by National Artist for Sculpture Guillermo Tolentino, each representative of Negros' history and culture of sugar farming.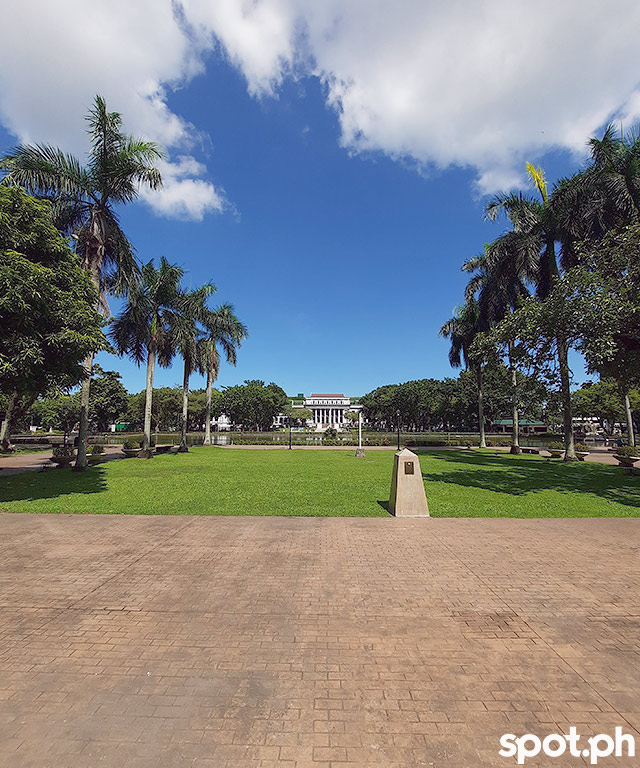 ADVERTISEMENT - CONTINUE READING BELOW
Recommended Videos
The Lagoon, on the other hand, is flanked by two majestic sculptures: one of a man with a carabao, which was done by Negrense sculptor Felix Garzon; and the other is of a woman, also with a carabao, by Italian artist Francesco Riccardo Monti (who also did the sculptures of the Metropolitan Manila Theater). On the opposite side of the Capitol is a masterpiece by Eduardo S. Castrillo titled "Panghimud-os," which is Hiligaynon for struggle. It depicts the life of struggle among the Negrenses, including the system of feudalism on the island in the 1570s, frequent pirate raids in the 1700s and 1800s, World War II, and the famine of Negros when the sugar industry was hit following Marcos' declaration of Martial Law.
The Capitol Park and Lagoon is along Lacson Street, Bacolod City. The Negros Occidental Provincial Capitol is open from Monday to Friday, from 8 a.m. to 8 p.m.; but the Park and Lagoon is open daily from 5 a.m. to 10 p.m.
ADVERTISEMENT - CONTINUE READING BELOW
The Negros Museum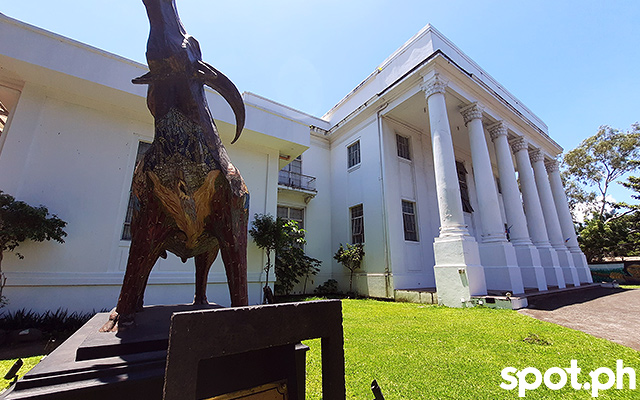 Originally built as the Provincial Agriculture Building in 1925, The Negros Museum is now operated privately by the Negros Cultural Foundation. It gives a glimpse into the history and culture of Negros as well as contemporary arts on the island. The ground floor hosts changing exhibitions of both up-and-coming Negresense artists and more established names like Nune Alvarado. The second floor features a replica of a typical ancestral house with antique furniture, a hall filled with massive paintings depicting the history of the island, and a wall of black-and-white photographs from memories past.
ADVERTISEMENT - CONTINUE READING BELOW
At the front grounds of The Negros Museum is a five-ton carabao sculpture made of concrete, brass, and tessera. Named "Bao" and dubbed "The Unbowed Carabao," it was designed by mosaic artist Liza de Leon – Zayco and metal sculptor Rafael Paderna.
The Negros Museum is at the Old Agricultural Building, Gatuslao Street, Bacolod City. It is open from Monday to Saturday, from 9 a.m. to 6 p.m. Entrance fee is P100.
What Remains of Fort San Juan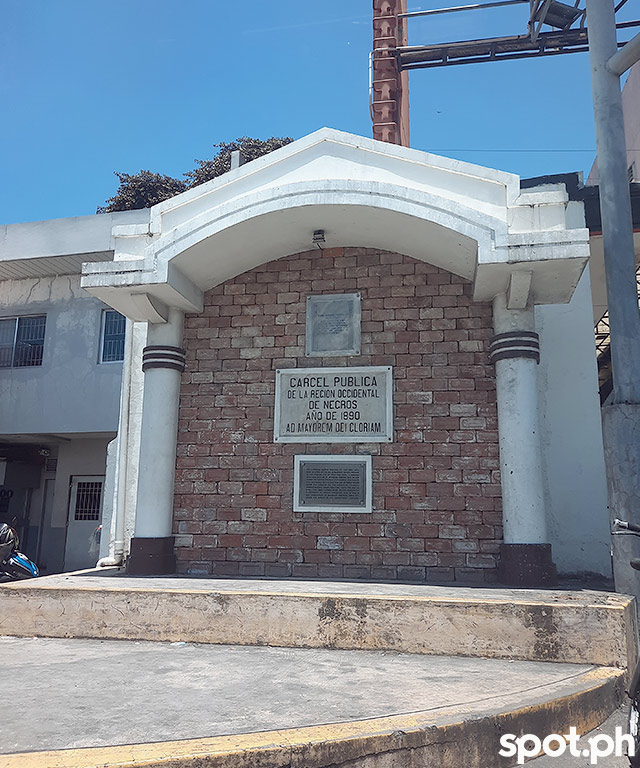 ADVERTISEMENT - CONTINUE READING BELOW
If you're on a rolling tour of Bacolod City, you may see an odd marker with red bricks on one side of a local shopping mall called 888 Chinatown Premiere. The structure is what remains of the demolished Fort San Juan, a provincial jail that was constructed in 1889 by Spanish friars. When the provincial jail was transferred to Bago City in 2011, the property was rented by 888 Chinatown Square with the condition that the old gate, the marker, and the brick wall (with very interesting markings) will not be demolished. All these were fished out from the rubble and made into the marker that it is today.
Fort San Juan Marker is at 888 Chinatown Square along Gatuslao Street, Bacolod City.
San Sebastian Cathedral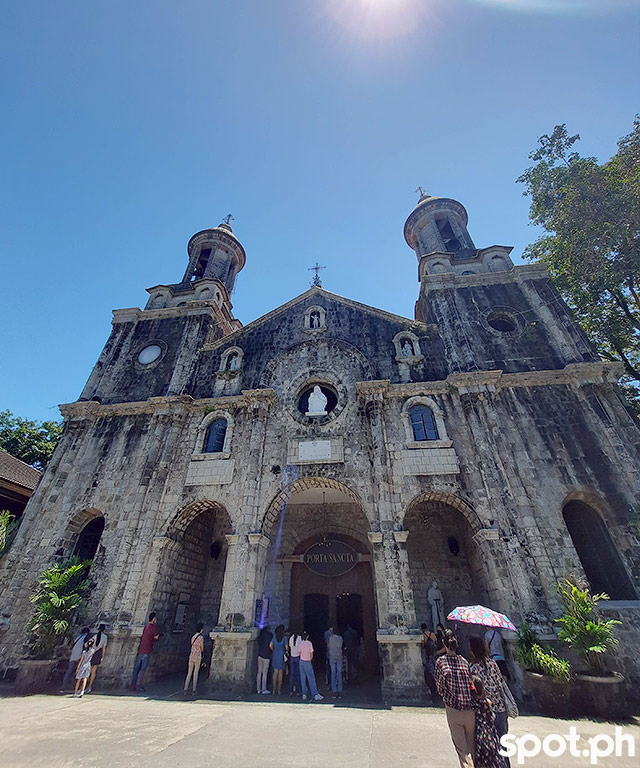 ADVERTISEMENT - CONTINUE READING BELOW
Nineteenth-century San Sebastian Cathedral, which was constructed in the Baroque style, serves as the seat of the Roman Catholic Diocese of Bacolod. It was originally made of wood with galvanized iron roof in the 1820s, then later built as the stone church in its present form in 1876 and followed by the construction of two bell towers in 1885. For safety reasons, the church bells were later transferred from the belfry to the churchyard during the centennial celebration of the cathedral in 1976.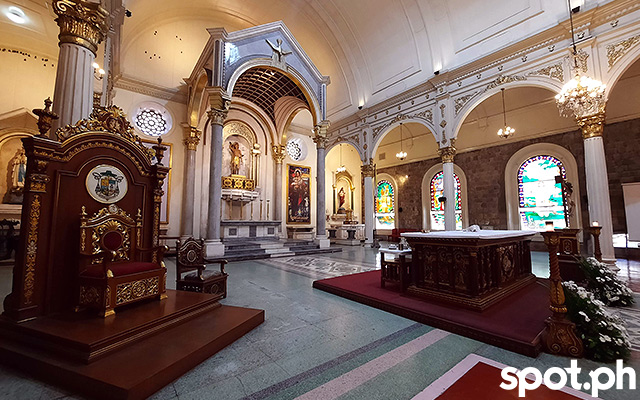 ADVERTISEMENT - CONTINUE READING BELOW
If you have the chance to come near the altar, you can see the names of the first two bishops of the Diocese of Bacolod, Bishops Casimiro Lladoc and Manuel Yap, on the sides. Like most old churches, the place of worship also serves as a columbarium for local priests, bishops, and church benefactors.
San Sebastian Cathedral is at 1755 Rizal Street, Bacolod City.
Manokan Country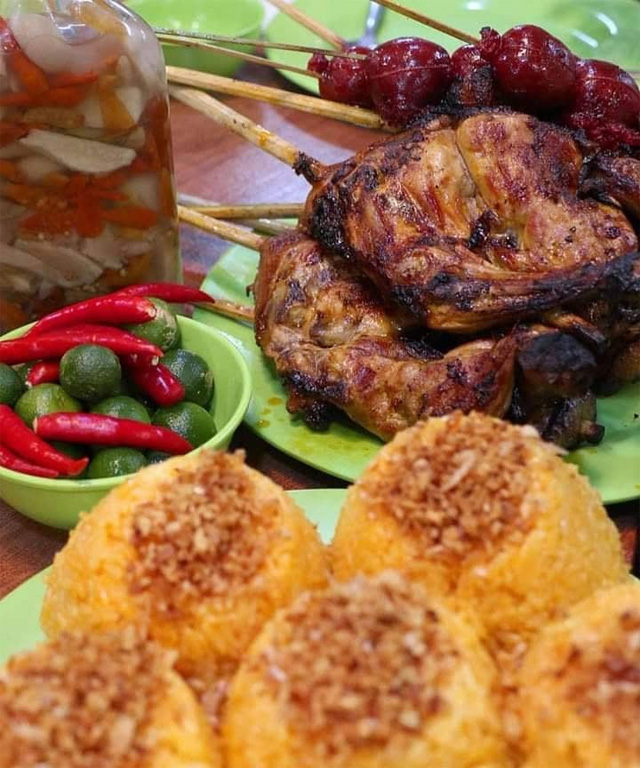 ADVERTISEMENT - CONTINUE READING BELOW
What's a trip to Bacolod City without a pitstop to Manokan Country? Have a hearty lunch at Aida's Chicken, where you can choose your favorite chicken part (pecho at P150, paa at P100, pakpak at P87.50, etc). Order a cup of rice or two, and douse it in chicken oil. You can eat with your hands as there are plenty of wash basins inside the restaurant.
Manokan Country is near SM City Bacolod, Fr. M. Ferrero Street, Bacolod City.
Balay ni Tana Dicang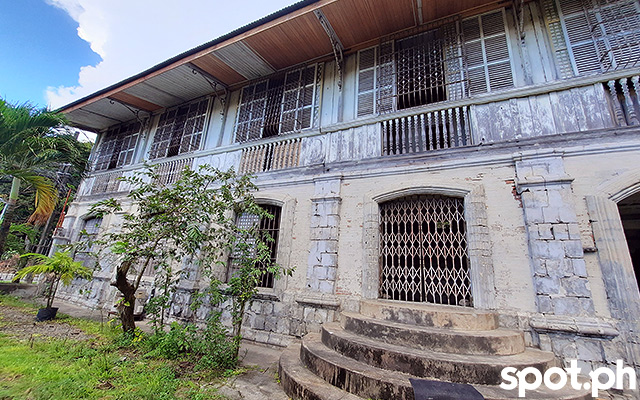 ADVERTISEMENT - CONTINUE READING BELOW
Constructed in 1883, Balay ni Tana Dicang is your typical bahay-na-bato structure with a silong, a grand staircase, and plenty of rooms. It was named after the family matriarch, Doña Enrica Alunan, who served as the barangay captain (thus, "tana" for "kapitana") back in the day. After her husband Don Efigenio Lizares passed away when she gave birth to their 16th child, Tana Dicang raised the whole family and managed their six haciendas with a rifle in tow. She acquired other lands and even sugar centrals in the years that followed.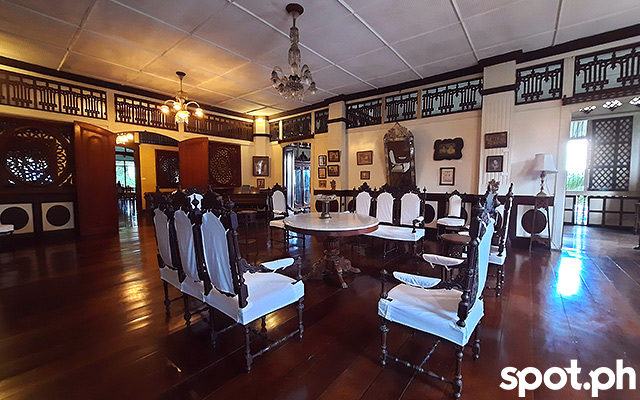 ADVERTISEMENT - CONTINUE READING BELOW
What's most interesting about the house is that the rooms are all connected to one another through doorways while the floors have small holes, which allows Tana Dicang to see what's happening downstairs. The story has it that she would take a peek through one of the holes to check an arriving visitor, giving her the chance to hide in another room or escape through a floor hatch. It also allowed her to check on whether her servants are doing their job. Talk about old-age CCTV.
Balay ni Tana Dicang is along Enrique Lizares Street, Talisay City. It is open daily from 10 a.m. to 5 p.m. Entrance fee is P100.
Hofileña Ancestral House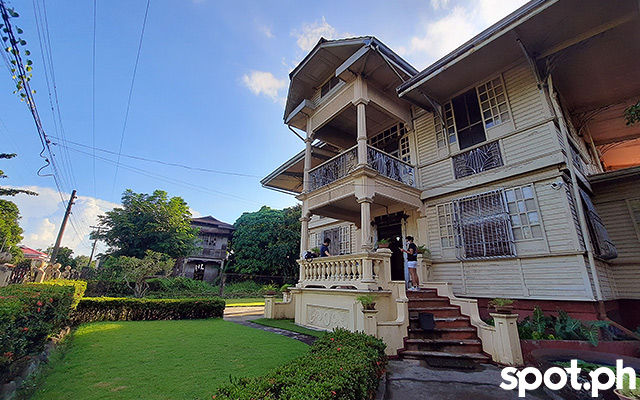 ADVERTISEMENT - CONTINUE READING BELOW
The residence of the late Manuel Severino Hofileña, his wife Gilda Ledesma Hojilla, and their nine children was constructed in the Art Deco and Art Nouveau style that flourished in the country in the 1930s.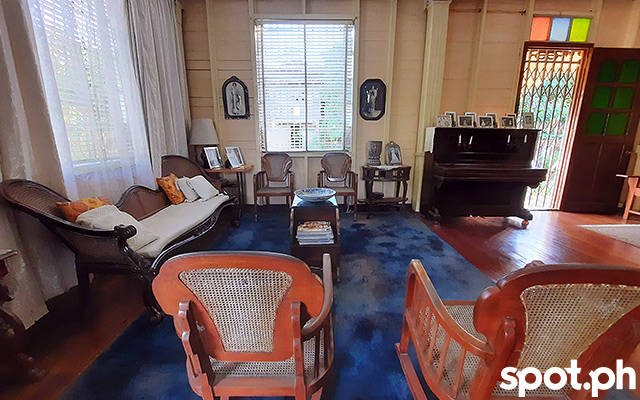 But apart from its architectural details, the second floor of the Hofileña Ancestral House (a.k.a Hofileña Museum) also serves as a gallery of over 1,000 paintings and sketches by Juan Luna, Felix Resurrecion Hidalgo, Fernando Amorsolo, Ang Kiukok, Vicente Manansala, H.R. Ocampo, and BenCab. Most of these were collected by owner-curator and heritage advocate Ramon Hofileña, who passed away at the age of 87 in 2021. His brother now continues the management of the house.
ADVERTISEMENT - CONTINUE READING BELOW
Hofileña Ancestral House (Hofileña Museum) is along Cinco de Noviembre Street, Silay City. It is open from Tuesday to Sunday, from 10 a.m. to 5 p.m. Entrance fee is P60.
Balay Negrense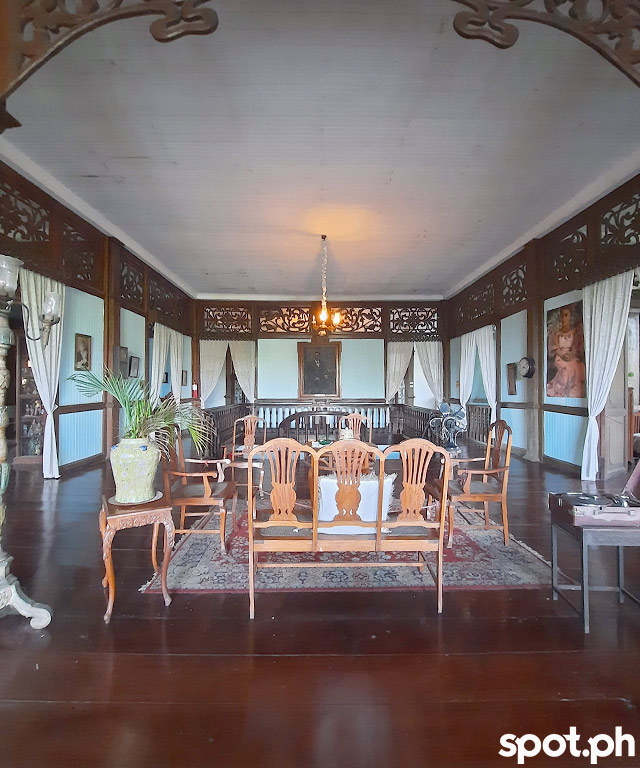 Also known as Victor Fernandez Gaston Ancestral House, Balay Negrense (Hiligaynon for Negrense House) is known as the first museum established in Negros Occidental. The ancestral house was built in 1897 and served as the residence of Victor F. Gaston (son of sugarcane industry pioneer Yves Leopold Germain Gaston and Prudencia Fernandez) when her wife died. It housed his 12 children until his death in 1927. The structure was abandoned in the 1970s, then was later turned over by one of the heirs Msgr. Guillermo Ma. Gaston for use as a museum by the local tourism office. It was officially inaugurated as a museum in 1990, then listed as a heritage house in 1994 by the National Historical Institute of the Philippines.
ADVERTISEMENT - CONTINUE READING BELOW
Balay Negrense is along Cinco de Noviembre Street, Silay City. It is open from Tuesday to Sunday, from 10 a.m. to 5:30 p.m. Entrance fee is P70.
The Ruins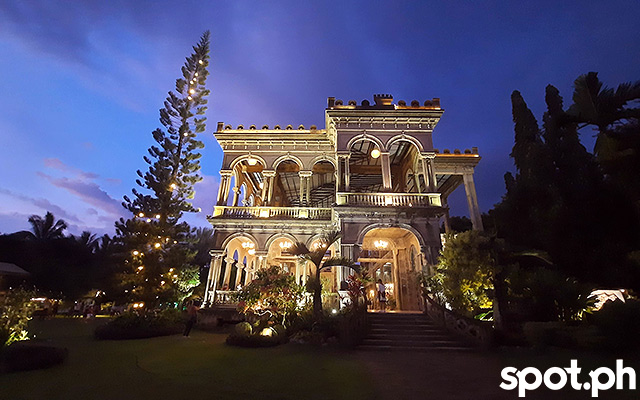 The Ruins is what remains of the mansion built by sugar baron Don Mariano Ledesma Lacson in memory of his late Portuguese wife Maria Braga Lacson, who died after slipping in the bathroom while pregnant with their 11th child. The house built in the early 1900s stands on a sprawling courtyard within the family's 440-hectare sugar plantation in Talisay City. Some of the materials inside the mansion were shipped from Europe and China, including Machuca tiles and chandeliers. During World War II, Filipino guerillas tried to burn it to the ground to prevent Japanese forces from using it as their military headquarters. The mansion that took three years to build, burned for three whole days. What remained were the pillars of the mansion, the grand staircase, and two-inch wooden floors on the second floor of the house. It was later opened as a tourist attraction under the management of Lacson's great-grandchildren. You can still see the initials of Maria and Mariano molded on every post of the mansion.
ADVERTISEMENT - CONTINUE READING BELOW
The Ruins is in Talisay City. It is open daily from 11 a.m. to 8 p.m. Entrance fee is P150.
Also read:
10 Cool Stores to Check Out the Next Time You're in Bacolod
Bacolod's Newest Hotel Is Your Stylish Home for the Masskara Festival
Day 2 in Cadiz and Manapla
Lakawon Island Resort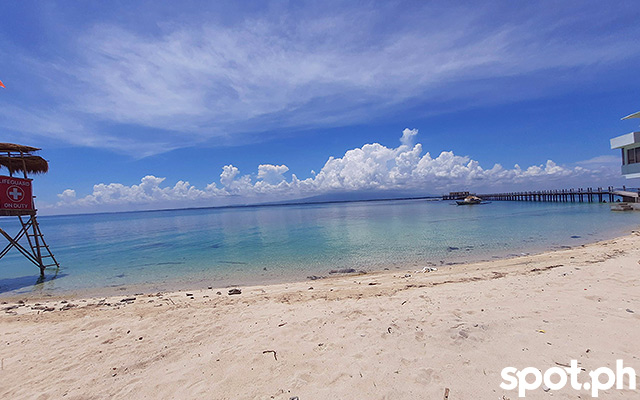 ADVERTISEMENT - CONTINUE READING BELOW
After a dose of history and culture, you can enjoy the sun, sand, and surf at Lakawon Island Resort off the coast of Cadiz in the northern part of Negros Occidental. The 16-hectare island boasts gentle waves, where you can go kayaking; a white-sand beach; and a floating bar called TawHai.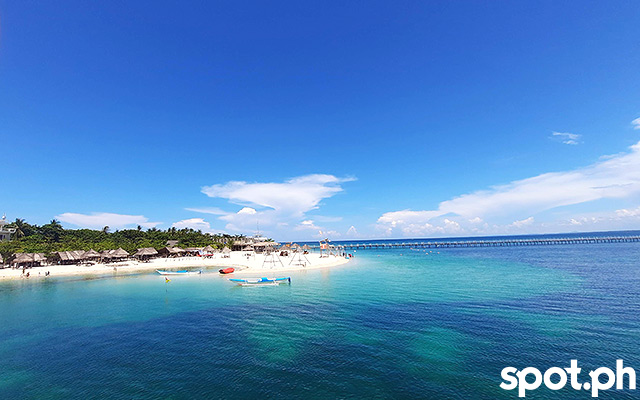 ADVERTISEMENT - CONTINUE READING BELOW
It is open for day trippers from 8 a.m. to 5 p.m., just enough time to go for a swim, enjoy a dish of your favorite seafood, ride a banana boat, and enjoy some cold drinks. You can also conquer your fears and dive from a height of two storeys from the floating bar.
Lakawon Island Resort is in Cadiz City. The fee is P750 (inclusive of boat roundtrip, ticket with entrance, terminal fee, cottage, and corkage).
Chapel of the Cartwheels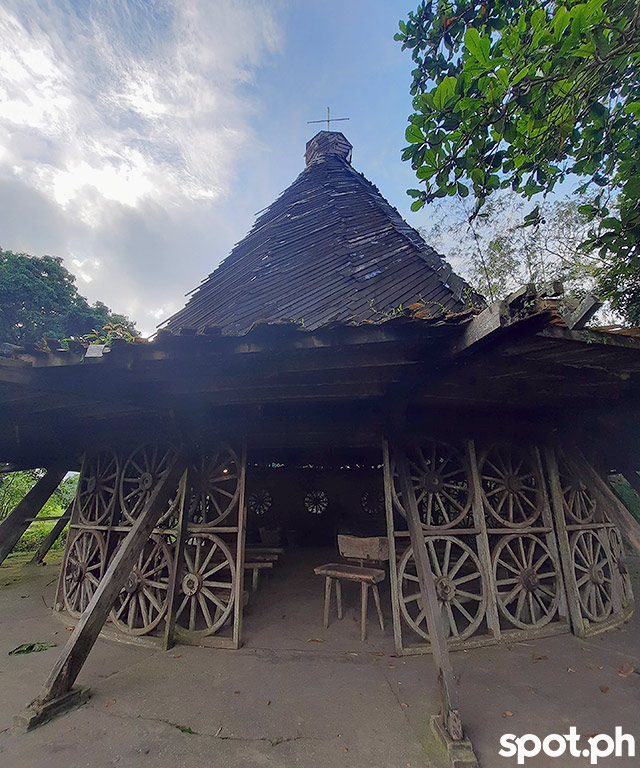 ADVERTISEMENT - CONTINUE READING BELOW
If you have time after your Lakawon Island adventure, you can pass by the Chapel of the Cartwheels in Manapla City. It was built in 1967 by Fr. Guillermo Gaston to serve as a local place of worship for the farm workers of Hacienda Santa Rosalia. Chapel of the Cartwheels follows the motif of the farm, with discarded carabao cartwheels serving as the structure's windows and walls, mortar and pestle as candle holders and containers for the holy water, slabs of hardwood for the benches, and even a salakot-themed roof. Even the crucified Christ at the center of the chapel is molded after the body structure of farm workers.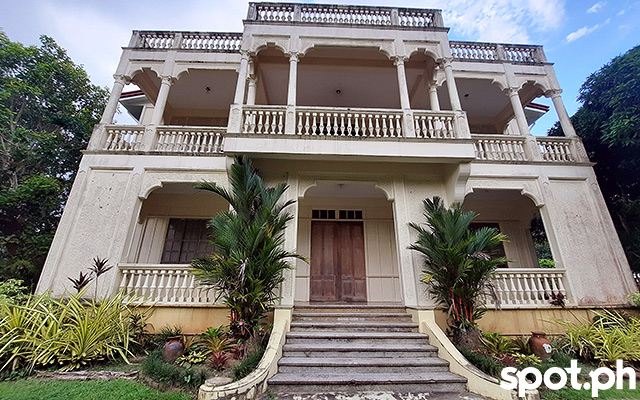 ADVERTISEMENT - CONTINUE READING BELOW
If you ask nicely, you may even be allowed to take photos of the facade of nearby Gaston Ancestral House, which you can easily identify as the filming location of Peque Gallaga's Oro, Plata, Mata and Sonata (that starred the late Cherie Gil).
Chapel of the Cartwheels is in Hacienda Santa Rosalia, Manapla.
How to Get There
Cebu Pacific Philippine Airlines, and AirAsia fly daily from Manila to Bacolod City. To save you a lot of time, book a tour with an accredited travel agency like Bacolod Tour Guide, which provides one-day city tours inclusive of knowledgeable guides, transport, museum fees, and lunch.
Share this story with your friends!
---
Help us make Spot.ph better!
Take the short survey
Load More Stories