(SPOT.ph) Here at SPOT.ph, we believe in the power of wish lists. In 2018, we hoped that Beautiful: The Carole King Musical would be shown in Manila and our wish came true when Atlantis staged a local production of the piece in 2019. In May, we included Lam-ang and Mabining Mandirigma in a list of musicals we want to see online; less than a month later, both pieces are scheduled to stream for free on iWant from June 12 to July 12. Next up on things that we want to put out there for the theater gods to hear? All-original Filipino plays. It's hard to pick just 10 out of the many amazing pieces that we have from local playwrights, so we've included those staged in the last five years. Plus, these probably already have digital video copies, so this might not be such a far-fetched wish list after all.
ADVERTISEMENT - CONTINUE READING BELOW
Also read:
10 All-Original Filipino Musicals on Our Streaming Wish List
10 Ways Theater-Going Will Change After the Pandemic
We hope to see these Filipino plays online very soon:
Buwan at Baril sa Eb Major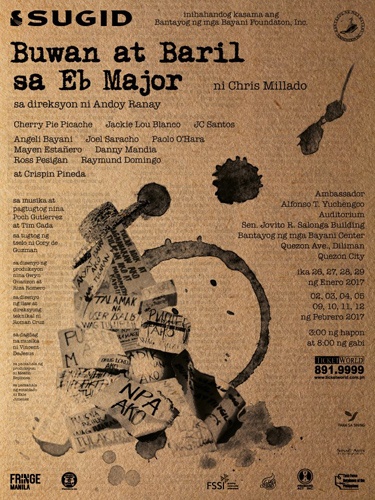 Buwan at Baril sa Eb Major was first produced by the Philippine Educational Theater Association at the Rajah Sulayman Theater in 1985, but its restaging in January 2017 at the Bantayog ng mga Bayani couldn't have come at a better time (and venue). It was in November 2016 when the body of former dictator Ferdinand Marcos was interred at the Libingan ng mga Bayani despite the atrocities carried out during his presidency. 
ADVERTISEMENT - CONTINUE READING BELOW
Recommended Videos
The play presents six vignettes written by Chris Millado, including the story of a grieving wife retrieving the body of her slain husband, a socialite preparing for a rally, and a student activist interrogated and tortured by a police officer. Most lauded was the performance of JC Santos, who plays a priest trying to take care of Itawis refugees (one of them played by Angeli Bayani) driven away from their ancestral lands by the military. These scenes may be from three decades ago, but the struggles still seem all too real. 
Nana Rosa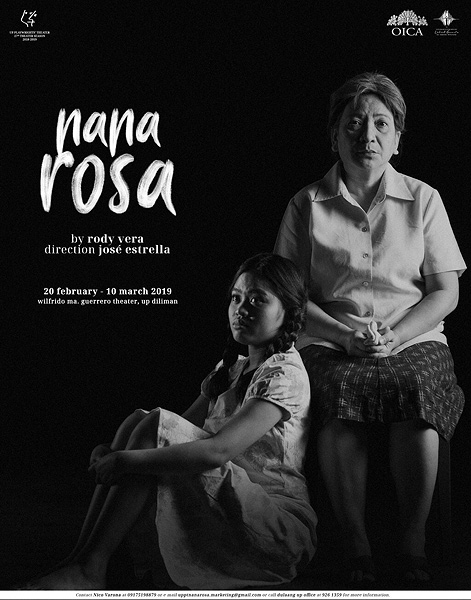 ADVERTISEMENT - CONTINUE READING BELOW
Immensely haunting, Rody Vera's Nana Rosa is a painful retelling of the struggles, injustices, and abuses done to Filipina comfort women by the Imperial Japanese Army during World War II. The story's poignancy lies in the symbolism of how we, as a nation, deal with the ghosts of the past—most especially the battle that is yet to be won by the Filipina victims of the war. Yet, it still evokes a feeling of liberation, making one realize the things that need to be let go of but should not be forgotten. 
Nana Rosa opened in February 2019 at the Wilfrido Ma. Guerrero Theater on the University of the Philippines Diliman campus. It was restaged in February 2020—but the remaining shows for March were canceled because of the quarantine. 
Laro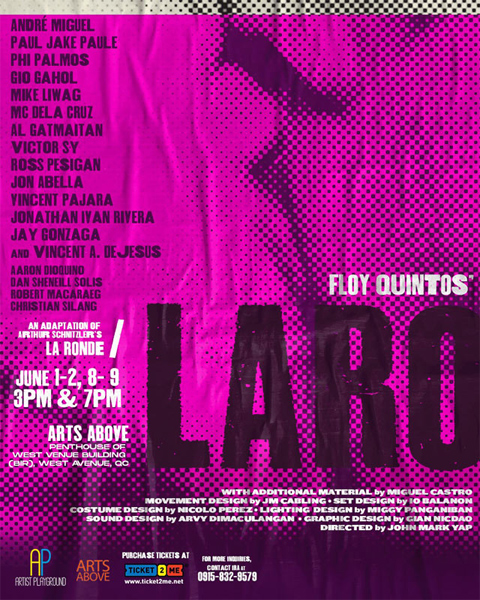 ADVERTISEMENT - CONTINUE READING BELOW
Laro by Floy Quintos was first produced by the now-defunct Theater Now! in 2004, then restaged in June 2019 with nine sold-out shows at Arts Above, a neighborhood arts hub on West Avenue in Quezon City. It explores different kinds of relationships by presenting permutations and combinations of the 10 characters, from a callboy looking for true love to an aged philanthropist who'd rather be jaded than heartbroken. Though the story calls for an all-male cast, the themes transcend gender, social class, and religion. 
Desaparesidos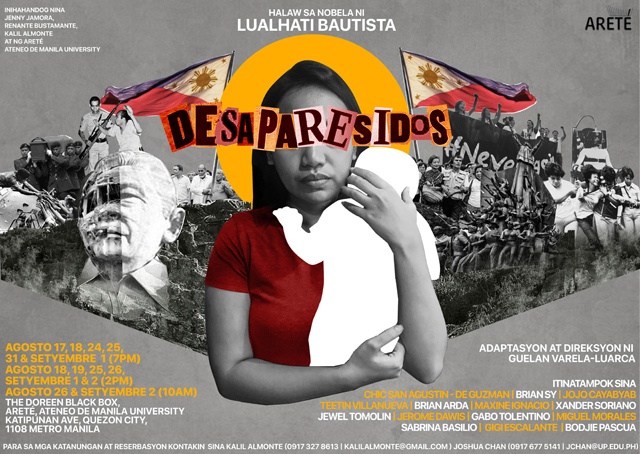 ADVERTISEMENT - CONTINUE READING BELOW
Director-playwright Guelan Varela-Luarca didn't pull any punches in his adaptation of Lualhati Bautista's novel Desaparesidos, which opened in August 2018 at Areté. And why should he? In times of political turmoil, it's important to be reminded of the senseless deaths, unimaginable torture, and enforced disappearances of fellow Filipinos during the Marcos regime. Luarca's use of theater-in-the-round, haunting music from everyday things, and video clips of the Marcos brood dancing alongside flashing reports of human rights violations, are more than enough for viewers to question the status quo. 
Angry Christ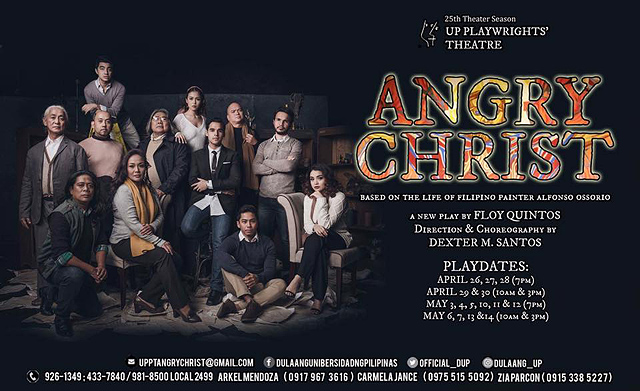 ADVERTISEMENT - CONTINUE READING BELOW
Angry Christ's main story may focus on the life of Filipino-American abstract expressionist artist Alfonso Ossorio (played by Nel Gomez), but plotlines dealing with national identity, discrimination, homosexuality, and oligarchy run in the background. The artist is a haciendero commissioned to design the walls of the St. Joseph the Worker Chapel (his family's gift to the sakadas toiling away in their sugar farms) but struggling to decide what to paint for his masterwork.
Fictional character Anselmo (convincingly played by Kalil Almonte) adds to the inner conflicts of the muralist—such as his attempt to reconcile his homosexuality with his Catholic upbringing, his own battle against traditional art, his awareness (or lack thereof) of the poverty of the Negrenses despite living in a sugar-rich country, and the growing insurgency in the region. Plus, you can't miss this relevant line spoken by one of the alleged rebels in the town: "If your art is to mean anything at all to people, it must have the stories of their wounds." This Floy Quintos play opened in April 2017 at Wilfrido Ma. Guerrero Theater, University of the Philippines - Diliman. 
ADVERTISEMENT - CONTINUE READING BELOW
Si Janus Sílang at ang Tiyanak ng Tábon and Si Janus Sílang at ang Labanáng Manananggal-Mambabarang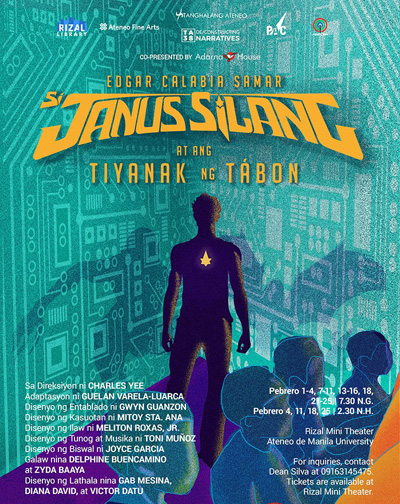 In 2017, Tanghalang Ateneo brought to life the first two books from Edgar Calabia Samar's acclaimed Janus Silang series. Both Si Janus Sílang at ang Tiyanak ng Tábon and Si Janus Sílang at ang Labanáng Manananggal-Mambabarang starred then theater newcomer Earvin Estioco. It follows the titular character who is fond of playing the online game TALA (Terra Anima Legion of Anitos). Unknown to him, this world of the tiyanak, nuno, pusong, and bagani goes beyond the Internet and leads to a parallel universe. Both plays are adapted by Guelan Varela-Luarca.
ADVERTISEMENT - CONTINUE READING BELOW
Under My Skin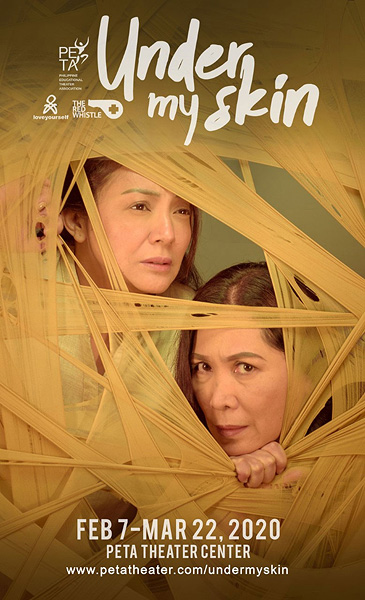 Under My Skin opened on February 7, and was supposed to run until March 22—and we all know what happened. Written by Rody Vera and directed by Melvin Lee, it was part of Philippine Educational Theater Association's campaign to use theater in raising awareness and starting conversations in national issues, such as HIV and AIDS. It follows Dr. Gemma Almonte, an epidemiologist who reveals not only the facts and figures surrounding this disease, but also the stories behind the characters living with HIV. 
ADVERTISEMENT - CONTINUE READING BELOW
Mula sa Kulimliman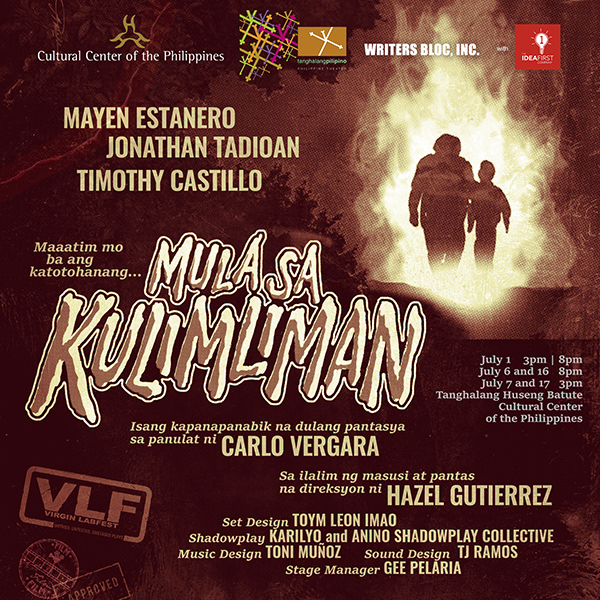 A Carlo Vergara play isn't a Carlo Vergara play without superheroes and supernatural creatures, and Mula sa Kulimliman directed by Hazel Gutierrez and presented during the 12th Virgin Labfest in 2016 did not disappoint. The tragicomedy straddles two dimensions—the reality of a housewife (Mayen Estañero) dealing with the struggles of raising her son (Timothy Castillo) while her husband (Tad Tadioan) is away, and the supernatural and menacing world of Kulimliman. Such absurdity can only be told with a straight face by a seasoned actor like Tadioan, but the play's backbone is Estañero's convincing portrayal of a mother and wife who's utterly confused as she comes to terms with the truth. 
ADVERTISEMENT - CONTINUE READING BELOW
Ang Bata sa Drum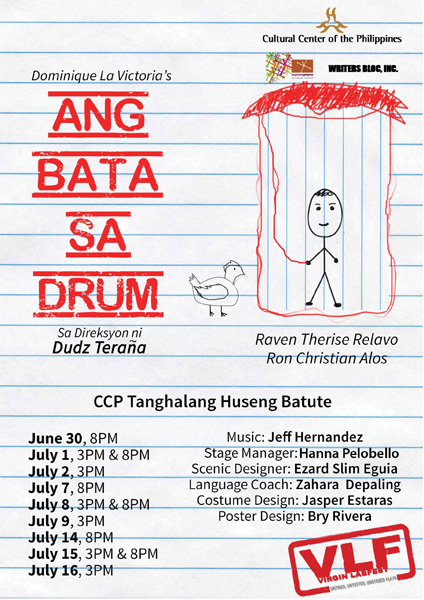 Ang Bata sa Drum by Dominique La Victoria, which is also part of the 2016 Virgin Labfest, is about a little boy (Ron Alos) placed inside a drum as his father's form of punishment. He's just there the entire play, by the way, and the child finds comfort in conversing with his older sister (Raven Relavo) after school as they both make sense of their father's alcoholism, the absence of their mother who's working in the city, and their rural life. The script is written in Bisaya and Tagalog but even a non-native can easily understand the looming sadness, thanks to the carefully placed silences and segues in the script and both actors' body language (even from inside the drum). 
ADVERTISEMENT - CONTINUE READING BELOW
Si Maria Isabella at ang Guryon ng mga Tala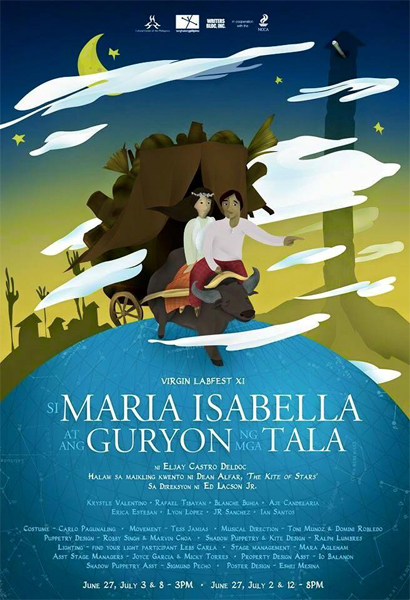 One of the most lauded one-act plays during the 2015 Virgin Labfest was Si Maria Isabella at ang Guryon ng mga Tala by Eljay Castro Deldoc. This magical realism piece based on Dean Alfar's The Kite of Stars follows 15-year-old Maria Isabelle, who decides to build (and eventually, ride) a big kite so that the love of her life—a 14-year-old boy only interested in looking at the stars through his telescope—can see her. Complementing the heart-wrenching love story is a spectacle that one can only get from live theater: lighting, puppetry, period costumes, and live guitar music.
ADVERTISEMENT - CONTINUE READING BELOW
Share this story with your friends!
---
Help us make Spot.ph better!
Take the short survey
Load More Stories