10 Often-Overlooked Japanese Dishes We Need to Talk More About
Get over your ramen phase.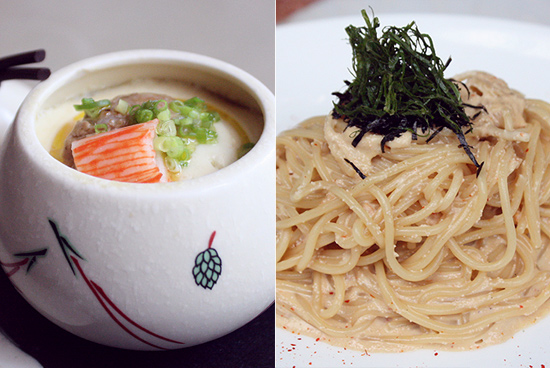 (SPOT.ph) We already know that Filipinos love Japanese food. Ramen, katsu, sushi, gyoza...you name it. But this intriguing cuisine features a plethora of dishes. Now that you've gotten the most popular ones down pat, why not spread your wings a little? Thankfully, Japanese restaurants in Manila are willing to make introductions. To be the Japanese food expert you claim to be, get to know these other delectable Japanese staples, too. 
ADVERTISEMENT - CONTINUE READING BELOW
CONTINUE READING BELOW
Recommended Videos
Also read:
10 Homegrown Japanese Restaurants You Need to Check Out
Top 10 Underrated Sushi Places in Manila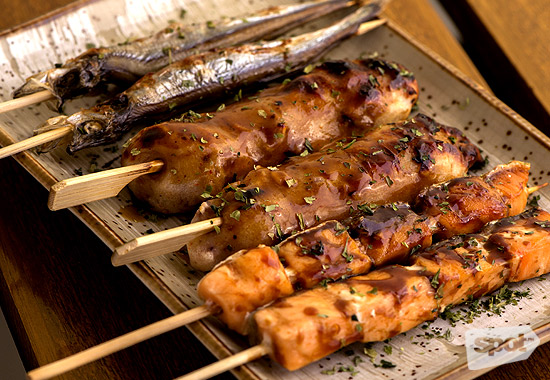 Shishamo
If you love tuyo, then you'll go nuts over this tiny saltwater fish. It's Japanese smelt, which has a strong, naturally briny flavor. This dish is usually grilled and, just like tuyo, you eat the whole thing: head, bones, fish eggs, and all. 
ADVERTISEMENT - CONTINUE READING BELOW
Find it at: Tori Tori Kushiyaki Snackbar offers the shishamo (P50) as one of their many kushiyaki or skewered options. Be warned: You'll be wanting rice. 
Tori Tori Kushiyaki Snackbar is at 197 Wilson Street, San Juan City. Read more about Tori Tori Kushiyaki Snackbar.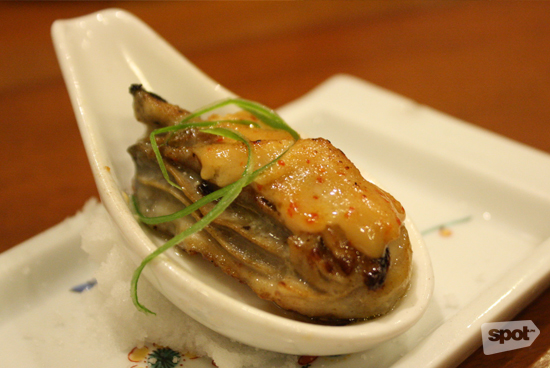 Motoyaki
This Japanese cooking style is when you lavish a particular ingredient, usually seafood, with a heavy mayonnaise-based sauce before baking it. Oysters are the usual victims of this slightly salty, very rich treatment. Unlike its culinary cousin baked mussels, which are usually served in wide trays, kaki motoyaki comes in small servings.
ADVERTISEMENT - CONTINUE READING BELOW
Find it at: Marufuku's bestseller is the Kaki Motoyaki (P290). Instead of serving the oyster on the shell, Marufuku puts it (topped with the miso-flavored cream) in a soup spoon, which, in turn, sits in a small bed of salt. The dash of salt you taste when you take a big slurp gives this delicious one-biter a bold edge. 
Marufuku is at Crescent Building, 29 San Miguel Avenue, Pasig City. Read more about Marufuku.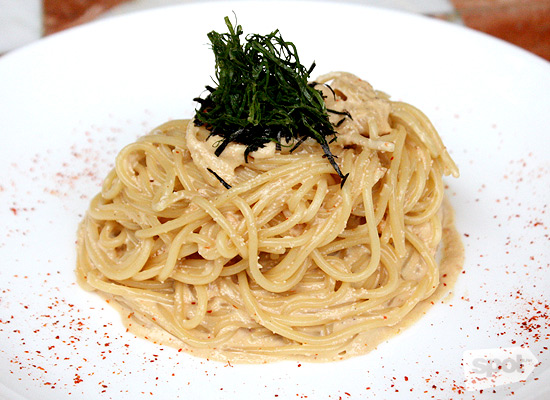 ADVERTISEMENT - CONTINUE READING BELOW
Mentaiko Spaghetti
Japanese pasta deserves a separate discussion all together. Essentially, this cooking style takes Italian traditions and offsets them with Japanese sensibilities. Think togarashi, furikake, corn; there's also a certain lightness to the final product. Mentaiko or seasoned cod roe is one of the more popular ingredients used to convert Italian pasta to Japanese. It adds a distinctly grainy texture to the starch. With its delightful spicy flavor, it makes other toppings seem unnecessary.
Find it at: Yurakuen presents their mentaiko spaghetti (P780) almost like carbonara. Heavy cream wraps itself around every strand of al dente noodle and the chef awards it with a little furikake crown. This one, however, is no slouch. The flavors are delicate, but you'll be rolling yourself out of the restaurant if you finish a plate by yourself.
Yurakuen is at Diamond Hotel, Roxas Boulevard, Manila. Read more about Yurakuen.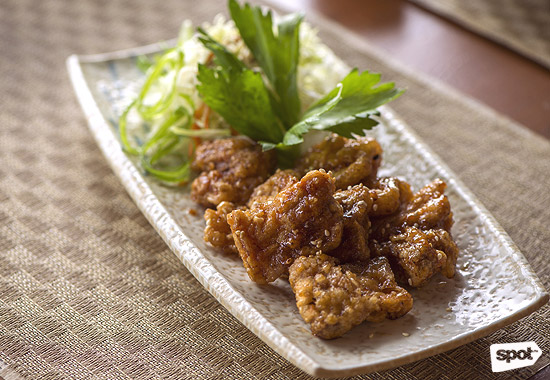 ADVERTISEMENT - CONTINUE READING BELOW
Kuwayaki
Everyone's familiar with teriyaki, but have you heard about its tamer sibling? Kuwayaki sauce is made by mixing together sake, mirin, soy sauce, and spices. The result is a sweet and salty glaze that, just like teriyaki, works best with chicken. It's not as intense as teriyaki, so those who aren't huge fans of that sweet profile on savory dishes  might prefer this underrated option.
Find it at: Shinsen puts together two Japanese cooking styles with their Tori Kuwayaki (P268). Instead of the usual sautéed chicken, this restaurant uses chicken karaage as a canvas. The crispy exterior is then painted with that kuwayaki sauce.  
Shinsen is at 202 Hampton Gardens Arcade, 100 C. Raymundo Street, Maybunga, Pasig City. Read more about Shinsen.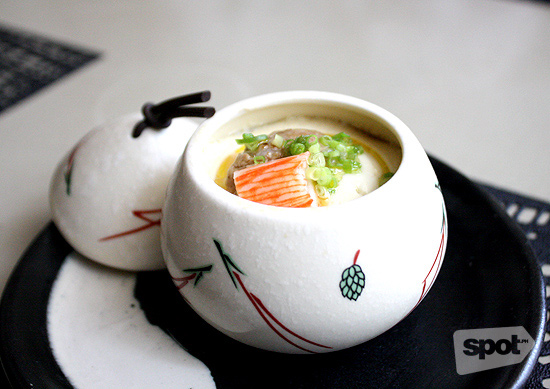 ADVERTISEMENT - CONTINUE READING BELOW
Chawanmushi
This is a savory steamed egg custard that's dressed in a variety of flavors, from mushrooms to vegetables to meat. In the Philippines, it's usually relegated to side dish status. 
Find it at: Most Japanese restaurants offer chawanmushi, but it's hardly ever the bestseller. Akira gives it new relevance by upgrading it with foie gras (P348). This stunning interpretation is pretty hard to ignore on the menu and it certainly is filling. 
Click here for a list of Akira branches. Read more about Akira.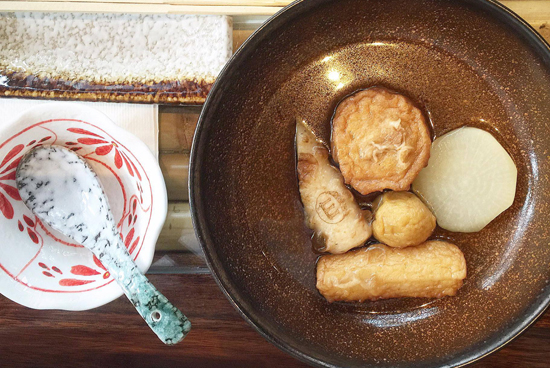 ADVERTISEMENT - CONTINUE READING BELOW
Oden
Why oden isn't a bigger thing in the Philippines is perplexing to us. It's a winter dish in Japan, which may be the reason most Japanese restaurants in this tropical country prefer to overlook it. Still, oden is similar to shabu-shabu, a style of dining that is popular in these parts. The former, however, is saucier—more stew than soup, with a flavor based on bonito. Usual toppings include fun-shaped fishcakes, boiled eggs, tako or octopus, tofu cubes, meatballs, radish, and filled tofu pouches.
Find it at: It may seem a bit random that the elegant and exquisite Ogawa would offer something as casual as oden, but this restaurant is always full of surprises. Their oden (starts at P380)—packed with large slices of octopus—is refreshingly basic, something you can just dive into and enjoy. 
Ogawa is at The Fort Strip, Bonifacio Global City. Read more about Ogawa.
ADVERTISEMENT - CONTINUE READING BELOW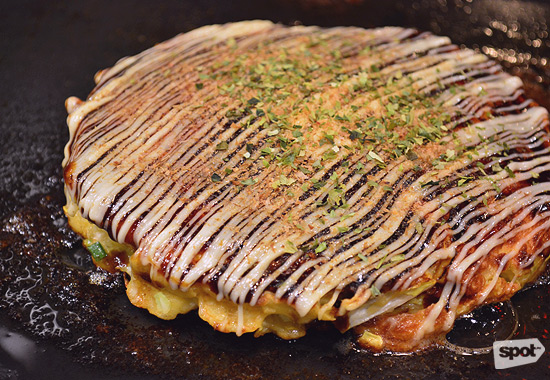 Okonomiyaki
This pancake-slash-omelette is a spectacle. Okonomiyaki spots in Japan are usually mom-and-pop shops set up side by side. The "restaurant" is pretty much a table equipped with a grill and the whole place is a front-row seat to observe these master cooks whip up a tasty assembly of eggs, batter, toppings, and sauce. The efficiency to how they run the operation—from taking orders to cooking to getting the bill—is a performance in itself. 
ADVERTISEMENT - CONTINUE READING BELOW
Find it at: Dohtonbori is a franchise from Japan that treats Manila diners to this sensational experience. This mall-based chain, however, is already fancier than the ones you'll find in Hiroshima or Osaka. Apart from the grilling tables, there are also private sections for those who want some alone time to relish their okonomiyaki. The Mixed Okonomiyaki (P290) is your best bet. 
Dohtonbori has branches at SM North EDSA, Quezon City; and 8 Missouri Street, Greenhills, San Juan City. Read more about Dohtonbori.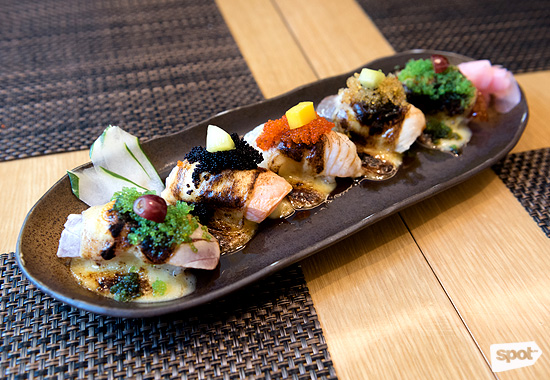 ADVERTISEMENT - CONTINUE READING BELOW
Aburi
Aburi sushi  is when you lightly torch the topside of a nigiri. This way, you get the best of both worlds: half raw, half cooked. The torched part contributes in both taste and texture.
Find it at: Minami Saki's chef specializes in aburi sushi! He sees it as the compromise between his favored minimalist sushi and the Pinoy-preferred ornate rolls. Chef Kimito Katagiri's aburi takes the basic torched nigiri up a notch by dressing it in an amazing miso-based sauce and toppings like roe and fruit. Everyone at the table should each order the Aburi Sushi Five Kinds (P850) because it's really difficult to share. 
Minami Saki is at Astoria Plaza, 15 J. Escriva Drive corner Shaw Boulevard, Pasig City. Read more about Minami Saki.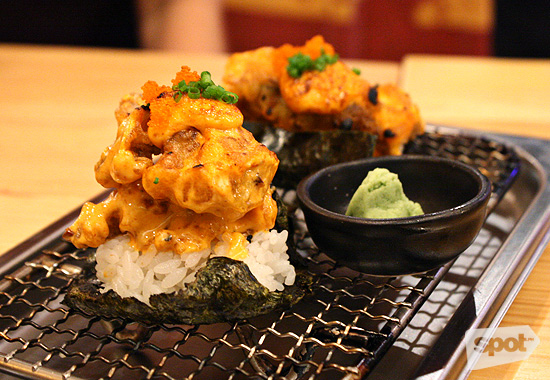 ADVERTISEMENT - CONTINUE READING BELOW
Temaki
Another kind of sushi is temaki. It's a cone-shaped roll made with nori and filled with the usual rice and protein. An order is much larger than the standard sushi, so it's baffling why Filipinos aren't getting in on this convenient, handheld meal. With its portability and versatility, temaki was actually considered one of New York's next big food trends in late 2015. 
Find it at: Ooma makes their own version of a temaki called a Taco-Maki. Here, Chef Bruce Ricketts combines two of his favorite things: tacos and sushi. The nori is crisped up into a tiny bowl, then stacked with sticky rice and a crown of toppings. The trick is to eat it as you would a taco. Our recommended flavor? Soft Shell Crab (P199)!
Ooma has branches at SM Mega Fashion Hall, Mandaluyong City; and Rockwell Edades, Makati City. Read more about Ooma.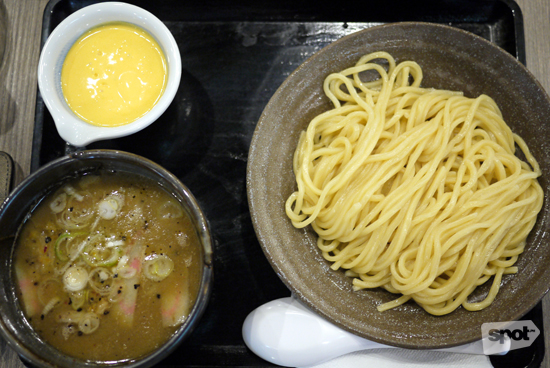 ADVERTISEMENT - CONTINUE READING BELOW
Tsukemen
Dipping ramen is no longer unusual in the Philippines, but it still takes a backseat to regular ramen. Tsukemen is perfect for the year-long tropical weather. Instead of a broth, a very thick soup is served on the side. You pick up a chopsticks-full of cool noodles, dip it in the bowl, let the strands absorb the flavor, and take a slurpy, flavor-packed bite. 
Find it at: More ramen shops are offering the tsukemen, but we're not about to forget the restaurant that introduced this fun, deconstructed dish to Manila. That's Mitsuyado Sei-Men. The Cheese Tsukemen (P350 to P390) is a playful adventure. You pour cheese over the noodles first, mix them all up, and proceed with dipping the gooey goodness into the tonkotsu-based broth!
Mitsuyado Sei-Men has branches at 22 Jupiter Street, Makati City; and Blue Bay Walk, Pasay City. 
---
Help us make Spot.ph better!
Take the short survey
Load More Stories