Best of Manila: 50 Great Restaurants of 2019
Our list of the most noteworthy food destinations of 2019.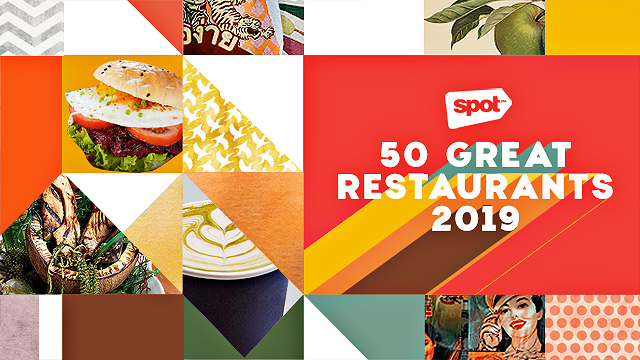 (SPOT.ph) Anyone who lives to dine knows that Metro Manila's food landscape is ever-changing. It's a finicky industry, for sure, but this also inspires a lot of new restaurants to take that extra step in terms of flavor and experience to make them unforgettable. We saw a lot of openings, from cozy homegrown eateries to international franchises, and here are our picks of 50 of this year's most noteworthy restaurants.
*Restaurants are listed alphabetically. This list has been limited to restaurants that opened between November 2018 and November 2019.
Here are our 50 best new restaurants in Manila for 2019:
1950 Restaurant
14 Castilla Street, Quezon City
Contact: 0906-201-3191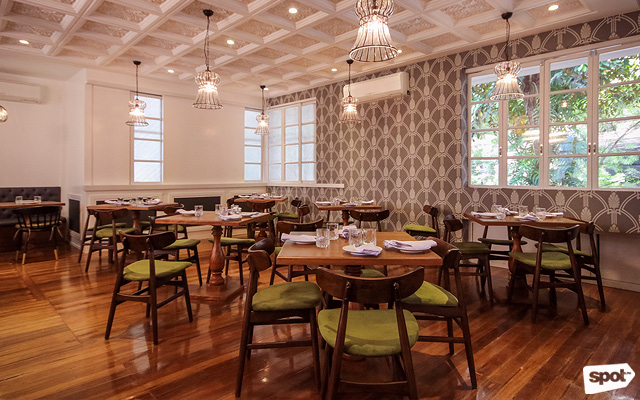 ADVERTISEMENT - CONTINUE READING BELOW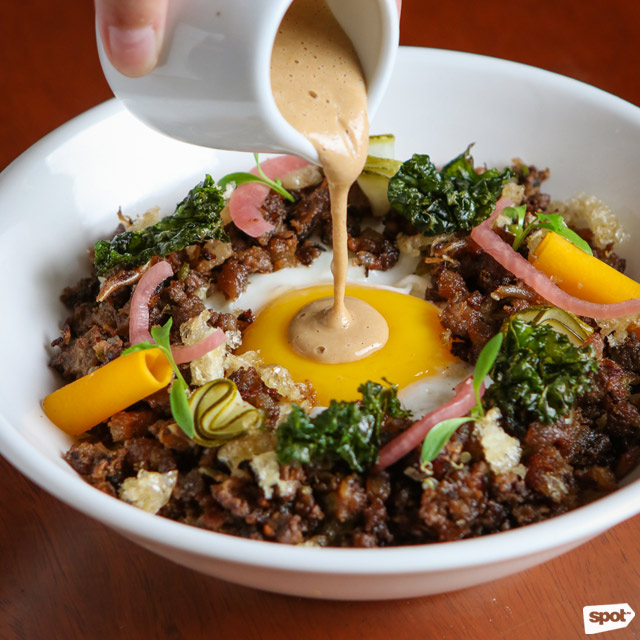 CONTINUE READING BELOW
Recommended Videos
There's nothing like homestyle cooking, and 1950 Restaurant in Quezon City takes it up a notch. Located in an old ancestral home owned by the Santaromana family, this small but cozy restaurant features fresh and unique takes on classic Filipino dishes. Highlights include the Sinigang na Lechon, with broth made from caramelized pineapple rather than the usual tamarind. It results in a soup that's sweet and tart, making it the ideal base for fatty lechon. Another must-try is the Bagnet Sisig, a rice bowl that's topped with tons of crispy pork bits and drizzled with a savory umami soy sauce.
Must-tries: Sinigang na Lechon, Bagnet Sisig 
Almacen
5910B Matilde Street, Poblacion, Makati City
Contact: 0977-291-1920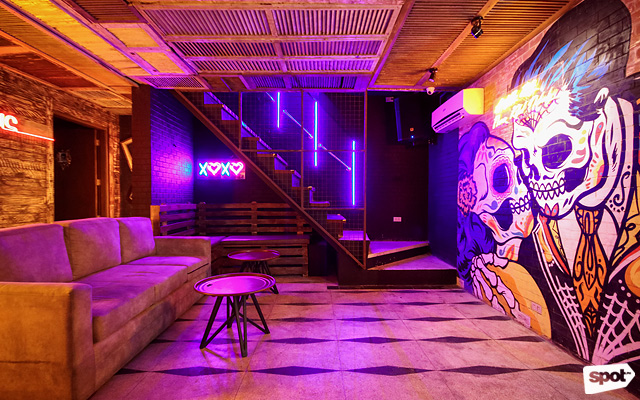 ADVERTISEMENT - CONTINUE READING BELOW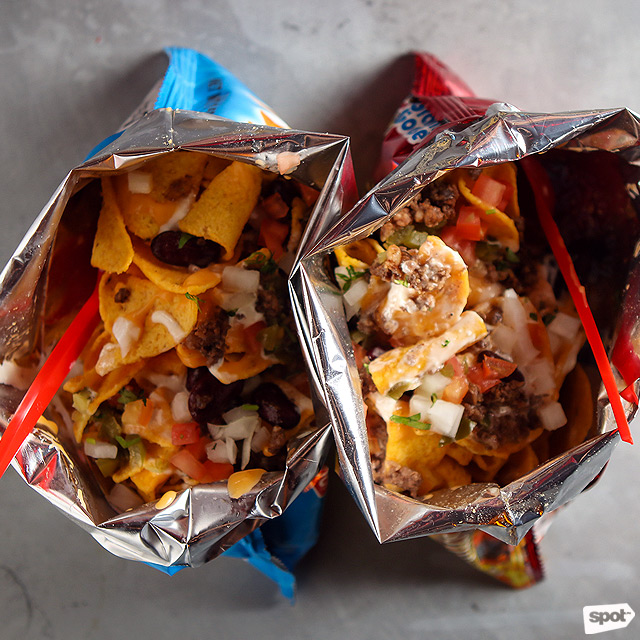 "This is a place to leave your daily burdens behind," says Jave Maceda, co-owner of Fil-Mex Poblacion joint Almacen. The restaurant's name means "warehouse" in Spanish and its colorfully lit interiors take inspiration from Dia De Los Muertos, with paintings of calacas lining the walls and neon lights all around to add to the space's mysterious, escape-from-the-real-world feel. Whether you want to grab a cocktail to end your busy week or fill up on hearty comfort food, this is a spot you wouldn't want to miss. Both Pinoy and Mexican snacks get a fun twist with each plate. Try fun platters with your friends like the Mexican Corn Elote, which you can get coated in hot Cheetos, or the Street Nachos made with a choice between Mr. Nachos or Granny Goose Tortilla Chips. Enjoy your munchies with a cold drink: there's the Beer-Killa Cocktail, a potent slushy for adults that's part beer, part margarita, and all icy goodness. You may want to take it slow with this drink, but we wouldn't judge if you just can't resist gulping down one after another.
ADVERTISEMENT - CONTINUE READING BELOW
Must-tries: Mexican Corn Elote, Street Nachos, Beef Pares Open Burrito, Beer-Killa Cocktail
am.pm
2/F Ayala Malls Manila Bay, Asean Avenue corner Diosdado Macapagal Boulevard, Aseana City, Parañaque City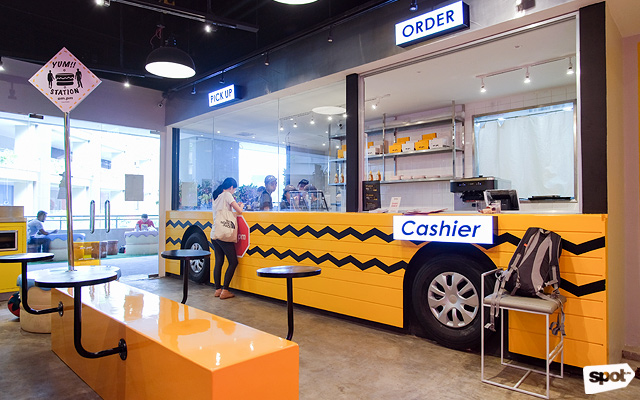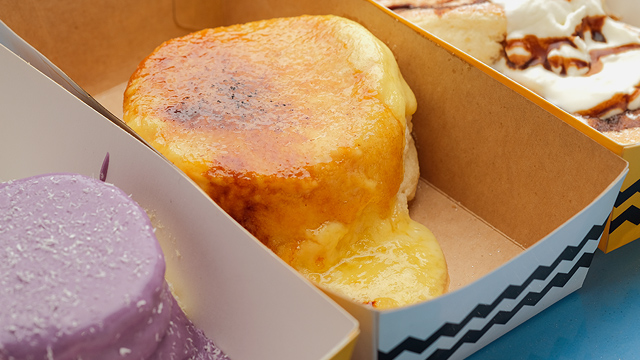 With all the hype surrounding food on social media, it isn't rare to end up in a resto that serves up dishes purely for the 'gram; thankfully, am.pm is not on that list. You might have seen the soufflé pancakes from the original branch in Hong Kong popping up on your feed, and if you've ever wanted to try it for yourself, then head over to their first ever Philippine branch at Ayala Malls Manila Bay. They take pancakes and elevate the fluffiness with extra egg whites and a dash of magic, and smother the entire thing with thick cream sauce in different flavors. Add extra toppings and a side of soft-serve made in-house, and you've got yourself a dish that isn't just worth a spot on your feed, it's worth every bite.
ADVERTISEMENT - CONTINUE READING BELOW
Must-tries: Signature flavor Crème Brulee, Manila-exclusive Ube
Artesa Deli + Coffee
Unit 2D Strip Building, 20 United Street, Kapitolyo, Pasig City
Contact: 0917-538-5004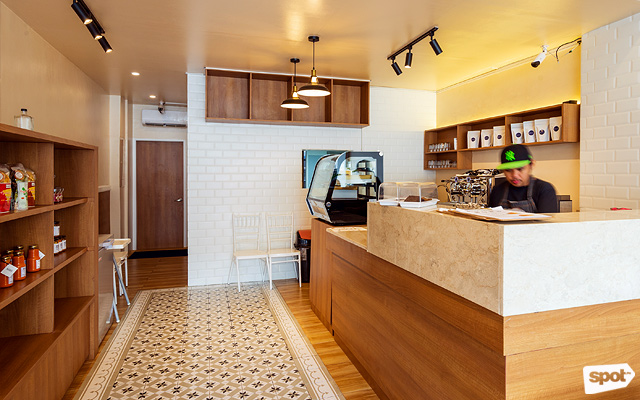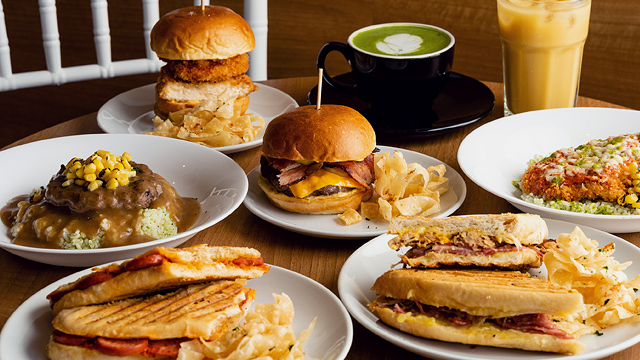 Taking its name from the Catalan word for handcrafted, Artesa Deli + Coffee prides itself on making almost everything on its Latin-inspired menu from scratch. They also add a bit of flair to the classics: their Cubano is made with a crunchy baguette instead of white bread, and they've even added sweet pulled pork to the usual ham, pickles, and cheese combo. Check out their elevated version of the burger steak, the Tomato Gravy, too. And while the mains are the stars of the menu, their homemade Wanton Crisps, served on the side of every meal, are sure to compete for your attention.
ADVERTISEMENT - CONTINUE READING BELOW
Must-tries: Cubano, Tomato Gravy
BAD Café
G/F Windsor Tower, Legazpi Street, Legazpi Village, Makati City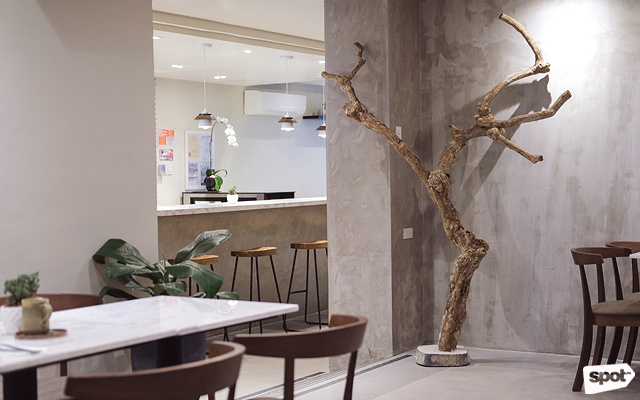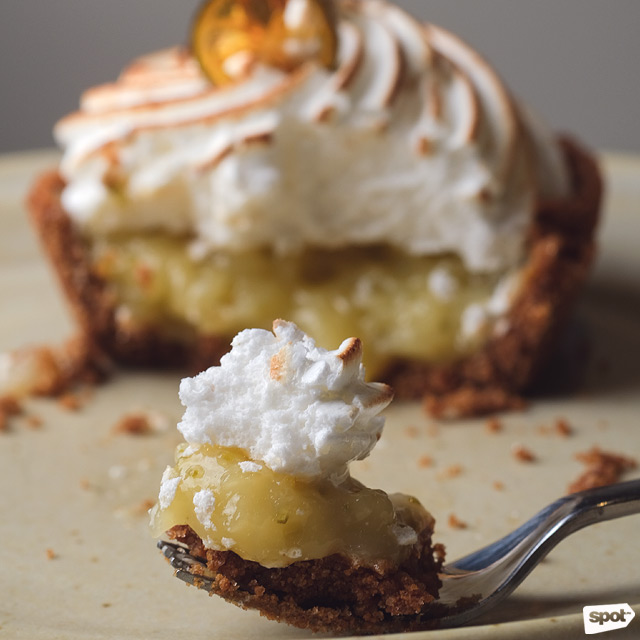 The brainchild of real-life partners Brian and Dianne Westphal is pretty much a hub of self-care, in its own weird way. They make their own Homemade Cola, serve a mean Fried Chicken + Mac 'n Cheese, and keep their interiors clean, bright, and cozy. If you're still on the fence regarding the cake-versus-pie debate, BAD Café might sway you towards the latter. In short, it's a tiny Zen getaway in the middle of Makati, and we all need something like that right now.
ADVERTISEMENT - CONTINUE READING BELOW
Must-tries: Homemade Cola, Calamansi Pie
BBX
2/F Glorietta 2, Palm Drive, Makati City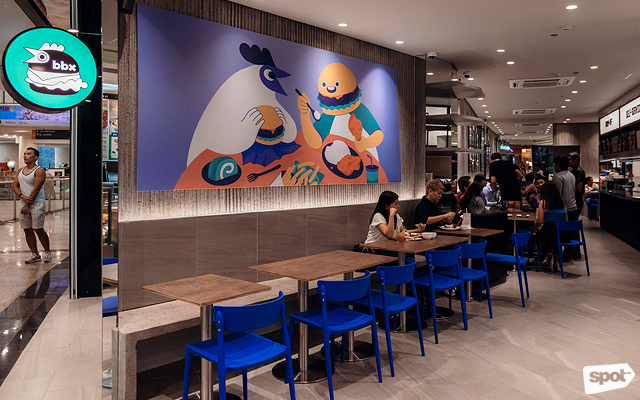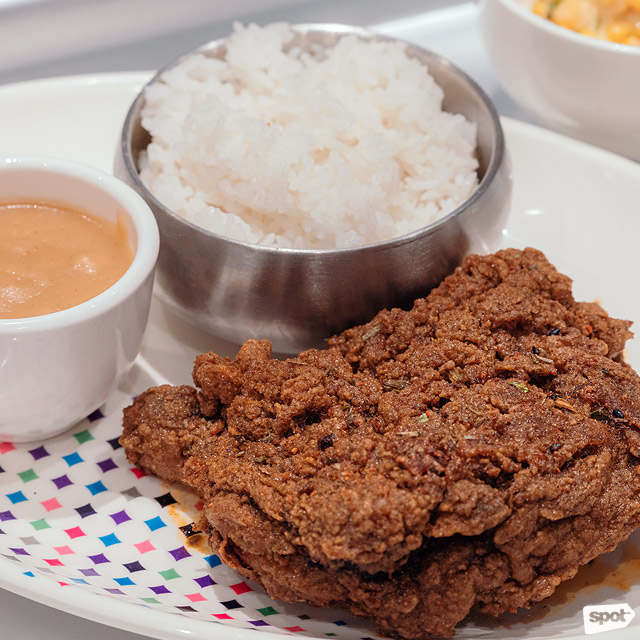 Bad Bird had a baby! BBX falls somewhere between a casual sit-down restaurant and a grab-and-go sort of place, but the menu kind of calls you to do both. It's the same chicken you know and love, but there are also hearty sandwiches, great sides, and an easygoing vibe that beckons you back. We'll put it this way: No bowl of corn has ever entranced us so much, nor been on such steady footing when dancing with fried chicken this flavorful.
ADVERTISEMENT - CONTINUE READING BELOW
Must-tries: Fried Chicken Plate, The LEA
Beso Beso/Esqinita
P. Guanzon Street, Poblacion, Makati City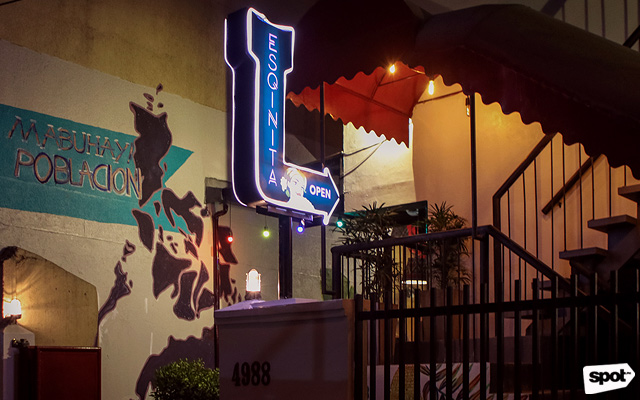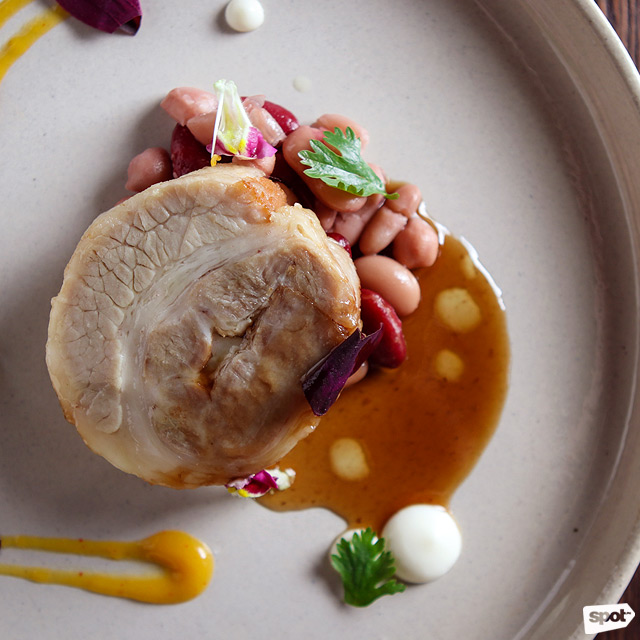 Conceptualized by Chef Rob Pengson, Beso Beso and Esqinita are actually two unique concepts found in a single restaurant. Esqinita calls itself a modern Filipino carinderia. They try to keep everything sugar-free, but that's not an easy feat considering Filipinos love their sweet and salty flavors. The focus here is on bar chow, with dishes like the Inihaw na Talong, or grilled eggplant that comes with sour cream, cheese, and spicy salsa. On the other hand, Beso Beso is purely a tapas place. This restaurant fuses together Spanish, French, Italian, and Japanese cuisines, resulting in a menu that highlights ingredients like truffle, foie gras, nori, and chorizo.
ADVERTISEMENT - CONTINUE READING BELOW
Must-tries: Esqi Nachos, Lechon Cinco Cebollas
BirdBox
9th Avenue corner Lane P, Bonifacio Global City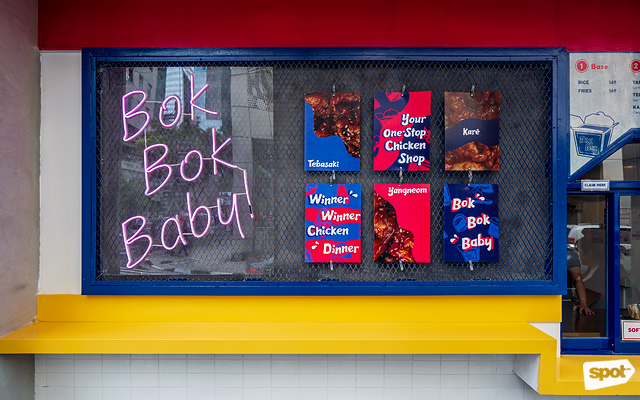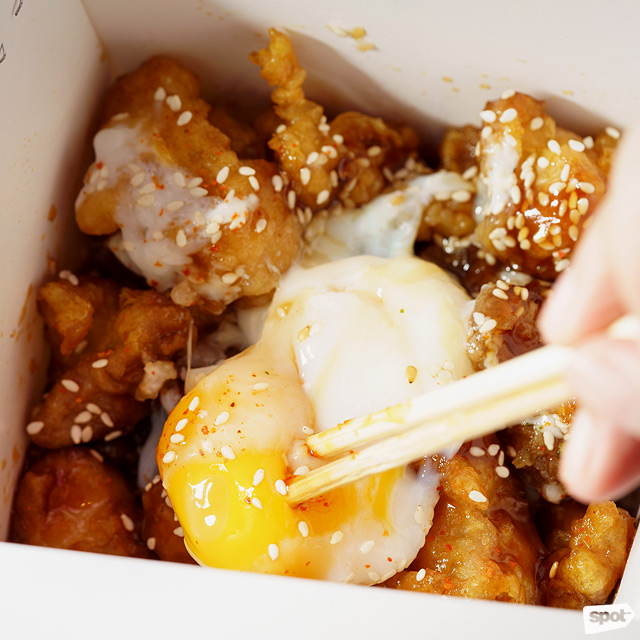 BirdBox opened at a time when a movie of the same name was taking social media by storm. Admit it: You've most likely forgotten about the movie, but for anyone who's had BirdBox's fried chicken, it's pretty hard to get the meal off your mind. Their boneless fried chicken comes tossed in your choice from three Asian-inspired flavors they created themselves, before being placed atop a bed of rice or fries. Sweet-ish Tebasaki is an easy crowd favorite, but the Yangnyeom, substantially spicy but with a tang that makes it more complex thanks to gochujang, shouldn't be overlooked. Don't forget to throw in an onsen egg.
ADVERTISEMENT - CONTINUE READING BELOW
Must-tries: Chicken Box with Rice in Yangnyeom or Tebasaki
BOA Kitchen + Socials
Mezzanine Floor, 45 ABDC Building, Scout Rallos Street corner Scout Tuazon Street, Laging Handa, Quezon City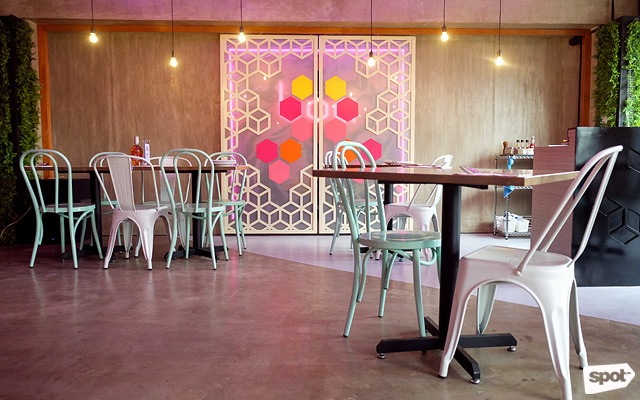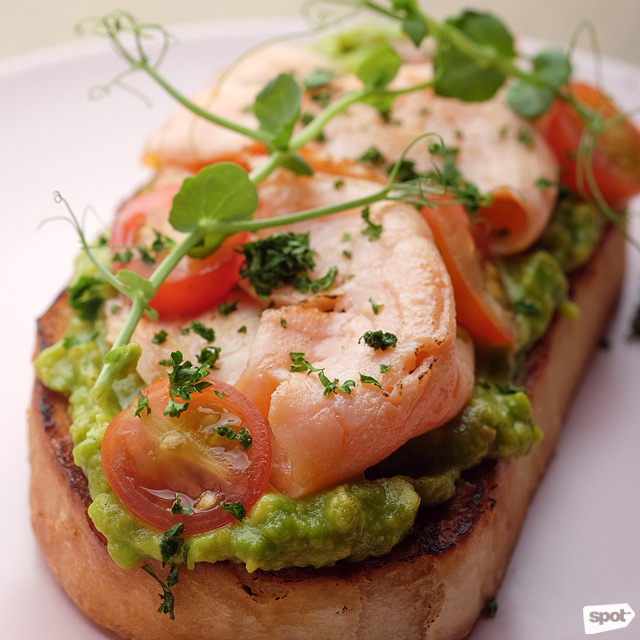 Constantly going back to a restaurant means knowing what to expect, and sometimes getting stuck in a let's-just-order-the-usual rut. BOA Kitchen + Socials is far from predictable, so you'll want to keep going back just to witness the place change from cheery breakfast place to neon-lit food joint for socials. Think the vibe is the only thing that shifts? Think again—BOA's menu also changes as nighttime comes, and the morning meals transform to fit the mood at night. Fun fact: The store's name, concept, and interiors are inspired by the boa constrictor from The Little Prince. Indeed, everything is not what it seems, and BOA will have you wanting to see—and taste—both sides.
ADVERTISEMENT - CONTINUE READING BELOW
Must-tries: Torched Salmon and Avocado Toast, Hanging Tender
Classified Kitchen + Wine Café
24 Scout Tuason Street, Barangay Laging Handa, Quezon City
Contact: 966-9576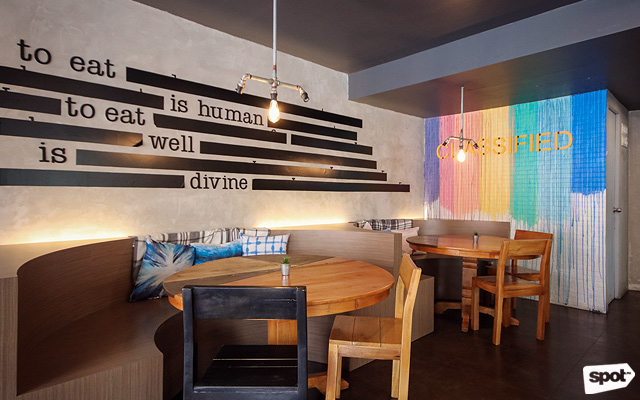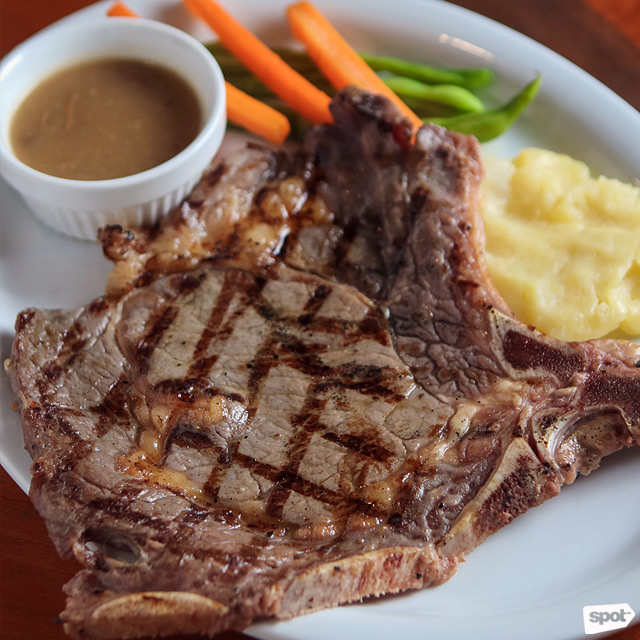 No need to spend too much or go to high-brow places to get some good food that's well-made and worth every bite—Classified Kitchen is proof. The restaurant, owned by brothers Ranj and Alfred Retuya, is made extra homey thanks to the rustic-meets-industrial interiors and hearty goodness of each meal. Best part? You can dine like a king without breaking the bank. They've got options like the Truffled 4-Cheese Ravioli and the Australian T-Bone Steak or the U.S. Angus Ribeye Steak and Grilled Marrow. At this laid-back QC haunt, you'd be as satisfied and comforted as you would be at your family's usual Sunday brunch.
ADVERTISEMENT - CONTINUE READING BELOW
Must-tries: Truffled 4-Cheese Ravioli, Australian T-Bone Steak, U.S. Angus Ribeye Steak and Grilled Marrow, Moist Dark Chocolate Cake
Crazy Ramen
88 Lilac Street, Concepcion Dos, Marikina City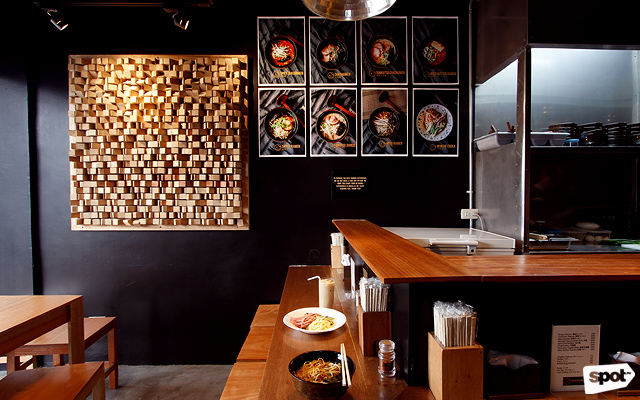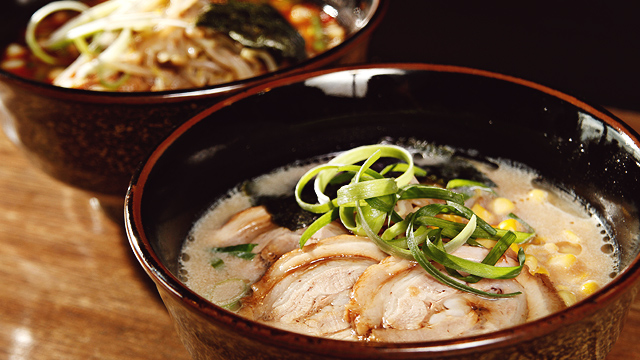 From the makers of Crazy Katsu comes this little miracle in Marikina that brings excellent, lovingly made ramen to an unusual neck of the woods. The menu and the venue are small, sure, but that's where tradition stops over at Crazy Ramen. The flavors are clean and classic, making it very difficult to pick a favorite. Chef Shinji Tanaka doesn't hold back, but doesn't get too outrageous, either—his stuff is just "crazy" good. The Miso Butter Ramen is some beautiful stuff, and even the sole non-ramen item, the Hiyashi Chuka, holds its own in terms of flavor.
ADVERTISEMENT - CONTINUE READING BELOW
Must-tries: Tonkotsu, Miso Butter, Hiyashi Chuka

Easy, Tiger
2/F Uptown Mall, Uptown Bonifacio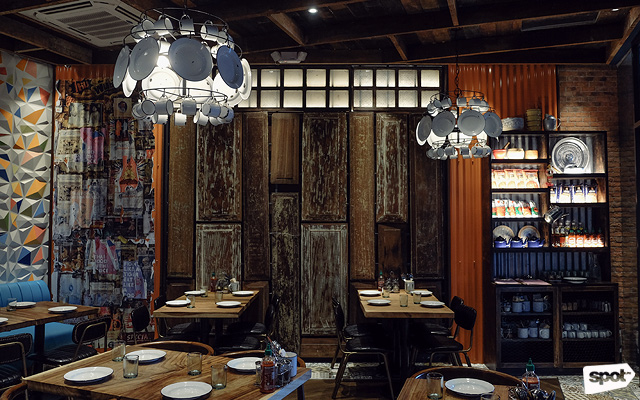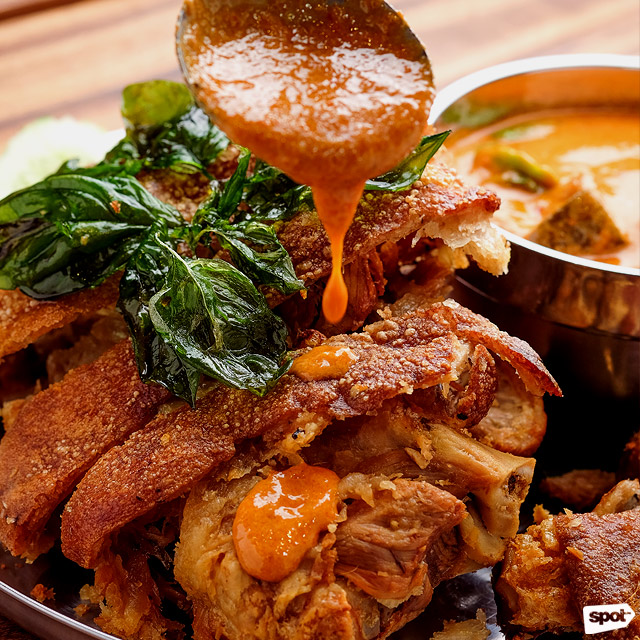 Even when they were just a food stall at The Podium's Corner Market, it was, well, easy to see that Easy, Tiger was meant for something bigger. In February, they brought their edgy-cool vibe and affordable Thai dishes with a kick to Uptown Mall. A bigger space meant they could also expand their menu with entrees like the show-stopping Crispy Pata with Red Curry or an enormous, golden-fried pork knuckle served with a spicy-briny red curry sauce. Easy, Tiger also shines the spotlight on lesser-known Thai dishes like Thai Grilled Pork Neck—the thinly sliced pieces are melt-in-your-mouth succulent and pair well with the briny chili dip.
ADVERTISEMENT - CONTINUE READING BELOW
Must-tries: Thai Grilled Pork Neck, Crispy Pata with Red Curry
El Gaucho
G/F Trump Tower at Century City, Kalayaan Avenue, Makati City
Contact: 0917-323-8019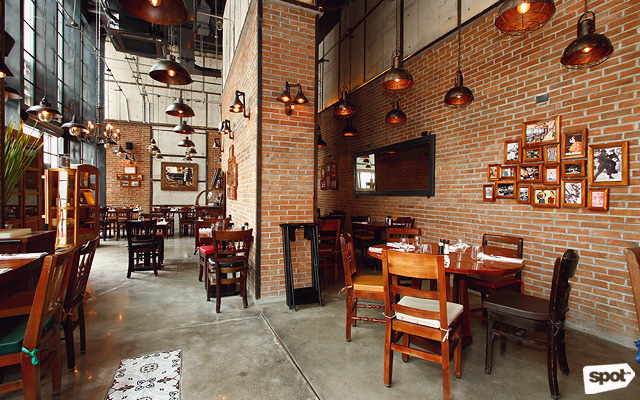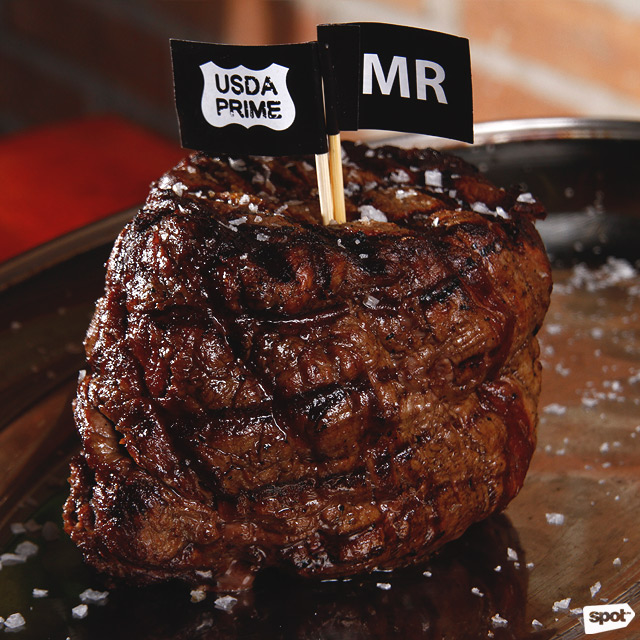 El Gaucho takes its name from the South-American term for cowboy, and it's clearly an inspiration for the restaurant's interiors. With their wooden tables, brick walls, and hanging lamps, this Argentinian steakhouse makes you feel like you've been transported to a Western-style saloon. Meat, of course, is the star of the show here, with almost every dish on the menu featuring some sort of pork or beef. Most come here for the steaks, which are sourced from premium farms in America and Australia, so you know you're getting the most tender cuts. 
ADVERTISEMENT - CONTINUE READING BELOW
Must-tries: Filet Steak, Tomahawk
Elephant Grounds
LG/F One Bonifacio High Street Mall, Bonifacio Global City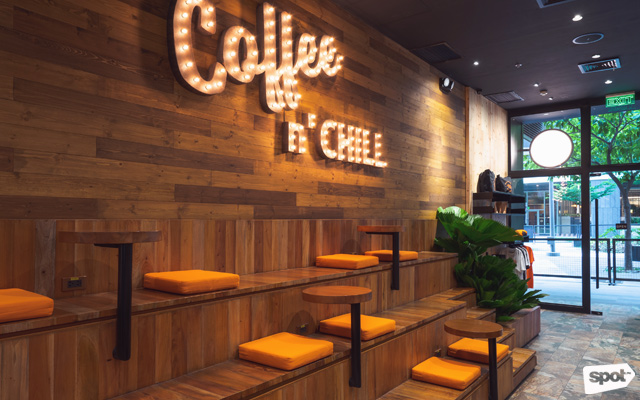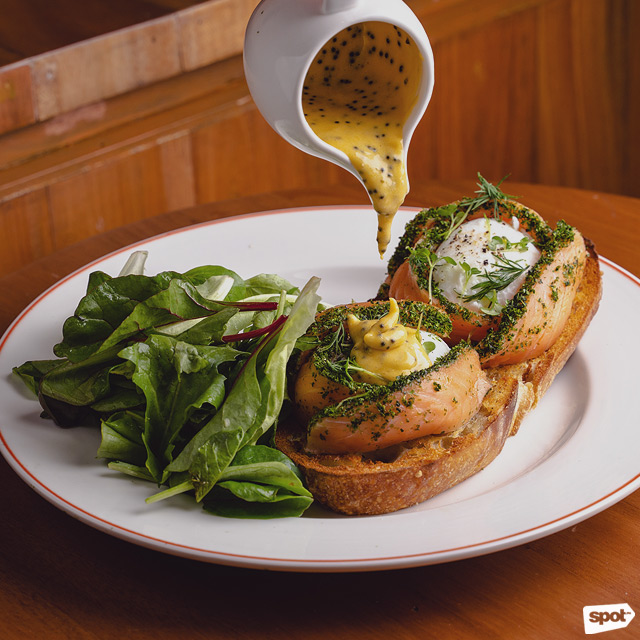 Those who are always in Hong Kong have most likely tried, or at least heard of, Elephant Grounds. But their outpost at One Bonifacio High Street—their first outside of HK—will still be a different experience. While still keeping the effortlessly cool vibe of the original, the local team, with the help of Chef Nicco Santos, was given lots of leeway in making the menu their own. This means you can get brunch items like the Yuzu Salmon Eggs Benny with velvety Hollandaise sauce and salmon that they smoke themselves, or rice bowls like Duck Krapow with spicy, crispy stir-fried duck on fluffy Japanese rice. Don't leave without having one of their signature ice cream sandwiches.
ADVERTISEMENT - CONTINUE READING BELOW
Must-tries: Yuzu Salmon Eggs Benny, High Societea ice cream sandwich
Group & Boiler
G/F Molito Lifestyle Center, Madrigal Avenue, Alabang, Muntinlupa City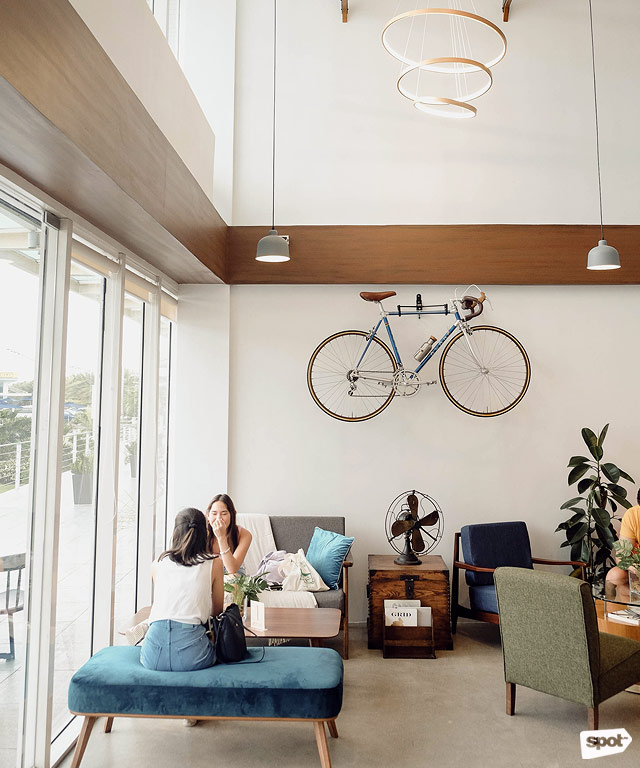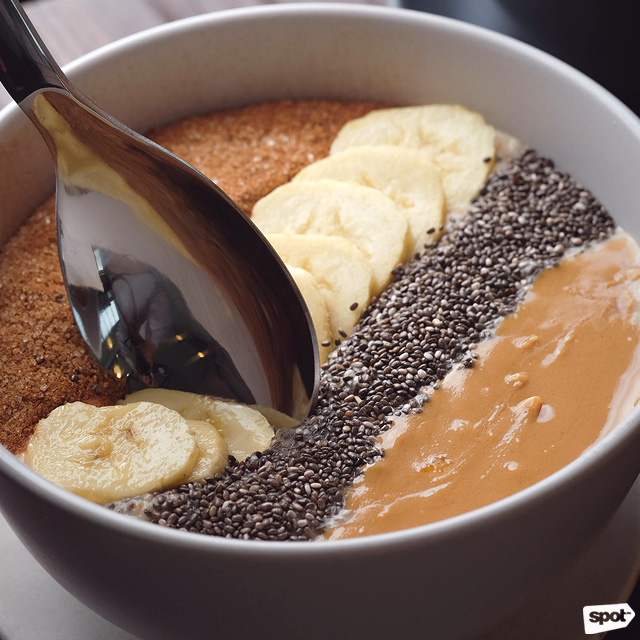 Many of you have probably scoffed at the idea of overnight oats and would, therefore, never bother to try making them. That's understandable. But Hans Juan seems to live by the principle of "let's see if we can do this better"—and that's pretty much how Group & Boiler was born. Great coffee and a clean, unbothered atmosphere already make this place worth visiting, but the steps they've taken towards a zero-waste way of life and some excellent in-house pastrami seal the deal.
ADVERTISEMENT - CONTINUE READING BELOW
Must-tries: Banana Nut Overnight Oats, G&B Signature

Hakata Ton-ichi
4/F Top of the Glo, Japan Town, Glorietta 2, Makati City
Contact: 255-8105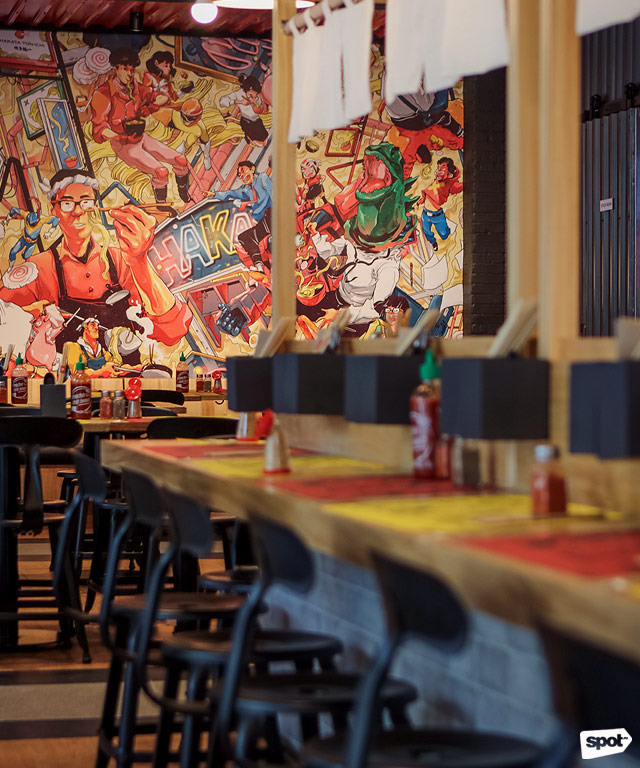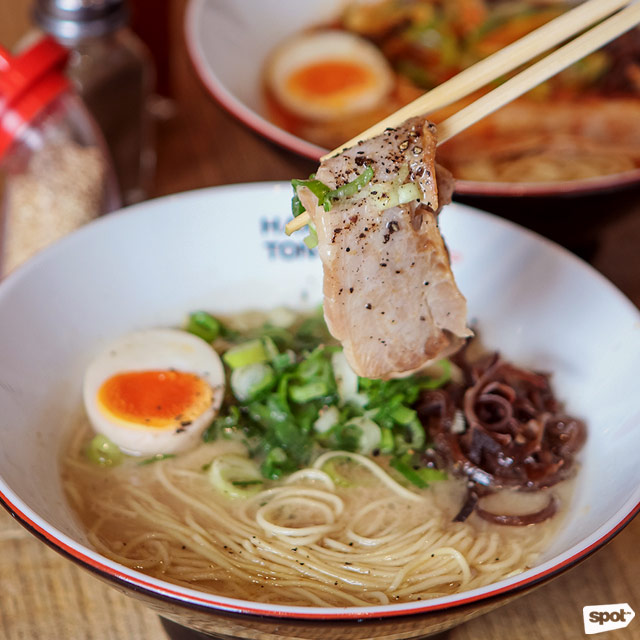 Good ramen doesn't have to burn a hole in your wallet. At the colorful and vibrant Hakata Ton-ichi, bowls of ramen go for just around P200. The restaurant specializes in modern Japanese cuisine, so aside from the fun anime-covered interiors, you can expect unique offerings like squid-ink infused Black Ramen alongside unbeatable classics like Gyu Don. The Metro isn't exactly lacking in terms of Japanese restos, but you can add Hakata Ton-ichi to your go-to places for quality food minus the usual hefty price tag.
ADVERTISEMENT - CONTINUE READING BELOW
Must-tries: Ton-ichi Ramen, Gyu Don
Hapag
201 Katipunan Avenue, Project 4, Quezon City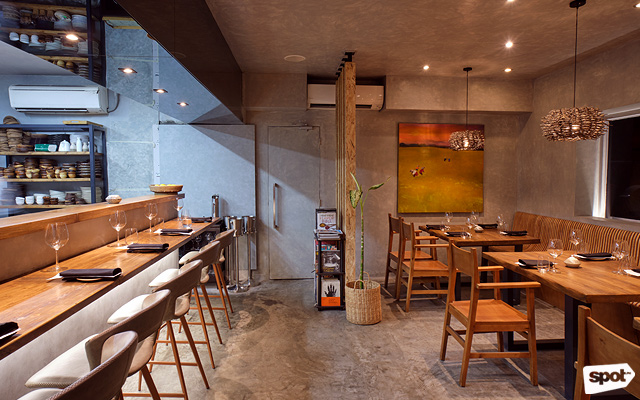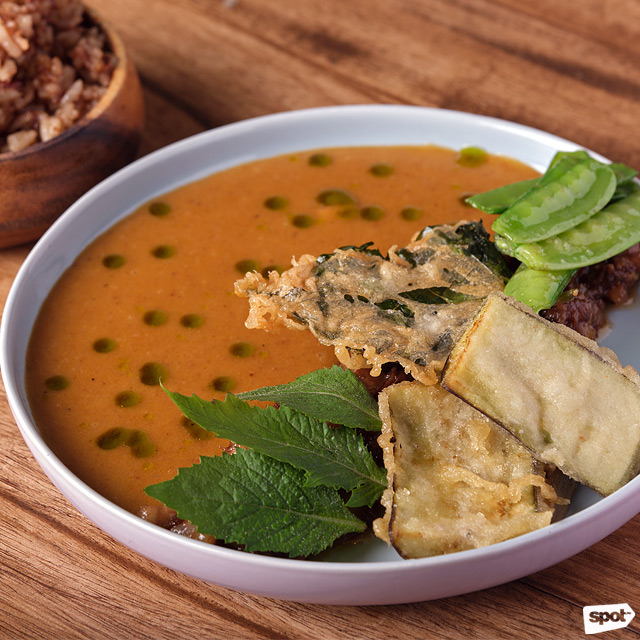 We'll admit, we're hesitant when it comes to "modern twists on Filipino classics," but Hapag is so obviously run by people whose respect for the many subcultures of the Philippines works right alongside their love of food in general. They're not afraid to experiment; the risk pays off well. From recipes they had in their childhood to suggestions made by last week's customers, Thirdy Dolatre, Kevin Paolo Villarica, and John Kevin Navoa take on every challenge as it comes. Think of the Litson Binagoongan as required reading that you ended up enjoying, if it were a food; the Kare Kare ni Lola V is a must for those who can't get enough of peanut sauce.
ADVERTISEMENT - CONTINUE READING BELOW
Must-tries: Litson Binagoongan, Mangga't Suman
Harlan + Holden Coffee
G/F One Bonifacio High Street Mall, 5th Avenue, Bonifacio Global City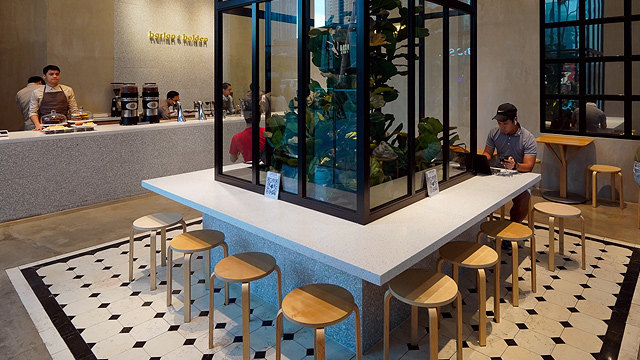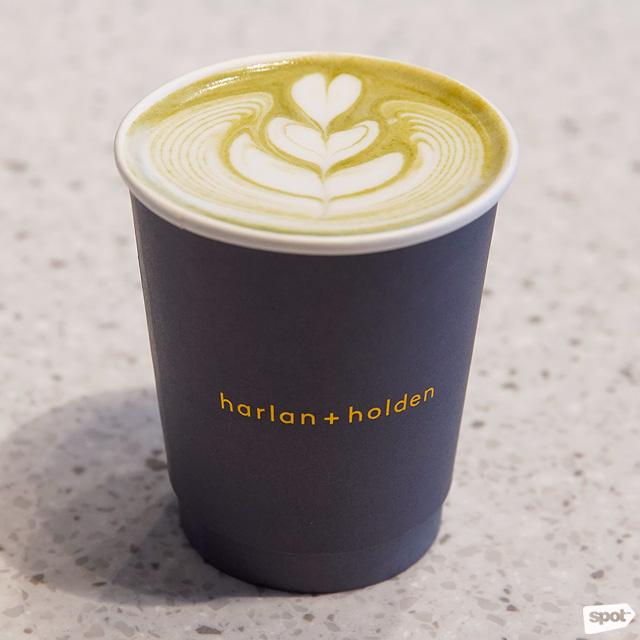 "Because coffee," reads Harlan + Holden Coffee's tagline (often mistaken to be their name), displayed in large silver letters both inside and outside the minimalist space—and what better way to describe how you feel most days? This fuss-free caffeine stop understands your need for that perfect cup of joe and promises to make the experience as easy as possible thanks to their self-checkout tables that let you pay cashless, and their app (available on iOS and Google Play), which lets you order your drink in advance. Try some of their coffeehouse classics like the Cream Latte or Matcha Green Tea Latte. For something that's not your usual, go for their Sea Salt Latte. Need a snack to go with your cuppa? Grab the Chocolate Chip Walnut cookie to-go for some melt-in-your-mouth goodness.
ADVERTISEMENT - CONTINUE READING BELOW
Must-tries: Cream Latte , Matcha Green Tea Latte, Sea Salt Latte
Hey Brew
G/F Theatre Mall, Greenhills, San Juan City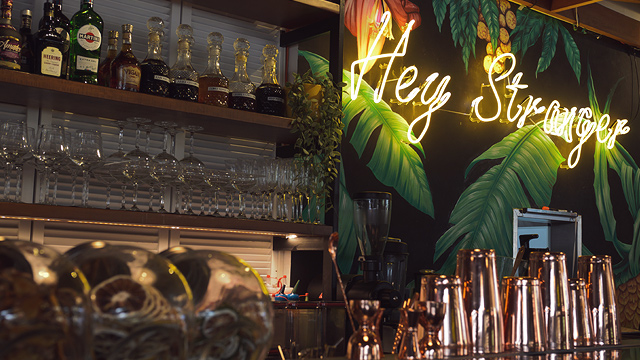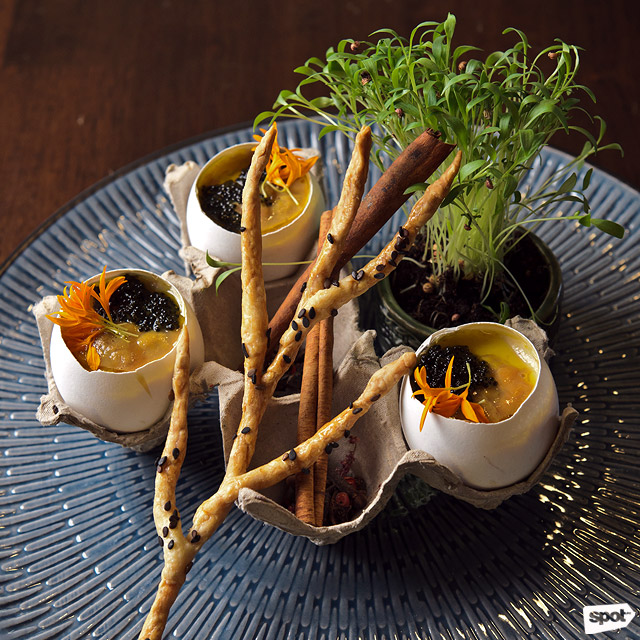 Greenhills usually isn't on anyone's food map, but Hey Brew is hoping to change that. A collaboration between chef Niño Laus, mixologist Kalel Demetrio, and restaurant owner Janina Lao, this tropical-themed bar and restaurant features Instagram-worthy bar chow and creative takes on cocktails, milkshakes, and coffee. The menu fuses together international flavors, resulting in mash-ups like the Foie Gras Chawanmushi, a blend of French and Japanese dishes, and the Middle Eastern-inspired Grilled Prawns, which comes coated in a spicy harissa sauce. Pair any of the dishes with drinks from the bar menu, whether it's something non-alcoholic like the sweet-and-salty Brown Sodium Milkshake or the beginner-friendly Empire State of Sour cocktail.
ADVERTISEMENT - CONTINUE READING BELOW
Must-tries: Foie Gras Chawanmushi, Beef Ox Tongue Sandwich
Honolulu Café
LG/F SM Aura Premier, Bonifacio Global City
Contact: 886-3333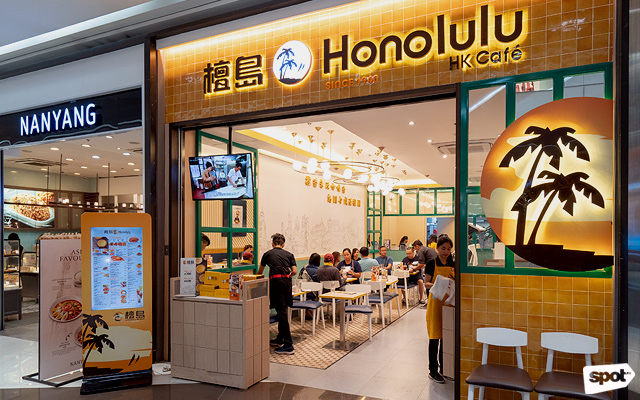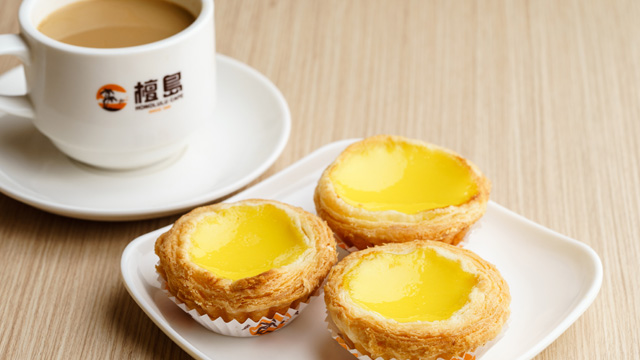 No need to fly all the way to Hong Kong to hang out at one of the island's most famous tea restaurants (or cha chaan teng if you want to be more accurate)—the oldest of which is Honolulu Café. Originally established in 1940, the restaurant made its Manila debut in January at SM Aura Premier, and the café's colorful, modern interiors will transport you to one of their outposts around the world. Their signature Egg Tarts have a creamy center and buttery crust that's baked to flaky perfection. Word of advice: Go early. The egg tarts are baked fresh and sold in limited quantities every day. Pair it with their Hong Kong Style Milk Tea or Hong Kong Style Coffee. If you're looking for a filling meal on weekends with the fam, they've also got options like the tangy-spicy Deep Fried Prawn with Thousand Island Sauce or the Stirred Fried Flat Rice Noodles with Beef.
ADVERTISEMENT - CONTINUE READING BELOW
Must-tries: Egg Tarts, Hong Kong Style Milk Tea, Stirred Fried Flat Rice Noodles with Beef 
Hui Lau Shan
4/F Atrium, SM Megamall, Mandaluyong City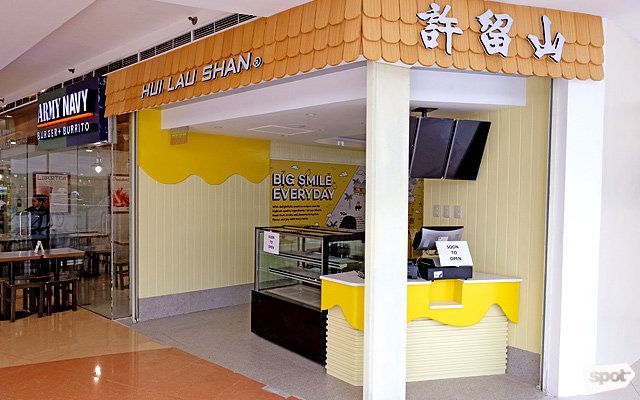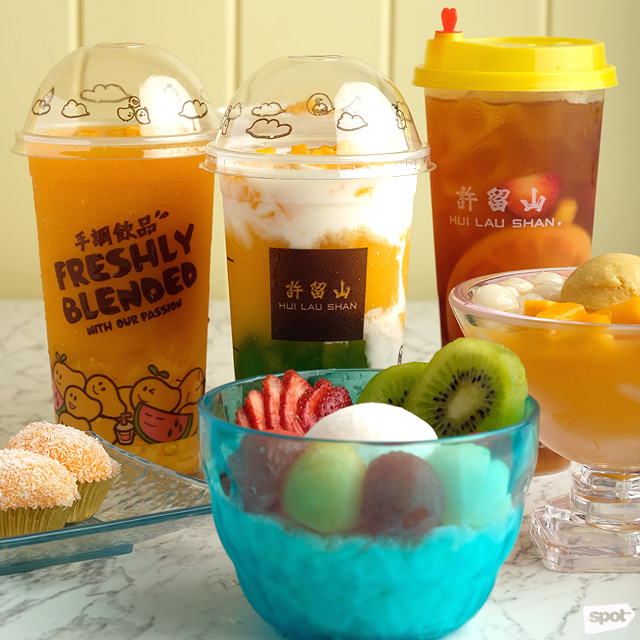 Taking a Pinoy staple and putting it in everything sounds exactly like the kind of thing that wouldn't work, but Hui Lau Shan has defied that expectation in branches around the world. With coconut cream toppings and zesty fruit teas, this mini-but-mighty place that first hit Manila shores in SM Megamall really packs a flavor punch. (The mascot is super cute, too!)
ADVERTISEMENT - CONTINUE READING BELOW
Must-tries: A1, B3, Mango Mochi
Khao Khai
5772 Ebro Street, Poblacion, Makati City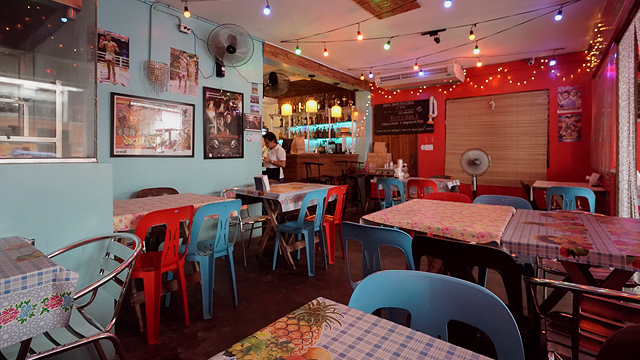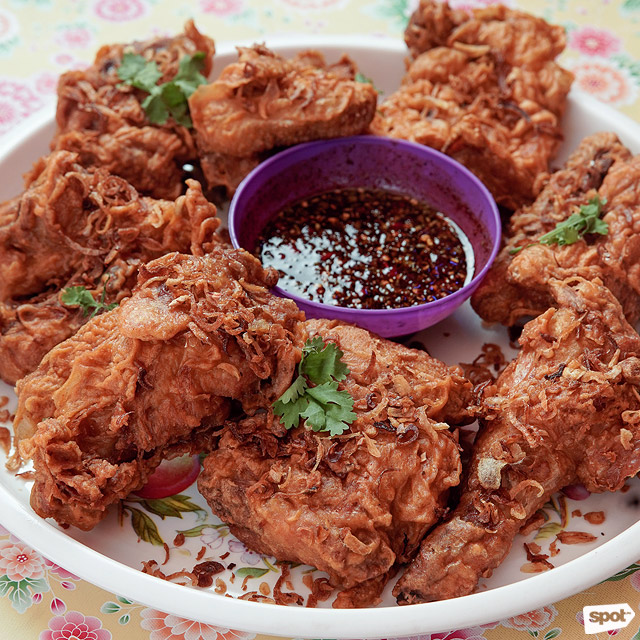 Ah, Poblacion. You'll find almost every type of cuisine and eatery here, including Khao Khai, a Thai hole-in-the-wall that looks like it came straight from the streets of Bangkok, and somehow landed on the side streets of Makati. Pad thai is expected of most Thai eateries, but Khao Khai swaps the familiar glass-noodle dish for street cart-style fried chicken. You can lose the utensils, too: feel free to use your hands on those flavor-packed wings. 
ADVERTISEMENT - CONTINUE READING BELOW
Must-tries: Gai Tod, Dry Pork Curry
La Picara
2/F One Bonifacio High Street Mall, 28th Street corner 5th Avenue, Bonifacio Global City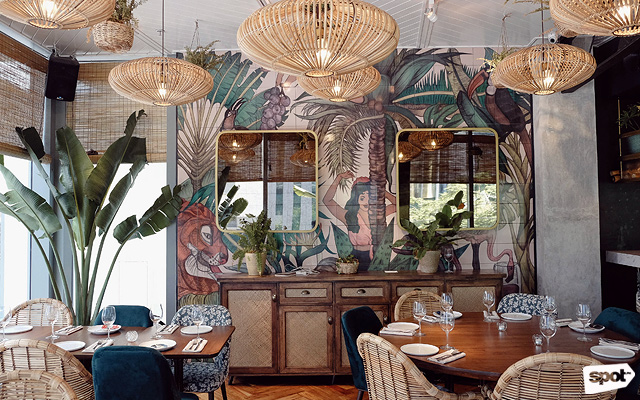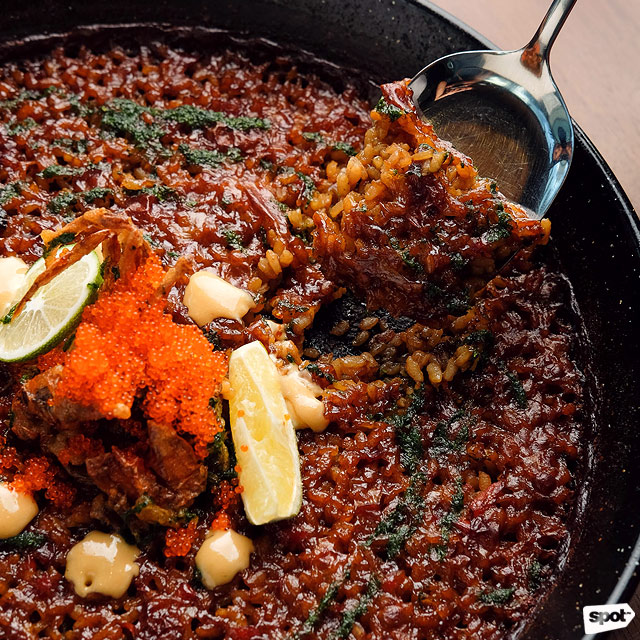 From their ultra-colorful, tropics-inspired interiors to their cheeky animals-wearing-human-clothes plates, you know that you're up for a fun time at La Picara. The playfulness doesn't stop at the decor; though owner Isabel Calvo describes the menu as "95% Spanish," there is that 5% of inspiration they get from other, mostly Asian, cuisines to create unique dishes like the Kimchi Croquettas. Shaped like salmon nigiri, these croquettas are stuffed with kimchi and topped with smoked salmon for extra depth of flavor. Also not to be missed is their Chili Crab Paella, their version of seafood paella. It's sweet-briny thanks to soft-shell crab, with a serving of chili to spice things up.
ADVERTISEMENT - CONTINUE READING BELOW
Must-tries: Kimchi Croquettas, Chili Crab Paella
La Vita Ristorante Italiano
Level 3, The Podium, ADB Avenue, Ortigas, Mandaluyong City
Contact: (02) 8834 1888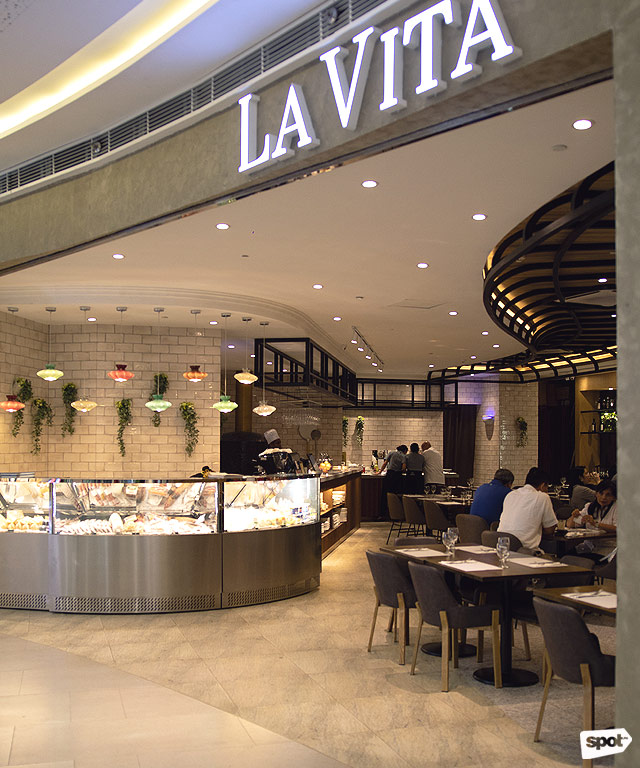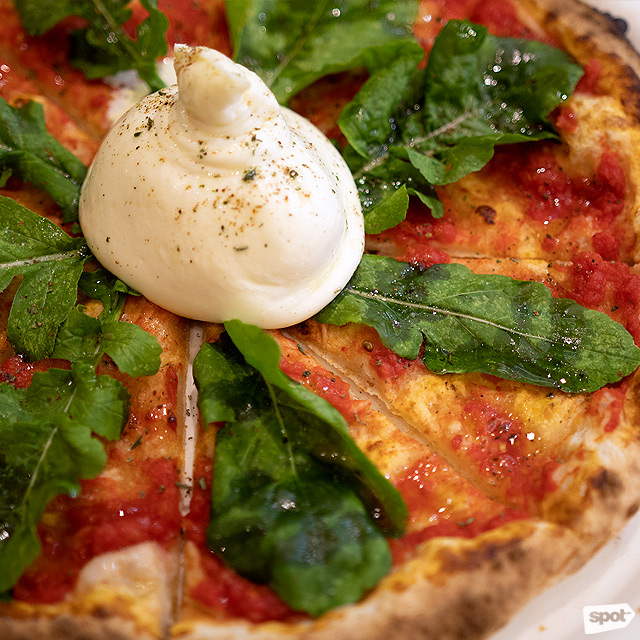 It's not exactly a secret: Italian cooking calls for few ingredients but at the best quality possible, and at La Vita Ristorante Italiano, they get this just right. Authentic Italian pizza isn't easy to come by when you are oceans away from Napoli, but the fare here might just satisfy your cravings. The restaurant not only has its own deli featuring different cuts of meats and cheeses, it also has its own wood-fired oven—ordered straight from Italy—which pops out perfectly cooked pizza every time. Don't be intimidated by this Podium restaurant's upscale feel; La Vita covers all the main Italian food groups (i.e. pasta, pizza, cheese) and each dish is an ode to simple, classic Italian cuisine.
ADVERTISEMENT - CONTINUE READING BELOW
Must-tries: Pizza con Burrata Fresca, Pappardelle alla Crema di Tartufo
Le Rêve Patisserie
G/F Ortigas Technopoint Parking Building, Dive Pool Block, Pasig City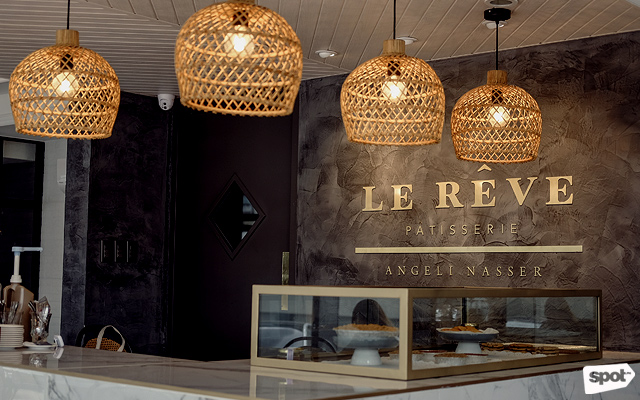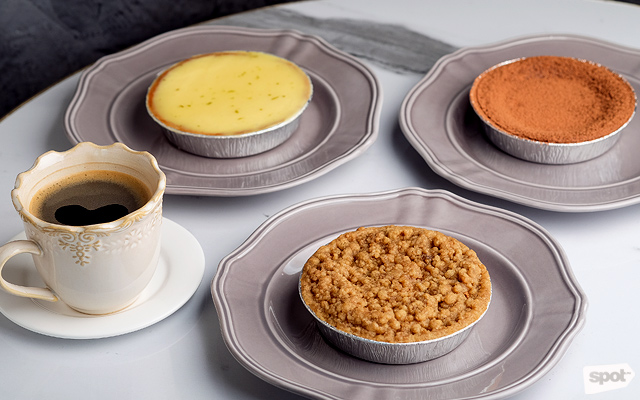 This secluded bakery in Ortigas creates pastries using French techniques, but with Filipino flavors—a combination you don't often see. At Le Rêve Patisserie, You can get both the intricacy and indulgence of French pastries coupled with the comfort and ease of familiar flavors like cacao, calamansi, and coco sugar. The marriage of the two cultures is seen in the interiors as well—Parisian-style decor like marbled surfaces and wide windows are coupled with rustic wicker seats and rattan light fixtures. Be sure to try the French Apple Crumble, perfected by owner Angeli Nasser through years of experimentation. The sweet and crumbly crust piled on top of the warm apple filling could fix even your worst days. For chocolate lovers, the 70% Chocolate Lava Cake is made from single-origin dark chocolate straight from Davao and is a lighter version of the popular dessert, with a soufflé-like consistency. Each one is available in a four-inch tart pan, which you might think will be good for sharing, but trust us, you'll want it all for yourself. You can bring a large pan home, too, for your next potluck or for your midnight cravings.
ADVERTISEMENT - CONTINUE READING BELOW
Must-tries: French Apple Crumble, Calamansi Tart, 70% Chocolate Lava Cake 
Made Nice
122 Joya Lofts & Towers, Amorsolo Drive, Rockwell, Makati City
Contact: 0917-183-6423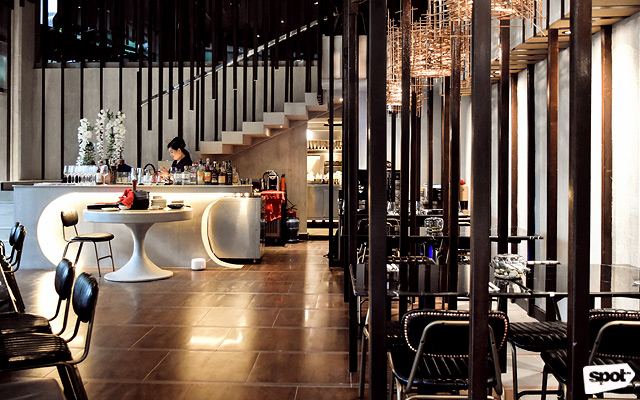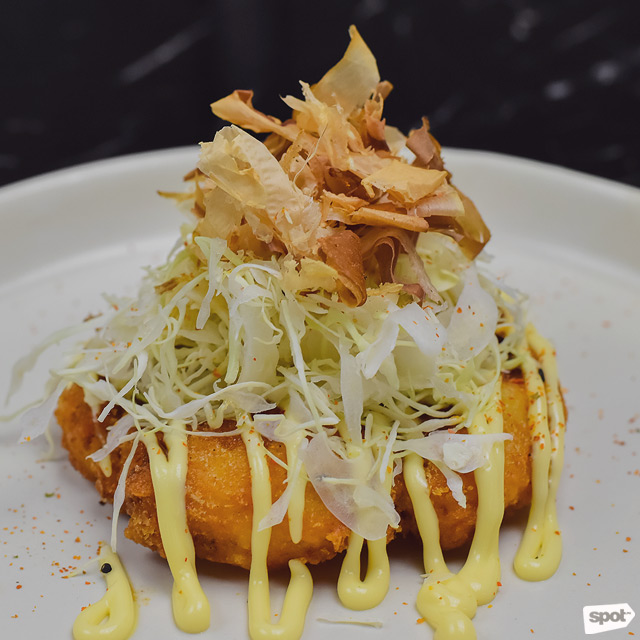 Everything at Made Nice is, well, made nice. This restaurant, which originally opened in Legazpi Village before relocating to Rockwell Center, is known for its simple yet elegant dishes that you can't quite find anywhere else. The names of the dishes are straightforward but their flavors are anything but. Take the Japanese-inspired Scallop, for example. The briny seafood is perfectly complemented by the acidity of the yuzu, pomelo slices, and daikon that comes with it. There's also the Beef, a tender cut of Wagyu flank steak that's lightly smoked. That comes with a sweet potato gratin and an umami-rich hollandaise sauce with miso, making for a unique set of flavors that somehow work together to make one cohesive dish.
ADVERTISEMENT - CONTINUE READING BELOW
Must-tries: Scallop, Beef 
Medley
G/F Fully Booked, B6, Bonifacio High Street, Bonifacio Global City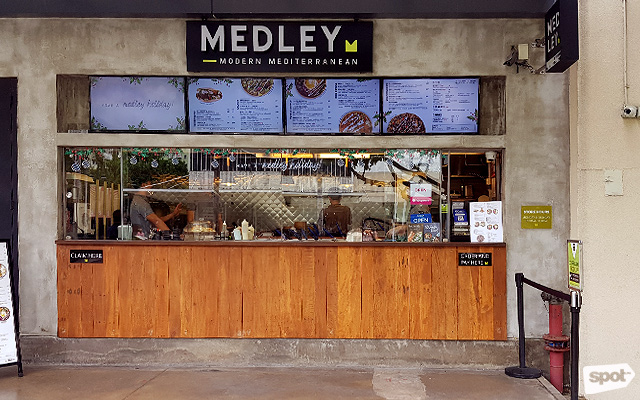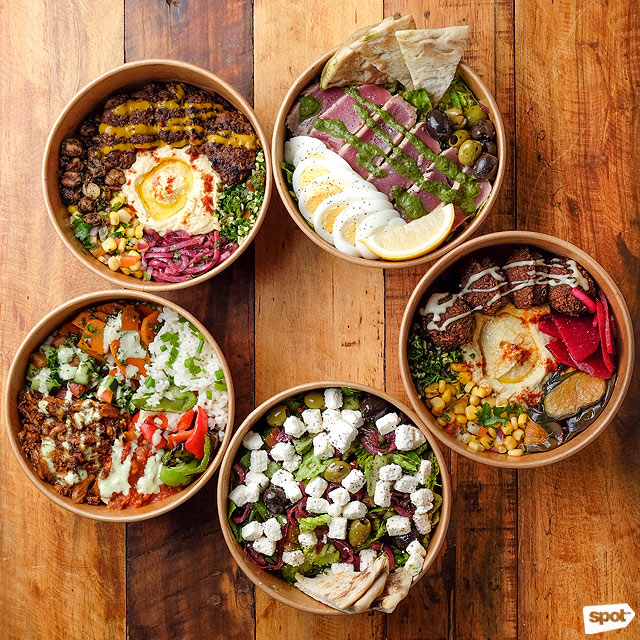 Eating healthy can be a struggle for busy folks, but grab-and-go Mediterranean concept Medley is ready to change that. At Medley, good-for-you doesn't have to mean bad-for-your-taste-buds; in fact, they utilize all the colorful spices available to Mediterranean cuisine for their rice bowls, salads, wraps, and sandwiches to turn them into flavor bombs—even the options without meat. Perhaps the most intriguing item on their menu are the Turkish pizzas: the Legaspi with a tasty pesto sauce, a mildly spicy garlic sauce, red bell peppers, spinach, beef kebab, and a Morrocan carrot salad on flatbread is a great introduction. 
ADVERTISEMENT - CONTINUE READING BELOW
Must-tries: The Legaspi pizza, Falafel Crunch
Menya Kokoro
3/F Uptown Mall, Uptown Bonifacio
Contact: 0919-001-9392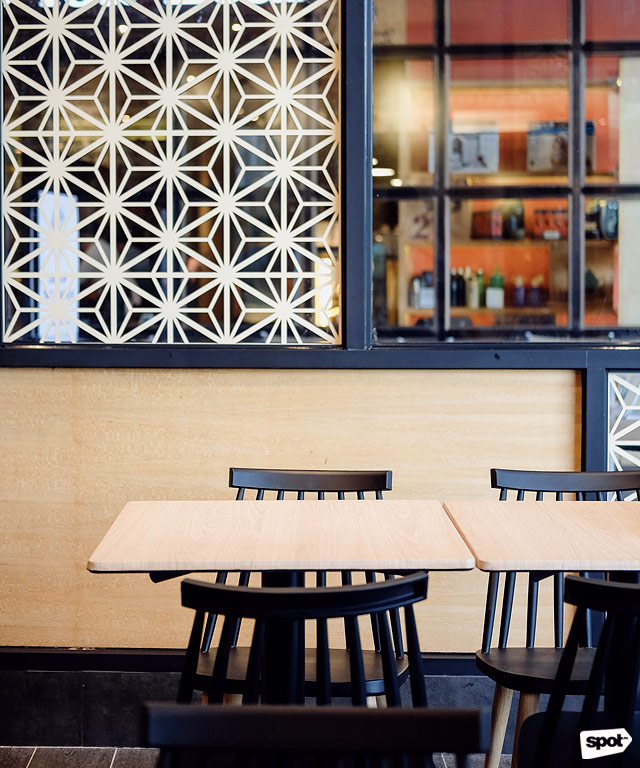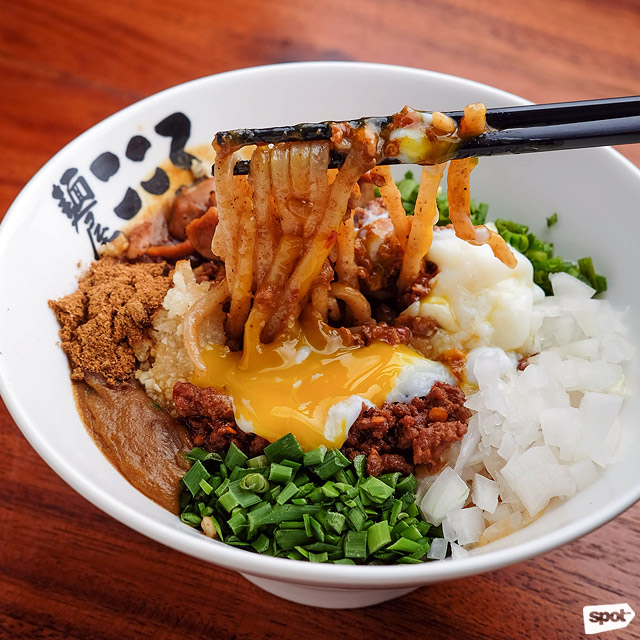 These days there's a ramen joint in almost every mall, but soba is a little harder to find. The thinner noodles are often served in a light hot broth or served cold with an umami-rich dipping sauce, but Menya Kokoro is spicing things up for soba by mixing it with the familiar flavors of ramen—minus the soup. Chef Takuma Ishukawa calls this ramen-soba hybrid the mazesoba and he's brought his 2013 creation to Bangkok, Jakarta, and more, now including Manila. It's not as complicated as it sounds: it's got rich and meaty flavors that cling to the soba noodles, and you have to mix it up as soon as it lands on your table. His first shop in Japan uses only locally sourced ingredients, and the Manila outpost of Menya Kokoro has the same quality and rich flavors of Japan in every bowl.
ADVERTISEMENT - CONTINUE READING BELOW
Must-tries: Tokyo Mazesoba, Zenbu Mazesoba
Mitsuyado Ramen Shokudo 
4/F Top of the Glo, Roofdeck, Glorietta 2, Ayala Center, Makati City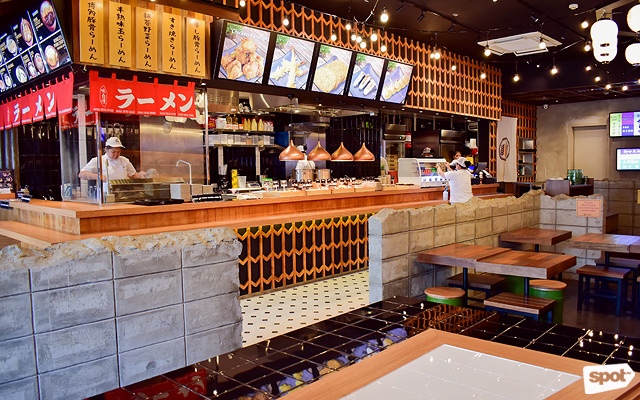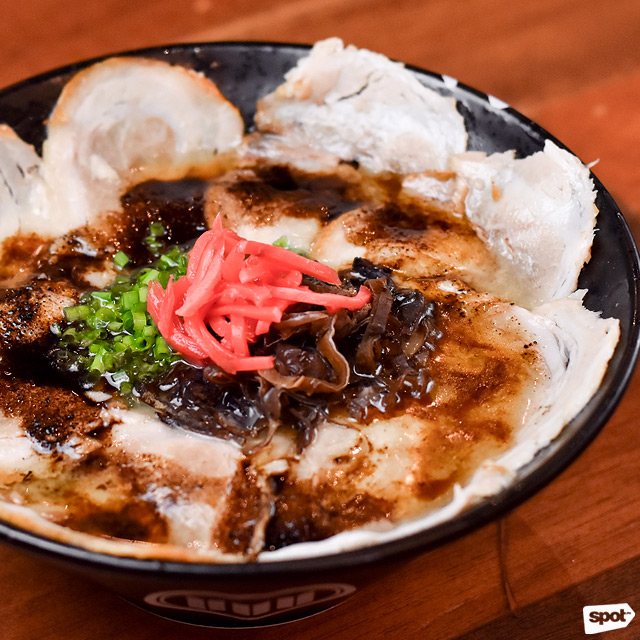 You might already have your go-to ramen place, and yes, there are several around the Metro ready to serve you a piping hot bowl of broth and noodles, but Mitsuyado Ramen Shokudo stands out with unusual fusions. They offer a unique dining experience as the restaurant is a shokudo, which serves ramen cafeteria-style. Their pork-bone broth base and signature thin noodles are a staple, but you can choose from a variety of toppings to satisfy a specific craving or enrich your dining experience. From spicy and crunchy to more bold and daring flavors like sesame and matcha, there's something for everyone. 
ADVERTISEMENT - CONTINUE READING BELOW
Must-tries: White Original, Charsiu Ramen
Moon Rabbit Café + Restaurant
2 Ledesma Street corner F. Benitez, San Juan City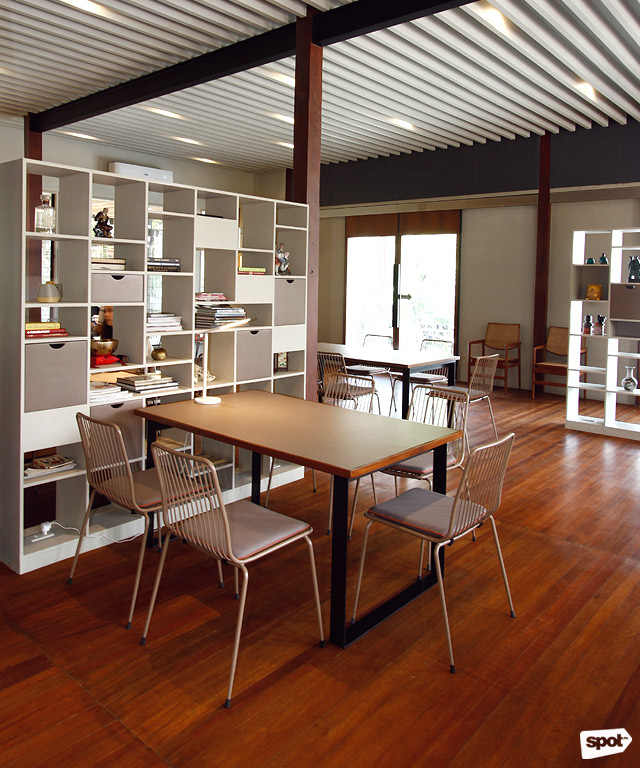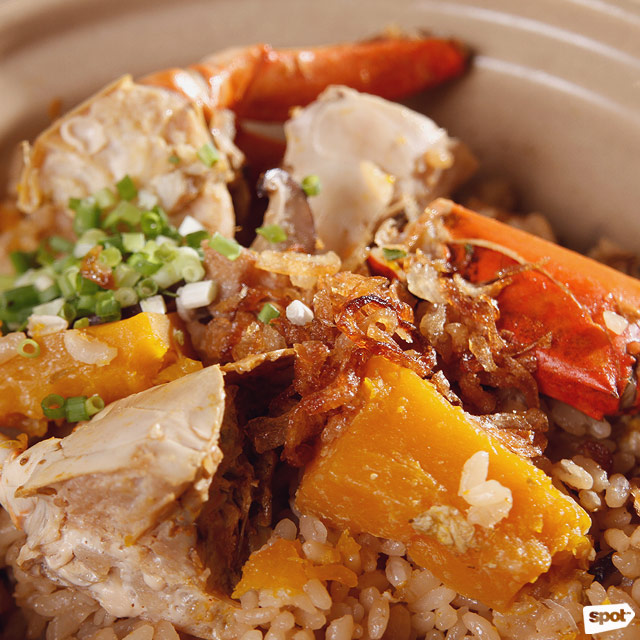 This San Juan left-fielder shows us that Pan-Asian is where it's at right now. This family-run food adventure ticks all the boxes: great interiors, an even better back story, and a variety of dishes that takes your idea of the usual and turns it on its head. Moon Rabbit Café + Restaurant may have only been in the neighborhood for a hot second, but there's already a dish that everyone gets, and nearly every time. Just to be clear: It's the Crab Rice. The saying "The proof is in the pudding" also rings true at this place. You must try the Walnut Soup.
ADVERTISEMENT - CONTINUE READING BELOW
Must-tries: Crab Rice, Steamed Egg Custard, White Chicken, Walnut Soup
Ms. Gee
Don Pedro Street, Poblacion, Makati City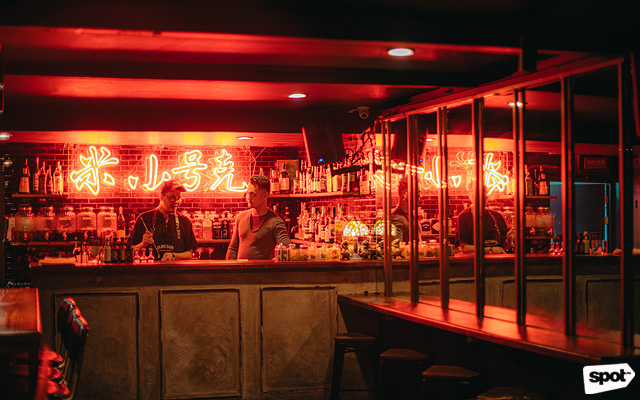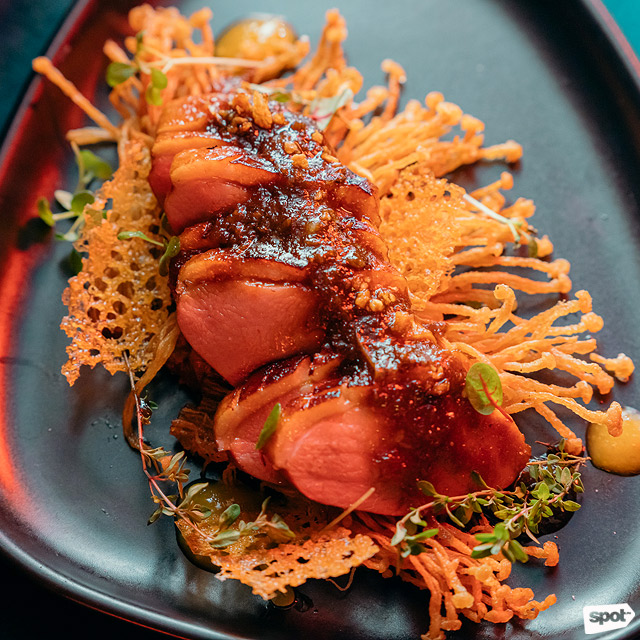 While most go to Poblacion to drink and have fun until the wee hours of the morning, it's time to have dinner in the area, too—or else you might miss out on Ms. Gee's fun take on Chinese fare. The Poblacion bar offers dim sum and Cantonese dishes with their own unique twist: their hakaw, the Shrimp With Coconut Lobster Foam, comes with passion fruit puree, red caviar, red seaweed, and a caviar tulle. Their Smoked Duck could also rival the duck dishes of fine-dining restaurants; the fork-tender duck slices are plated exquisitely and drizzled with blueberry sauce, with a fruity tang that plays well against the smokiness of the duck.
ADVERTISEMENT - CONTINUE READING BELOW
Must-tries: Shrimp With Coconut Lobster Foam, Smoked Duck
My South Hall
G/F S Maison, Marina Way corner Seaside Boulevard, Mall of Asia Complex, Pasay City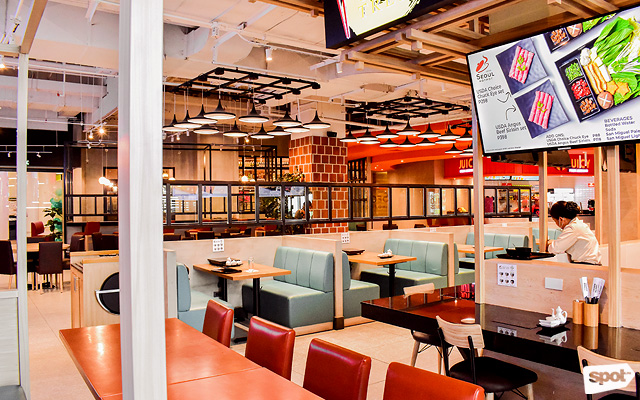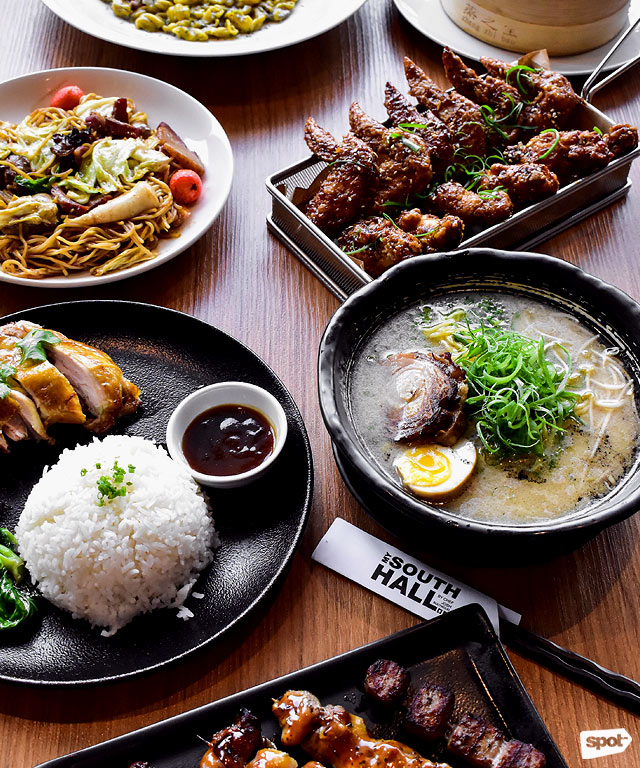 We see My South Hall as the best place to go for those who are somehow both picky and indecisive—those friends of yours who don't know what they want, only what they don't want. It's hard to go wrong with a handful of classics, all done in such a way that they hit a kind of universal sweet spot. The skewers from the Tabemashou stall are a welcome adventure in texture, while the Roma counter serves up fresh pasta in punchy sauces.
ADVERTISEMENT - CONTINUE READING BELOW
Must-tries: Truffle Pasta, Pesto Pasta, Salmon Aburi
Osteria Daniele
G/F High Street Corporate Plaza, 9th Avenue corner 26th Street, Bonifacio Global City
Contact: 0915-874-5792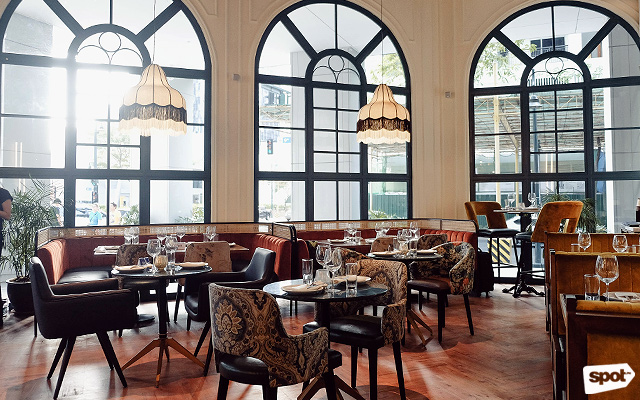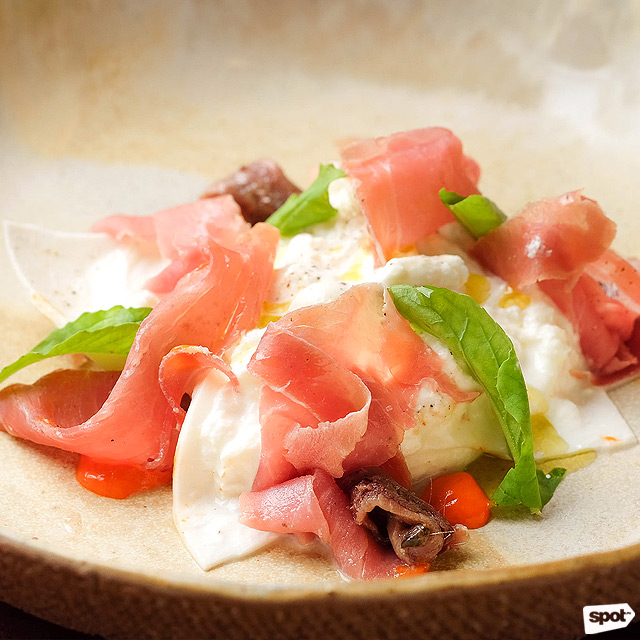 Osteria Daniele is a cozy nest of bespoke beauty in the middle of BGC. The way the light comes in through the windows changes the atmosphere completely; the bar looks like something straight out of Gatsby's mansion, if he were just a touch more camp. The food matches the interiors nicely—the Burrata is an exploration in layers of smokiness and saltiness, while the Risotta al Limone is bright and citrusy. Both, of course, are visually stunning.
ADVERTISEMENT - CONTINUE READING BELOW
Must-tries: Burrata, Orecchiette, Polpa Alla Griglia, Aperol Spritz
Peach Boy
G/F NORKIS Building, Calbayog Street corner Domingo M. Guevara Street, Mandaluyong City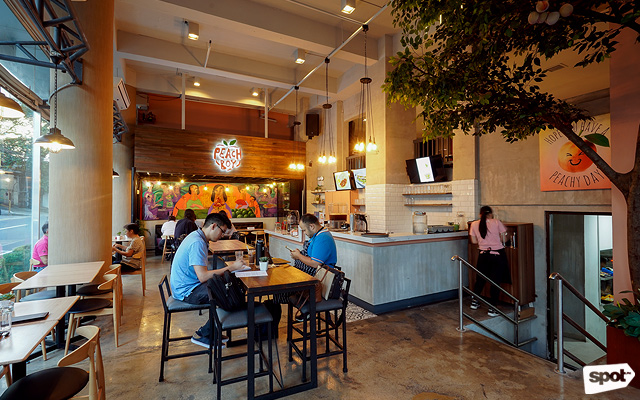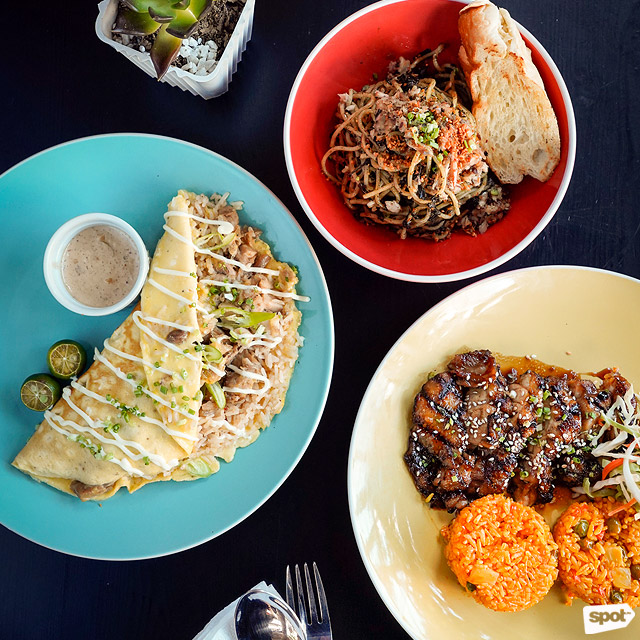 We're still thinking about Peach Boy's Teriyaki Chicken and Peach Cobbler, as we should. Their Ube Lava Pancakes are a hit both in your mouth and on Instagram—yes, there's a lot to love here. The atmosphere is eclectic but not an assault on one's vision; bright but homey at the same time, somehow. You can tell that this place was built by people who love to eat by the Peach Pork Belly sandwich alone!
ADVERTISEMENT - CONTINUE READING BELOW
Must-tries: Peach Pork Belly, Peach Cobbler, Ube Lava Pancakes
Pinot
The Spa Building, Lane P, Bonifacio High Street, Bonifacio Global City
Contact: 0998-586-4230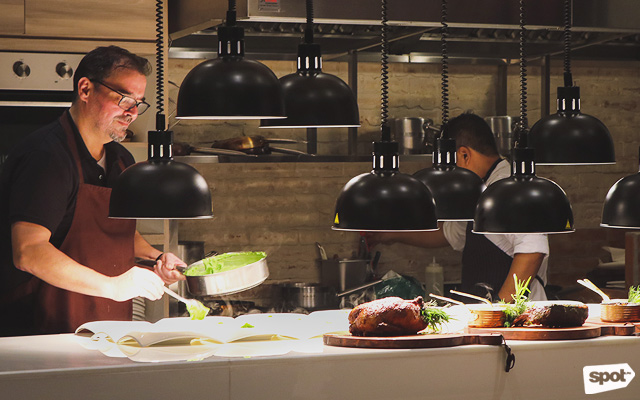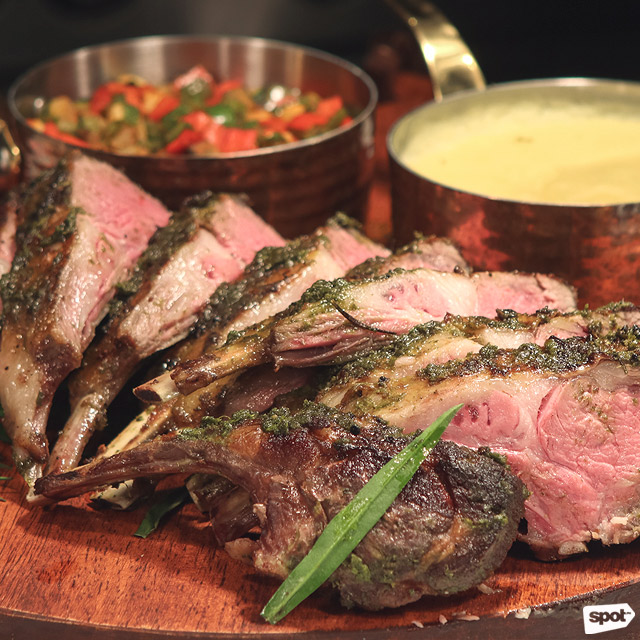 Laid-back might not be the first word that comes to mind when you hear "fine dining," but low-key BGC joint Pinot is marrying these two opposites to give you rich and succulent dishes without the fuss. Indulge in fine wine and good steak without fear of using the wrong fork or accidentally spilling anything. Their warm, comfy interiors are nothing short of welcoming, allowing you to enjoy a well-deserved meal without feeling any pressure.
ADVERTISEMENT - CONTINUE READING BELOW
Must-tries: The Prix Fixe set, US Ribeye on the Bone
Q&A Kitchen + Bar
2/F ACCM Building, 102 San Agustin Street, Salcedo Village, Makati City
Contact: 8478 8788; 0917-859-5678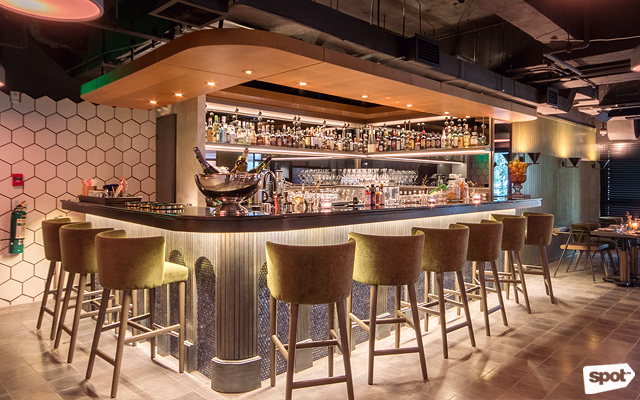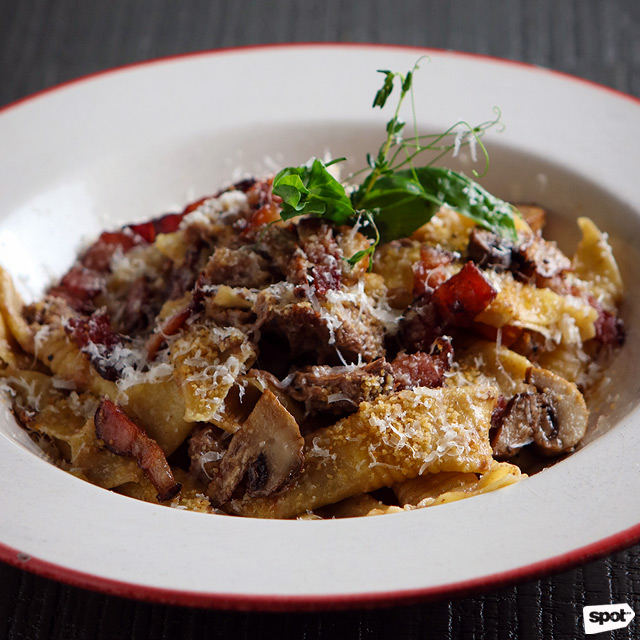 The Q&A in Q&A Kitchen + Bar's name stands for quality and attention. The attention part of their name can be found in the handpicked details of their restaurant in Salcedo, whether it's in the hexagonal tiles found on the walls or the simple yet elegant tables and chairs. The quality part, meanwhile, can be found in their food. Q&A uses fresh ingredients sourced from all over the world and every single bit is used. Nothing goes to waste here—they even make sure that their fresh, homemade pasta is all used up by the end of the day. Check out their take on the classic boeuf bourguignon, which is served on top of a bed of fresh garganelli.
ADVERTISEMENT - CONTINUE READING BELOW
Must-tries: Garganelli and "fall-off-the-bone" beef brisket Borguignon 
Ricksha Streetside Tandoor
22 East Capitol Drive, Kapitolyo, Pasig City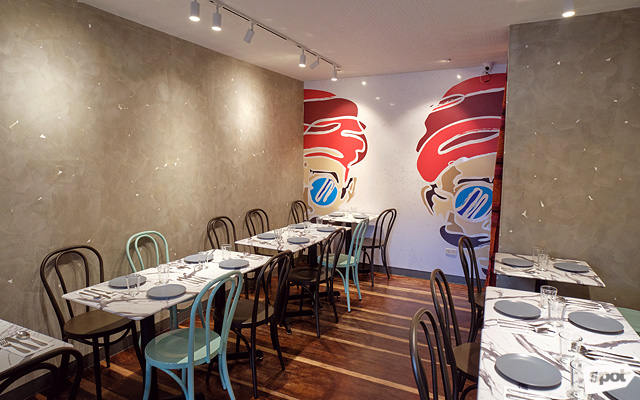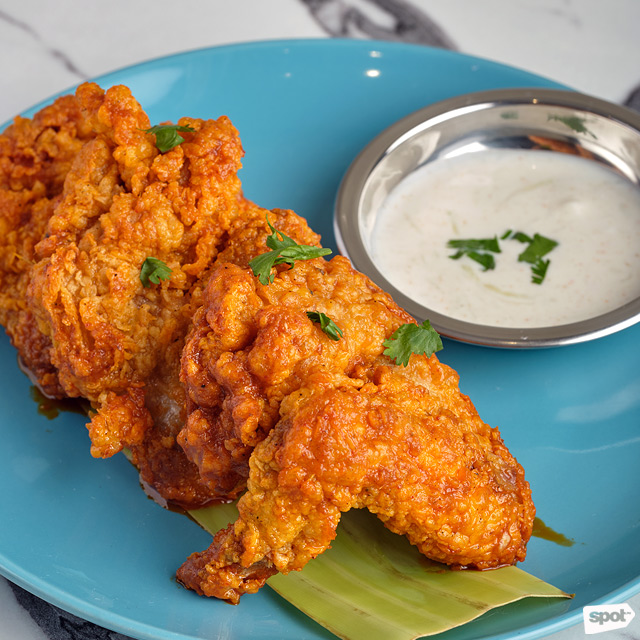 For some of the best Indian food in Metro Manila, you don't have to look further than this low-key gem in Kapitolyo. Ricksha Streetside Tandoor channels the laid-back vibe of a streetside eatery in India, and their menu of Indian classics is just as no-frills and casual—but what they may lack in showy presentation, they more than make up for with flavor. The Vegetable Biryani is served underneath a dome of naan before being cooked in the eatery's custom-made tandoor—cut through the pillowy flatbread to get to the flavorful blend of flavorful mix of green beans, potatoes, peas, fried onions, basmati rice, and a generous blend of Indian spices for a hearty, spiced warmth. Though not traditionally Indian, the Tandoori Hot Wings, marinated overnight in a blend of tandoori paste and yogurt then coated in a sauce of tandoori paste and butter for finger-licking, buttery spiciness, is also a surprising standout.
ADVERTISEMENT - CONTINUE READING BELOW
Must-tries: Tandoori Hot Wings, Vegetable Biryani
Salvatore Cuomo Café
G/F The Podium, 12 ADB Avenue, Mandaluyong City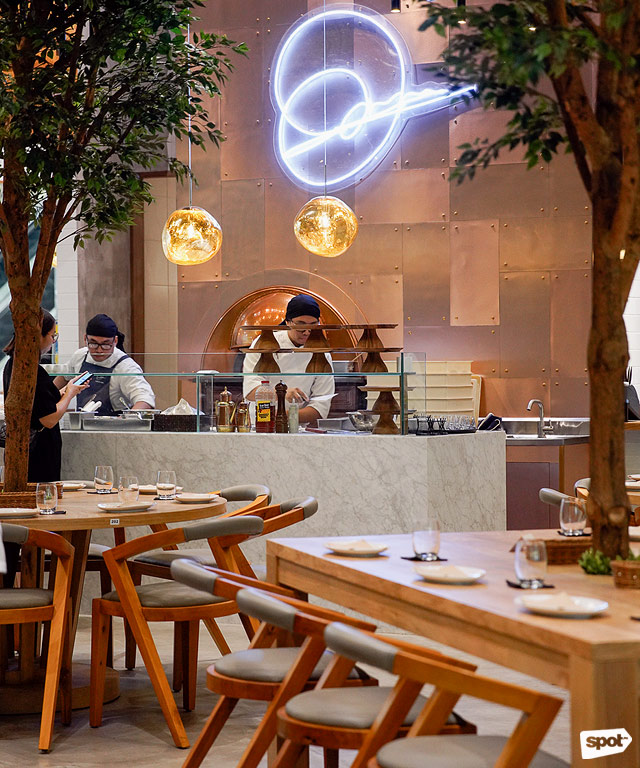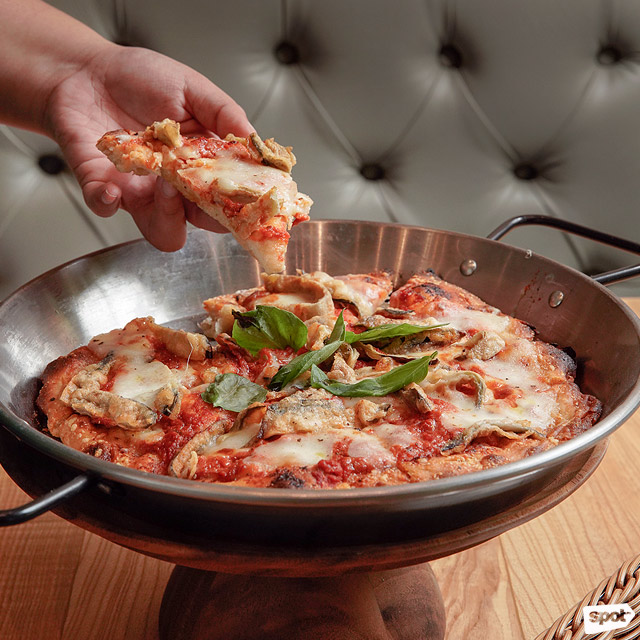 With over 100 branches of his eponymous restaurant under his belt, there's no doubt that Chef Salvatore Cuomo has the art of pizza-making down pat—but he's here to remind you about the fact anyway with his new concept, Salvatore Cuomo Café at The Podium. The chef describes the place as a younger, more casual version of the Salvatore Cuomo Restaurant at Uptown Parade, but their pizza, baked in a wood-fired oven that greets you at the entrance, continues to be of top-notch quality. It goes without saying that the Napoli-style pizzas shouldn't be missed, but we also must recommend their traditional pan pizzas, especially the Eggplant Parmigiana. 
ADVERTISEMENT - CONTINUE READING BELOW
Must-tries: Eggplant Parmigiana pan pizza, Mixed Capriciossa Napoli style pizza
Sam Stew
2/F Ayala Malls Vertis North, Bagong Pag-Asa, Quezon City
Contact: 0917-866-8362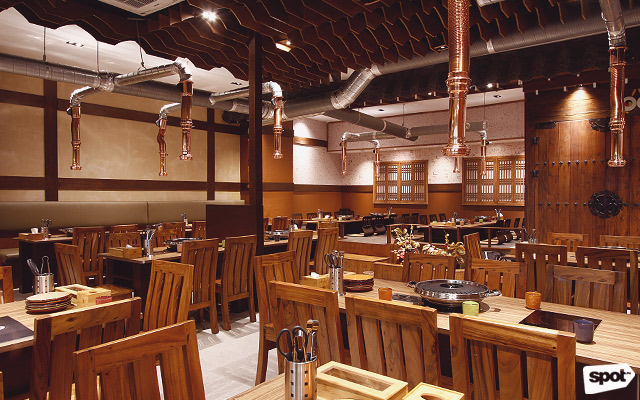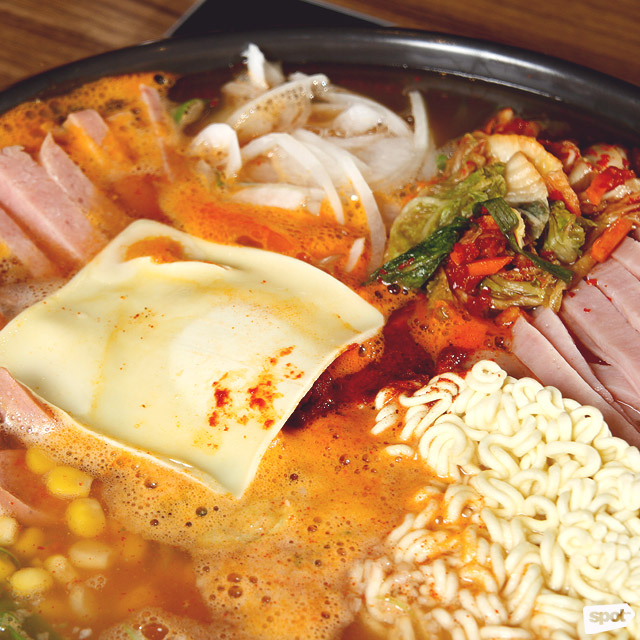 Nope, samgyupsal isn't the only thing Korean cuisine has to offer. Sam Stew was made specifically against the grain in this meat-loving, all-you-can-eat-obsessed Metro, and highlights another integral part of Korean cuisine: stew. Sam Stew's chefs were trained in a Korean culinary school, making for all-around authentic dishes. While they still do offer samgyupsal, they focus on quality and not quantity. Each set comes with eight different marinated servings of fresh, high-quality pork—and unlimited banchan, so no worries. But their stews are the real stars of the show: each bubbling pot comes with hearty ingredients, from the classic "army stew," Budae Jigae to Jjim Dak, which is similar to our chicken adobo.
ADVERTISEMENT - CONTINUE READING BELOW
Must-tries: Budae Jigae, Samgyupsal
Shaburi and Kintan Buffet
4/F Glorietta 2, Ayala Center, Makati City
Contact: 719-5141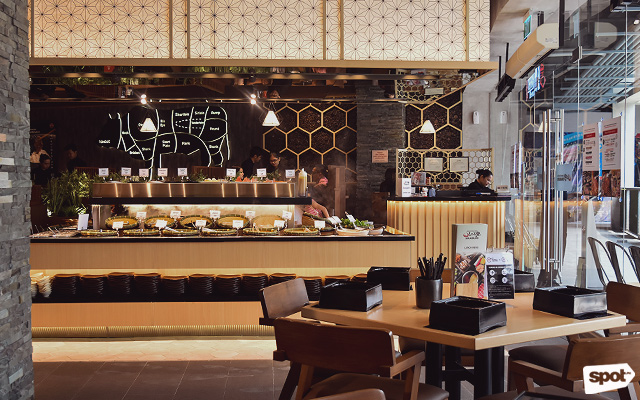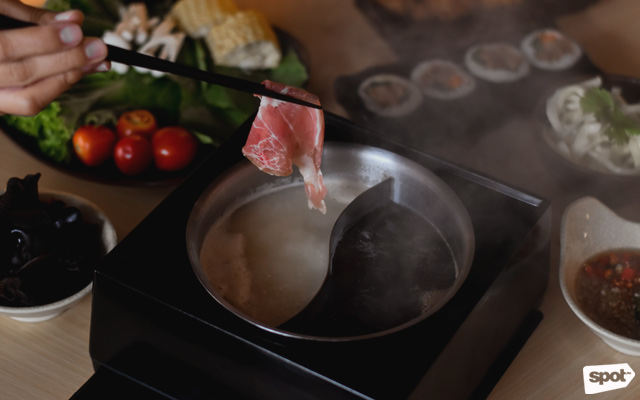 Shabu-shabu and yakiniku in one restaurant? Yes, please! From the name alone, you know you're in for a filling meal when you walk into Shaburi and Kintan Buffet. You can choose from different kinds of meats for their yakiniku, from premium wagyu to classic cuts in special marinades. For their hotpot, you can choose from five signature broths: Original Konbu (a basic dashi broth), Sukiyaki, Beef Pepper, Chicken Collagen Paitan, and Hot Miso. Plus, you can end your meal with unlimited UCC coffee!
ADVERTISEMENT - CONTINUE READING BELOW
Must-tries: For yakiniku, try out the Special Wagyu Buffet and for shabu-shabu, try the Shaburi Wagyu Set
Shiroi Daichi
Twenty-Five Seven McKinley, 7th Avenue corner 25th Street, Bonifacio Global City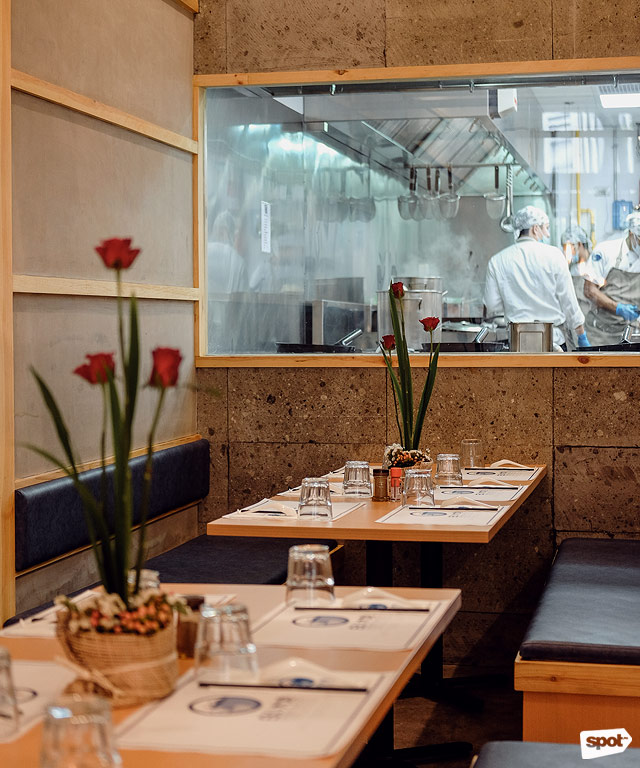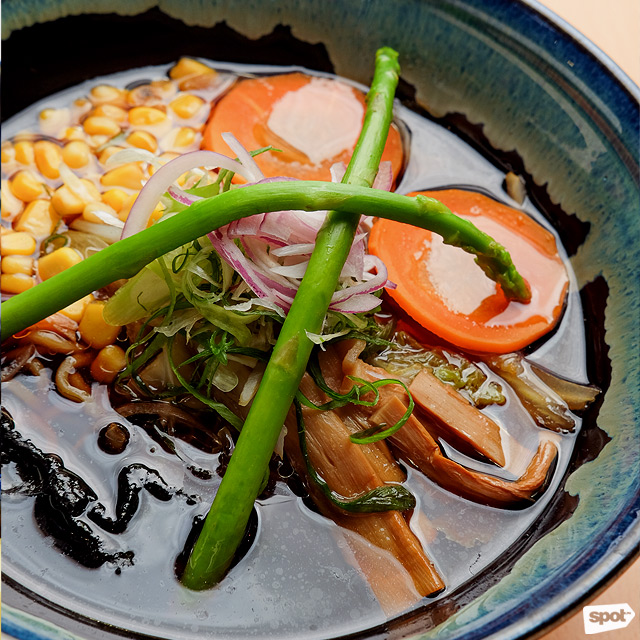 If you aim to be a thrill-seeker in all you do, this Sapporo ramen joint might be for you. From start to finish, Shiroi Daichi was built on risks, not least of which was the chef choosing to serve a version of the classic dish that the Philippine market might not even see as ramen. Yet we can safely declare their victory, because each spoonful of the Miso Ramen feels like a bubble of spring water that bursts to reveal a rich umami interior. We know that sounds like some Looney Tunes thing, but it's the truth. The Maze Men (as in mah-ze, not like a bunch of guys making a labyrinth) also embodies the term "flavor bomb."
ADVERTISEMENT - CONTINUE READING BELOW
Must-tries: Miso Ramen, Maze Men, Vegetable Shoyu Ramen
Siam Sukh Jai
2/F S Maison at The Conrad, SM Mall of Asia Complex, Pasay City
Contact: 821-6141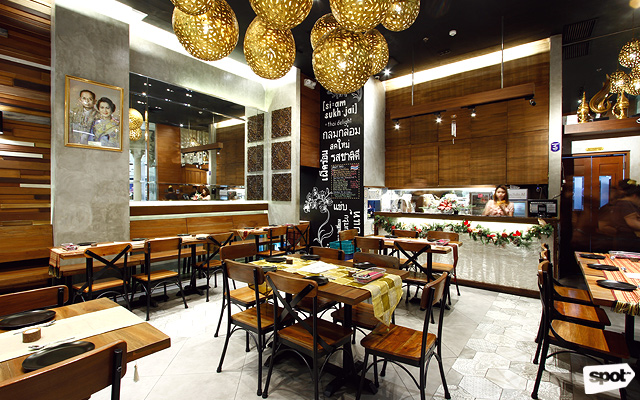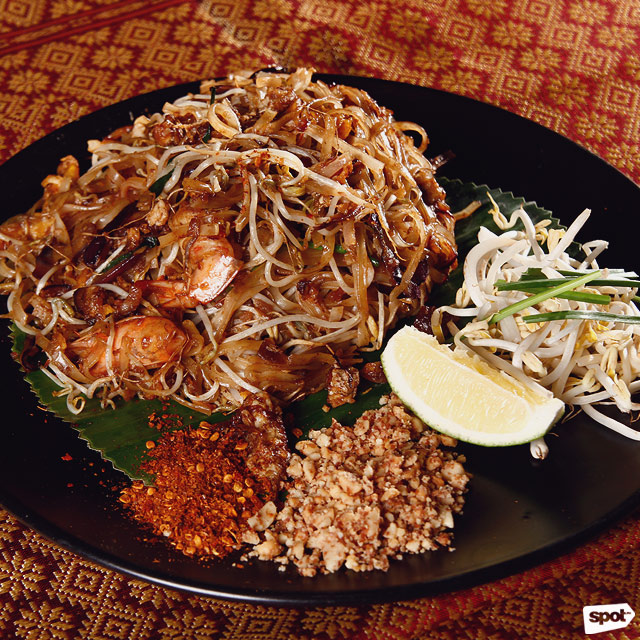 Siam Sukh Jai captures the feel of Thai home, from their deliberately cluttered interiors decorated with marble elephants and a portrait of Thai royalty to their menu. Owners Digs and Des Dimagiba were adamant about sticking to the Thai home-cooked food they had in their 10 years in Thailand, which means you have to be prepared for certain levels of spice at this resto. But it's not just all heat—the Gaeng Khiao Waan Moo or Thai green curry is spicy, sure, but also has herby notes and a subtle sweetness. Pair the curry with Khai Jeaw Moo or crispy Thai omelet with minced pork and egg to temper the heat.
ADVERTISEMENT - CONTINUE READING BELOW
Must-tries: Gaeng Khiao Waan Moo, Khai Jeaw Moo
Talisay The Garden Café
44 Maginhawa Street, Teachers Village, Quezon City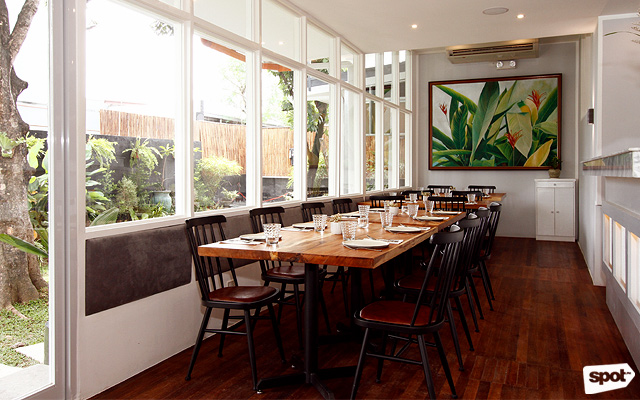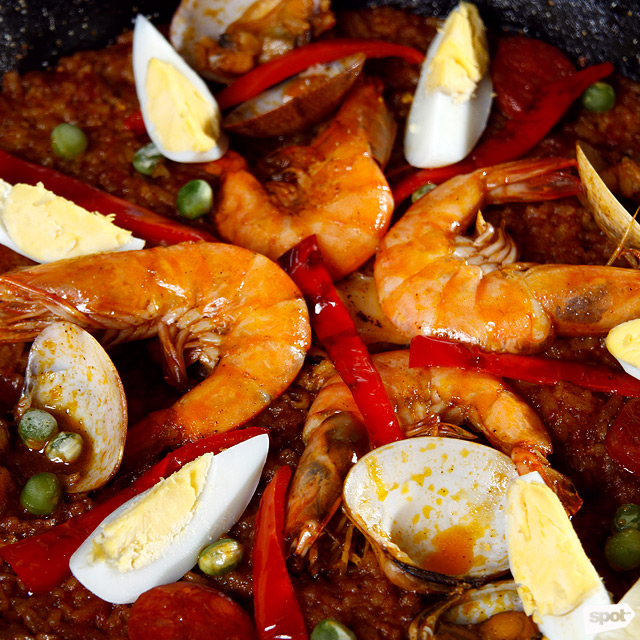 Chef Myke "Tatung" Sarthou's newest restaurant is one of the few places in the Metro where you can take things slow. Located in a revamped '70s-era home along Maginhawa Street, Chef Tatung built his restaurant with the dishes he grew up with in Talisay, Cebu, in mind, recreating that special homey feeling with each plate. Practically everything is made from scratch in Talisay, from the butter infused with seasonal flavors to the corned beef dried for days and roasted for hours—all recipes are either based off old family secrets or Chef Tatung's own inventions. This slow, dedicated method of cooking means that dining here makes for an easy, uncomplicated, but undeniably tasty experience full of the old familiar notes of childhood family dinners.
ADVERTISEMENT - CONTINUE READING BELOW
Must-tries: Paella Mixta, Karne Norte con Patatas
The Test Kitchen 
G/F One Rockwell, Rockwell Drive, Rockwell Center, Makati City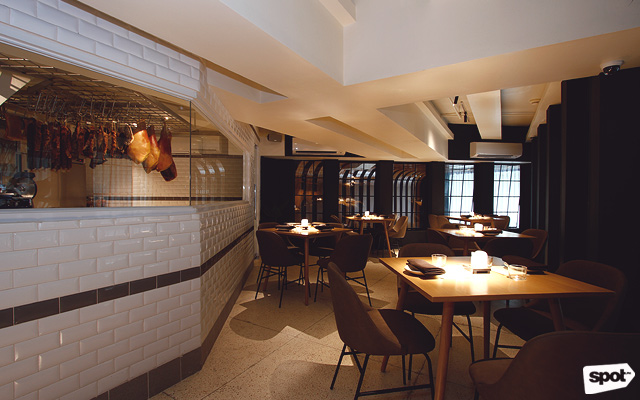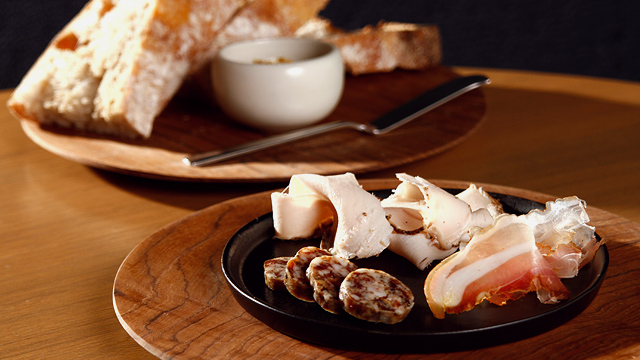 The triumphant return of Chef Boutwood's passion project had many food lovers on their toes—The Test Kitchen has only been open for a bit as of writing, and already people have reported being back twice or thrice. The bread alone could launch a thousand ships, but after you've had three or four courses, you'll feel like you can sink them all, and in the best way. The food isn't too complicated; the chef doesn't hide behind fancy ingredients, and considering the result, we're big fans of that.
ADVERTISEMENT - CONTINUE READING BELOW
Must-tries: Today's Bread, Today's Charcuterie
The Bake House
Lobby Level, Shangri-La at the Fort, 30th Street corner 5th Avenue, Bonifacio Global City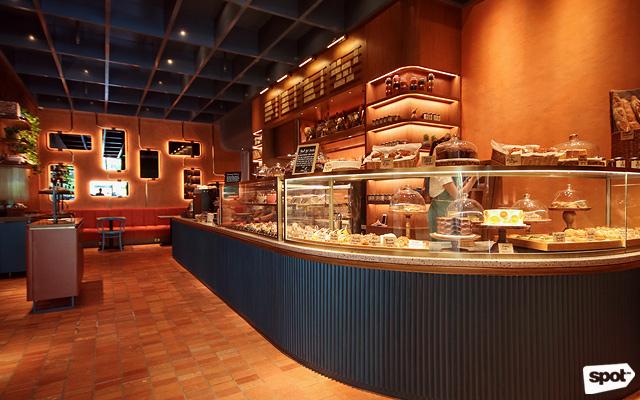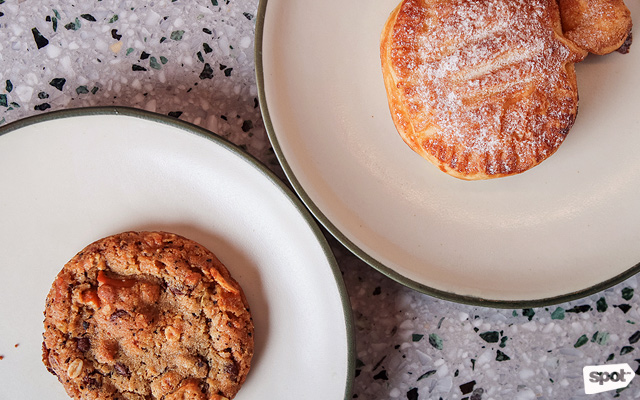 The most surprising thing about one of BGC's newer neighborhood cafes is that it's hiding inside Shangri-La at the Fort. And yet, don't expect exorbitant prices for their coffee and pastries—even though they are still of five-star hotel quality thanks to Chef Anthony Collar, chief pâtissier of Shangri-La at the Fort. If you're in the mood for something savory, go for the classic combination of salty prosciutto and peppery arugula in the Prosciutto and Arugula Toast. On the other hand, your sweet tooth would easily fall in love with Apple Turnover, an incredibly buttery, flaky pastry filled with spiced apples. Don't leave without taking home a Conscious Cookie, which is a gooey, nutty, and buttery treat. It's made of different kinds of leftover cookie dough—a part of The Bake House's efforts to be as close to zero-waste as possible.
ADVERTISEMENT - CONTINUE READING BELOW
Must-tries: Apple Turnover, Conscious Cookie
The Food Hall
5/F SM Aura Premier, C5 corner 26th Street, Bonifacio Global City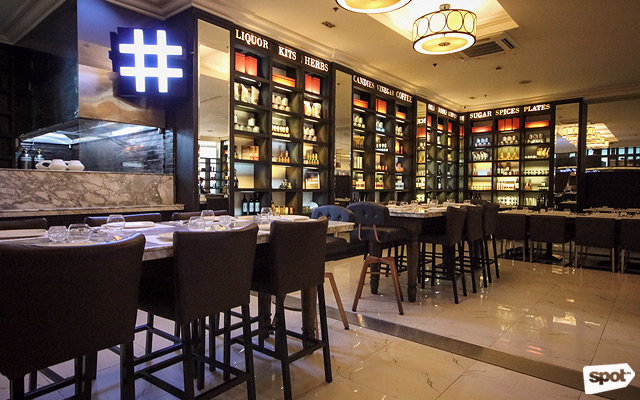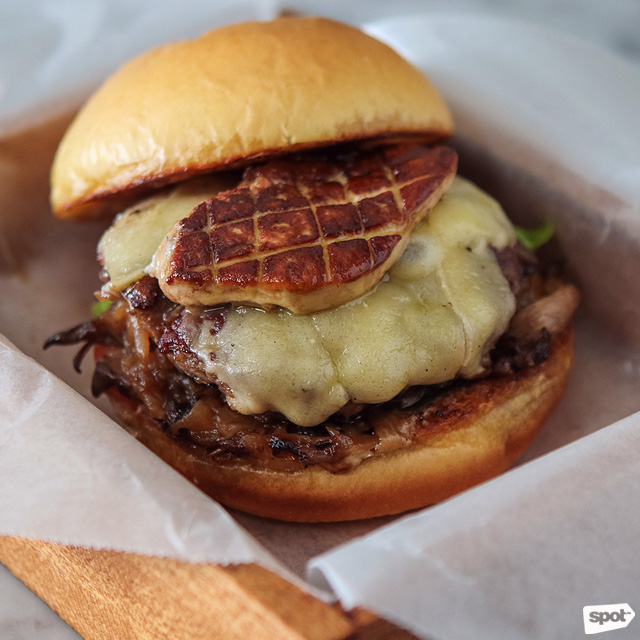 At The Food Hall, it's easy to treat yourself to luxe dishes like foie gras and truffle without breaking the bank. Prices aren't exactly dirt-cheap, but they aren't extremely extravagant either—especially when you consider that servings come in hefty sizes good for three or four people. Treat yourself to a Foie Gras Burger, which comes with a juicy beef patty, a thick slab of foie gras, truffle aioli, and Gruyere cheese. You can also go for the Raw Platter, with fresh oysters, salmon tataki, tuna poke, and a coriander-lime granita.
ADVERTISEMENT - CONTINUE READING BELOW
Must-tries: The Raw Platter, Foie Gras Burger
Tiyo Craft Kitchen + Bar
CKB Centre, Tomas Morato Avenue corner Scout Rallos Street, Diliman Quezon City
Contact: 0967-206-6730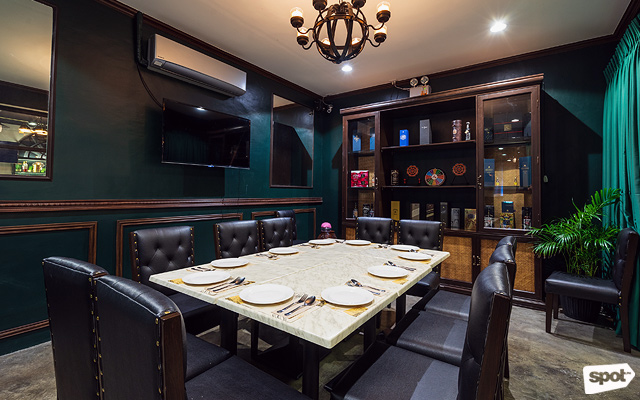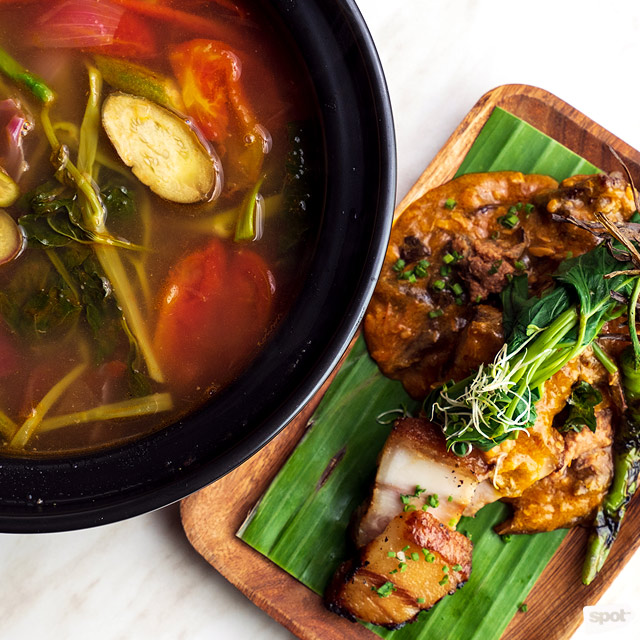 The interiors are really something—drawing inspiration from Escolta and more modern, rustic designs, Tiyo Craft Kitchen + Bar manages to marry the two to create a déjà vu effect that doesn't feel freaky. We admire that they elected to go more regional, highlighting ingredients and dishes that the owners love from outside the imaginary lines of Metro Manila. The Lengua Kaldereta Nachos, Inihaw na Liempo Sinigang, and Kare Kareng Corned Beef are the stuff of group-dining dreams, but we wouldn't judge you if you go to town on them solo.
ADVERTISEMENT - CONTINUE READING BELOW
Must-tries: Inihaw na Liempo Sinigang, Pedro's Uprising, Streetside Special
Wildflour Italian
G/F The Finance Centre, 9th Avenue corner 26th Street, Bonifacio Global City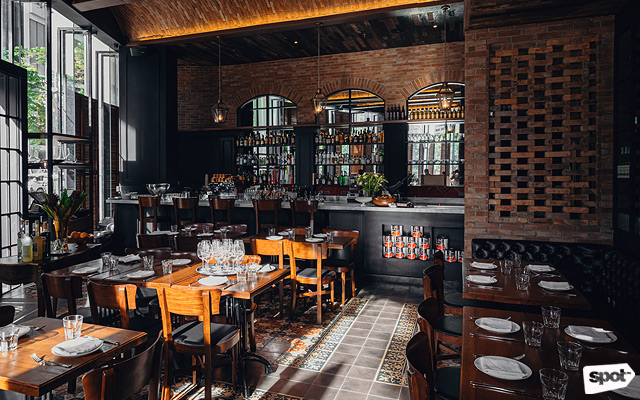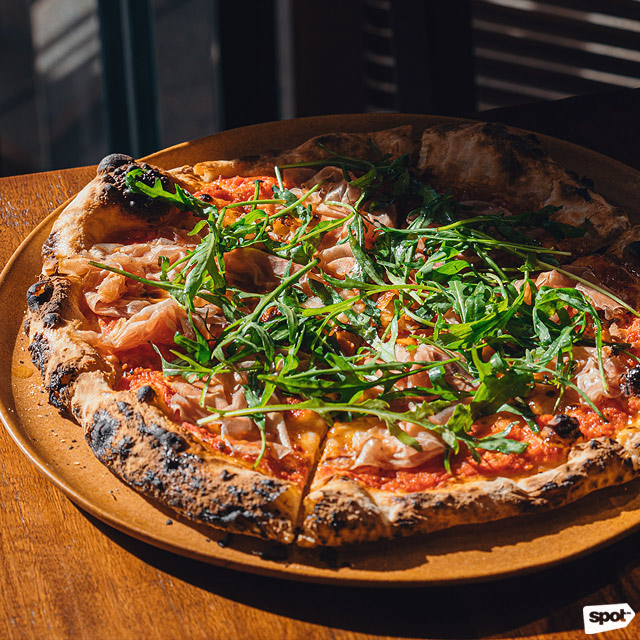 We've always trusted Wildflour to deliver well when it comes to bread, pastries, and brunch classics, so when we heard they were opening a spin-off focused on Italian, we knew to expect a lot—which they've met and then some. Wildflour Italian's pizza is, unsurprisingly, excellent—pizza, after all, starts with a good crust, and what is pizza crust if not bread but in a different form? Combined with only the best produce—Wildflour Italian sources their ingredients as much as possible from Italy—and you have all the requirements for a standout pizza. But don't sleep on their other menu offerings: A simple, creamy egg-and-Parmigiano sauce is all that's needed for the fresh bucatini in the Bucatini Carbonara to shine, while the Tuna Crudo with tuna, cucumber, tomato, pink radish, and microgreens is bright and tangy.
ADVERTISEMENT - CONTINUE READING BELOW
Must-tries: Prosciutto pizza, Tuna Crudo
Wow Wok
2/F UP Town Center, Katipunan Avenue, Quezon City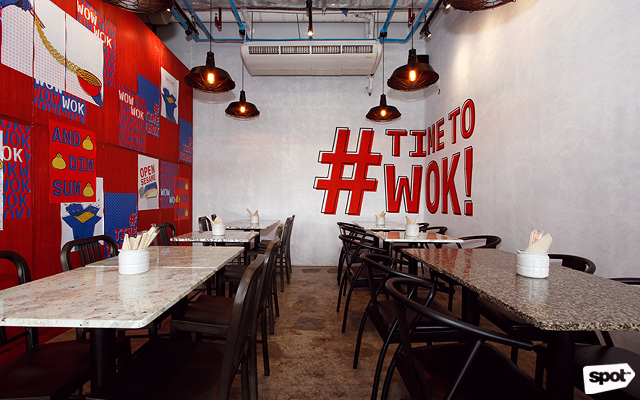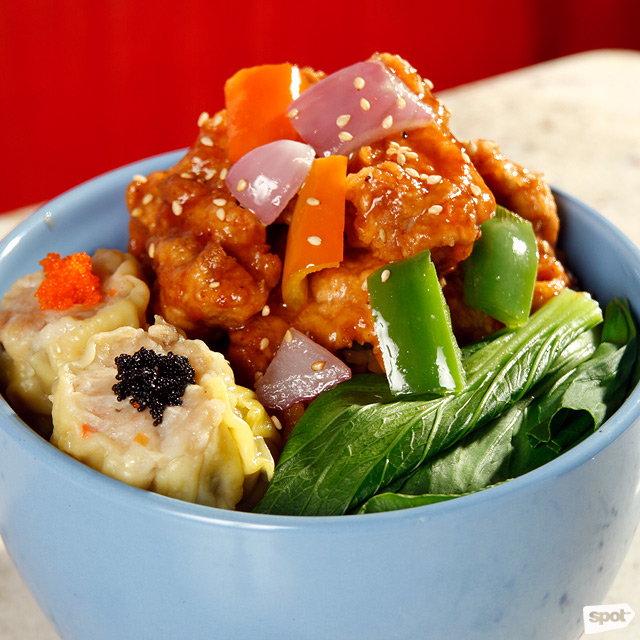 If the American understanding of Chinese cuisine and Archie comics artist Dan DeCarlo had a baby—and asked a really good home cook to be the godmother—you'd get Wow Wok. Think unambiguous comfort food tailored to Asian sensibilities; no one does rice/noodle bowls better, after all. There aren't any real standouts—you could order almost anything and walk out happy—but if we're being pressed, the Surf & Turf and the 5-Spice Chicken Wings are a couple of must-tries.
ADVERTISEMENT - CONTINUE READING BELOW
Must-tries: Surf & Turf (over noodles), 5-Spice Chicken Wings, Salted Egg Chicken Wings 
WYLD Kitchen x Bar
2/F Unit 2, The Grandia Place, Mother Ignacia Avenue, Quezon City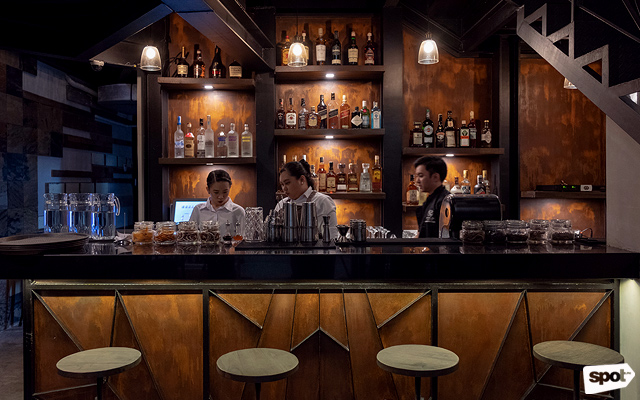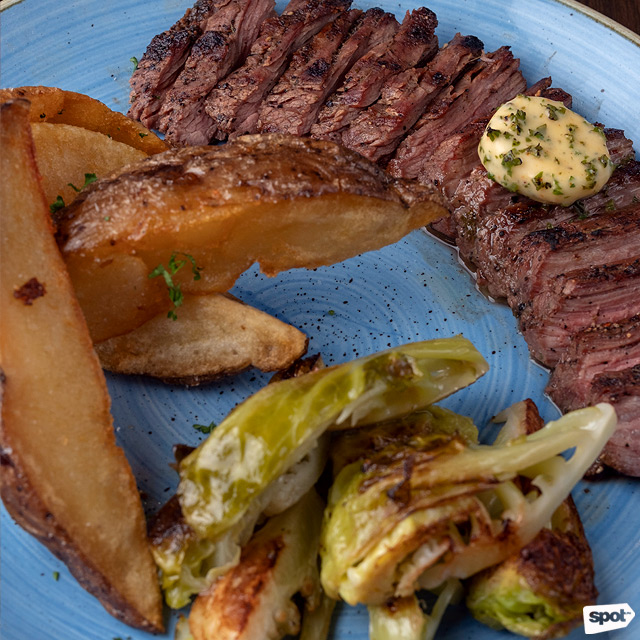 Inspired by the wilderness of Colorado, chef and owner Kenn Gonzales set out to change the public's understanding of comfort food: "There's always a way," he says, "if you get creative." From WYLD's sustainability efforts to their fresh-to-death Nachos, there's a lot to love and keep coming back to. They also do a mean flank steak, and the Ale Cheddar Soup is just the thing when you're feeling like you need a pick-me-up.
ADVERTISEMENT - CONTINUE READING BELOW
Must tries: Calamari, Grilled Herb Marinated Flank Steak
With additional reporting by Roxie Ramirez.
Share this story with your friends!
---
Help us make Spot.ph better!
Take the short survey
Load More Stories