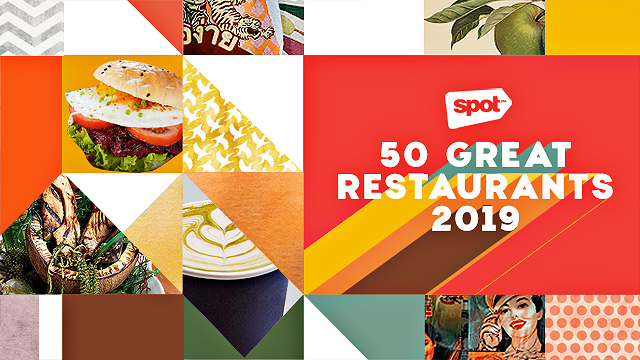 (SPOT.ph) Anyone who lives to dine knows that Metro Manila's food landscape is ever-changing. It's a finicky industry, for sure, but this also inspires a lot of new restaurants to take that extra step in terms of flavor and experience to make them unforgettable. We saw a lot of openings, from cozy homegrown eateries to international franchises, and here are our picks of 50 of this year's most noteworthy restaurants.
*Restaurants are listed alphabetically. This list has been limited to restaurants that opened between November 2018 and November 2019.
Here are our 50 best restaurants in Metro Manila for 2019:
1950 Restaurant
14 Castilla Street, Quezon City
Contact: 0906-201-3191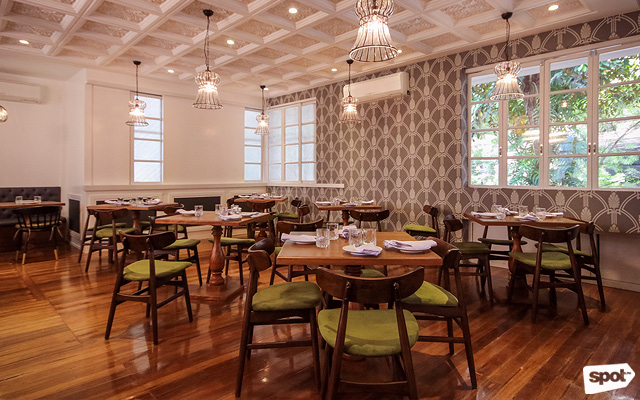 ADVERTISEMENT - CONTINUE READING BELOW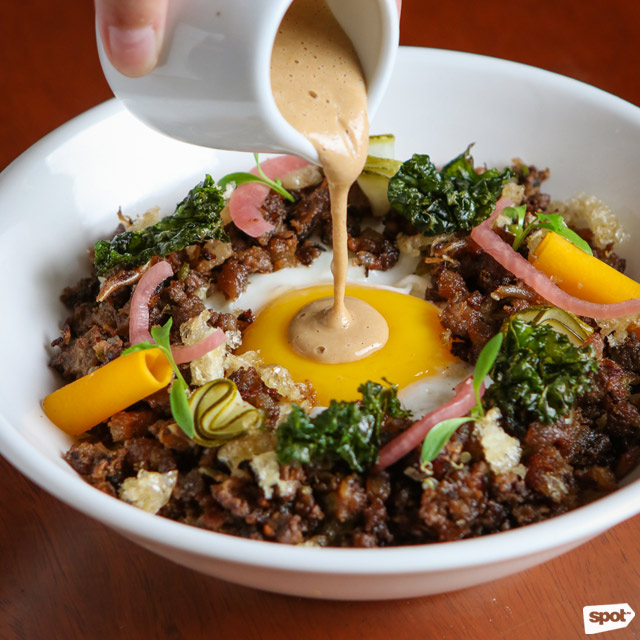 There's nothing like homestyle cooking, and 1950 Restaurant in Quezon City takes it up a notch. Located in an old ancestral home owned by the Santaromana family, this small but cozy restaurant features fresh and unique takes on classic Filipino dishes. Highlights include the Sinigang na Lechon, with broth made from caramelized pineapple rather than the usual tamarind. It results in a soup that's sweet and tart, making it the ideal base for fatty lechon. Another must-try is the Bagnet Sisig, a rice bowl that's topped with tons of crispy pork bits and drizzled with a savory umami soy sauce.
Must-tries: Sinigang na Lechon, Bagnet Sisig 
Almacen
5910B Matilde Street, Poblacion, Makati City
Contact: 0977-291-1920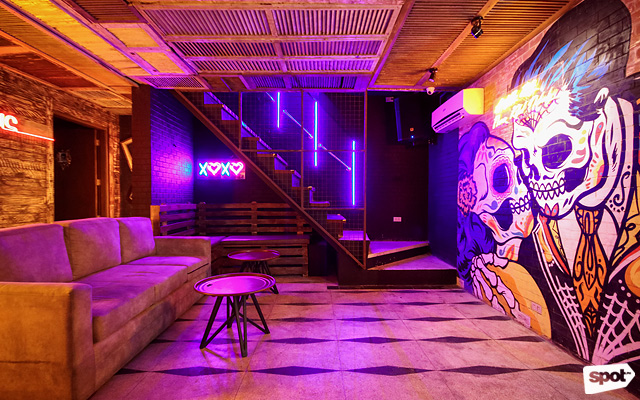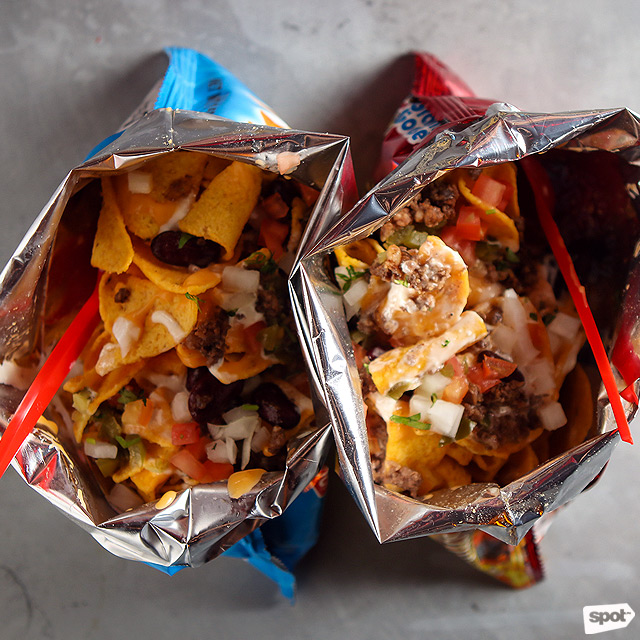 "This is a place to leave your daily burdens behind," says Jave Maceda, co-owner of Fil-Mex Poblacion joint Almacen. The restaurant's name means "warehouse" in Spanish and its colorfully lit interiors take inspiration from Dia De Los Muertos, with paintings of calacas lining the walls and neon lights all around to add to the space's mysterious, escape-from-the-real-world feel. Whether you want to grab a cocktail to end your busy week or fill up on hearty comfort food, this is a spot you wouldn't want to miss. Both Pinoy and Mexican snacks get a fun twist with each plate. Try fun platters with your friends like the Mexican Corn Elote, which you can get coated in hot Cheetos, or the Street Nachos made with a choice between Mr. Nachos or Granny Goose Tortilla Chips. Enjoy your munchies with a cold drink: there's the Beer-Killa Cocktail, a potent slushy for adults that's part beer, part margarita, and all icy goodness. You may want to take it slow with this drink, but we wouldn't judge if you just can't resist gulping down one after another.
ADVERTISEMENT - CONTINUE READING BELOW
Must-tries: Mexican Corn Elote, Street Nachos, Beef Pares Open Burrito, Beer-Killa Cocktail
am.pm
2/F Ayala Malls Manila Bay, Asean Avenue corner Diosdado Macapagal Boulevard, Aseana City, Parañaque City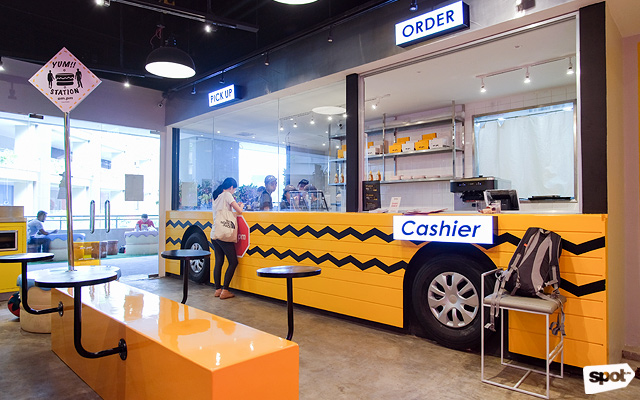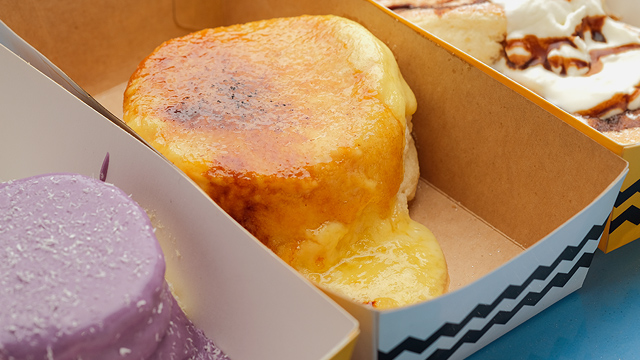 With all the hype surrounding food on social media, it isn't rare to end up in a resto that serves up dishes purely for the 'gram; thankfully, am.pm is not on that list. You might have seen the soufflé pancakes from the original branch in Hong Kong popping up on your feed, and if you've ever wanted to try it for yourself, then head over to their first ever Philippine branch at Ayala Malls Manila Bay. They take pancakes and elevate the fluffiness with extra egg whites and a dash of magic, and smother the entire thing with thick cream sauce in different flavors. Add extra toppings and a side of soft-serve made in-house, and you've got yourself a dish that isn't just worth a spot on your feed, it's worth every bite.
Must-tries: Signature flavor Crème Brulee, Manila-exclusive Ube
Artesa Deli + Coffee
Unit 2D Strip Building, 20 United Street, Kapitolyo, Pasig City
Contact: 0917-538-5004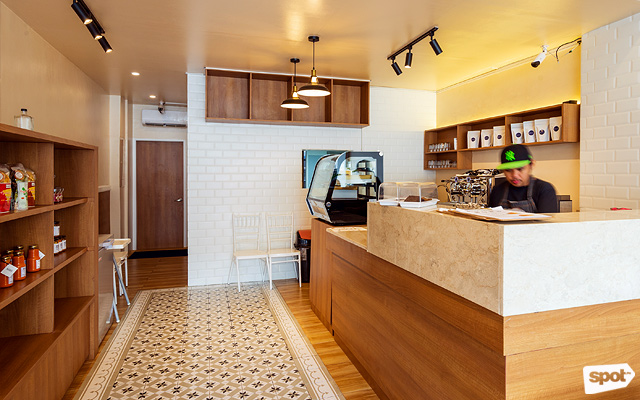 ADVERTISEMENT - CONTINUE READING BELOW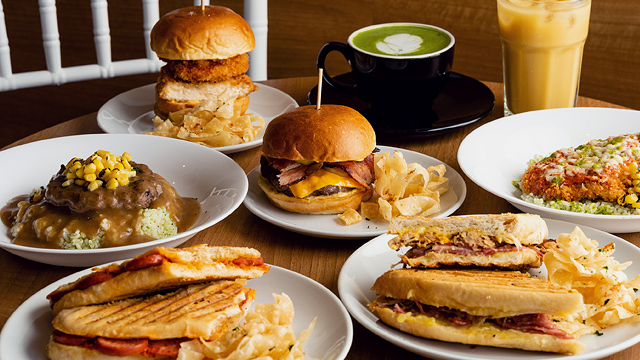 Taking its name from the Catalan word for handcrafted, Artesa Deli + Coffee prides itself on making almost everything on its Latin-inspired menu from scratch. They also add a bit of flair to the classics: their Cubano is made with a crunchy baguette instead of white bread, and they've even added sweet pulled pork to the usual ham, pickles, and cheese combo. Check out their elevated version of the burger steak, the Tomato Gravy, too. And while the mains are the stars of the menu, their homemade Wanton Crisps, served on the side of every meal, are sure to compete for your attention.
Must-tries: Cubano, Tomato Gravy
BAD Café
G/F Windsor Tower, Legazpi Street, Legazpi Village, Makati City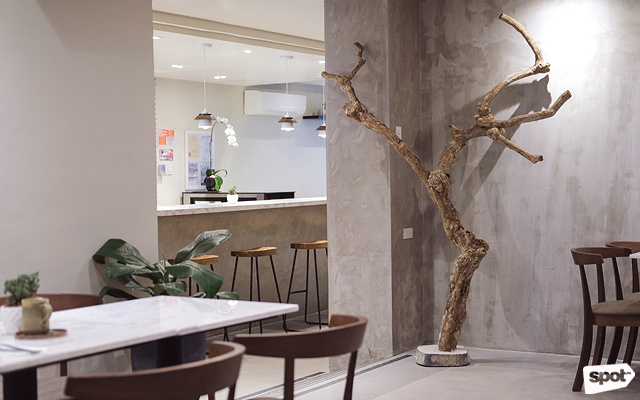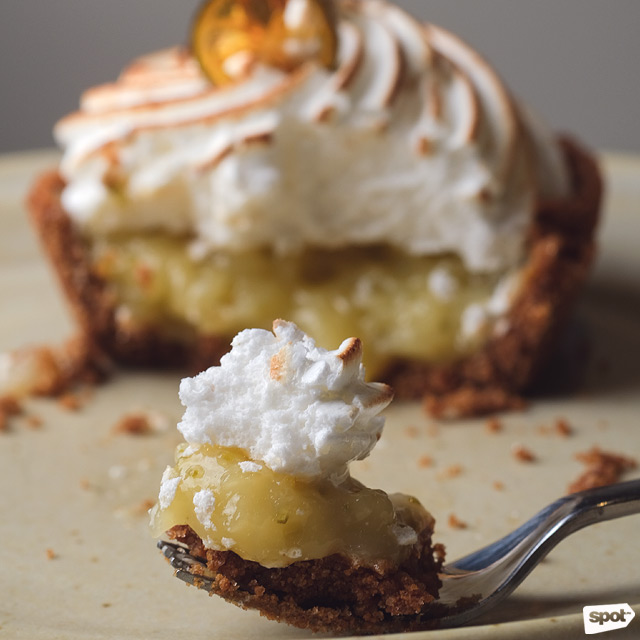 The brainchild of real-life partners Brian and Dianne Westphal is pretty much a hub of self-care, in its own weird way. They make their own Homemade Cola, serve a mean Fried Chicken + Mac 'n Cheese, and keep their interiors clean, bright, and cozy. If you're still on the fence regarding the cake-versus-pie debate, BAD Café might sway you towards the latter. In short, it's a tiny Zen getaway in the middle of Makati, and we all need something like that right now.
ADVERTISEMENT - CONTINUE READING BELOW
Must-tries: Homemade Cola, Calamansi Pie
BBX
2/F Glorietta 2, Palm Drive, Makati City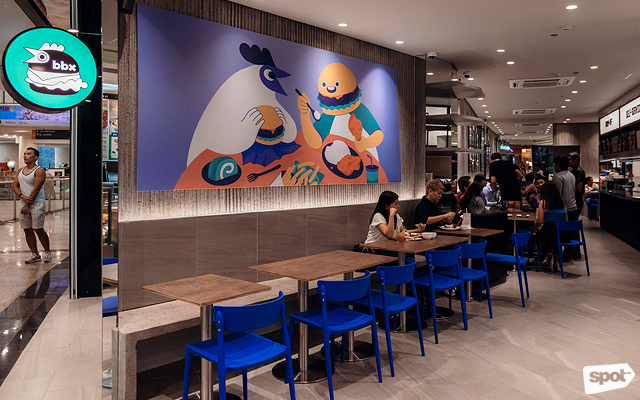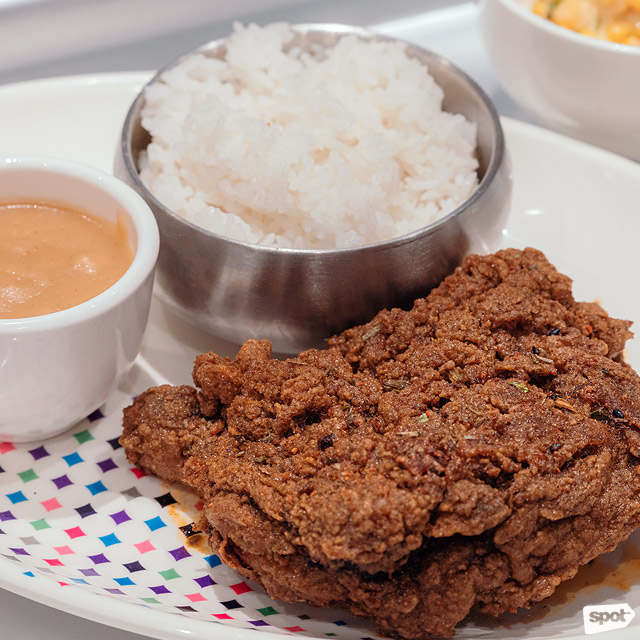 Bad Bird had a baby! BBX falls somewhere between a casual sit-down restaurant and a grab-and-go sort of place, but the menu kind of calls you to do both. It's the same chicken you know and love, but there are also hearty sandwiches, great sides, and an easygoing vibe that beckons you back. We'll put it this way: No bowl of corn has ever entranced us so much, nor been on such steady footing when dancing with fried chicken this flavorful.
Must-tries: Fried Chicken Plate, The LEA
Beso Beso/Esqinita
P. Guanzon Street, Poblacion, Makati City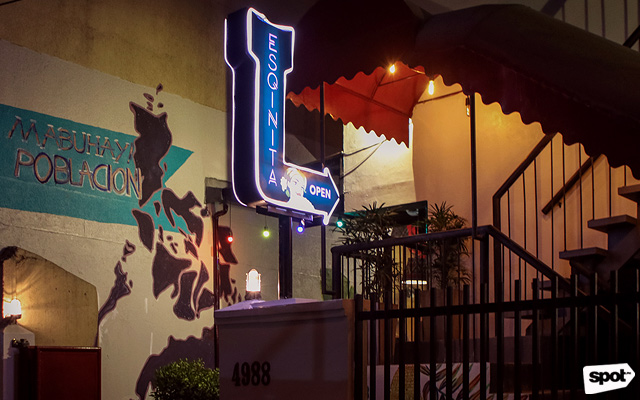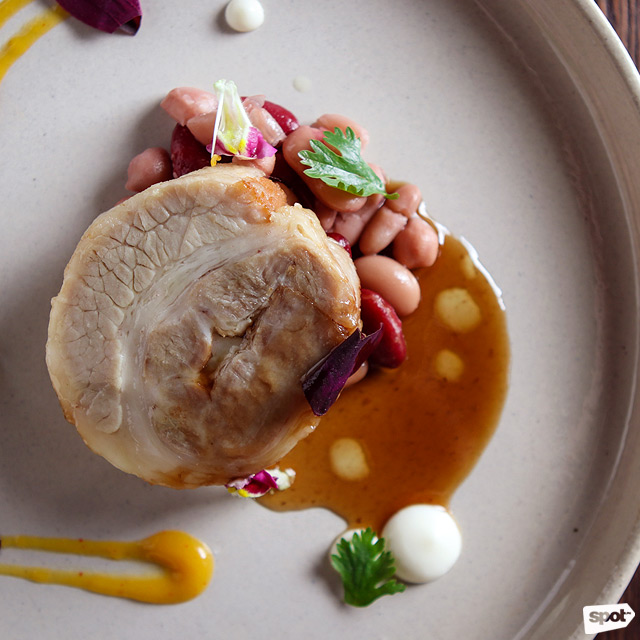 ADVERTISEMENT - CONTINUE READING BELOW
Conceptualized by Chef Rob Pengson, Beso Beso and Esqinita are actually two unique concepts found in a single restaurant. Esqinita calls itself a modern Filipino carinderia. They try to keep everything sugar-free, but that's not an easy feat considering Filipinos love their sweet and salty flavors. The focus here is on bar chow, with dishes like the Inihaw na Talong, or grilled eggplant that comes with sour cream, cheese, and spicy salsa. On the other hand, Beso Beso is purely a tapas place. This restaurant fuses together Spanish, French, Italian, and Japanese cuisines, resulting in a menu that highlights ingredients like truffle, foie gras, nori, and chorizo.
Must-tries: Esqi Nachos, Lechon Cinco Cebollas
BirdBox
9th Avenue corner Lane P, Bonifacio Global City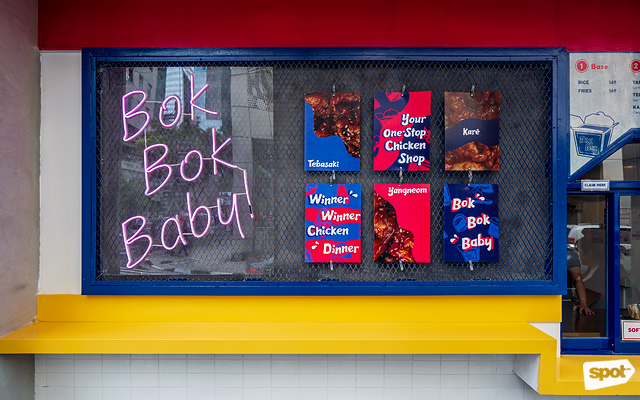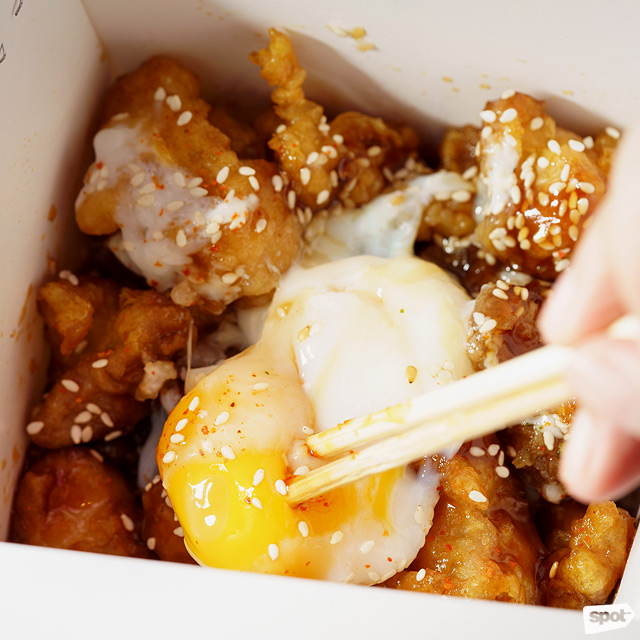 BirdBox opened at a time when a movie of the same name was taking social media by storm. Admit it: You've most likely forgotten about the movie, but for anyone who's had BirdBox's fried chicken, it's pretty hard to get the meal off your mind. Their boneless fried chicken comes tossed in your choice from three Asian-inspired flavors they created themselves, before being placed atop a bed of rice or fries. Sweet-ish Tebasaki is an easy crowd favorite, but the Yangnyeom, substantially spicy but with a tang that makes it more complex thanks to gochujang, shouldn't be overlooked. Don't forget to throw in an onsen egg.
Must-tries: Chicken Box with Rice in Yangnyeom or Tebasaki
BOA Kitchen + Socials
Mezzanine Floor, 45 ABDC Building, Scout Rallos Street corner Scout Tuazon Street, Laging Handa, Quezon City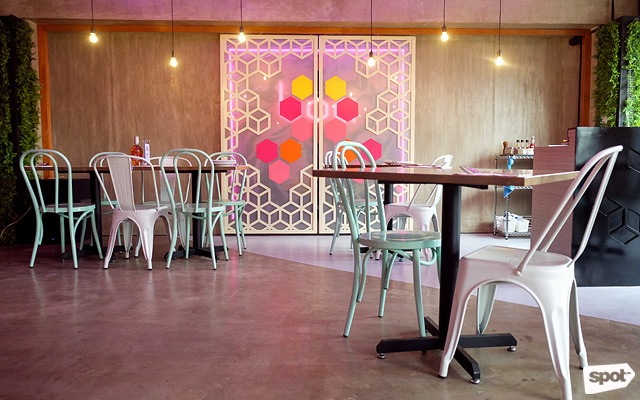 ADVERTISEMENT - CONTINUE READING BELOW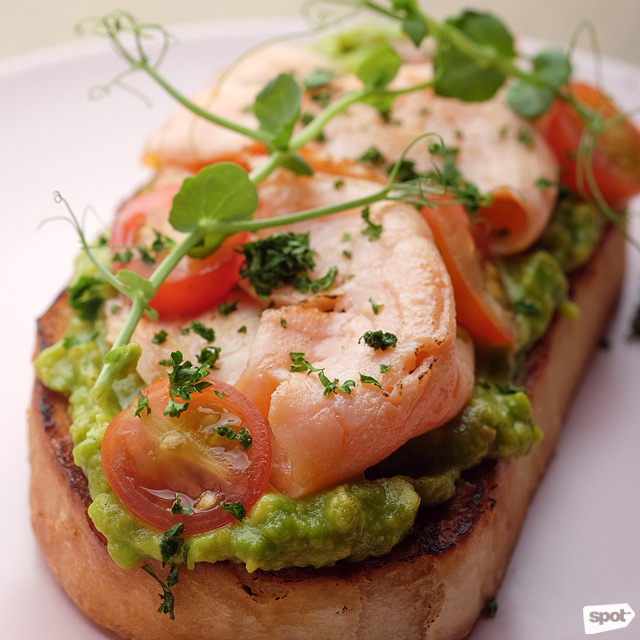 Constantly going back to a restaurant means knowing what to expect, and sometimes getting stuck in a let's-just-order-the-usual rut. BOA Kitchen + Socials is far from predictable, so you'll want to keep going back just to witness the place change from cheery breakfast place to neon-lit food joint for socials. Think the vibe is the only thing that shifts? Think again—BOA's menu also changes as nighttime comes, and the morning meals transform to fit the mood at night. Fun fact: The store's name, concept, and interiors are inspired by the boa constrictor from The Little Prince. Indeed, everything is not what it seems, and BOA will have you wanting to see—and taste—both sides.
Must-tries: Torched Salmon and Avocado Toast, Hanging Tender
Classified Kitchen + Wine Café
24 Scout Tuason Street, Barangay Laging Handa, Quezon City
Contact: 966-9576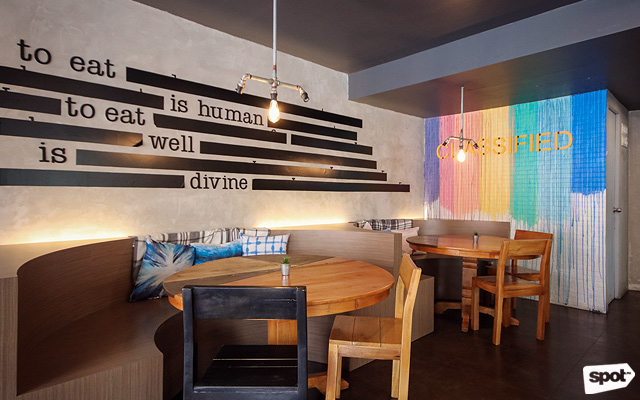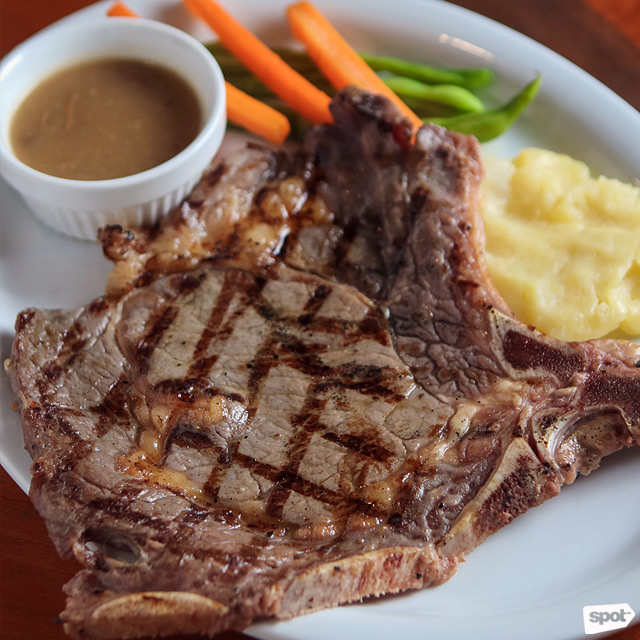 No need to spend too much or go to high-brow places to get some good food that's well-made and worth every bite—Classified Kitchen is proof. The restaurant, owned by brothers Ranj and Alfred Retuya, is made extra homey thanks to the rustic-meets-industrial interiors and hearty goodness of each meal. Best part? You can dine like a king without breaking the bank. They've got options like the Truffled 4-Cheese Ravioli and the Australian T-Bone Steak or the U.S. Angus Ribeye Steak and Grilled Marrow. At this laid-back QC haunt, you'd be as satisfied and comforted as you would be at your family's usual Sunday brunch.
ADVERTISEMENT - CONTINUE READING BELOW
Must-tries: Truffled 4-Cheese Ravioli, Australian T-Bone Steak, U.S. Angus Ribeye Steak and Grilled Marrow, Moist Dark Chocolate Cake
Crazy Ramen
88 Lilac Street, Concepcion Dos, Marikina City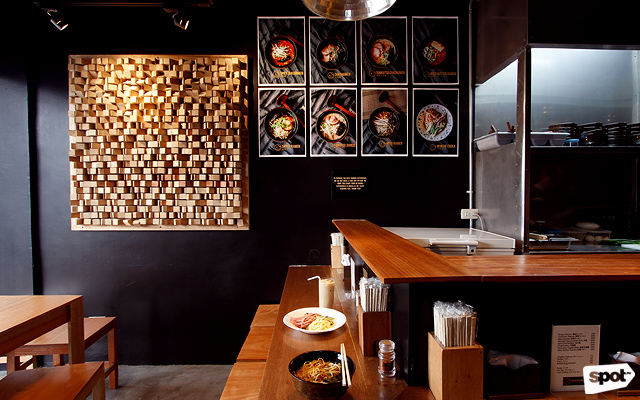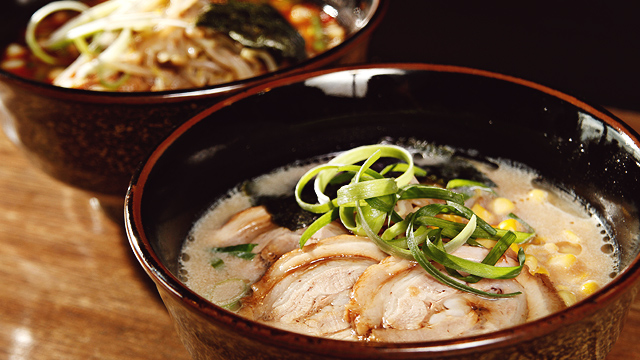 From the makers of Crazy Katsu comes this little miracle in Marikina that brings excellent, lovingly made ramen to an unusual neck of the woods. The menu and the venue are small, sure, but that's where tradition stops over at Crazy Ramen. The flavors are clean and classic, making it very difficult to pick a favorite. Chef Shinji Tanaka doesn't hold back, but doesn't get too outrageous, either—his stuff is just "crazy" good. The Miso Butter Ramen is some beautiful stuff, and even the sole non-ramen item, the Hiyashi Chuka, holds its own in terms of flavor.
Must-tries: Tonkotsu, Miso Butter, Hiyashi Chuka

Easy, Tiger
2/F Uptown Mall, Uptown Bonifacio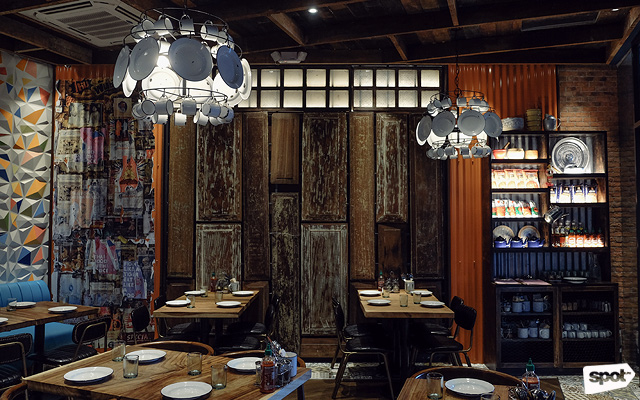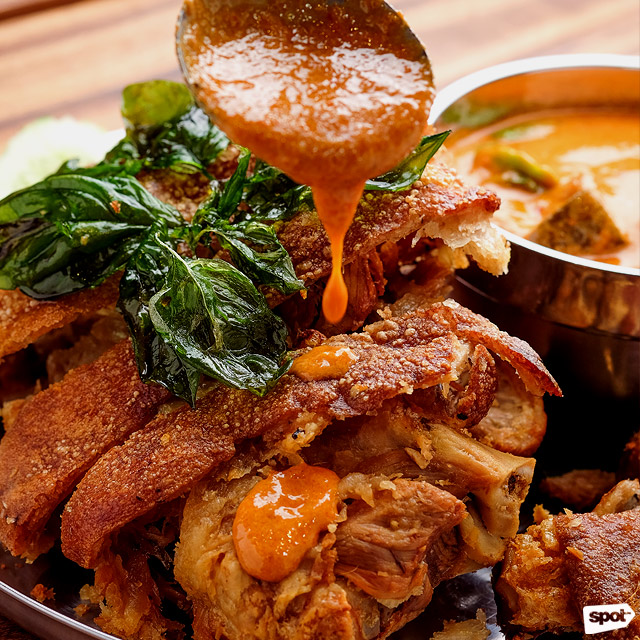 ADVERTISEMENT - CONTINUE READING BELOW
Even when they were just a food stall at The Podium's Corner Market, it was, well, easy to see that Easy, Tiger was meant for something bigger. In February, they brought their edgy-cool vibe and affordable Thai dishes with a kick to Uptown Mall. A bigger space meant they could also expand their menu with entrees like the show-stopping Crispy Pata with Red Curry or an enormous, golden-fried pork knuckle served with a spicy-briny red curry sauce. Easy, Tiger also shines the spotlight on lesser-known Thai dishes like Thai Grilled Pork Neck—the thinly sliced pieces are melt-in-your-mouth succulent and pair well with the briny chili dip.
Must-tries: Thai Grilled Pork Neck, Crispy Pata with Red Curry
El Gaucho
G/F Trump Tower at Century City, Kalayaan Avenue, Makati City
Contact: 0917-323-8019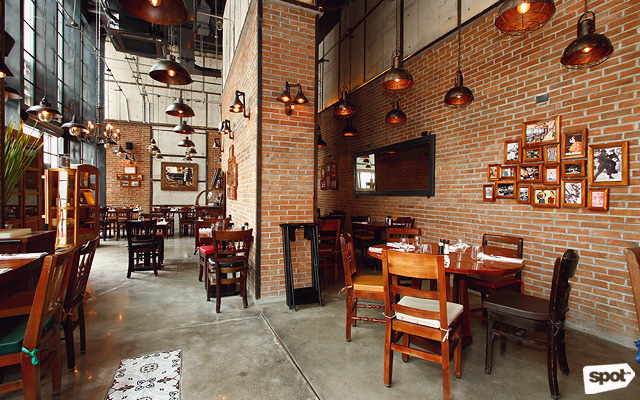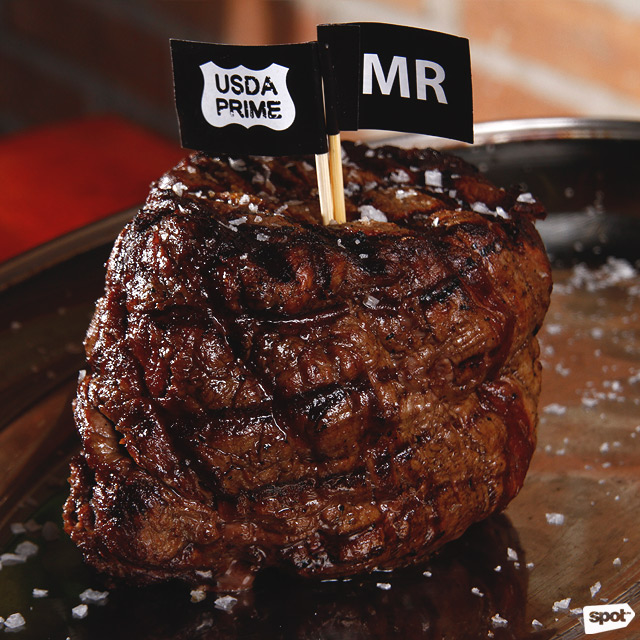 El Gaucho takes its name from the South-American term for cowboy, and it's clearly an inspiration for the restaurant's interiors. With their wooden tables, brick walls, and hanging lamps, this Argentinian steakhouse makes you feel like you've been transported to a Western-style saloon. Meat, of course, is the star of the show here, with almost every dish on the menu featuring some sort of pork or beef. Most come here for the steaks, which are sourced from premium farms in America and Australia, so you know you're getting the most tender cuts. 
Must-tries: Filet Steak, Tomahawk
Elephant Grounds
LG/F One Bonifacio High Street Mall, Bonifacio Global City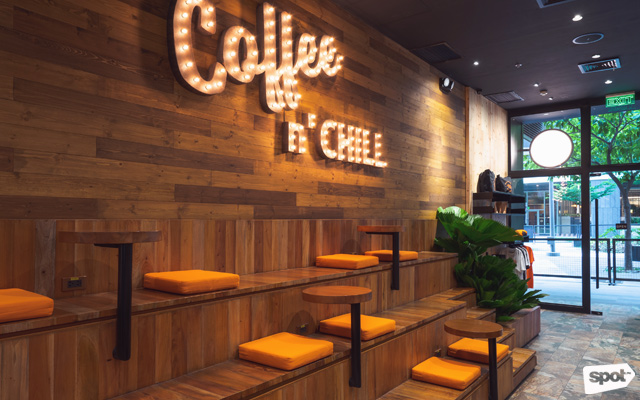 ADVERTISEMENT - CONTINUE READING BELOW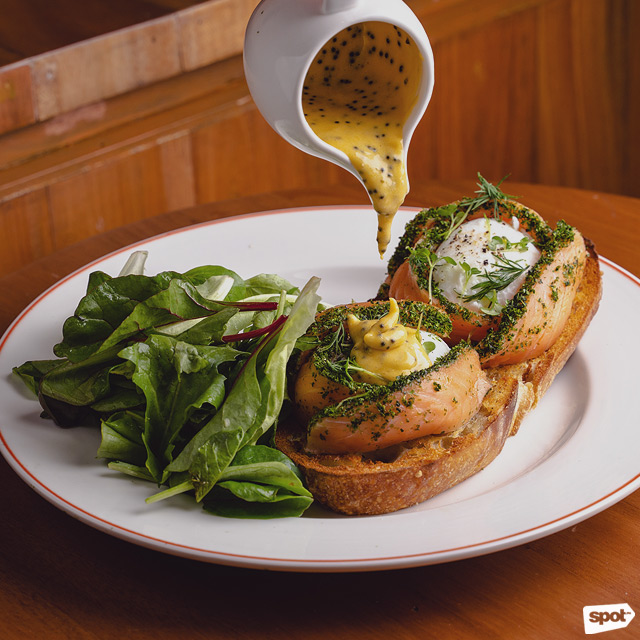 Those who are always in Hong Kong have most likely tried, or at least heard of, Elephant Grounds. But their outpost at One Bonifacio High Street—their first outside of HK—will still be a different experience. While still keeping the effortlessly cool vibe of the original, the local team, with the help of Chef Nicco Santos, was given lots of leeway in making the menu their own. This means you can get brunch items like the Yuzu Salmon Eggs Benny with velvety Hollandaise sauce and salmon that they smoke themselves, or rice bowls like Duck Krapow with spicy, crispy stir-fried duck on fluffy Japanese rice. Don't leave without having one of their signature ice cream sandwiches.
Must-tries: Yuzu Salmon Eggs Benny, High Societea ice cream sandwich
Group & Boiler
G/F Molito Lifestyle Center, Madrigal Avenue, Alabang, Muntinlupa City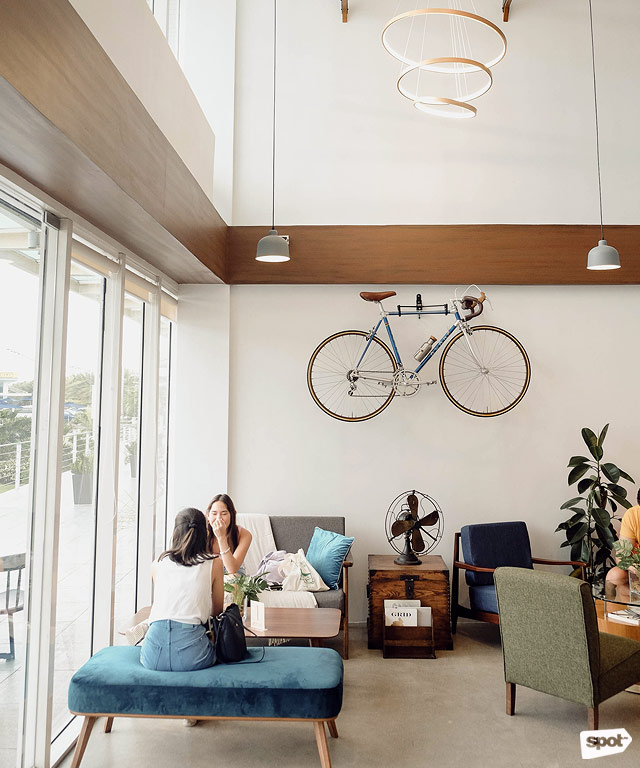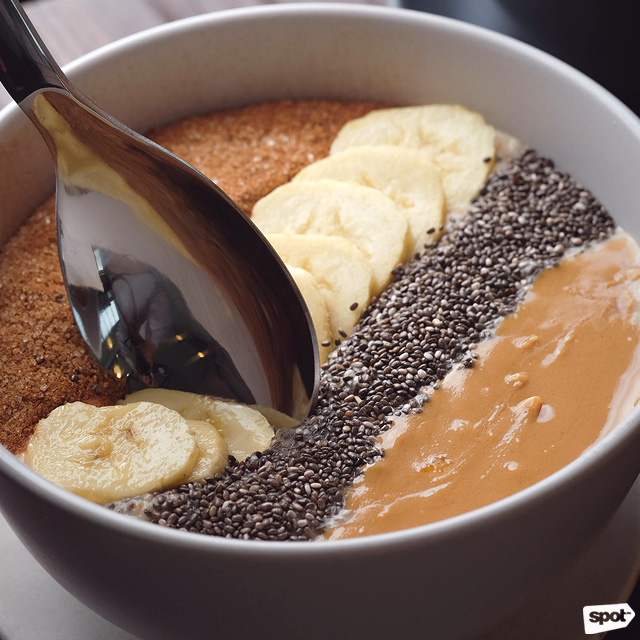 Many of you have probably scoffed at the idea of overnight oats and would, therefore, never bother to try making them. That's understandable. But Hans Juan seems to live by the principle of "let's see if we can do this better"—and that's pretty much how Group & Boiler was born. Great coffee and a clean, unbothered atmosphere already make this place worth visiting, but the steps they've taken towards a zero-waste way of life and some excellent in-house pastrami seal the deal.
ADVERTISEMENT - CONTINUE READING BELOW
Must-tries: Banana Nut Overnight Oats, G&B Signature

Hakata Ton-ichi
4/F Top of the Glo, Japan Town, Glorietta 2, Makati City
Contact: 255-8105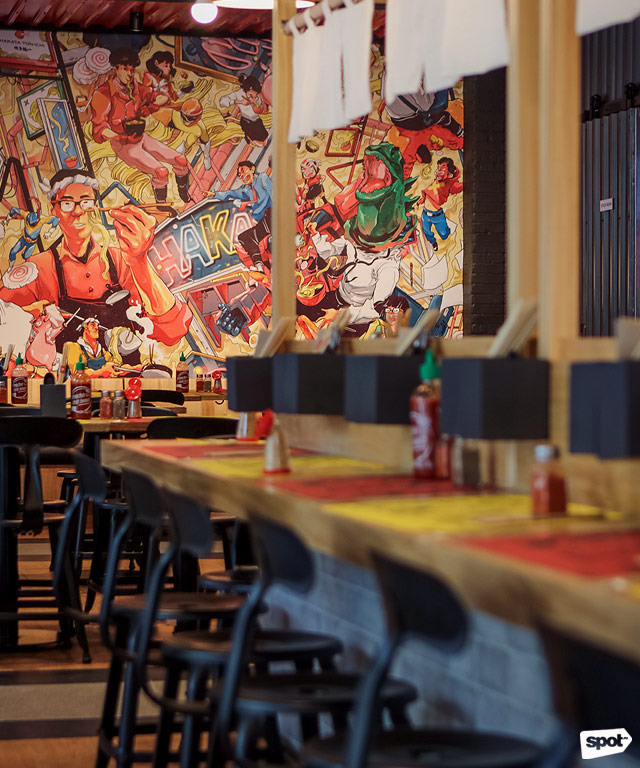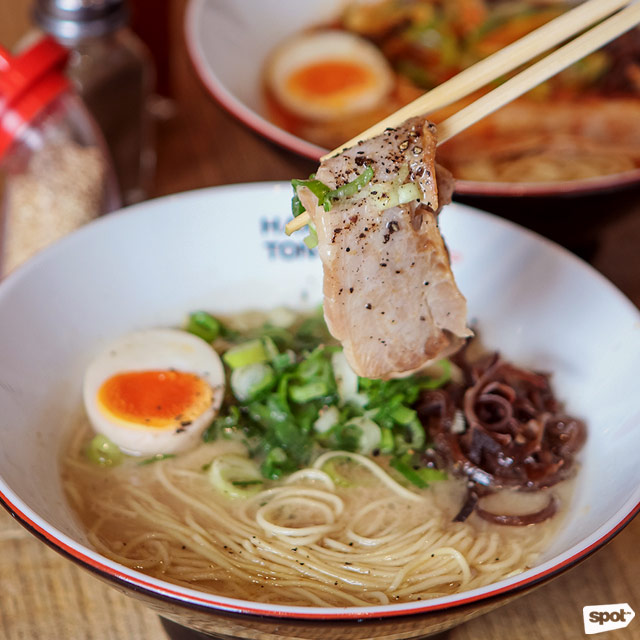 Good ramen doesn't have to burn a hole in your wallet. At the colorful and vibrant Hakata Ton-ichi, bowls of ramen go for just around P200. The restaurant specializes in modern Japanese cuisine, so aside from the fun anime-covered interiors, you can expect unique offerings like squid-ink infused Black Ramen alongside unbeatable classics like Gyu Don. The Metro isn't exactly lacking in terms of Japanese restos, but you can add Hakata Ton-ichi to your go-to places for quality food minus the usual hefty price tag.
Must-tries: Ton-ichi Ramen, Gyu Don
Hapag
201 Katipunan Avenue, Project 4, Quezon City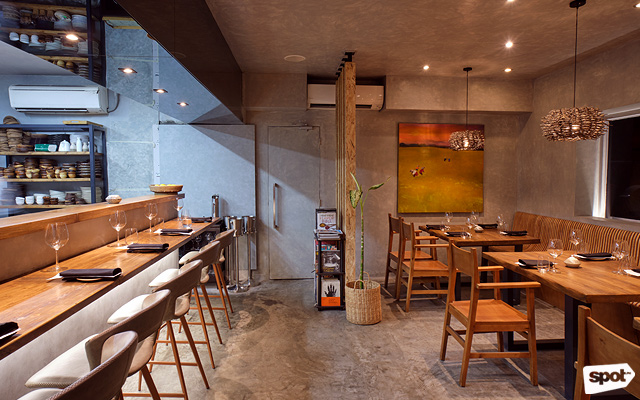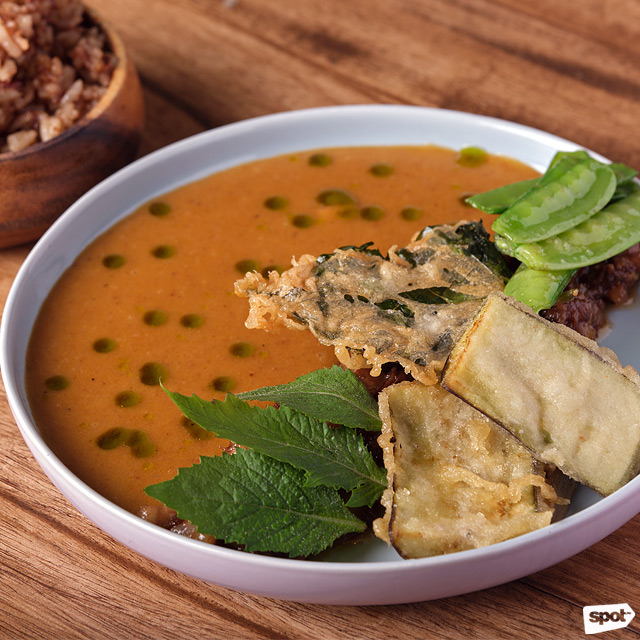 ADVERTISEMENT - CONTINUE READING BELOW
We'll admit, we're hesitant when it comes to "modern twists on Filipino classics," but Hapag is so obviously run by people whose respect for the many subcultures of the Philippines works right alongside their love of food in general. They're not afraid to experiment; the risk pays off well. From recipes they had in their childhood to suggestions made by last week's customers, Thirdy Dolatre, Kevin Paolo Villarica, and John Kevin Navoa take on every challenge as it comes. Think of the Litson Binagoongan as required reading that you ended up enjoying, if it were a food; the Kare Kare ni Lola V is a must for those who can't get enough of peanut sauce.
Must-tries: Litson Binagoongan, Mangga't Suman
Harlan + Holden Coffee
G/F One Bonifacio High Street Mall, 5th Avenue, Bonifacio Global City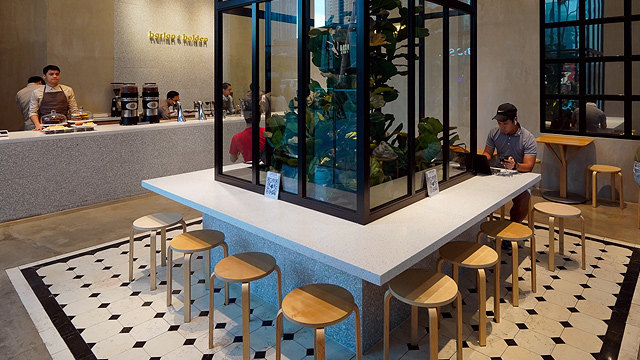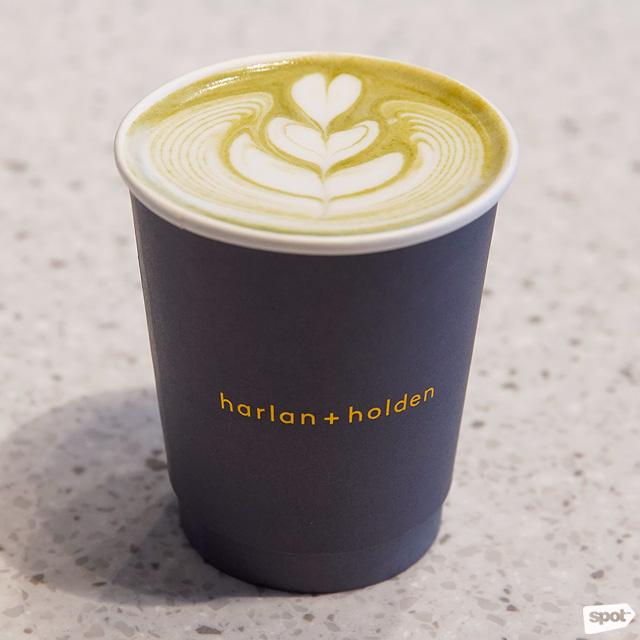 "Because coffee," reads Harlan + Holden Coffee's tagline (often mistaken to be their name), displayed in large silver letters both inside and outside the minimalist space—and what better way to describe how you feel most days? This fuss-free caffeine stop understands your need for that perfect cup of joe and promises to make the experience as easy as possible thanks to their self-checkout tables that let you pay cashless, and their app (available on iOS and Google Play), which lets you order your drink in advance. Try some of their coffeehouse classics like the Cream Latte or Matcha Green Tea Latte. For something that's not your usual, go for their Sea Salt Latte. Need a snack to go with your cuppa? Grab the Chocolate Chip Walnut cookie to-go for some melt-in-your-mouth goodness.
Must-tries: Cream Latte , Matcha Green Tea Latte, Sea Salt Latte
Hey Brew
G/F Theatre Mall, Greenhills, San Juan City
ADVERTISEMENT - CONTINUE READING BELOW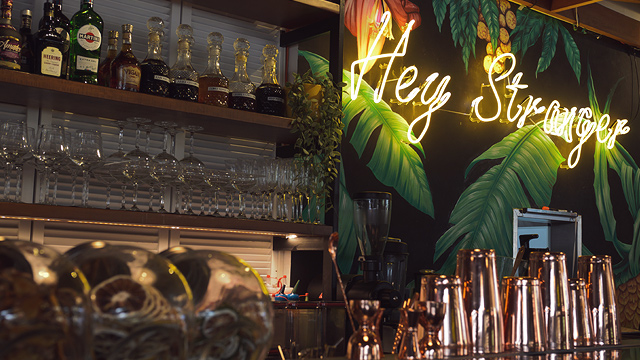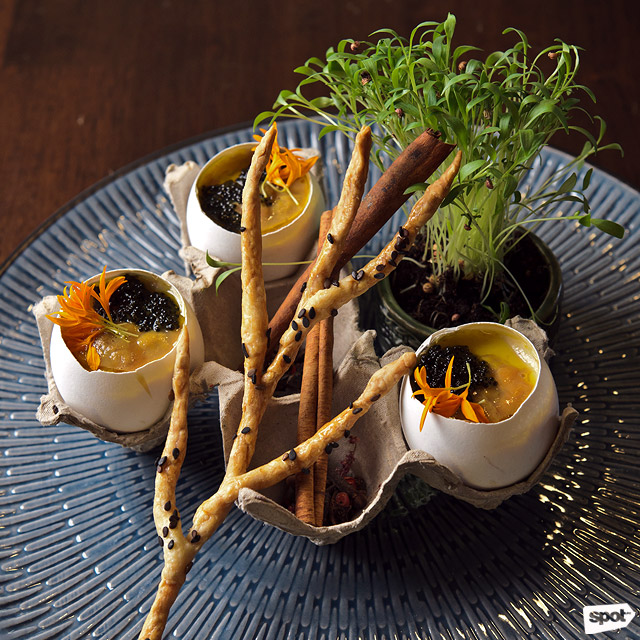 Greenhills usually isn't on anyone's food map, but Hey Brew is hoping to change that. A collaboration between chef Niño Laus, mixologist Kalel Demetrio, and restaurant owner Janina Lao, this tropical-themed bar and restaurant features Instagram-worthy bar chow and creative takes on cocktails, milkshakes, and coffee. The menu fuses together international flavors, resulting in mash-ups like the Foie Gras Chawanmushi, a blend of French and Japanese dishes, and the Middle Eastern-inspired Grilled Prawns, which comes coated in a spicy harissa sauce. Pair any of the dishes with drinks from the bar menu, whether it's something non-alcoholic like the sweet-and-salty Brown Sodium Milkshake or the beginner-friendly Empire State of Sour cocktail.
Must-tries: Foie Gras Chawanmushi, Beef Ox Tongue Sandwich
Honolulu Café
LG/F SM Aura Premier, Bonifacio Global City
Contact: 886-3333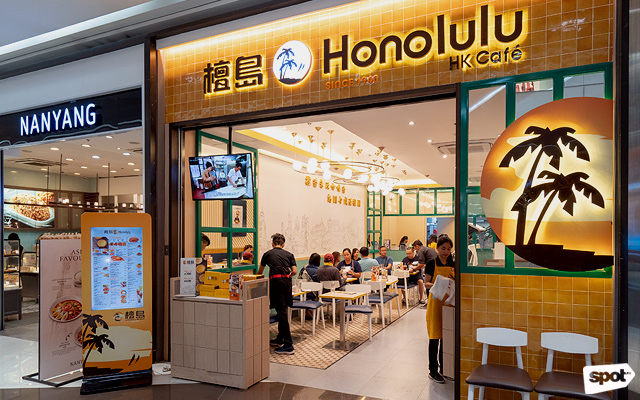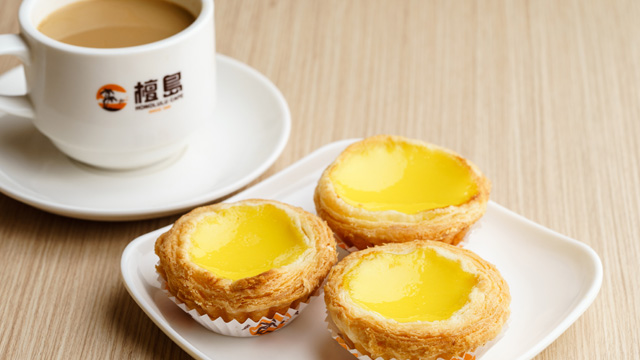 ADVERTISEMENT - CONTINUE READING BELOW
No need to fly all the way to Hong Kong to hang out at one of the island's most famous tea restaurants (or cha chaan teng if you want to be more accurate)—the oldest of which is Honolulu Café. Originally established in 1940, the restaurant made its Manila debut in January at SM Aura Premier, and the café's colorful, modern interiors will transport you to one of their outposts around the world. Their signature Egg Tarts have a creamy center and buttery crust that's baked to flaky perfection. Word of advice: Go early. The egg tarts are baked fresh and sold in limited quantities every day. Pair it with their Hong Kong Style Milk Tea or Hong Kong Style Coffee. If you're looking for a filling meal on weekends with the fam, they've also got options like the tangy-spicy Deep Fried Prawn with Thousand Island Sauce or the Stirred Fried Flat Rice Noodles with Beef.
Must-tries: Egg Tarts, Hong Kong Style Milk Tea, Stirred Fried Flat Rice Noodles with Beef 
Hui Lau Shan
4/F Atrium, SM Megamall, Mandaluyong City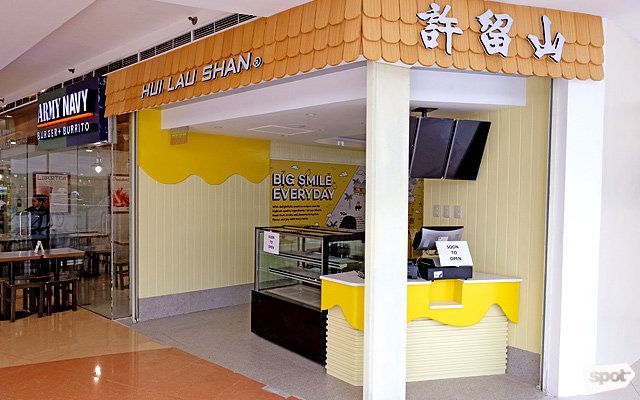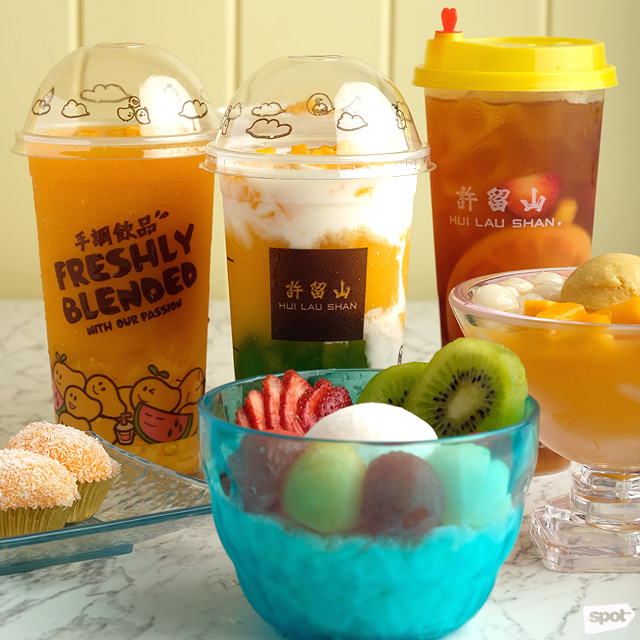 Taking a Pinoy staple and putting it in everything sounds exactly like the kind of thing that wouldn't work, but Hui Lau Shan has defied that expectation in branches around the world. With coconut cream toppings and zesty fruit teas, this mini-but-mighty place that first hit Manila shores in SM Megamall really packs a flavor punch. (The mascot is super cute, too!)
Must-tries: A1, B3, Mango Mochi
Khao Khai
5772 Ebro Street, Poblacion, Makati City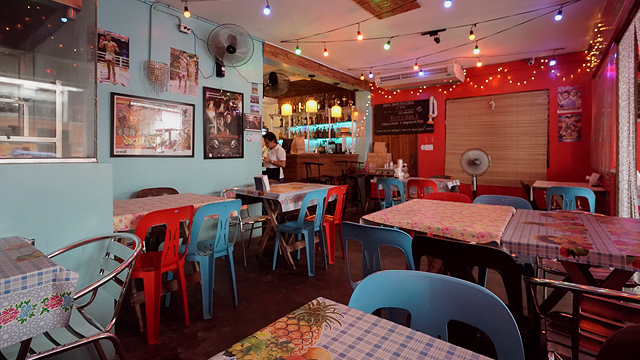 ADVERTISEMENT - CONTINUE READING BELOW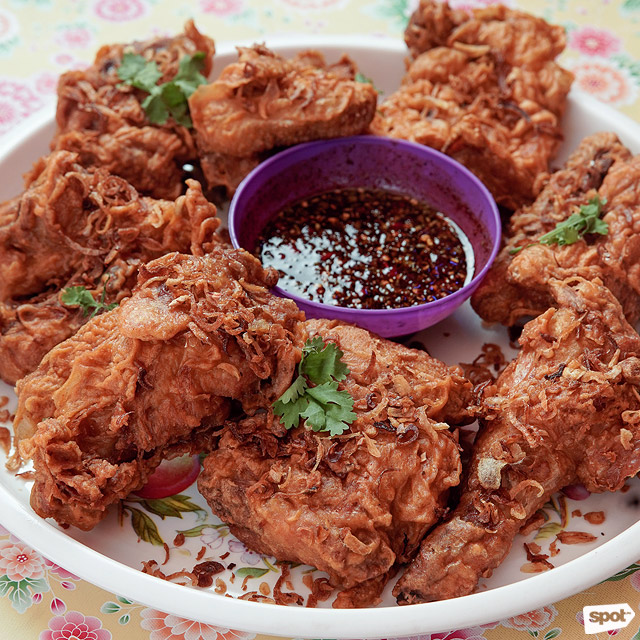 Ah, Poblacion. You'll find almost every type of cuisine and eatery here, including Khao Khai, a Thai hole-in-the-wall that looks like it came straight from the streets of Bangkok, and somehow landed on the side streets of Makati. Pad thai is expected of most Thai eateries, but Khao Khai swaps the familiar glass-noodle dish for street cart-style fried chicken. You can lose the utensils, too: feel free to use your hands on those flavor-packed wings. 
Must-tries: Gai Tod, Dry Pork Curry
La Picara
2/F One Bonifacio High Street Mall, 28th Street corner 5th Avenue, Bonifacio Global City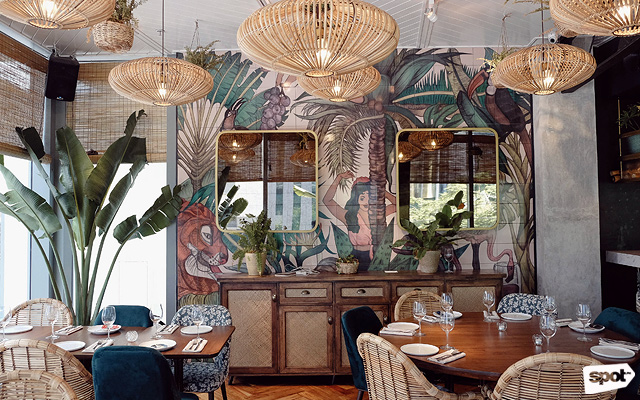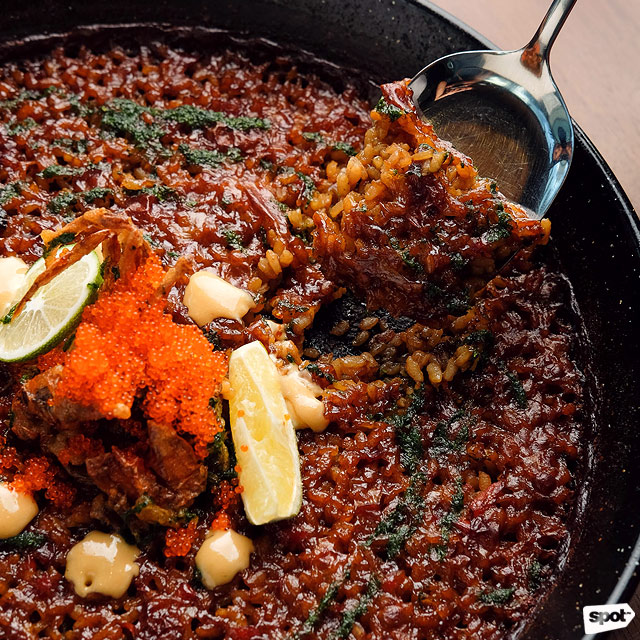 From their ultra-colorful, tropics-inspired interiors to their cheeky animals-wearing-human-clothes plates, you know that you're up for a fun time at La Picara. The playfulness doesn't stop at the decor; though owner Isabel Calvo describes the menu as "95% Spanish," there is that 5% of inspiration they get from other, mostly Asian, cuisines to create unique dishes like the Kim
Share this story with your friends!
---
Help us make Spot.ph better!
Take the short survey
More Videos You Can Watch
Load More Stories