(SPOT.ph) On a typical day, Quezon City hole-in-the-wall Buen Comer Poquellas can get pretty busy. Customers—many of them students or regulars who live around the area—come by for the neighborhood eatery's famous Kare-Kare Burrito and then stay for a bit to just hang out.
But as the COVID-19 pandemic unfolded, all that changed—the sidewalk cantina had to close for a month because of the lockdown. "We [needed] to strategize or find ways to produce and be able to accept orders in a safe and proper way," says co-owner Chat Umali.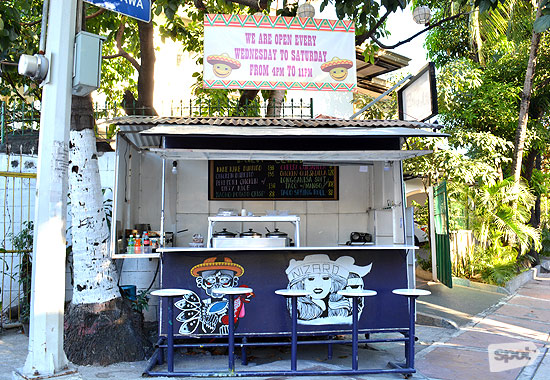 The eatery has since reopened, but with scaled-down operations. Umali shares that they only accept advance orders via Viber to "avoid bogus orders, because given the current situation, we are having a hard time with our supplies [and] stocks per day."
The situation has also made it especially hard for the restaurant staff. "[Since] the time we closed, 80% of them are still not working because they went home to their provinces and their respective municipalities," shares Umali. "Until now we cannot let them start [working again] because we don't want to risk their [or our customers'] health. We wanted to contain the environment, so we [have only been] working with our in-house staff [since we reopened]."
ADVERTISEMENT - CONTINUE READING BELOW
The Local Dining Scene Before COVID-19
From debating over where to find the best sisig in the city to bonding with friends and family over hearty communal meals, it's evident that Filipinos love to eat—and aside from having a deep interest in cooking, Filipinos also share a passion for dining out. The food-service industry in the Philippines has grown at a remarkable rate in the past few years, with numerous restaurants—both foreign chains and local concepts—opening in and around the Metro. According to a report by BusinessWorld, the Philippine food-service industry spawned P535.9 billion in revenues in 2016 with 84,503 outlets operating locally; by 2019, the generated revenues went up to P616 billion, with more than 3,000 more establishments in operation than there were in 2016.
Not only does the industry contribute greatly to the country's economy, it also helps generate employment for many Filipinos, with the 2015 Annual Survey of Philippine Business and Industry by the Philippine Statistics Authority showing that the sector generated employment for 433,260 workers.