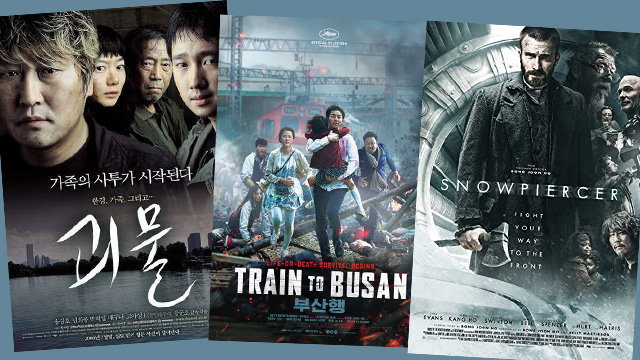 (SPOT.ph) South Korean film Parasite has gotten lots of buzz lately, partly thanks to its Palme d'Or win at the 2019 Cannes Film Festival. The black-comedy thriller starts off simple enough, then progresses into something unnerving, the kind that will keep you up at night. There are plenty of reasons to love the film with its sharp writing, smart direction, and eye-opening jabs at the harsh realities we face daily.
Director Bong Joon Ho may have been making waves internationally lately, but this isn't the first time the filmmaker has made his mark in cinema. If you feel compelled to watch more of his movies, films from similar genres, or other award-winning gems after watching this thriller, we've got some recommendations.
Here are 10 films to watch if you liked Parasite:
Oldboy (2003)
Directed by: Park Chan Wook
Aside from the themes it shares with Parasite, this Park Chan Wook film is also considered one of South Korea's greatest films and is the Grand Prix winner of the 2004 Cannes Film Festival. It revolves around the bleak life of Oh Dae Su (Choi Min Sik) who is kidnapped and trapped in a hotel room-like cell for 15 years. Upon his release, he meets a girl named Mido (Kang Hye Jin) and plots to find the man who trapped him.
ADVERTISEMENT - CONTINUE READING BELOW
Memories of Murder (2003)
Directed by: Bong Joon Ho
Based on one of South Korea's first serial murders and featuring frequent collaborator Song Kang Ho (who you might recognize as Ki Taek, the father from Parasite), the film's story revolves around two detectives played by Kang and Kim Sang Kyung, who investigate a series of rape and murder cases committed between 1986 and 1991 in Gyeonggi, South Korea. The screenplay is an adaptation of Kim Kwang Rim's 1996 stage play.
The Host (2006)
Directed by: Bong Joon Ho
When 200 bottles of formaldehyde are dumped into the Han River at the behest of an American military pathologist, it ends up poisoning the fish and strange sightings of weird amphibians appear, right before the river is declared dead. Park Gang Du (played by Bong movie regular Song Kang Ho) is out delivering food when a monster emerges from the river and ends up abducting his daughter (Go Ah Sung). Considered to be Bong's best work, The Host was at one point South Korea's highest-grossing film.
The Mother (2010)
Directed by: Bong Joon Ho
A mentally challenged man, played by Won Bin, is accused of murdering a young girl. His only companion, his mother, played by Kim Hye Ja, is convinced he is not guilty of the crime and fights tooth and nail to prove his innocence. If the actress Kim looks familiar, she played Queen Dowager Park in the 2006 K-Drama Princess Hours.
Snowpiercer (2014)
Directed by: Bong Joon Ho
With the whole planet engulfed in snow, humans are on an endless ride in a train that's divided into sections based on social and economic status. Passengers must occupy their pre-determined positions in order to preserve the peace. Curtis Everett, played by Chris Evans, sits at the tail-end of the train and plots a revolution to overthrow the elite who occupy the front cabins in order to attain a better life for himself and his fellow passengers. Consistent with director Bong's other work, Snowpiercer challenges the structures dictated by society against the backdrop of drastic environmental degradation. The film is Bong's English directorial debut and stars Tilda Swinton, Ed Harris, John Hurt, and frequent collaborators Song Kang Ho and Go Ah Sung.
ADVERTISEMENT - CONTINUE READING BELOW
Okja (2017)
Directed by: Bong Joon Ho
Dabbling in animal preservation and environmental issues, as well as exploring the media's power in shifting public perception, this Netflix original was nearly considered for the Cannes Palme d'Or in 2017. It's about a faux-environmentalist named Lucy Mirando, played by Tilda Swinton, who genetically modifies pigs in order to meet the market's demand. One experimental pig finds a home in South Korea with Mija (Ahn Seo Hyeon), a young girl who considers the animal, Okja, a friend. 
The Handmaiden (2016)
Directed by: Park Chan Wook
If you're in the mood for a shocker, this one is for you. Nominated in 2016 for the Cannes Palme d'Or and based on Fingersmith, a historical crime novel by Sarah Waters, the film changed the setting from Victorian-era Britain to South Korea under Japanese occupation. Lady Hideko, played by Kim Min Hee, is a wealthy woman who becomes a target for con man Count Fujiwara (Ha Jung Woo). He enlists the help of pickpocket Sook Hee (Kim Tae Ri) to get Lady Hideko to marry him.  
ADVERTISEMENT - CONTINUE READING BELOW
Burning (2018)
Directed by: Lee Chang Dong
Based on Haruki Murakami's short story "Barn Burning" from The Elephant Vanishes, the film stars The Walking Dead's Steven Yuen and Sungkyunkwan Scandal actor Yoo Ah In. The Lee Chang Dong film revolves around aspiring novelist Lee Jong Su (Yoo) and his attraction to neighbor Shin Hae Mi (Jeon Jeong So), who brings home Ben (Yuen), a man she met while on a trip in Africa. Something about Ben unnerves Jong Su, and he becomes paranoid, leading him to stalk the man for fear that he would harm Hae Mi. Much like the other films on this list, Burning competed for the Cannes Palme d'Or in 2018.
Pieta (2012)
Directed by: Kim Ki Duk
Kang Do, played by Lee Jung Jin, is a heartless man who lives by himself and spends his time hunting down people who can no longer pay the loan sharks who have lent them money. Alone and anti-social, his world changes when a woman (Jo Min Su) appears on his doorstep claiming to be his mother, and begins to care for him.
ADVERTISEMENT - CONTINUE READING BELOW
Train to Busan (2017)
Directed by: Yeon Sang Ho
Starring Goblin actor Gong Yoo and directed by Yeon Sang Ho, the film follows a workaholic absentee father on the way to Busan with his daughter. He finds himself having to fight to ensure their survival as more and more become infected by a virus that turns humans into zombies. Tackling familial love, responsibility, and sacrifice, the film forces characters to make choices for their families and loved ones, much like Parasite. 
Share this story with your friends!
---
Help us make Spot.ph better!
Take the short survey
More Videos You Can Watch
Load More Stories