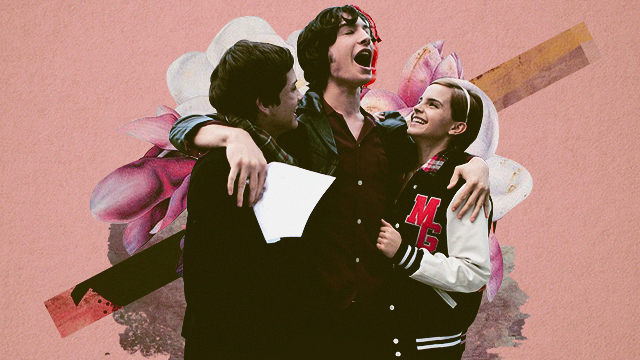 (SPOT.ph) "Ah, yes my good old teenage years, I remember that perpetually awkward time fondly,"—whoops, freeze frame! That's definitely not how we want to start this article (especially since nobody ever says that). Your teenage years, much like everybody else's, was most likely riddled with fun and not-so-fun times. Our bodies were changing, we were finding out just who we really were—and who our friends were, and how to be comfortable in our own skin. It was the best of times, it was the worst of times, as they say.
ADVERTISEMENT - CONTINUE READING BELOW
So if you want to relive the magic of your teenage years, we round up 10 movies that are sure to remind you of your own experiences, zits and all! In case you've finally had too many repeats of classics such as Clueless, Mean Girls, Ferris Bueller's Day Off, and the like, we round up a couple fresh picks. These fun flicks are here to remind you of all the cringe-worthy moments—and all the great times in between, too.
Also read:
10 New Rom-Coms for Your Next Night In With Friends
10 Essential Teen Movies for Your Throwback Marathon
10 Life Lessons From Pinoy Teen Movies
Relive your teenage days with these 10 fun films:
The Half of It (2020)
Where to stream: Netflix
At first glance, this film looks like your typical teenage love triangle story, but trust us when we say there's much more to this than you think. Ellie Chu (Leah Lewis) becomes a Cyrano for Paul Munsky (Daniel Diemer) when he asks for her help to write letters for and woo Aster Flores (Alexxis Lemire)—except that both Ellie and Paul like Aster. The school jock, the popular girl, and the outcast; These three stereotyped characters come together in this smartly told movie by Alice Wu and is sure to leave you with hopeful little butterflies in your stomach.
Easy A (2010)
Where to stream: Netflix
Who can forget Emma Stone playing the wonderfully wonky Olive Penderghast, strutting down a high school's hallways in a corset emblazoned with a huge scarlet "A"? It's been 10 years, but this movie has withstood the test of time, with each watch always feeling like the first. After she is caught in a lie regarding a fake college boy and her virginity, Olive must make and play her way through the treacherous battlefield that is high school with only her wits, charm, and carefully fabricated lies as weapons.
Lady Bird (2017)
Where to stream: Netflix, Amazon Prime
Probably the most difficult part of being a teenager is finding, and coming to terms, with who you are. Saoirse Ronan plays Christine McPherson (a.k.a. Lady Bird), a high school kid who dreams big and can't wait to leave the nest—and fly away from her mom and pop. This honest film was the first solo project of director Greta Gerwig, and trust us, if you find yourself relating a bit too much to the arguments Lady Bird has with her mom, you're definitely not alone.
ADVERTISEMENT - CONTINUE READING BELOW
Love, Simon (2018)
Where to stream: Amazon Prime, YouTube Movies
Simon Spier (Nick Robinson) leads a pretty ordinary life as a high school kid. He hangs out with his friends, loves his family, and generally has a great time—except that no one knows he's gay. The adventure starts when he starts an anonymous online exchange with another closeted boy from his school, and leads to him having to confront his own realities and eventually come out to everyone in his own terms. It isn't a smooth ride, as it rarely is, and Simon has to decide for himself what and who are worth fighting for.
Your Name (2016)
Where to stream: Amazon Prime
Sure, this animated film may look like an outlier in this list, but this Japanese film adds in a fresh take on your typical teen movie—complete with body switching and time travel! Mitsuha Miyamizu is a country girl who somehow ends up switching consciousness with Taki Tachibana, a Tokyo City boy, from time to time. They leave each other messages and end up falling in love—except that they're separated by three years and a pesky comet that spells either life or death for Mitsuha and her small town. It's a wondrous tale of first and true love that's made even better by stunning visuals.
ADVERTISEMENT - CONTINUE READING BELOW
Booksmart (2019)
Where to stream: Hulu, Amazon Prime
This is Olivia Wilde's first film as director, so expect some real crazy moments. Amy (Kaitlyn Dever) and Molly (Beanie Feldstein) are seniors who spent their entire high school career on a straight line to get into good colleges. On the last day of school, they realize their less-than-proper classmates also made it to the same prestigious colleges as they did, leading them to ask "What the heck did we behave for, then?" Cue one last night of extreme partying, wrecked (and made) relationships, and the inevitable arrest—right before their graduation ceremony.
The Perks of Being a Wallflower (2012)
Where to stream: Amazon Prime
Based on Stephen Chbosky's 1999 novel of the same name—and also directed by him—this movie made waves when it first came out. The fact that it starred crowd-favorites Emma Watson and Logan Lerman only added to the very honest portrayal of just how scary high school can be. Charlie (Lerman) is a student battling depression and anxiety in the '90s, at a time when mental health wasn't taken as seriously. He becomes friends with step-siblings Sam (Watson) and Patrick (Ezra Miller) and is taken on a ride of self-discovery before eventually coming to terms with a past trauma. Plus, who hasn't tried to duplicate that "We are infinite" moment at the end?
ADVERTISEMENT - CONTINUE READING BELOW
Me and Earl and the Dying Girl (2015)
Where to stream: YouTube Movies
This story is told through the perspective of aspiring film-maker and somewhat aloof 17-year-old Greg Gaines (Thomas Mann). When his parents force him to befriend Rachel (Olivia Cooke), a former childhood friend who is diagnosed with leukemia, Gaines must learn to become a true friend, as well as learn to make some very grown-up decisions. Along with Earl (RJ Cyler), his best friend, they do what they can to help Rachel and end up learning a bit more about themselves than expected. We know it sounds cliché, but this barebones film digs deep into one of the hardest aspects of living (read: dying) in a refreshingly honest manner.
Eighth Grade (2018)
Where to stream: YouTube Movies, Netflix
High school is already pretty bad but the transition to it is even worse. This film perfectly captures that awkward phase between kid to teenager through the eyes of Kayla (Elsie Fisher), an eighth-grader who has spent all of elementary just trying to belong. Voted as "most quiet" by her class, Kayla creates a series of vlogs where she gives motivational advice on how to be your best self—all the while unable to live by her own standards. This movie is comedian Bo Burnham's first directorial debut, so you can expect all the usual frankness and honesty—complete with a very real exploration of growing up in today's world—that Burnham's works always have.
ADVERTISEMENT - CONTINUE READING BELOW
To All the Boys I've Loved Before (2018)
Where to stream: Netflix 
You can definitely blame this feel-good film for the resurgence of young adult rom-coms in the past years—and that's a great thing. Lara Jean Covey (Lana Condor) has her life turned upside-down when letters she had written for her crushes are suddenly sent to each one at the same time. She ends up faking a relationship with Peter Kavinsky (Noah Centineo), a letter-recipient and former crush, to throw off her own current crush and make Peter's ex-girlfriend jealous. Bonus: You can check out the sequel, P.S. I Still Love You, right after!
Your guide to thriving in
this
strange new world.
Share this story with your friends!
---
Help us make Spot.ph better!
Take the short survey
More Videos You Can Watch
Load More Stories