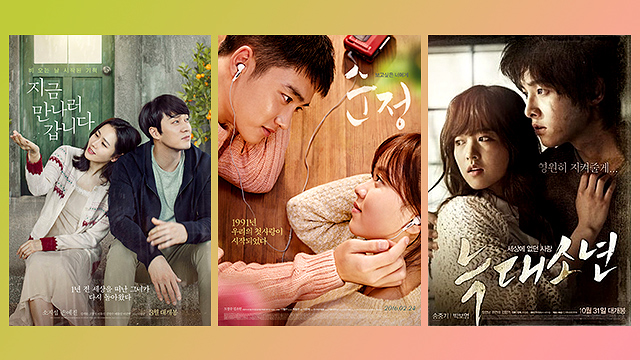 (SPOT.ph) Need a break from binge-watching romantic K-Dramas? Korea also has the market cornered when it comes to romantic movies, so if you just need a quick fix to end an exhausting day, there are plenty of titles you can choose from. From classic tearjerkers to swoon-worthy rom-coms, these films are guaranteed to make your heart race—in more ways than one.
Also read:
10 Underrated K-Dramas to Stream for Good Vibes Only
The Ultimate Subscription Guide: Which Streaming Service Should You Get?
Line up these Korean romantic movies for your next film night:
Il Mare (2000)
Where to watch: Viu, iQiYi

You might be familiar with the Hollywood adaptation of this movie (The Lake House with Sandra Bullock and Keanu Reeves). The original Korean film stars Jun Ji Hyun who became a Hallyu sensation with My Sassy Girl, which got released just a year after Il Mare. She plays Eun Joo, a girl moving out of a house in 1999, who discovers the mailbox lets her communicate with a guy called Sung Hyun (Lee Jung Jae) from 1997. The film follows their blossoming relationship as they get to know each other, go on "dates," and dream of seeing each other in person, set against the backdrop of beautiful Ganghwa Island and Jeju Island.

ADVERTISEMENT - CONTINUE READING BELOW
Late Autumn (2010)
Where to watch: Viu, iQiYi

This poignant film stars Chinese actress Tang Wei and Crash Landing on You's Hyun Bin. It tells the story of Chinese immigrant Anna (Tang Wei), a convict who gets three days of parole to attend her mother's funeral in Seattle. She meets Hoon (Hyun Bin), a happy-go-lucky Korean gigolo, on the way there, and their fragile relationship begins with him asking to borrow money. The two characters talk to each other in English, but the movie relies heavily on silence, body language, and cinematography to get its point across. It's a breathtaking journey from start to finish as Anna's walls slowly come down while Hoon takes her around Seattle.

Always (2011)
Where to watch: Netflix, iQiYi

This touching melodrama opened the Busan International Film Festival in 2011. So Ji Sub stars as Jang Cheol Min, a sullen ex-boxer who meets his match in Ha Jung Hwa (Han Hyo Joo), a cheerful telemarketer going blind. Despite their contrasting personalities, the two of them start dating and forming a serious relationship (get ready from some cute heart-fluttering scenes!). But Jung Hwa's worsening condition worries Cheol Min, and he turns to drastic measures to earn cash. 

A Werewolf Boy (2012)
Where to watch it: Viu, iQiYi

This fantasy romance was a box-office hit, and it remains one of the highest-grossing films ever to be released in South Korea. Song Joong Ki was just solidifying his leading man status when it first came out, and it was a welcome addition to his growing list of successes. In it, he plays the titular wild werewolf boy. He gets adopted by the Kim family as "Chul Soo" when they discover him in front of their house one day. He falls in love with the Kims' teen daughter, Sun Yi (Park Bo Young), who teaches him how to act like a normal human being. The story plays out like a magical fairy tale with its own evil villain (Yoo Yeon Seok, who now plays leading man roles himself), and you're just there for the ride.

Unforgettable (2016)
Where to watch it: Viu

This film might come across as a lighthearted coming-of-age story about the importance of friendship, but at its core, it's a heartbreaking tale of first love that will leave you misty-eyed. Do Kyungsoo of K-Pop group EXO stars as teenage Beom Sil who's back in his hometown for summer vacation with his friends. Among them is pretty Soo Ok (Kim So Hyun), who, unlike the rest of their friends, had to stay on the island because of a problem with her leg. Beom Sil is in love with her but finds himself at a loss, having an unexpected love rival in a doctor who promises to heal Soo Ok's leg. The film is set in the '90s, bringing with it a lovely air of nostalgia as you follow the friends making memories on the island.

The Princess and the Matchmaker (2018)
Where to watch it: Netflix

We love a good dose of Lee Seung Gi, and this sageuk rom-com has him utilizing his charm and comedic timing perfectly. In it, he plays Seo Do Yoon, a fortune teller tasked to find the best match for Princess Song Hwa (Shim Eun Kyung of Miss Granny fame). But Song Hwa refuses to be a pawn in her own love story, and she disguises herself and escapes the palace, determined to get to know her potential suitors herself. What she meets instead is disaster, but Do Yoon is always there to help her, unaware of her true identity. Will Song Hwa be able to get her happy ending?

ADVERTISEMENT - CONTINUE READING BELOW
Be With You (2018)
Where to watch it: Netflix

Son Ye Jin is one of Korea's queens of romance, so it's only fitting that we have one of her movies on this list. In Be With You, she plays Im Soo Ah, who, at the brink of death, promises her husband, Jung Woo Jin (So Ji Sub), that she'll come back one year later during the rainy season. Woo Jin is shocked when she fulfills her promise, but this version of Soo Ah doesn't have her memories, so Woo Jin has to work on making her fall in love with him all over again.

Tune in for Love (2019)
Where to watch it: Netflix

This film puts Kim Go Eun and Jung Hae In back onscreen together again. They last worked with each other in the popular K-Drama Goblin, where Go Eun played the protagonist and Hae In had a cameo as her one-sided childhood love. This time around, the attraction goes both ways. Hae In plays Hyun Woo, who, after being released from the juvenile detention center, enters the bakery Mi Soo (Go Eun) works at, looking for tofu. Hyun Woo gets hired as a part-timer at the bakery, and the two of them slowly grow attracted to each other. But fate has other plans, and they end up getting separated. The film follows their on-and-off relationship through the years, the only constant in their life the voice of DJ Yoo Yeol on the radio.

Sweet & Sour (2021)
Where to watch it: Netflix

This film lives up to its title, presenting audiences with both the "sweet" and the "sour" sides of romance. It tells the story of hardworking nurse Da Eun (Chae Soo Bin) who forms an unlikely romance with Hyuk (Lee Woo Je), a hospital patient with hepatitis B. A montage of sweet moments follows, ending with Da Eun gifting Hyuk with couple shoes. Hyuk eventually loses weight (Jang Ki Yong) and becomes a hotshot engineer in Seoul. That's when the problems in his relationship with Da Eun start, giving us a taste of a souring romance. Will their relationship ever turn sweet again? A word of advice while you watch this: Keep an open mind until the end.

Waiting for Rain (2021)
Where to watch it: iQiYi

Kang Ha Neul is a versatile actor that can do both serious and cute roles, but we do we have a special fondness for him portraying shy and awkward characters, much like Young Ho, the charming protagonist of this film. Caught up in the nostalgia of his childhood crush, So Yeon (Lee Seol), he decides to write her a letter. He receives a reply, and they begin writing each other regularly, a beautiful relationship slowly building between them. But So Yeon doesn't want to meet up in person—ever—and that's because she's actually her younger sister, So Hee (Chun Woo Hee). Is their romance doomed to fail? 
Hey, Spotters! Check us out on Viber to join our Community and subscribe to our Chatbot.
ADVERTISEMENT - CONTINUE READING BELOW
Your guide to thriving in
this
strange new world.
Share this story with your friends!
---
Help us make Spot.ph better!
Take the short survey
More Videos You Can Watch
Load More Stories