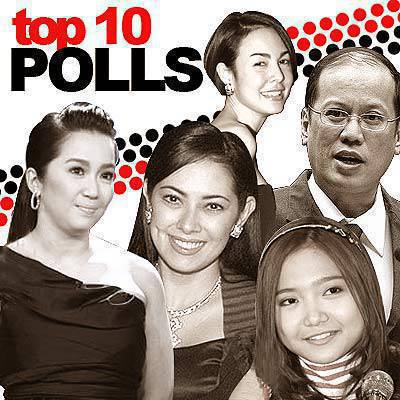 The year 2010 has been extra exciting for showbiz and politics-we welcomed a new President, awaited (or dreaded) his sister's updates on his love life, witnessed celebrities slug it out on TV (and Twitter), raved about our fellow Filipinos who wowed the international crowd, and more. Throughout the year, SPOT.ph wanted to know what you thought of all these juicy  goings-on, so we asked and you answered. Here, the Top 10 SPOT.ph Polls of 2010 and what you had to say about them.
*Total votes shown as of posting time.
10. Kris Aquino asked Startalk, "Do you honestly think I'll do something na makakasira kay Noynoy?" What do you think?
Posted on May 24, 2010


The lowdown: In a Startalk interview dated May 22, Kris Aquino reacted to the online petition asking her to leave the country. Before the May 10 elections, Kris said she would leave the country if her presence would put her brother Noynoy's reputation on the line should he win the Presidency. Kris asked in the interview (posted on PEP.ph), "Ngayong alam ko na nakabantay ang lahat para mabigyan ko ng sakit ng ulo si Noynoy, do you honestly think consciously or unconsciously, may gagawin ako para makasira kay Noy?"
ADVERTISEMENT - CONTINUE READING BELOW
The verdict: Out of the 891 who voted, 490 agreed that yes, Kris would do something to jeopardize her brother's reputation. The remaining 401 voters thought that she would adhere to her promise: "I'll be on my very best behavior." The elections have long passed and it seems like the presidential sister is here to stay. The only thing she's been guilty of so far? Oversharing P-Noy's love life.
9. Were the Cebuanos right in declaring Gloria Diaz persona non grata for supposedly insulting their English-speaking skills?
Posted on September 3, 2010


The lowdown: Miss Universe 1969 Gloria Diaz was banned and declared persona non grata (personally unacceptable) in Cebu through a resolution issued by the Vice Mayors League of the Philippines-Cebu Chapter on September 1. This was due to a statement she made on TV Patrol World regarding Miss Universe 2010 fourth runner-up Venus Raj's "major major" answer in the pageant: "I think (Venus) thinks in Tagalog and answers in English. I can relate to that because I used to think in English and answer in Tagalog, and it was very difficult for me... When you think about (it), a Cebuana can hardly speak English and, of course, Tagalog. Maybe she should answer in Bisaya."
CONTINUE READING BELOW
Recommended Videos
The verdict: Five hundred forty-two (542) of the 906 voters took the side of the Cebuanos while 282 disagreed. Some voters (81) thought that there were more pressing issues to focus on. Hey, even Venus didn't make a "major major" fuss about it.
8. Who do you want P-Noy to end up with as his First Lady?
Posted on November 12, 2010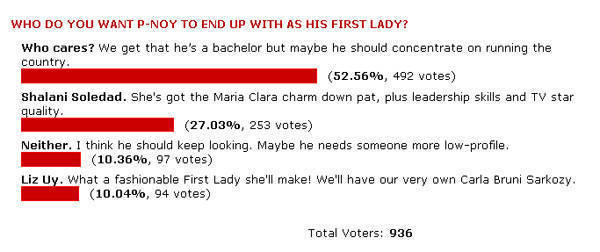 The lowdown: Even before he started his term as President, Noynoy Aquino's love life was the talk of the town, with Valenzuela Councilor Shalani Soledad as his girlfriend during the campaign period. After rumors about their breakup spread like wildfire in September, P-Noy was linked to other women including his stylist Liz Uy, TV reporter Patricia Roque, and a mystery date identified as Barbie Palagos. Recently, presidential sister Kris Aquino confirmed that P-Noy is dating stockbroker Len Lopez.
The verdict: In this Shalani-Liz showdown poll, Shalani's Maria Clara charm made her win by 159 votes. But even though more of you preferred Shalani over Liz, majority (492) said that it was better for P-Noy to concentrate on his Presidential duties instead. Now that's responsible voting.
ADVERTISEMENT - CONTINUE READING BELOW
7. Which presidentiable's partner would make the best First Spouse?
Posted on April 23, 2010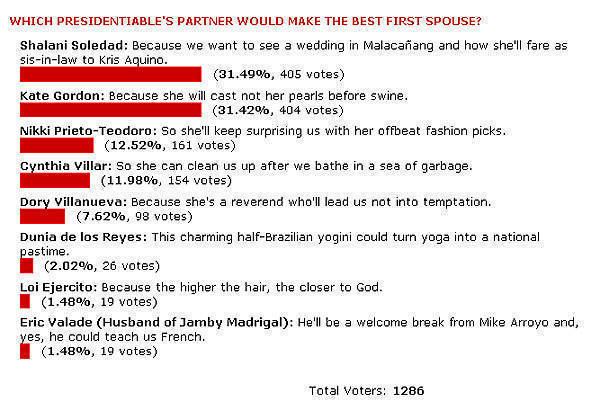 The lowdown: In the 2010 campaign period and elections, it was not only the candidates who took the spotlight. People were also curious as to who the next presidential spouse might be. For this poll, we listed the nine then possible future first spouses-Shalani Soledad (P-Noy), Kate Gordon (Richard Gordon), Nikki Prieto-Teodoro (Gibo Teodoro), Cynthia Villar (Manny Villar), Dory Villanueva (Eddie Villanueva), Loi Ejercito (Joseph Estrada), and Eric Valade (Jamby Madrigal)-and asked you to place your bet.
The verdict: It was a tight race between Shalani Soledad and Kate Gordon with 405 and 404 votes, respectively. It looked like it wasn't just P-Noy who was leading in the surveys; Shalani was a crowd favorite, too.
6. In the Gretchen Barretto-Angelica Panganiban word war over Derek Ramsay, whose side are you on?
ADVERTISEMENT - CONTINUE READING BELOW
Posted on June 8, 2010

The lowdown: It was in June when news broke out that Angelica Panganiban and Gretchen Barretto were in a word war over Derek Ramsay (Panganiban's boyfriend). According to reports, the issue started when Barretto, in an interview with SNN, said that she asked Ramsay for his solo photos from his trip to South Africa with Panganiban. On the night of the interview, Panganiban Tweeted: "Tarrrraaaayyy!!! Single ka teh? :)" In August, Panganiban apologized to Barretto in an interview for The Buzz. PEP.ph also reported that Barretto accepted Panganiban's apology.
The verdict: In this Team Angelica vs. Team Greta poll, most of you (709) chose Team Angelica. Team Greta came in second with 575 votes. And Team Derek got the support of 61 voters. Sorry, Victoria; it's Rubi FTW!
5. What do you think of all the media coverage of President Noynoy Aquino's love life?
ADVERTISEMENT - CONTINUE READING BELOW
Posted on December 6, 2010

The lowdown: The media has been keen on reporting not only the President's official businesses but updates on his love life as well. For this poll we asked for your opinion on the issue.
The verdict: Most of you (708) agreed that it's important to know about P-Noy's love life to gauge if he's still able to perform his duties as president. Some of you (334) said that the media coverage is annoying and that other issues should be reported instead. Either way, we know that when the President's love life is in question, it's hard not to react.
4. What did you think of Charice's debut appearance in the first episode of Glee's second season?
Posted on September 23, 2010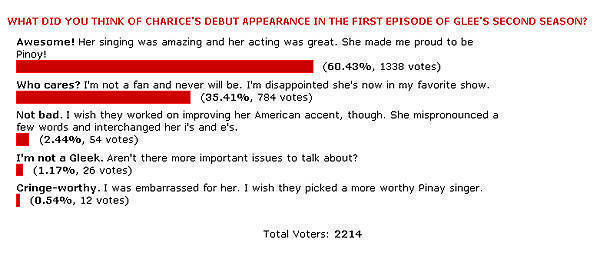 The lowdown: When rumors spread in May that Charice was joining the hit TV series Glee, the Pinay singing sensation  quickly said that they were not true. About a month later, Charice announced via her Twitter account that she had auditioned for Glee and was going to be a part of the show for sure. Charice appeared in the first episode of Glee's second season as Filipina exchange student Sunshine Corazon where she sang two songs-"Telephone" by Lady Gaga (a duet with Lea Michele) and Listen by Beyonce (a solo). She has yet to appear again in Glee.
ADVERTISEMENT - CONTINUE READING BELOW
The verdict: A total of 1,338 proud voters thought that Charice's Glee debut was stellar while 12 thought that it was cringe-worthy. Two days after her Glee appearance, the two songs she sang in the episode made it to iTunes' Top 10.
3. Who do you honestly think will be the next Vice President of the Philippines?
Posted on March 19, 2010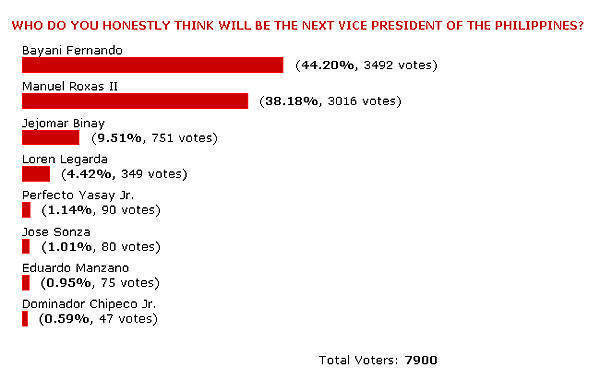 The lowdown: For this poll, we asked you to place your bets for the vice presidential candidate which you thought would win in the May 2010 elections. Among the choices were  Bayani Fernando, Manuel Roxas II, Jejomar Binay, Loren Legarda, Perfecto Yasay Jr., Jose Sonza, Eduardo Manzano, and Dominador Chipeco Jr.
The verdict: Of the 7,900 voters, 3,492 were for Bayani Fernando, who teamed up with former presidential candidate Richard Gordon. Manuel Roxas, who teamed up with P-Noy, came in second with 3,016 votes. Our present Vice President Jejomar Binay, who was in tandem with former president Joseph Estrada, was third with 751 votes. Results showed that indeed, surveys are not the end-all and be-all after all.
ADVERTISEMENT - CONTINUE READING BELOW
2. Charice is officially joining Glee Season 2. Are you excited about this?
Posted on June 23, 2010


The lowdown: When Charice confirmed that she would be joining Glee for its second season, we wanted to know if you were as psyched as we were about it.
The verdict: The majority of you (9,074) were thrilled when you heard the news that Charice would be joining Glee. Only 431 said that they were not excited with the news. And poll No. 4 proves that you were not disappointed.
1. Ruffa Gutierrez walked out of "The Buzz" and co-host Kris Aquino is being blamed. Whose side are you taking?
Posted on March 8, 2010


ADVERTISEMENT - CONTINUE READING BELOW
The lowdown: Ruffa Gutierrez walked out of the set of The Buzz in March after her co-host Kris Aquino joked about her (Gutierrez's) plans of leaving the show. Aquino told Gutierrez, "Ruffa, aminin mo, ibang level ang saya dito," as posted on PEP.ph. Gutierrez answered, "Well, I know, you don't have to rub it in, Kris. Siyempre, I'm sad din, so sana huwag mo namang, you know, dagdagan," and walked away. Aquino issued an apology via PEP.ph after Gutierrez 's mother Annabelle Rama spoke about the issue in Showbiz Central. Both parties also took the issue to their Twitter accounts.
The verdict: Team Kris got 13,646 votes while Team Ruffa got 5,628 votes. Most of you thought that Kris was only being her outspoken self.
Artwork by Warren Espejo.
Share this story with your friends!
---
Help us make Spot.ph better!
Take the short survey
Load More Stories