10 Savage Lines for Zoom Breakup Calls
Because the pandemic means you can now get "zumped."
(SPOT.ph) So "zumping" (Zoom + dumping, get it?) is now a thing, apparently. Yup, the kids are at it again, this time breaking up over Zoom calls thanks to the horrors that is now our normal, everyday, quarantine life. The phenomenon of getting dumped via a video call is definitely a sign of our times, and while the term comes from a Western perspective, there's no denying a lot of virtual breakups are happening here too. Not calling anybody out or anything—trust us, you're not alone in the suddenly single department. At all.
In case you're thinking about ending things with an S.O. whose IRL face you've probably already forgotten by now—or have already been unceremoniously zumped—we present 10 savage lines you could use (or wish you could have used). Disclaimer: Please do not actually use these lines for a real breakup. We're going out on a limb here and believing you're a fully functioning, emotionally mature adult who would understand that this article is just here for some sort of  vicarious release. Anyway, on to our telenovela-slash-Zoom hybrid dreams!
Also read:
Top 10 Catchiest Breakup Songs
Top 10 Most Jaw-Dropping Breakup Scenes of All Time
10 Perfect Places for Breaking Up in Manila
Make sure your mic is on when you drop these 10 savage zoom breakup lines:
Could we video call later?
We're easing in nice and slow here with a redux of the usual precursor to a conversation you'd really rather not have. The age of coronavirus has turned "We need to talk" into "We need to video call." Hey, at least you didn't get Joe Jonas-ed and had to make do with a 27-second phone call or worse, ghosted. We don't know who needs to hear this, but ghosting someone instead of breaking things off cleanly—even if you have to make do with a video call—just takes on another layer of cruelty when the world is as uneasy as it currently is. Don't be that guy.
ADVERTISEMENT - CONTINUE READING BELOW
You're not worth my bandwidth.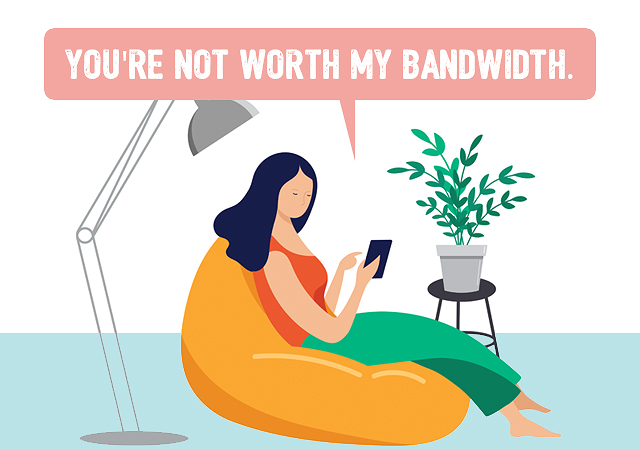 CONTINUE READING BELOW
Recommended Videos
Bandwidth is today's currency. With everyone at home fighting over precious Internet service for work, lessons, or a much-needed distraction from the real world (Bridgerton, anyone?) it may happen that your S.O. is just taking up way more space than they have a right to. Do you have any idea how much bandwidth video-calling typically takes up? Way more than your soon-to-be-ex has the right to, probably. And God forbid you use mobile data just to keep in touch. So weigh it out: faster streaming or another session of staring awkwardly at their face and wishing you were looking at the Duke's instead. It's your choice, make haste.
It's not you, it's not me, it's my Internet service provider.
Look, if even Liza Soberano is complaining, then you know it's serious. The Internet "fiasco" had everyone downright crying injustice over special treatment and generally shitty connectivity in the country—but if there are lessons to be learned here, it's that ISPs are to blame for your failed quarantine relationships (we think that's the main takeaway). So if they ask for the acceptable reason that they deserve, well, here you go. How can you stay connected to your S.O. if you literally can't even stay connected to the Internet?
ADVERTISEMENT - CONTINUE READING BELOW
Choppy ka, choppy *bye*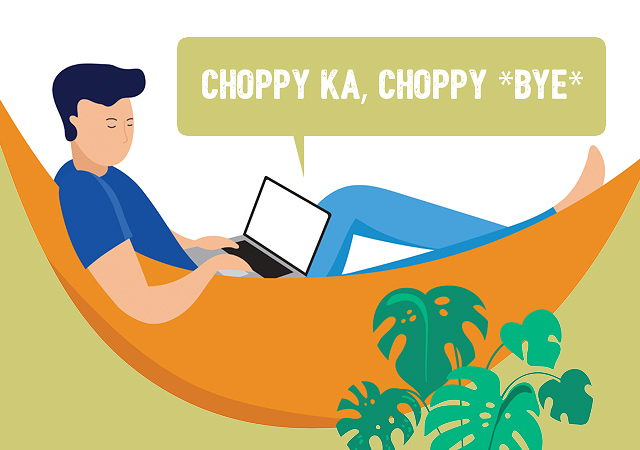 Can't handle this video call anymore? Need time to process it? Act like a child and go into complete evasive mode! Pretend your connection is breaking up and promptly end the call. Like we pointed out above, you can always blame it on the terrible Internet service here—your former S.O. will totally believe it and not resent you at all.
The quarantine has had more monthsaries than us at this point.
Hit two birds with one stone. Celebrating important dates with your soon-to-be-ex has been near impossible, or at least very different during the quarantine—which, BTW, is nearing its first anniversary. Chances are you've managed to tick off more quarantine monthsaries on your calendar than you have your own, counting down the days until you can go out like we used to in the B.C. age (that's Before Coronavirus, in case it wasn't clear).
ADVERTISEMENT - CONTINUE READING BELOW
"You're breaking up." "No, WE'RE breaking up."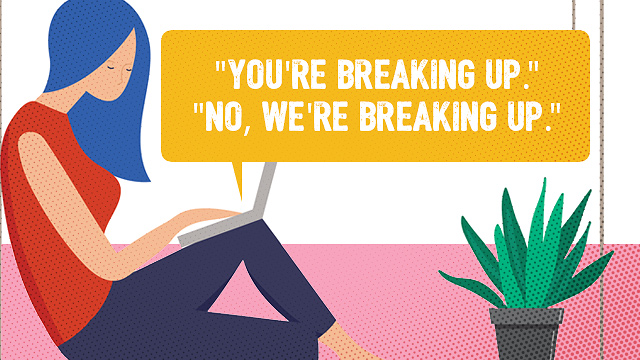 Channel your inner Chandler and react to a bad situation with sarcastic humor. When your once-a-lover points out that your connection is breaking up—because, once again, the Internet is a problem here—hit them with this hilarious one liner! Don't forget to fake a smile while tears stream down your face for added peak Gen Z self-destructive humor.
How about some post-breakup Jackbox?
You've heard of post-breakup sex but how about some coronavirus-safe virtual games instead? Think of it as a PG-Rated version of the trope. You can still release some pent-up aggression by sliding in more snide remarks at Quiplash—and it probably won't be the first (or last) game you play with your future ex anyway.
I'm decluttering—and you're included.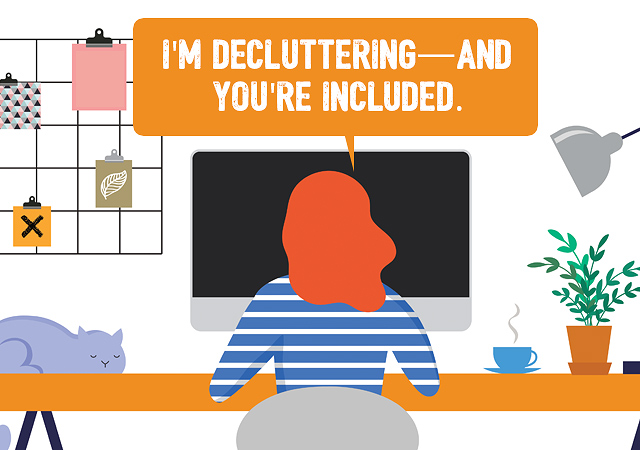 ADVERTISEMENT - CONTINUE READING BELOW
Home makeovers and online shopping are now professional skills many have acquired during our time inside, which means many have tossed out stuff that no longer brought joy in order to make space for the ones that do bring joy. Do you see where we're going here? Hey, sparks come and go, after all.
We can still totally meet up—when we all finally get vaccinated.
In other words, never. The chances of our population reaching a level of vaccination that would make it safe to go out again happening anytime soon is slimmer than the chances of you and your S.O. rebuilding a healthy and sane relationship. So offer up this perfect lie, oops, we meant half-truth, to make both of you feel a tad bit better. End it how it started, yes?
Don't worry, I won't change my Netflix password.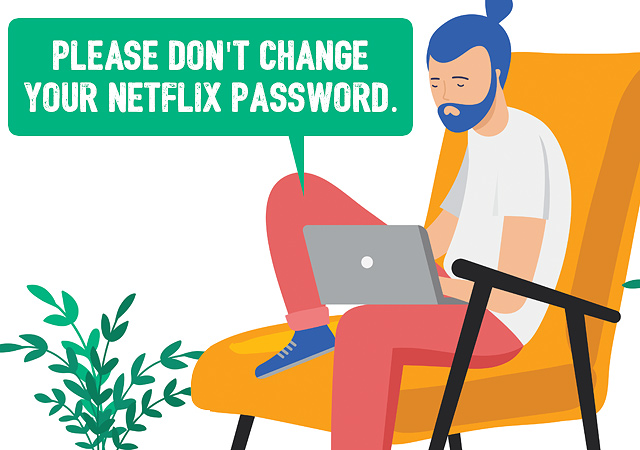 Now comes the hard part: splitting up not-so-conjugal property. If you gave your soon-to-be-ex login credentials to all the cool streaming platforms keeping you sane over the quarantine, then what's to stop them from piggybacking on all your subscriptions? Unless you change your password, that is. Hey, this totally depends on whether or not you're willing to let them continue using you—just for different reasons this time.
ADVERTISEMENT - CONTINUE READING BELOW
Hey, Spotters! Check us out on Viber to join our Community and subscribe to our Chatbot.
Share this story with your friends!
---
Help us make Spot.ph better!
Take the short survey
Load More Stories