10 Films to Watch If You Liked The Platform
Social experiments, social commentary, and more!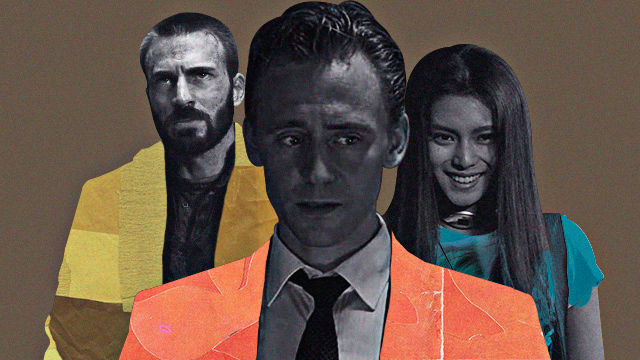 (SPOT.ph) Living in a society governed by order and structure prevents everything from falling apart. Ideally, the structures put in place should protect everyone, but most of the time...they don't. Spanish film The Platform directed by Galder Gaztelu-Urrutia shows just how bad things can get when it's every man for himself and everyone succumbs to selfish behavior. If you're looking for more films that question society's ugly side, expose the ramifications of a sick experiment gone wrong, and bring you along on a wild ride to the truth, we've got you covered. We round up several movies that are all about just that.
Also read:
10 Korean Movies to Watch If You Liked Parasite
10 Thought-Provoking Quotes From Netflix's The Platform
Check out these films if you enjoyed The Platform:
Snowpiercer (2013)
The height of global warming hit in 2014, but an attempt to slow it down via climate engineering left the Earth in a second ice age. Transport magnate Wilford (Ed Harris) constructed a train to go around the world 24/7 in order to preserve the human race from the harsh winter. It's now 2031 and the passengers have been separated by class, with the rich in the front cars, and the poor overcrowded in the tail-end compartments. Curtis (Chris Evans) has had enough, and with the help of security specialist Namgoong (Song Kang Ho) and clairvoyant Yona (Go Ah Sung), he starts a revolution against the "haves" in the front of the train. Snowpiercer is Parasite director Bong Joon Ho's first English-language film.
ADVERTISEMENT - CONTINUE READING BELOW
High-Rise (2015)
This 2015 film takes place in the 1970s and features a community of residents living in an upscale tower block. The facility is equipped with everything they could possibly need and more, leading them to become so engrossed in their own lives that they eventually grow detached from the outside world. But all good things must come to an end, and as the building fails to meet their demands, tensions rise between the elite residents of the upper floors and the middle-class families living below. High-Rise stars Tom Hiddleston, Jeremy Irons, Sienna Miller, Elisabeth Moss, and Luke Evans.
CONTINUE READING BELOW
Recommended Videos
The Belko Experiment (2017)
Eighty American workers in Colombian company Belko Industries go to work one day thinking it's business as usual, but they couldn't be more wrong. Once the employees show up, a voice commands them to kill their co-workers, or there will be serious consequences. Only one person can come out alive and in one piece, but survival entails a more terrifying fate. The 2017 film stars John Gallagher Jr., Tony Goldwyn, Adria Arjona, John C. McGinley, Melonie Diaz, Josh Brener, and Michael Rooker.
The Man From Earth (2007)
Professor John Oldman (David Lee Smith) is ready to leave his home, but before he does, these people show up at his door for an impromptu going-away party: biologist Harry (John Billingsley), art history professor Edith (Ellen Crawford), anthropologist Dan (Tony Todd), historian Sandy (Annika Peterson), archaeologist Art, and Linda (Alexis Thorpe), one of his students. Before saying goodbye, he tells his friends that he is actually a prehistoric caveman that has been around for 14 millennia. His revelation is met with mixed reactions, and each person's knowledge affects their belief—or disbelief—of John's bizarre truth. Much like The Platform, it will leave you wondering if it's a cruel prank or the shocking truth.
ADVERTISEMENT - CONTINUE READING BELOW
Circle (2015)
A group of 50 people find themselves in two concentric circles in a dark room, with one person killed every two minutes. They figure out they can vote for the person who dies next, and they get to decide who deserves to be the sole survivor. As more people are zapped to death, those with similar values band together and try to swing the final result in their favor. Fun fact: The film was inspired by the film 12 Angry Men and makes use of only one room and stars Michael Nardelli, Carter Jenkins, Lawrence Kao, Allegra Masters, Julie Benz.
Exam (2009)
Eight folks (Adar Beck, Gemma Chan, Nathalie Cox, John Lloyd Fillingham, Chuk Iwuji, Pollyanna McIntosh, Luke Mably, and Jimi Mistry) dressed in office attire enter a room and must undergo an employment assessment exam. The Invigilator (Colin Salmon) says they only have 80 minutes to answer one question in order to get the job at tech and health company DATAPREV. There are only three rules: Candidates must not talk to him or the guard by the door, they must not spoil their paper, and no one can leave the room. The less time they have, the more desperate the candidates become, eventually resorting to violence. 
Battle Royale (2000)
When you talk about dystopian movies, Battle Royale has to come up. The 2000 Japanese film is an adaptation of the 1999 novel of the same name by Koushun Takami and follows a group of junior high school students who must fight it out to the death set up by Japan's totalitarian government. The film has become a part of popular culture, and has gone on to inspire films that follow the same plot of killing one another until a lone victor comes out alive.
ADVERTISEMENT - CONTINUE READING BELOW
The Hunger Games (2012)
Speaking of individuals in an arena, dystopian young-adult novel The Hunger Games got a film adaptation that stars Jennifer Lawrence as Katniss Everdeen, a victor from the impoverished District 13 who volunteers for the annual Hunger Games. A boy and a girl from each of the 13 districts of Panem are placed in an arena and must fight one another until only one person survives. Katniss won't go down without a fight, and she hatches a plan with fellow victor Peeta Mellark (Josh Hutcherson) that will change the games—and Panem—forever.
Escape Room (2019)
You can expect some healthy competition in a fun game show, and that's what the participants in Escape Room signed up for, but they got way more than that. Six individuals (Taylor Russell, Logan Miller, Deborah Ann Woll, Jay Ellis, Tyler Labine, and Nik Dodani) from different walks of life are invited to play an escape room game where the winner walks away with U.S. $10,000. It starts out simple and exactly as promised, but as they encounter more rooms, it turns out there really is no winning without spilling blood.
Cube (1997)
Picture this: You're inside a room with strangers and you don't know how the hell you ended up there, or why you're there in the first place. Such is the plot of 1997 films Cube, where Quentin (Maurice Dean Wint), Worth (David Hewlett), Holloway (Nicky Guadagni), Leaven (Nicole de Boer), and (Wayne Robson) Rennes find themselves in rooms full of traps. Though surviving a room is possible, they must go through a seemingly endless series of identical rooms in order to survive the huge maze called the Cube. If you can't get enough of the flick, it has a sequel titled Cube 2: Hypercube, and a prequel titled Cube Zero.
ADVERTISEMENT - CONTINUE READING BELOW
Your guide to thriving in
this
strange new world.
Share this story with your friends!
---
Help us make Spot.ph better!
Take the short survey
Load More Stories