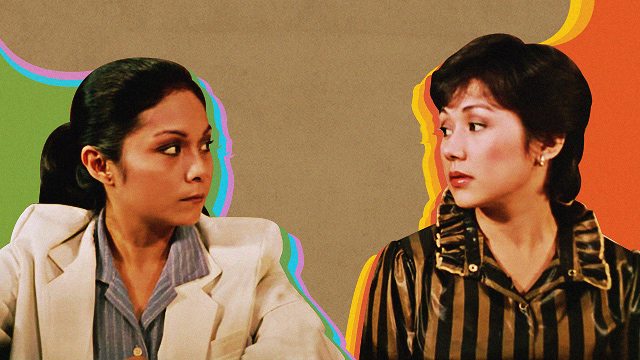 (SPOT.ph) Despite quarantine protocols restricting most of us to our homes, there are many virtual celebrations you can take part in this Pride Month. Another simple way to celebrate Pride this June is by watching and listening to stories centered around members of the LGBTQ+ community through films that thoughtfully portray their lives and experiences. If you're not sure where to find them, local streaming service iWant has several titles available to watch this Pride Month.
ADVERTISEMENT - CONTINUE READING BELOW
Also read:
10 New LGBTQ+ Shows You Can Stream Online
10 Local LGBTQ+ Plays We'd Love to See Again
10 New Pinoy LGBTQ+ Movies That Champion Pride
10 LGBT Documentaries That Keep the Pride Flag Flying on Netflix
You can check out these movies that champion Pride on iWant this June:
2 Cool 2 Be 4gotten (2016)
This coming-of-age film was directed by Jason Paul Laxamana, who also helmed popular romance movies 100 Tula Para Kay Stella (2017) and Between Maybes (2019). Set in the late '90s, 2 Cool 2 Be 4gotten tells the story of Felix (Khalil Ramos) who finds himself drawn to the two new kids at school, Fil-Am brothers Magnus (Ethan Salvador) and Maxim (Jameson Blake). As he gets to know these mysterious siblings, particularly Marcus, he uncovers desires within himself that he must confront.
Baka Bukas (2016)
Ah, the age-old story of a girl falling in love with her best friend—but this time around, that best friend is another girl. Jasmine Curtis-Smith stars as Alex, a 23-year-old lesbian who's open about her sexual orientation to everyone except for her best friend Jess (Louise delos Reyes), for whom she secretly has feelings. After Jess finds out about Alex's sexuality and true feelings, the two try to work through the mixed emotions that arise while still keeping their friendship intact. However, their careers and mismatched expectations get in the way. The film was written and directed by Samantha Lee, who later directed LGBTQ+ coming-of-age movie Billie and Emma (2018).
ADVERTISEMENT - CONTINUE READING BELOW
Recommended Videos
Seoul Mates (2014)
If you're a fan of K-Dramas, this Filipino-Korean film could be just the right mix of Pinoy sentimentality, Korean culture, and LGBTQ+ representation you need this Pride Month. Plus, it features Weightlifting Fairy Kim Bok Joo's Ji Soo as Joon! The film follows Alice (Mimi Juareza), a Filipino transgender woman who flies to Korea to visit her boyfriend, only to discover he has a new girlfriend. Meanwhile, Joon is an equally unlucky-in-love musician and the pair's paths cross unexpectedly when they meet on a bridge in the middle of Seoul. What follows is a tale of friendship amidst hardship and that crosses between different cultures, languages, and sexual orientations.
Sila-Sila (2019)
Rom-com Sila-Sila is a film about queer relationships written and directed by gay men (Daniel Saniana and Giancarlo Abrahan, respectively) with gay men playing the lead roles—an undeniable win for local LGBTQ+ representation in cinema. Gab (Gio Gahol) is forced to confront his ex-boyfriend Jared (Topper Fabregas) and their high school classmates after having disappeared from their lives a year prior. Amidst tales of friendship changing over time, revisiting old places and past experiences, and reconnecting with ex-lovers, Sila-Sila shows a gentle, touching, and realistic portrayal of gay men as you would see them in real life—which is to say, no different from the rest of us.
ADVERTISEMENT - CONTINUE READING BELOW
T-Bird at Ako (1982)
Pinoy cinema legends Vilma Santos and Nora Aunor star in T-Bird at Ako, one of the earliest portrayals of LGBTQ+ themes in Philippine cinema, made during a time of heavier censorship and more conservative audiences. Sabel (Santos) finds herself in the middle of a scandal after she is raped by the son of a rich tycoon whom she ends up killing in self-defense. Sylvia (Aunor) is a lawyer who decides to represent Sabel in court. The two live together for the duration of the trial and begin to feel an attraction towards each other despite both having complicated, exclusive romantic histories with men.
Changing Partners (2017)
Originally a stage musical by Vincent de Jesus, this Dan Villegas-directed movie musical features an interesting format of having actors change places from one storyline to another—as long as there's one Cris and one Alex in a scene, thus the title. Anna Luna as Cris is paired with Agot Isidro as Alex, then with Jojit Lorenzo as Alex; then Sandino Martin as Cris is also partnered with the two older characters. The couples get mixed up in a lot of drama but ultimately the message of the film is clear: love, complicated as it is, knows no gender and age.
ADVERTISEMENT - CONTINUE READING BELOW
Rainbow's Sunset (2018)
In this family drama, the late great Eddie Garcia stars as Ramon, who comes out as gay to his children at the age of 84 in order to care for his best friend and lover Fredo (Tony Mabesa) who has been diagnosed with cancer. The film depicts the conflicts between Ramon and his wife Sylvia (Gloria Romero), as well as those among himself and his children as they each attempt to find a balance between their individual desires and their duties to the family while also confronting the harsh prejudices of society. Amidst struggles with acceptance and understanding, the film depicts love in its most fragile, messy, and tender forms.
Die Beautiful (2016)
Die Beautiful is set at a time when its protagonist Trisha Echevarria (Paolo Ballesteros) is already dead. We witness flashbacks from her life interspersed between the days of her wake. You'll see her life progress from growing up as a young boy named Patrick to coming out as transgender woman in adult life. As the wake goes by, Trisha's body is transformed into different female celebrities through makeup and costume changes by her friends, who do so to honor her love of beauty pageants. Amidst the spectacle and flamboyance you see in flashbacks of Trisha's life as a pageant queen, you'll also catch glimpses of the hardships throughout her life from having a father who couldn't accept her sexual orientation to tumultuous instances of sexual abuse and discrimination.
ADVERTISEMENT - CONTINUE READING BELOW
Miss Bulalacao (2015)
Perhaps the most of obscure of all the films in this list, dark comedy Miss Bulalacao follows a young gay man and drag pageant frequenter named Dodong (Russ Ligtas) who gets pregnant following an alien abduction. Set in the Visayan island of Biliran, news of Dodong's pregnancy is spread amongst the townspeople and it is believed to be an immaculate conception, thus leading many to see Dodong as a cult leader or mystical figure of sorts. Despite its unorthodox plotline, the film is less about ancient folktales or extraterrestrial life, but instead shines a light on how a small town reacts to beliefs and occurrences outside of its traditional spheres of thinking. The film is spoken in Waray and Cebuano, so you'll want to turn the subtitles on in case you aren't fluent.
In My Life (2009)
After several tiffs and disagreements with her daughters Dang (Dimples Romana) and Cherry (Paw Diaz), Shirley (Vilma Santos) decides to move to New York to be with her youngest and only son Mark (Luis Manzano), though he thinks his mother is only arriving for a brief vacation. Shirley is picked up at the airport by Noel (John Lloyd Cruz), whom she mistakes for hired help, but turns out to be her son's boyfriend. Though Shirley has been aware of Mark's homosexuality for years, she nonetheless gives Noel a hard time. However, as unforeseen tragedies occur, she learns to change her attitude and eventually accept Noel as a part of Mark's life and as a member of the family.
ADVERTISEMENT - CONTINUE READING BELOW
Your guide to thriving in
this
strange new world.
Share this story with your friends!
---
Help us make Spot.ph better!
Take the short survey
Load More Stories