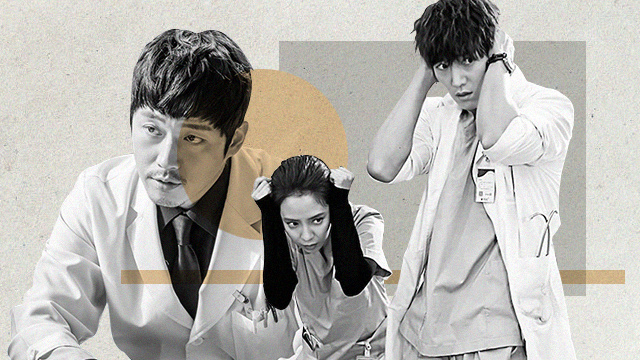 (SPOT.ph) If you can't be a doctor, then you might as well watch K-Dramas centering on the medical field—something we wish our Asian parents would say. It doesn't exactly make sense but, please, humor us here. Medical K-Dramas offer a different angle from the usual rom-com or drama take, and though they still usually fall under the same genre, it sure does add some new flavor. We round up 10, sometimes literally, heart-pumping K-dramas that focus on the lives of doctors and the like—actual medical expertise not necessary (sorry, Mom and Dad!).
ADVERTISEMENT - CONTINUE READING BELOW
Also read:
10 Action-Packed Korean Shows to Stream If You Need a Break From Rom-Coms
10 New K-Dramas You Should Have Seen by Now
10 Underrated K-Dramas to Check Out If You Like Rom-Coms
After CLOY and Kingdom, Here's a Peek at Netflix's K-Drama Slate
Dive into the medical world with these 10 medical K-dramas:
Hospital Playlist (2020)
Where to watch: Netflix
Yes, doctors can have friends too. Follow the adventures—and misadventures—of this tight knit group of doctors who have managed to stick together 20 years after having met in medical school: the steadfast Song Hwa (Jeon Mi Do), the group's leader, introverted Seok Hyeong (Kim Dae Myeong), streetsmart Ik Jun (Cho Jung Seok), skilled surgeon Jun Wan (Chong Kyung Ho), and the caring but secretive Jeong Won (Yoo Yeon Seok). From creators Shin Won Ho and writer Lee Woo Jung, the same brains behind the Reply series, you can expect nothing less than the pains and laughs of real life.
ADVERTISEMENT - CONTINUE READING BELOW
Recommended Videos
Dr. Romantic 2 (2020)
Where to watch: Viu
We know you can't get enough of surgeon Kim Sa Bu (Han Suk Kyu) and his terrifying intelligence. This follow-up to the popular 2016 series still tracks the top surgeon as he works in Doldam Hospital, a small countryside facility. After a former patient, who was also the hospital's financer, dies, the self-proclaimed "Dr. Romantic" must find a way to keep the place up and running.
Beautiful Mind (2016) 
Where to watch: Viki
Get ready for a whole lot of feelings. This K-Drama may have been cut down to just 14 episodes from 16 due to poor ratings, but there's a reason it's gathered quite the following in recent years. Lee Young Oh (Jang Hyuk) is an unfeeling but incredibly talented neurosurgeon who becomes involved in strange deaths at the hospital, leading the principled policewoman Gye Jin Sung (Parasite's Park So Dam) to become entangled in his life. This series takes from Mary Shelley's classic novel Dr. Frankenstein and tells the story of how a "monster" finds the capability to love.
ADVERTISEMENT - CONTINUE READING BELOW
Good Doctor (2013)
Where to watch: Netflix
Before ABC came out with an American version of The Good Doctor starring Freddie Highmore, this K-Drama was first on the screen in 2013. It follows autistic savant Park Si On (Joo Won) as he struggles to prove himself as a capable pediatrician. He is faced with tough obstacles in the form of ill-tempered and critical surgeon Kim Do Han (Joo Sang Wook), as well as his own limitations due to his condition. The fiercely competitive medical world soon gets to Si On, who struggles along with his colleagues to give the children the care they need and hopefully, save lives.
Doctor Stranger (2014)
Where to watch: Viu, Netflix
Not to be confused with Bernardo Humpersnatch's portrayal of Doctor Strange, this K-Drama is arguably one of the first medical series to gain a following. Doctor Stranger follows Park Hoon (Lee Jong Suk), an almost-godlike surgeon, who was held captive along with his father and teacher Park Cheol (Kim Sang Joong) in North Korea. When he finally manages to return to South Korea after his father's death, Park Hoon returns to working as a doctor at a top hospital—only to find Doctor Han Seung Hee (Jin Se Yeon), a girl who looks exactly like the woman he had to leave behind in North Korea.
ADVERTISEMENT - CONTINUE READING BELOW
Hospital Ship (2017)
Where to watch: Netflix
You know what would make a life-or-death medical situation even more stressful? Putting the entire operation on a boat. Hospital Ship is a slice-of-life story about three doctors who must overcome their differing perspectives and experiences to help their patients—all on a medical ship that visits rural islands. Song Eun Jae (Ha Ji Won) is an ambitious and seemingly cold doctor who leads the team, Kwak Hyun (Kang Min Hyuk) is the warmer junior doctor who is able to connect with the patients better, while Kim Jae Geol (Lee Seo Won) is a doctor who believes in oriental medicine.
Doctors (2016)
Where to watch: Netflix
Told through two different points in the life of Yoo Hye Jung (Park Shin Hye), this K-Drama follows her journey as a rebellious teenager who turns over a new leaf—largely due to the influence of her high school teacher, Hong Ji Hong (Kim Rae Won), who has also had a troubled past—and works hard to become a doctor. The two cross paths again 13 years later, when Hye Jung has become a top neurosurgeon.
ADVERTISEMENT - CONTINUE READING BELOW
Doctor John (2019)
Where to watch: Viu
Mixing the medical field with suspense, Doctor John touches on the harsh realities doctors and medical experts must face: including the sensitive topic of euthanasia. It focuses on Cha Yo Han (Ji Sung)—an anesthesiologist who spent three years in prison for euthanizing a dying patient whose pain he could not lessen—and Kang Si Young (Lee Se Young), a resident who met Yo Han while he was in jail. The two work together in a hospital to diagnose patients who come in with strange pains.
Emergency Couple (2014)
Where to watch: Viu
Who doesn't love a good love-hate relationship? Oh Jin Hee (Song Ji Hyo) and Oh Chang Min (Choi Jin Hyuk) are a divorced couple—they met and married in their early 20s, also while in medical school—who are reunited six years later when they both show up as interns at the same hospital. Vying for their medical degrees, sparks rekindle as the two are forced to work together in the emergency room for three months.
ADVERTISEMENT - CONTINUE READING BELOW
It's Okay That's Love (2014)
Where to watch: Netflix
While technically not set in a hospital, this romantic drama dives not into the human body but into the mind. Jang Jae Yeol (Jo In Sung) is a slightly arrogant and successful author-slash-DJ who suffers from obsessive-compulsive disorder. He meets and is fascinated by Ji Hae Soo (Gong Hyo Jin), who harbors traumas of her own. Despite their own stubbornness and strong personalities, the two fall in love—only to have their relationship hampered by Jae Yeol's deepening mental issues due to his tragic past.
Your guide to thriving in
this
strange new world.
Share this story with your friends!
---
Help us make Spot.ph better!
Take the short survey
Load More Stories