10 Stand-Up Comedians on Netflix Who Are Keeping It Real
Laugh, cry, or do a little bit of both at the same time.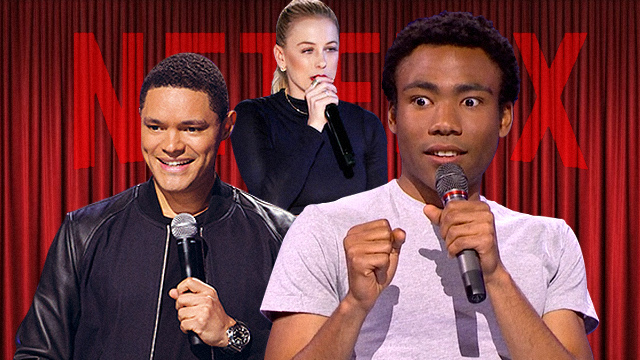 (SPOT.ph) News updates just get weirder and weirder each day. You have ostriches running loose in the city, government officials who make waves for the strangest reasons (think dancing on TikTok or being the subject of Photoshop gems), and a huge number of Pinoys seemingly wanting to move to Mars, stat. It's all started to sound too strange to be true, and thankfully, stand-up comedians exist to give you an entertaining dose of truth bombs. They dish out ugly truths that we need to hear, except they're wrapped in a rainbow-coated goodness of jokes and anecdotes. You may laugh, you may cry—but one thing's for sure: You'll remember these stories for a while.
Also read:
10 Anime Classics to Stream on Netflix If You're a Newbie
10 Binge-Worthy Medical TV Shows to Stream Now
10 TV Shows You Can Finish in a Week If You Never Hit Pause
ADVERTISEMENT - CONTINUE READING BELOW
Check out these stand-up comedians you can watch on Netflix:
Hasan Minhaj
Before starring in his own comedy talk show Patriot Act, Hasan Minhaj had a stand-up special on Netflix in 2017 titled Homecoming King. He talks about his experience as a Muslim-American post-911, dealing with racism, growing up with immigrant parents, and the horrors of attending prom. It's peppered with truth bombs delivered at the fast pace that Minhaj is known for. 
Hannah Gadsby
Hannah Gadsby starts her second comedy special Douglas (2020) with a short look-back on her first, Nanette (2018). "If you're here because of Nanette, why?" she says with much sarcasm. Both performances are "very particular shows with very particular flavors," but still make audience members laugh—sometimes uncomfortably—at all the exposed ugly truths: sexism, homophobia, and assault. 
CONTINUE READING BELOW
Recommended Videos
Trevor Noah
The Daily Show host Trevor Noah traces his roots from South Africa and often uses this personal background as a migrant in his beats. In Son of Patricia (2018), for example, he talks about lessons from his mother, who's of Xhosa ancestry, in dealing with racism upon coming to America; and suggests to TripAdvisor to come up with a different set of recommended travel activities specifically for people of color. "I find that what white people want to do on vacation is what black people are trying to escape," he concludes after a bad experience while camping with friends. You can also watch Noah's Afraid of the Dark (2017) on Netflix.
W. Kamau Bell
Unlike most stand-up specials, W. Kamau Bell's show Private School Negro (2018) was recorded in a theater-in-the-round set-up. This not only amplifies his very conversational approach in delivering his jokes, but also allows him to interact with the audience—most especially in a collective singing of "American Pie." He muses about raising two African-American daughters in the Trump era and letting a surprisingly political children's television show explain to them what they need to know. 
ADVERTISEMENT - CONTINUE READING BELOW
Taylor Tomlinson 
Taylor Tomlinson connects with her fellow 20-somethings in Quarter-Life Crisis (2020). We've been through it (or for some, wading through it): The often glorified "best years of your life," when you're actually just stumbling through relationship mistakes, bad choices, and the search for your self-identity. "You don't have a gut to listen to yet," Tomlinson concludes, and you just know it's true. 
Iliza Shlesinger 
In a 2018 Netflix special, Iliza Shlesinger talks about being an elder millennial at 35 (a.k.a. being born "right in the cutoff" before Generation X) with all the wisdom that comes with it. But it's not without kinks; you just get a better bullshit meter, she explains. Aside from Elder Millennial, you can also watch Shlesinger's Unveiled (2019), Confirmed Kills (2016), and Freezing Hot (2015) online. 
Ronny Chieng
For most people, the search for greener pastures means coming to the United States. Ronny Chieng, who was born to a Malaysian-Chinese family and grew up in various places (specifically Singapore, New Hampshire, and Australia) tries to make sense of this worldwide belief that "America is the NBA" in his Netflix special Asian Comedian Destroys America! (2019). At the same time, the senior correspondent of The Daily Show pokes fun at the weirdest things that Americans are doing such as unnecessary diet restrictions and prying doors open in the subway.
Mae Martin
Mae Martin doesn't have her own Netflix special just yet, but she's worth browsing through the 47 episodes in the series Comedians of the World. (You can head straight to episode two of the U.K. collection. You're welcome.) In the 30-minute clip, she reminisces on her childhood obsession with superstar performer Bette Midler and how this transformed into an obsession with drugs, and then later with relationships. Martin's rollercoaster of a life is also featured in her six-episode British dramedy series, Feel Good (2020), which is also on Netflix. 
ADVERTISEMENT - CONTINUE READING BELOW
Donald Glover
If you hate kids, then you can definitely relate to Donald Glover in Weirdo (2012). The Community star talks about growing up surrounded by a lot of kids (his mom kept a foster home and his cousins frequently came over) and eventually thinking that they're awful small beings. He also inserts themes of racism and the struggles of being black even in this era, citing some people's disgust when someone suggested that he could someday play Spider-Man.
Ali Wong
Ali Wong jokes about dedicating one Netflix special for each of her children to make sure that there's no jealousy between them—she was pregnant while filming both Baby Cobra (2016) and Hard Knock Wife (2018). In these specials, she tackles hilarious truths about sexual adventures, marriage, motherhood, and feminism. 
Your guide to thriving in
this
strange new world.
Share this story with your friends!
---
Help us make Spot.ph better!
Take the short survey
Load More Stories