10 Most Attention-Grabbing Commercials of 2020
For those times you didn't click "Skip Ad."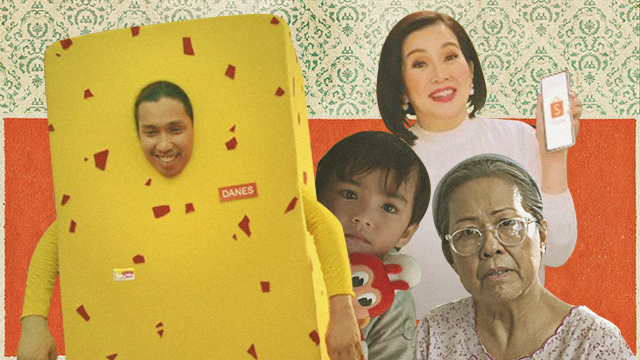 (SPOT.ph) There are times when clicking on "Skip Ad" isn't actually a thing you want to do. Like when a commercial just gets you good, whether it is because of an endorser, the actual product, or, most of the time, it's the story (other times, it's the so-called gimmick). Whatever it is, there were a few standout commercials from 2020 that proved to be bright spots in an otherwise dismal year. For this list, we round up 10 of the wildest, funniest, saddest—and whatever other "most" you can think of—local commercials of 2020.
ADVERTISEMENT - CONTINUE READING BELOW
Also read: 
10 Most Attention-Grabbing Commercials of 2019
10 Celebrity Commercials From Before They Were Famous
Top 10 Favorite One-Liners From Pinoy Commercials
The Craziest Commercial of 2020 Has Dropped and the Twitterverse Has So Many Questions
These Filipino commercials caught our attention in 2020; which of these do you recall by heart?
"Family" from RC Cola
This polarizing commercial is the type you either never want to see again or watch on the daily. The totally random yet strangely—squint with us a bit here—touching storyline had people freaking out when it first dropped, but the GIGIL team behind it does have some answers. Apparently, the commercial was meant to resonate with the Gen Z crowd—but it certainly went way beyond that. Plus, peep that incoherent YouTube title.
CONTINUE READING BELOW
Recommended Videos
"The Smell That Never Dies" from Old Spice PH
Old Spice is known around the world for their completely crazy one-take commercials and the local contingent wasn't about to miss out on the chance to take on the challenge. While it's not technically a one-take wonder, we totally see the Old Spice spirit. Talk about taking "kili-kili power" to the next level.
ADVERTISEMENT - CONTINUE READING BELOW
"Sarap Kasama Ang Pamilya" from Jollibee
What is it about this bee and why do they know exactly how to make us feel things? Jollibee continued their streak of emotionally powerful commercials this 2020, and their latest drop really just takes the cake. It starts off with the little kid singing a sad little tune and has you prepping the tears—then does a total 180 and gives you a reason to have a happier perspective, while still giving you a reason to cry (the happy kind).
"Care from Afar" from Vicks Philippines
No list of best commercials would be complete without a truly emotional one. Also released at the height of the quarantine, we know a massive amount of people related to that helpless feeling of being away from the people who need you—and you need—most. And add in the touching letter for a mother, who always somehow knew just what to do to take care of her (now-grown) child, and bam, instant water works.
ADVERTISEMENT - CONTINUE READING BELOW
"Bacon 'Yan" from Danes Bacon
This series of shorts—another gem from GIGIL—is best watched in the right sequence to get the full effect. It features meta moments, cannibalism, quality Pinoy-style jokes, and a giant humanoid block of cheese with real bacon bits. It's strange, we know, but these commercials sure delivered when we all badly needed a laugh.
"Safe Trip Pinas" from the Department of Tourism
Bet you thought they were going to pull a "Vow" from Jollibee, didn't you? Thankfully, this tourism commercial kept the rug steady beneath you. Travel was both the farthest thing, and the only thing, on everyone's mind this 2020 so we're loving this sweet little shout-out to all the folks keeping the industry going! Fun fact: The version of the ballad "You" is performed by Armi Millare of UDD.
"Babangon Tayo" from Nescafé
Don't lie: You totally sang along to this. You might remember the equally viral Erwin Macua and his line "Para saan ka bumabangon?" commercial—which BTW, dropped in 2018. Feels so long ago, doesn't it? Well, this coffee brand followed it up with this absolute earworm and a hopeful music video to match in February 2020. The song instantly became one of those commercial jingles that may never leave Pinoy pop culture ever again.
ADVERTISEMENT - CONTINUE READING BELOW
Kris Aquino for Shopee's 11.11 Big Christmas Sale
While Manny Pacquiao and Jose Mari Chan have made memorable ads for this online shopping platform before, we're sure no one expected this earful from Kris Aquino herself. She also dropped the high-energy commercial on her own Facebook page in October, dropping references to all her old roles—and some Kris Aquino-quality yells as well—to remind us that yup, Christmas is coming, and so is this huge sale.
"#DearPa" from PLDT
Dad jokes are the best—and this short, simple, but totally well-played commercial gets it. Dropped just in time for Father's Day, this cute little bit had everyone laughing. We can't get over the totally serious tone and the dad's absolute deadpan face, and those moves? Well, he might just give TikTok celebrities a run for their money.
"Smile Ka Na, Lola" from McDonald's
ADVERTISEMENT - CONTINUE READING BELOW
Continuing their strong play of including the elderly ("Karen Po" has been forever etched into the Pinoy consciousness) McDonald's dropped this huge feelings bomb on everyone at the height of the quarantine. Featuring a girl helping her lolo get out of the doghouse via video call and a quick delivery, the commercial spoke to all the people missing their loved ones when they couldn't be together—especially their makulit grandparents. Plus points for the candlelit set-up lolo made on the fly! We love the santan arrangement.
Share this story with your friends!
---
Help us make Spot.ph better!
Take the short survey
Load More Stories