10 Unforgettable Pinoy Movie Moms, Ranked by How Much We'd Like to Be Their Kid
Fingers crossed we get to be the "favorite ni mama."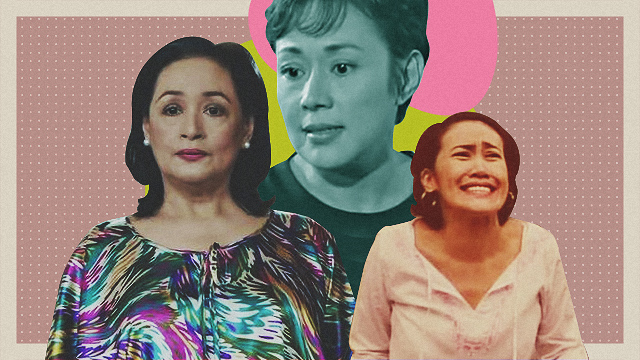 (SPOT.ph) Mothers hold a special in our hearts—and in Pinoy pop culture, too. We can't be the only ones who like watching tear-jerking Pinoy movies about moms with our moms; that always makes for a fun Saturday night (don't judge us). So to celebrate all our mother figures, we round up 10 of the most unforgettable ones from movies. From classics to lesser-known indie hits, we took all kinds of mothers and ranked them by how much we'd like them to be ours—just for fun. Take your pick for the next movie night with Mom below!
Also read:
10 Brilliant Words of Wisdom From TV and Movie Moms
10 Pinoy Picks for Your Movie Marathon With Mom
How much would you like these 10 mothers in Filipino films to be your mom?
10. Joy (Kris Aquino) in Feng Shui
ADVERTISEMENT - CONTINUE READING BELOW
You know how parents say they only want what's best for you? Well, Joy proves that their wanting the best doesn't always equate to them being right—especially when it comes to weird and clearly haunted artefacts. This unforgettable horror film starred Kris Aquino as the hardworking mom willing to do anything for her family's sake, even messing with an old mirror that exchanged good fortune with literal death. Honestly, Joy, why didn't you just give the dang Bagua back right away? We can kind of understand if we squint really hard, but that decision Joy made lands her at the bottom of this list.
CONTINUE READING BELOW
Recommended Videos
Unforgettable mom moment: All those times Kris Aquino mustered her screaming powers. Has nothing to with being a mom, but definitely worth a special mention.
9. Shirley Templo (Vilma Santos) in In My Life
The "stubborn mom" stereotype is brought to the limit by Shirley Templo, as played to a tee by Vilma Santos. When the headstrong teacher heads to New York to live with her youngest kid Mark (incidentally played by Santos' real-life son Luis Manzano) she finds herself struggling to accept all the changes—including Mark's boyfriend Noel (John Lloyd Cruz). Santos somehow combines Shirley's intense, erm, mom-like irritability (Read: Taray to the next level) with a hilarious edge. Just you try not to cry when her hard shell finally starts cracking and this mom actually starts to accept—and maybe even learn to love—change.
Best mom moment: Can you believe JLC slapped the Vilma Santos? That confrontation scene was epic (Read: "Anak mo lang siya!")—but that sweet ending was even better.
ADVERTISEMENT - CONTINUE READING BELOW
8. Grace Salazar (Coney Reyes) in Four Sisters and a Wedding
No list of movies about Filipino families would be complete without the Salazars—and their mom. Specifically, the OG Grace, Coney Reyes (with our excuses to Carmina Villaroel)! Grace knows how to say so many things with a single stare, exactly like your mom does. She had relatively little dialogue in the movie but she wielded her matriarchal powers to great effect. We just can't take that she (unconsciously) played favorites. Bobbie may have been able to accept it, but we're clearly not as mature as she is.
Best mom moment: Like anything could replace that confrontation scene.
7. Mariel (Sharon Cuneta) in Madrasta
The stepmother character is usually the bad guy in movies. In Madrasta though, Sharon Cuneta plays a new wife just trying her darndest to be the good guy. Directed by Olivia Lamasan and co-written by Ricky Lee—two Pinoy drama greats—it follows several years in the life of Mariel (Cuneta), from her marriage to Edward (Cristopher de Leon) to her struggles to become accepted by his three children (Claudine Barretto, Patrick Garcia, and Camille Prats). The movie features some epic dialogue and stellar acting, with Nida Blanca even gracing the screen. Ultimately, we just want a mom who'll fight as hard as Mariel does for what she knows she—and her family—deserves.
Best mom moment: Say it with us now: "I was never your partner, I'm just your wife."
6. Angie Ferro in Lola Igna
ADVERTISEMENT - CONTINUE READING BELOW
Lola Igna (Angie Ferro) has become something of a tourist attraction in her hometown, thanks to her very old age—but really, all she wants is to die. When a young vlogger purporting to be the son of a long-estranged granddaughter pops up though, we join her on a journey of rediscovering life and all its little twists and turns.
Best mom moment: Lola Igna is crass, hilarious, and would clearly be an epic grandmother to have. All her little quirks though—such as speaking to a long-dead husband—point to the biggest and truest things we should hold dear, including our moms.
5. Iyay (Jaclyn Jose) in Patay na si Hesus
Jaclyn Jose in a Bisaya dark comedy? You know it. Patay na si Hesus isn't your typical family road-trip movie. Iyay (Jose) is taking her three kids—transman Jude (Chai Fonacier), the chill Jay (Melde Montañez), and Hubert (Vincent Viado), who has down syndrome—from Cebu City to Dumaguete for the funeral of their estranged father (named Hesus, hence the title). Despite her tough exterior, the story makes it clear that she had to force herself to become strong for the sake of her kids. And even with her tough love, her understanding ways still shine—especially when she and her ex-husband's new wife get to talking.
Best mom moment: Her poignantly asking her kids for forgiveness towards the end of the movie comes to mind first. Still, we can't deny the way she told her kids their dad was dead—by first talking about completely different things and then suddenly just blurting it out—is just peak mom.
ADVERTISEMENT - CONTINUE READING BELOW
4. Coring (Dolphy) in Ang Tatay Kong Nanay
We're going all the way back to '70s because we can't not include this Lino Brocka work. Dolphy stars as Coring, a beautician who takes in Nonoy (Nino Muhlach), the son of Dennis—a much younger man whom he happens to be in love with. Right when Nonoy is fully carved into Coring's heart is when the biological mother swoops in to try and take him away. Enter a painful story of what it really means to be a mother, sex or blood-relation be damned.
Best mom moment: Coring's final speech at the pageant proclaiming that he was only human too had us in tears, especially since it was sandwiched between two more intense tearjerkers.
3. Baby Magtalas (Irma Adlawan) in A Very Special Love
If you're wondering where Laida Magtalas (Sarah Geronimo) got her endless supply of energy and good vibes, look no further than her mom, Baby (Irma Adlawan). Throughout the trilogy (yes, we're counting the succeeding movies), Baby was Laida's source of strength, especially when dealing with the hotheaded Miggy Montenegro (John Lloyd Cruz). She was always there for her with the exact words of wisdom that Laida needed whenever she felt down.
Best mom moment: We can't possibly choose just one of the slew of sweet moments she has. Honestly, we're pretty sure moms as understanding as Baby are rare so she takes the third highest spot.
2. Josie (Vilma Santos) in Anak
ADVERTISEMENT - CONTINUE READING BELOW
The story of the Filipina mom heading overseas and sacrificing so much to support her family can never be told enough times. But it can't be denied that Anak is the most unforgettable and instantly recognizable take. Vilma Santos plays Josie, a domestic OFW who comes home to find that children she had been fighting for so long to support don't even know her anymore. Carla (Claudine Baretto), her eldest, becomes her biggest heartbreak as she openly challenges her authority. No matter how much it hurts, we can't ask for a better mom than someone as selfless as Josie.
Best mom moment: That epic confrontation between Josie and Carla hit deep—and all because of tortang talong. BRB while we call our parents crying to thank them for always making sure we had food on the table, no matter what it took.
1. Ina Montecillo (Ai Ai Delas Alas) in Ang Tanging Ina
We know, it's a hard jump to go from Anak to Ang Tanging Ina, but hey, this is a totally biased list. The incredibly resilient Ina Montecillo played by Ai-Ai Delas Alas represents all the ideal Pinoy mom stereotypes: she works hard, puts her kids' welfare above everything, does her best to understand each child, plus, she even became President of the Philippines in the sequel. Combine that epic resume with an undefeatable personality—although she can be easily misguided at times, we admit—and a heart of gold, and you've got our number one Pinoy movie mom.
ADVERTISEMENT - CONTINUE READING BELOW
Best mom moment: The hunt for Tenten. You know what we mean.
Hey, Spotters! Check us out on Viber to join our Community and subscribe to our Chatbot.
We are now on Quento! Download the app and enjoy more articles and videos from SPOT.ph and other Summit Media websites.
We are now on Quento! Download the app and enjoy more articles and videos from SPOT.ph and other Summit Media websites.
Share this story with your friends!
---
Help us make Spot.ph better!
Take the short survey
Load More Stories