10 Mind-Bending Psychological Thrillers You Can Stream Right Now
Queue these familiar faves and promising picks.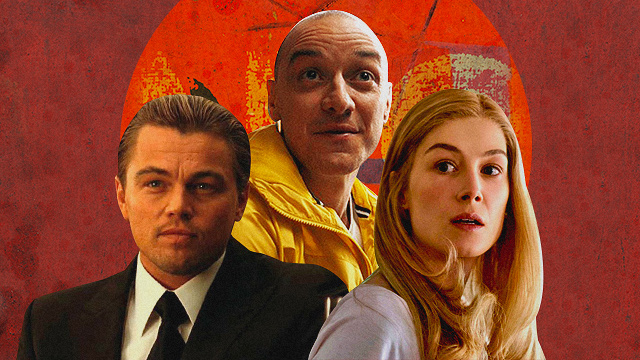 (SPOT.ph) Every now and then, it's fun to sit through a mind-bending, WTF-inducing psychological film just to get our minds whirring with anticipation. Thankfully, there's no shortage of it on the Internet—and we've handpicked some of the most interesting flicks in this list. Pro tip: Make sure to ready a pambanlaw flick to shake off the stress after. Or in between films, whatever you're into. 
Also read: 10 Horror Movies With Real-Life Elements For Extra Creepy Vibes
Check out these psychological thriller movies if you're after a mind-bending time:
Inception (2010)
Where to stream: HBO Go, Google Play 
The spoiler-free rundown: In Christopher Nolan's widely talked about award-winning film with an ensemble cast, Dom Cobb (Leonardo di Caprio) assembles an A-team (Joseph Gordon-Levitt, Elliot Page, Tom Hardy, and Dileep Rao) to perform one last "dream heist" for a wealthy and powerful businessman named Saito (Ken Watanabe) in exchange for erasing Cobb's criminal history, enabling him to return home and be with his children once again. 
ADVERTISEMENT - CONTINUE READING BELOW
Why you should watch it: Inception is composed of many complex layers and, trust us, the story is so much better seen unravelling before your very own eyes. Inception steals your attention from beginning up until the very last scene—and its head scratcher of an ending will definitely haunt you for days. 
Gone Girl (2014)  
Where to stream: Netflix, Google Play
The spoiler-free rundown: The dysfunctional relationship between a man and a woman lies at the heart of David Fincher's opus, which he had adapted from the eponymous novel by Gillian Flynn. In Gone Girl, Amy Dunne (Rosamund Pike) goes missing, and all fingers point to her husband Nick (Ben Affleck). 
Why you should watch it: Sure, husbands and wives will always have their differences and will have squabbles here and there, but Gone Girl takes marital discontent to a whole new level. "Insane" barely covers the actions taken by the characters, particularly by Pike's Amy, who delivered the infamous "Cool Girl" monologue. This movie also showcases how appearances can be deceiving—and how far (just fictional, we hope) scorned women can go to get their revenge.
The Invitation (2015)
Where to stream: Netflix
The spoiler-free rundown: Karyn Kusama's The Invitation is, in simplest terms, about a dinner party gone very, very wrong. Here, Will (Logan Marshall-Green), together with his girlfriend Kira (Emayatzy Corinealdi), accepts an invitation from his ex-wife Eden (Tammy Blanchard) and her new husband David (Michiel Huisman) to a dinner party, along with the estranged pair's closest friends. Given Will and Eden's bitter history together, the party's atmosphere was awkward—throw in a hint of cult indoctrination, and everything just spirals down quickly and turns into the dinner party from hell.
CONTINUE READING BELOW
Recommended Videos
Why you should watch it: Despite its relatively simple premise, The Invitation packs a punch in terms of the kind of feelings it can make you feel. It's an uncomfortable watch, overall, thanks to a handful of triggers: trauma, personal beliefs, death, mental manipulation, and, yes, gore. So much of it.
Split (2016) 
Where to stream: Apple TV, Google Play 
The spoiler-free rundown: This M. Night Shyamalan-helmed film sees James McAvoy as the protagonist-slash-antagonist: a man with 24 different personalities who kidnaps three girls from a birthday party, imprisons them in an underground room, and terrorizes them with his multiple personas.
Why you should watch it: McAvoy truly shines in Split, where he seamlessly went from one persona to the next, and it's such an amazing thing to see. Split may be no The Sixth Sense, but it's still one of Shyamalan's—who has, it seemed, gained infamy for absurd plots—more decent works. Oh, and you can see pre-The Queen's Gambit Anya Taylor-Joy star as one of the girls here too. 
Forgotten (2017)
Where to stream: Netflix
The spoiler-free rundown: There's a reason why Jang Ha Jun's movie is titled as such, but we'd rather you see it yourself. On the surface, Forgotten follows the story of Jin-seok (Kang Ha Neul), who moves into a new house with his family but soon feels that things with his family and at home are just a little… off.
Why you should watch it: Forgotten has a fairly complex plot that makes it a gripping watch from beginning to end. We see the lead struggle to figure out the mystery surrounding his family—and at the same time, it keeps viewers guessing what the real story is. Definitely not boring at all. 
ADVERTISEMENT - CONTINUE READING BELOW
The Plagues of Breslau (2018)
Where to stream: Netflix
The spoiler-free rundown: This Polish thriller by Patryk Vega follows the trail of a serial killer that kills every day at 6 p.m. from the perspective of detective Helena Rus (Malgorzata Kozuchowska)—which might sound like nothing new, but what makes this worth a watch is the killer's inspiration: the fictional Week of Plagues attributed to (the very real) 18th-century ruler Frederick the Great, which saw every day except Sunday one person who had committed degeneracy, pillaging, corruption, slandering, oppression, or treachery, publicly executed.
Why you should watch it: The Plagues of Breslau is mostly a whodunit, albeit a little predictable once you arrive at a certain point in the movie. The fast-paced, adrenaline-filled story more than makes up for it, and the, uh, creativity of the killer is both disgusting and even a tad fascinating.
Saint Maud (2019)
Where to stream: Netflix, Apple TV
The spoiler-free rundown: In Rose Glass' directorial debut, Morfydd Clark plays the titular character, a private nurse and a recent convert yet devout Roman Catholic. She's definitely no saint, although she develops an obsession with the enthralling woman (Jennifer Ehle) under her care—and somehow believes she must save her soul. 
Why you should watch it: Saint Maud starts quietly but when it begins to go off the rails, there's no going back. The tension rises, breaks off briefly in the middle, but returns full force as the movie rises to its climax. Fair warning: Some of the visuals are a bit disturbing.
ADVERTISEMENT - CONTINUE READING BELOW
The Lighthouse (2019) 
Where to stream: HBO Go, Apple TV
The spoiler-free rundown: Shot completely in black and white, Robert Eggers' film is an atmospheric one, centering on two lighthouse keepers (Willem Dafoe and Robert Pattinson) who get stranded in the remote lighthouse they're in during a storm. Basically, The Lighthouse chronicles their descent into madness.
Why you should watch it: There is certainly a lot to unpack when you watch The Lighthouse. If you read about the inspiration behind the film, it's interesting to discover the themes the Eggers brothers have worked into it and see them all play out on the screen.
Deep (2021) 
Where to stream: Netflix
The spoiler-free rundown: The lightest movie in this bunch, this Thai thriller directed by Sita Likitvanichkul, Jetarin Ratanaserikiat, Apirak Samudkidpisan, Thanabodee Uawithya and Adirek Wattaleela follows the story of four sleep-deprived medical students (Panisara Rikulsurakan, Kay Lertsittichai, Supanaree Sutavijitvong, and Krit Jeerapattananuwong) who participate in a sleep study in exchange for a handsome sum of money. What started out as an easy-money scheme eventually morphs into a life-or-death situation. 
Why you should watch it: Deep is for those who prefer a lighter fare than most thrillers, with a bit of teenage angst and family drama to balance things out. Still, it holds up pretty well on its own, and deserves to be watched at least once.
Red Dot (2021)
Where to stream: Netflix
The spoiler-free rundown: In this Swedish thriller directed by Alain Darborg, we see married couple David (Anastasios Soulis) and Nadja (Nanna Blondell) take a trip to the snowy wilderness in an attempt to rekindle their souring relationship and find themselves (and their dog Boris) prey to an unnamed shooter who trails a laser light from a rifle both as an attempt to intimidate and hurt. 
ADVERTISEMENT - CONTINUE READING BELOW
Why you should watch it: There certainly are no happy endings on Red Dot, easily making it the darkest movie on this list. The chase between hunter and the hunted is grim and stressful, and the twist is both unexpected and heartbreaking. Finally, Red Dot is a cautionary tale on how terrible decisions from the past can—and will—catch up to you eventually.

Hey, Spotters! Check us out on Viber to join our Community and subscribe to our Chatbot.
We are now on Quento! Download the app and enjoy more articles and videos from SPOT.ph and other Summit Media websites.
Your guide to thriving in
this
strange new world.
Share this story with your friends!
---
Help us make Spot.ph better!
Take the short survey
Load More Stories