Once Upon a Time in Hollywood Lets Tarantino Be Heartfelt Yet Still Brutal
It's director Quentin Tarantino's love letter to Hollywood.
(SPOT.ph) When you go into a Quentin Tarantino movie, you kind of have an idea what to expect. There will be some great visuals, wordy but well-written dialogue, an extreme attention to detail, witty and funny scenes, cool characters, homage to films of the past, and violence—lots and lots of angry, brutal, hate-filled violence. That has become the calling card of the director of works such as Pulp Fiction, Kill Bill, Inglourious Basterds, and Django Unchained. With his latest epic, however, Tarantino takes a sharp left turn into the land of mellow, touching, and empathetic. Don't get it twisted—there are still tons of Tarantino's signatures all over this film, but at its core, it's Tarantino at his most pensive, at his warmest, and at his sweetest, and that's quite the effort considering the entire film is framed by the very disturbing murders by the Manson family during the same time period. Once Upon a Time in Hollywood lets Tarantino take a step back from the aggressive filmmaking he's known for by delivering an uncharacteristically hopeful and bittersweet film.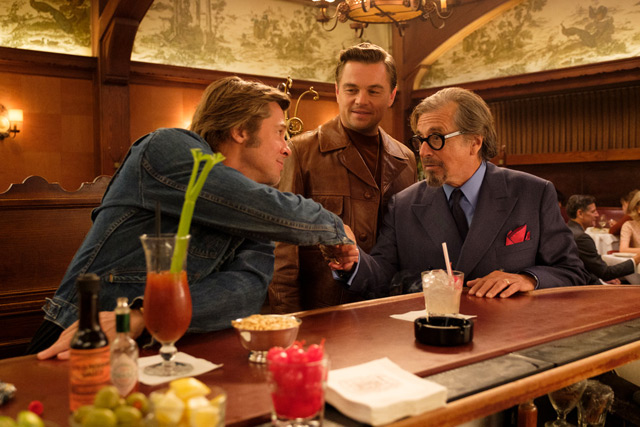 ADVERTISEMENT - CONTINUE READING BELOW
It's 1969, and in the hazy, sunlit Hollywood studio backlot works Rick Dalton (Leonardo DiCaprio), the former lead star of a Western television show who is now stuck doing smaller, typecast parts in other TV shows. He's starting to feel a bit lost in his career after a producer (Al Pacino) asks him to work in Italian Westerns, a genre that Rick believes is beneath him. He spends his days lamenting about his work to his stunt double Cliff Booth (Brad Pitt), who also pretty much acts as Rick's driver and assistant.
As Rick is hired for another villain role in yet another Western-themed show, Cliff encounters a hippie girl named Pussycat (Margaret Qualley) and has his own nostalgic adventure while Rick tries to keep it together on set. Meanwhile, Rick notices that rising star Sharon Tate (Margot Robbie) and director Roman Polanski live next door to him, noting that he could just be "one pool party away" from reviving his career.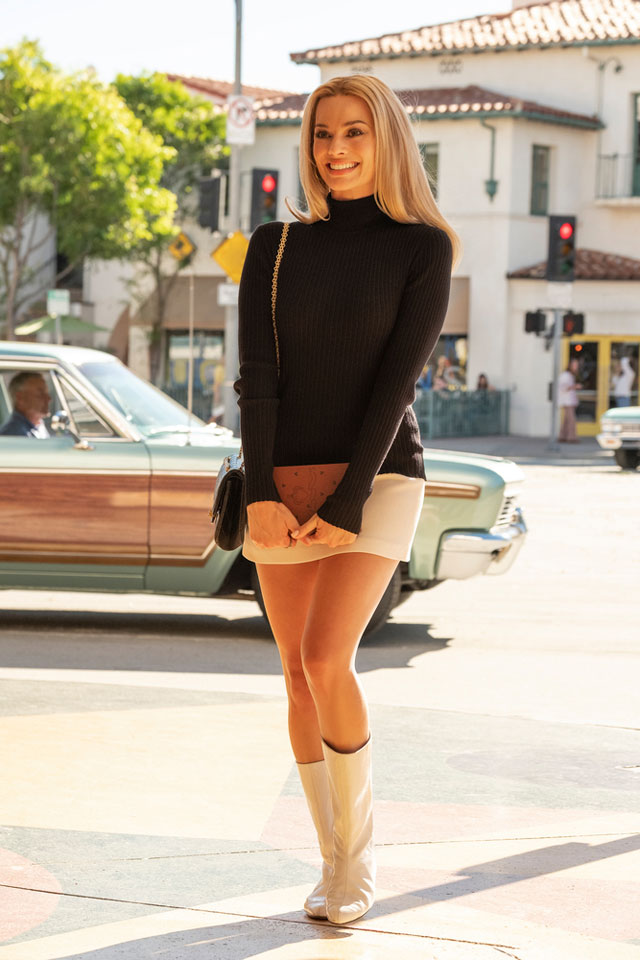 CONTINUE READING BELOW
Recommended Videos
Once Upon a Time in Hollywood is Tarantino living out a fantasy. This film feels very personal in the sense that it is filled with things Tarantino loves—old movie theaters, drive-ins, '60s clothes, '60s cars, Playboy mansion parties, and classic movies and TV shows. More than a narrative film, it is an experience. The time-period detail is so exquisite, and at the same time vast and intricate. The neon lights, the cool cars—everything just draws you in, almost making it feel like you want to smell and feel and touch the world that Tarantino has created. It's so perfectly lived in as a setting, from the Hollywood sets to the mansions and houses the stars live in. Once Upon a Time in Hollywood is at once a nostalgic trip down memory lane, but is also a magical dream that Tarantino has conjured up.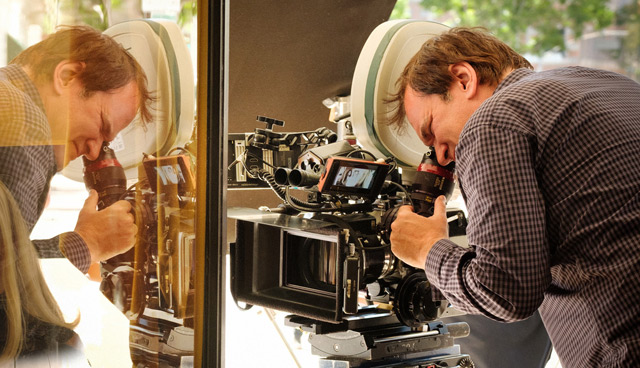 ADVERTISEMENT - CONTINUE READING BELOW
Often, Tarantino spends too much time enjoying the period detail that scenes will go on too long, or sequences seem to have no point except to show off some cool production design, which is great because the production design should be shown off if it is this good. However, it does end up taking away from the story and the way it's being told. Tarantino loves a non-linear narrative—he's employed it in almost all his movies—and Hollywood is no exception. For the most part, it's chronological, but there are tons and tons of sidebars and inserts of scenes throughout. Also, the three main characters' stories are intercut with one another in a messy way that really hurts the film's forward momentum. However, because scenes within these are so great, and the period detail so intoxicating, it's easy to get lost in the film anyway.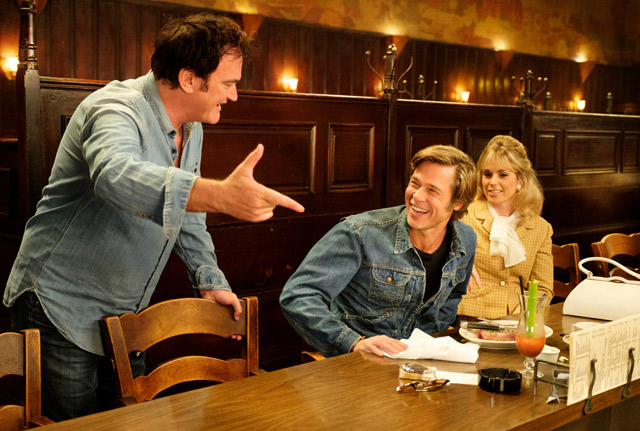 ADVERTISEMENT - CONTINUE READING BELOW
Tarantino isn't the softest filmmaker, but Once Upon a Time in Hollywood manages to be so sweet and touching throughout. Whether it's Rick in his movie set, or Sharon at the theater, or Cliff reminiscing on the roof, there is a feeling of empathy and love here, not often felt in Tarantino films. There's a feeling of hope, a feeling of longing for something greater, but there's also that feeling of accomplishment—doing what you love to do and achieving a level of excellence. It's a bold move for the often-blood and guts type filmmaker, allowing his characters' emotions to really hit the viewers. It also helps that Tarantino is a master at writing intricate yet wordy dialogue, and he puts it in full force here, at least for the men.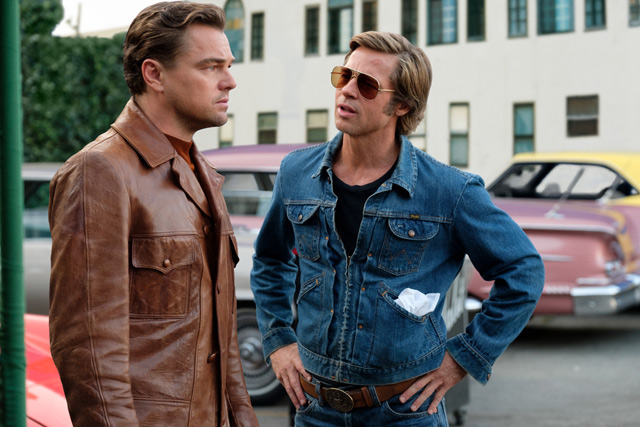 It should be noted that the emotions really hit hard when you have a cast like this. DiCaprio is in top form as a fading TV star hoping for something more. Not only is he given great material, he runs away with it. Scene after scene, DiCaprio shows why he's one of the most beloved actors of any generation, with charm and talent few have. Pitt is a terrific companion to DiCaprio. In a role almost suited to the laid-back actor, Pitt's Cliff may not have the same outbursts of emotion that Rick has, but Pitt plays that feel of longing mixed with toughness so perfectly. Also, Cliff's dog in the film named Brandy is a standout. While Sharon is unfortunately not given enough to do, Robbie manages to make every moment of hers shine. Robbie exudes this angelic light whenever Sharon comes on screen, charm and delight and beauty spilling all over the screen.
ADVERTISEMENT - CONTINUE READING BELOW
Tarantino casts a lot of his regulars in bit parts, basically cameos, so you'll notice a bunch of recognizable faces—Kurt Russell, Zoe Bell, and Michael Madsen among them, and they're fun to see. He also casts a bunch of young stars as part of the Manson family, giving up-and-comers like Qualley, Stranger Things' Maya Hawke, Better Things' Mikey Madison and future Elvis Austin Butler a time to shine alongside established stars like Pitt and DiCaprio. There are tons of familiar faces all throughout, all giving some great little performances, such as Pacino, Bruce Dern, Lena Dunham, Damian Lewis, Dakota Fanning and Timothy Olyphant. Child actor Julia Butters also makes an impact as she shares scenes with DiCaprio, holding her own, and managing to make Tarantino-dialogue work for a precocious child.
Once Upon a Time in Hollywood is a magical ride, and while it is—as Tarantino usually is—very self-indulgent as it spends more and more time swimming in its own time period, it should be an honor to spend this much time with Tarantino's favorite things. Yes, there is some questionable decisions on how he deals with certain things, and that should rightfully be called out. However, there never seems to be any bad intentions here. With a brilliant cast, a touch of sweetness, and the blending of the awesome and the silly as we've come to expect, this is another feather in the cap of Tarantino. It's yet another must-see film from him, one that could soon be seen as a classic Hollywood picture.
ADVERTISEMENT - CONTINUE READING BELOW
RATING: 4 out of 5 Spots.
Once Upon a Time in Hollywood is in theaters August 28. Photos courtesy of Columbia Pictures.
Share this story with your friends!
---
Help us make Spot.ph better!
Take the short survey
Load More Stories