10 New Tracks You Can Blast Out Loud at Home
Liven up your playlist with fresh songs from Dua Lipa, Ben&Ben, and more!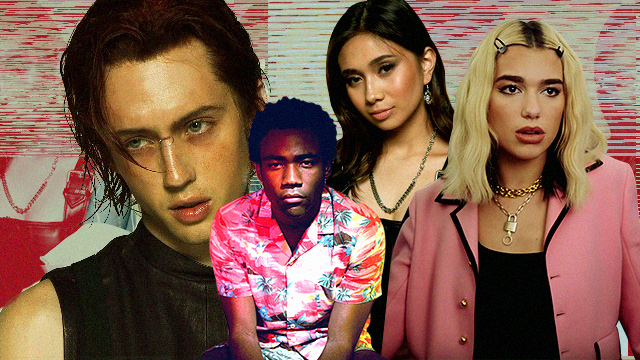 (SPOT.ph) Before you spiral into a bad case of cabin fever while in quarantine, allow us to liven up your stay at home with several fresh tracks. For our April playlist recommendations, we list new drops you can blast out loud for every mood, whether you're looking for an addictive bop to sing along to or a mellow beat to play while you unwind. Listen to the latest from British pop artist Dua Lipa, Troye Sivan, Charli XCX, and Childish Gambino. Local artists Yolanda Moon, December Avenue, Kean Cipriano, and Ben&Ben also released some fresh tunes.
Also read:
10 Songs That Are Turning 10 in 2020
10 Fresh Bops to Help You Power Through the Rest of the Year
Check out these April releases from your fave foreign and local artists: 
"Break My Heart"
Artist: Dua Lipa
You can count on the British pop artist to come out with an LSS-inducing bop that you'll play in your head for days. This song from her Future Nostalgia album boasts a catchy hook against funky strings. Dua Lipa recommends staying at home to avoid a boy, but the same advice stands in the current context!
ADVERTISEMENT - CONTINUE READING BELOW
Fun fact: The song comes with a simple choreo from Dua Lipa herself that you can dance along to!
"Bakas Ng Talampakan"
Artist: December Avenue
Inspiration takes the form of a song with December Avenue's latest track. The emotionally loaded song is a push to take another step no matter how difficult the journey has been. It's that nudge of encouragement to keep going despite all the mistakes you've made—and the Filipino lyrics make it all the more moving. 
Fun fact: Five-piece band December Avenue is responsible for other OPM hit tracks like "Sa Ngalan Ng Pag-Ibig," "Huling Sandali," used in Tayo Sa Huling Buwan Ng Taon, and "Kung 'Di Rin Lang Ikaw," which was used in Hello, Love, Goodbye.
CONTINUE READING BELOW
Recommended Videos
"Take Yourself Home"
Artist: Troye Sivan
Troye Sivan's deep vocals shine in this dreamy track dominated by gentle guitars and synth beats. The tune's an easy listen the whole time, but an unexpected funky twist is a welcome end to the song. The echoes of Sivan's voice will transport you to another place without the need to leave your couch.
Fun fact: The song's cover art features a red-haired Troye Sivan who resembles actress Saoirse Ronan—Sivan himself pointed this out!
"Light Years"
Artist: Yolanda Moon
This Eraserheads cover from Yolanda Moon may use the same words, but it's an entirely new animal. The band injects a hazy, lo-fi touch to the new arrangement that feels like an otherworldly experience that echoes the song's lyrics.
ADVERTISEMENT - CONTINUE READING BELOW
Fun fact: Yolanda Moon's rendition of "Light Years" is part of Pop Machine, a compilation album consisting of Eraserheads tracks covered by 12 artists from different eras and genres. 
"Time"
Artist: Childish Gambino 
Childish Gambino has been questioning our existence and place in the universe since his 2013 album Because the Internet. This track from his latest album delves deep into the mystery of time. Along with Ariana Grande, Childish Gambino attempts to tear apart the fabric of reality and wonders if the seemingly permanent things—like stars and the sky—will eventually fade away.
Fun fact: Childish Gambino explored similar themes in his 2013 song "II. Earth: The Oldest" and his 2018 track "Feels Like Summer."
"Switchblade"
Artist: NIKI
Starting off with beats that sound like a ticking clock, "Switchblade" catalogues Indonesian artist NIKI's journey in the entertainment industry. This empowering anthem plays with synths to give the whole sound a sense of space and pays homage to throwing fear out the window and finding your purpose in the world. Everyone's got their own way of overcoming challenges, and the switchblade is NIKI's weapon of choice.
Fun fact: NIKI takes inspiration for "Switchblade" from her experience of opening for Taylor Swift's 2014 Red Tour in Jakarta, Indonesia.
"My Friend"
Artist: Hayley Williams
The Paramore frontwoman has been releasing her solo songs since January 2020, and the latest one is titled "My Friend," a raw and dark look at loyalty and secrecy. Hayley Williams' own sound deviates from the usual Paramore sonic identity, but still offers a no-filter peek into her thoughts. This bewitching track is part of her upcoming album Petals For Armor, which is coming out on May 8.
ADVERTISEMENT - CONTINUE READING BELOW
Fun fact: All-female group boygenius—consisting of Julien Baker, Phoebe Bridgers, and Lucy Dacus—feature on a Petals For Armor song titled "Roses/Lotus/Violet/Iris." 
"Nakikinig Ka Ba Sa Akin"
Artist: Ben&Ben
Despite just staying home, there's still a lot going on in your head and in the world outside. Local indie-folk band Ben&Ben put all those complicated feelings into a song they wrote during the quarantine, which calls for unity and inspires hope amid the COVID-19 crisis. Though not officially released yet, the band uploaded the rough draft of the track on their social media pages.
Fun fact: All nine members of the band jammed to the song live on their respective Twitter accounts.
"Later When I'm Drunk"
Artist: Kean Cipriano
If you're already imagining your post-quarantine flirting exploits, this ditty from Kean Cipriano serves as the perfect background music. The Callalily frontman takes a storyteller's approach to the classic rock song and narrates how a man attempts to woo a woman he meets in a bar.
ADVERTISEMENT - CONTINUE READING BELOW
Fun fact: Kean Cipriano recorded every instrument in the track.
"Forever"
Artist: Charli XCX
This fresh track from Charli XCX starts off with static noise, and slowly fuses with 8-bit video-game sounds for a playful touch. "Forever" gives a glimpse at the woes of long distance relationships and presents a determined heart ready to love and feel from afar. If you've got an S.O. you can't see during the quarantine, this might just be your new song.
Fun fact: This love song is dedicated to Charli XCX's boyfriend, Huck Kwong.
Share this story with your friends!
---
Help us make Spot.ph better!
Take the short survey
Load More Stories