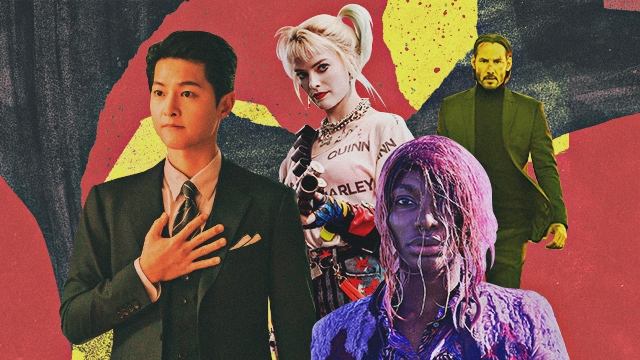 (SPOT.ph) We all love the bad guy. Especially when they're complicated, tortured, and capable of seemingly inhuman feats of badassery. In need of some vicarious violence (or just general bad behavior)? We round up some of the most popular series with lovable anti-heroes that you can stream right now. From millennial messes to hardcore assassins, all ranked according to just how "anti" they can get.
ADVERTISEMENT - CONTINUE READING BELOW
Also read:
In This Dark Comedy, Song Joong Ki Is a Mafia Lawyer With an Anti-Hero Vibe
We Need to Talk About Why You Keep Falling for the Bad Guy
 Top 10 Meanest Pinoy Contrabidas
It doesn't get anymore questionable than these 10 popular anti-hero characters you can watch now:
Arabella in I May Destroy You (2020)
Where to stream: HBO Go
Gist: Arguably the most snubbed-by-awards-bodies but lauded-by-everyone-else show of 2020 is from the mind of Michaela Coel. This BBC series focuses on Arabella, as played by Coel herself, a millennial woman trying to piece her life back together after realizing that she was raped. It is some truly heavy content—captured through a painfully awkward, painfully real, and painfully funny lens—coursed through a pretty brief 12 episodes at around 30 minutes each.
Badass factor: Arabella is your boomer parents' worst nightmare. She's social-media famous (she wrote a book for Twitter), has zero work ethics, is self-involved, a flaker, smoker, messy, and basically, well, she's you at your worst—but she's also you at your best, just trying to make sense of the world we live in. It's hard not to root for Arabella when you can see a bit of yourself, and the injustices she faces, in her story.
Bong Hwan-slash-Queen Cheorin in Mr. Queen (2020 to 2021)
Where to stream: Viu
Gist: Modern-day chef Bong Hwan (Choi Jin Hyuk) suddenly finds himself in the Joseon Dynasty—in the body of Queen Cheorin (Shin Hye Sun). Cue a traitorous royal family all vying for the crown, politics, betrayal, and of course, the suddenly free-spirited Queen Cheorin winning over the court with her cooking skills. Yup, she even introduces ramyeon.
Badass factor: Bong Hwan-slash-Queen Cheorin takes to her royal roles hilariously. She mixes in her modern savvy to stay ahead of the game—and there's something to be said about seeing a period drama where the normally soft-mannered queen is completely free-spirited.
Marla Grayson in I Care a Lot (2020)
Where to stream: Netflix
Gist: Rosamund Pike channels big Gone Girl energy again for this film. She plays Marla Grayson, a ruthless con artist tricking the state into making her legal guardian for the elderly, and then promptly taking charge of their assets. Her ploy is going smoothly—until she sets her sights on a much-too dangerous prey.
ADVERTISEMENT - CONTINUE READING BELOW
Badass factor: Marla is Tenacious with a capital T. Mix that in with her callous ways, seemingly cold, dead, heart, plus her smarts and you've got an anti-hero you'll love to hate.
Balram in The White Tiger (2021)
Where to stream: Netflix
Gist: A driver to a wealthy family in Delhi climbs the social caste in a very, very questionable manner.
Badass factor: We start out having high, wholesome hopes for the sweet and loyal—albeit naïve—Balram (Adarsh Gourav) and then slowly start rooting for them even harder as they begin to use the erm, skills, he learns from the cruel, cruel world (and even crueler rich people) to get what he wants. It is only at the end when we realize what he's become that we start to question, is this really the world we live in? 
Ji Sun Woo in The World of the Married (2020)
ADVERTISEMENT - CONTINUE READING BELOW
Where to stream: Viu, Netflix
Gist: A doctor believes her life is perfect: good career, loving son and husband—until she finds out her beloved partner has been having an affair with another woman.
Badass factor: Hell hath no fury like a woman scorned. It's cliché and borderline sexist but trust us, Ji Sun Woo's (Kim Hee Ae) quest for revenge after uncovering her husband's infidelity is nothing short of a wild ride through psychotic hell. There's no "good" person in this entire series to root for, and we mean that in a good way.
Vincenzo Cassano in Vincenzo (2020)
Where to stream: Netflix
Gist: After having been adopted and raised in Italy, a lawyer returns to South Korea to dig up some treasure—almost literally. Only, it's in a building full of strange tenants, and it looks like someone else knows about the hidden stash.
ADVERTISEMENT - CONTINUE READING BELOW
Badass factor: Vincenzo Cassano (Song Joong Ki) is mysterious, well-dressed, and knows how to fight. It's clear the man has some layers to him—which makes him, and his perhaps faulty moral compass, all the more interesting to watch.
Harley Quinn in Birds of Prey (2020)
Where to stream: HBO Go
Gist: Harley Quinn (Margot Robbie) is back! She and Joker have just been dumped—which means that she needs to find some new form of protection without the psychotic clown attached to her. Enter a new girl gang and a new psycho to defeat.
Badass factor: Oh, this is more than just about bouncing back after a break-up. Harley Quinn sets up on her own, finds a new gang to depend on, and maybe even shows some signs of humanity. We don't know how, but she makes beating up bad guys, erm, we mean, fellow bad guys, look real effortless.
ADVERTISEMENT - CONTINUE READING BELOW
Nanno in Girl from Nowhere (2018 to present)
Where to stream: Netflix
Gist: The second season is finally out! Still haven't checked out this wicked cool anthology series about a strange young girl popping up in different schools to exact social justice in the most gruesome of ways? Why the heck not?
Badass factor: No one really knows anything about Nanno (Kitty Chicha), the girl from nowhere. What we do know is not to get on her bad side. It is really hard to guess what she's thinking or capable of doing, especially with her strangely charming demeanor and that infamous laugh whenever shit hits the fan. Nanno, with her brand of vigilante justice, is not one to mess with.
Villanelle in Killing Eve (2018 to present)
Where to stream: Hulu, Prime Video
Gist: British agent Eve Polastri (Sandra Oh) is tasked to capture psychopathic assassin Villanelle (Jodie Comer)—only the two become strangely obsessed with each other. Is it a love story? Maybe. Is it wickedly entertaining? Definitely.
ADVERTISEMENT - CONTINUE READING BELOW
Badass factor: Villanelle is the best at what she does. Which is a terrible thing to say considering that she's an assassin who seems incapable of empathy. What makes her even scarier though is how charismatic and brilliant she seems—add in her sometimes-childlike demeanor and you've got a beloved saint you shouldn't pray to.
John Wick in John Wick (2014)
Where to stream: Netflix, HBO Go
Gist: You know this one: Ex-assassin goes off after some idiots kill the puppy left to him by his dead wife.
Badass factor: We couldn't leave out the man arguably responsible for the biggest anti-hero of recent years. Keanu Reeves as John Wick has introduced to us so many ways to kill someone, we lost count at the first movie alone. What is great about John Wick is that all his murders are backed by a good story—good enough for us to justify all that carnage.
ADVERTISEMENT - CONTINUE READING BELOW
Hey, Spotters! Check us out on Viber to join our Community and subscribe to our Chatbot.
Your guide to thriving in
this
strange new world.
Share this story with your friends!
---
Help us make Spot.ph better!
Take the short survey
More Videos You Can Watch
Load More Stories