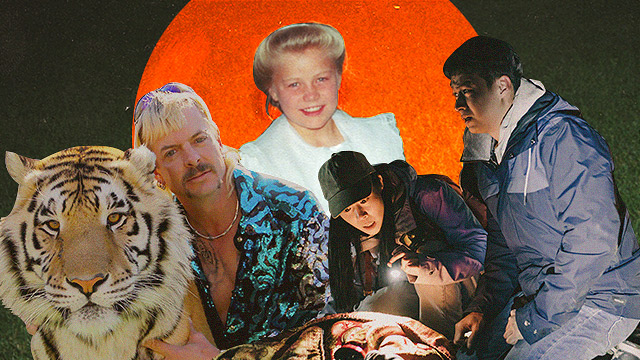 (SPOT.ph) These are crazy times we live in. Given pretty much everything we've collectively experienced and witnessed in the past couple of years alone, you'd think that nothing could shock our minds or disturb our hearts any more than they already have been. For instance, should aliens pull up to our planet any time soon, most of us would probably shrug it off. "Are you not freaked out?" The alien would ask, and we'd reply, "sorry, I just got a lot going on right now."
ADVERTISEMENT - CONTINUE READING BELOW
Outside the realm of science-fiction, of course, we've maintained the mission of being your local city guide to thriving in this strange, new world. Sometimes that entails tackling the bizarre and scary subjects head-on, and what better way to do so than from the comfort of your own home. No need to head out the front door, there's plenty of disturbing content based on true stories on the streaming service Netflix alone.
Also read:
Top 10 Scariest Pinoy Horror Movie Monsters
Who Is the Killer? The Strange Ending of Mr. Harrigan's Phone, Explained
Here are 10 scary Netflix movies, documentaries, and series that are based on a true story:
Keep Sweet: Pray and Obey (Docu-Series)
The four-episode documentary Keep Sweet: Pray and Obey exposes the inner workings of the Fundamentalist Church of Jesus Christ of Latter-Day Saints, an offshoot of Mormonism that—hoo boy—loves some polygamy. Under the "benevolent dictatorship" of their "Prophet," the community believed that the more wives you had, the better your Good Place would be. It's undoubtedly a messed-up situation that even escalates into a nationwide manhunt and police raid on the community. And if you were around to witness us sharing the documentary on social media, you'll know it ruffled the feathers of many, uh, outspoken folks online.
Girl in the Picture (Documentary)
What seems like a straightforward true crime documentary about a wife-beater who "accidentally" kills his wife and then attempts to cover up the murder is transformed into an arresting investigation into who the dead woman truly is, as it's revealed that her identity has been falsified and covered up multiple times. Is the woman, named Tonya Hughes, really the wife of criminal Clarence Marcus Hughes? Could she be his daughter instead? They apparently had a son named Michael together but, turns out, the father's DNA doesn't match. Who are these people? The documentary Girl in the Picture seeks to provide these answers after years of researching and interviewing the people they've crossed paths with in life.
Veronica (Movie)
Stepping away from the realm of documentaries for a second, here we have Veronica, a Spanish movie based on a true haunting that happened to 15-year-old Estefanía Gutiérrez Lázaro in 1991. The film depicts many of the real-life elements that are part of one of Spain's most infamous urban horror stories, such as the haunting and possession being caused by an ouija board, the involvement of a nun and the police, and the continued hauntings long after the main events of the film. Horror movies are definitely going to need a "kids, don't try this at home" disclaimer a la Jackass, based on how young people on the Internet are so into challenges these days.
ADVERTISEMENT - CONTINUE READING BELOW
Don't F**k with Cats: Hunting an Internet Killer (Docu-Series)
An, shall we say, interesting follow-up to your playthrough of Stray this month could be the three-episode documentary Don't F**k with Cats. You'd think a series that starts off with a person posting videos of themself torturing and killing cats couldn't possibly get more disturbing and infuriating, but unfortunately, you'd be wrong. The docu-series follows data analysts from opposite ends of the United States, Deanna Thompson and John Green (and not The Fault in Our Stars John Green, just to be clear), who are able to uncover the identity of one Luke Magnotta, the man behind the cat killings, and possibly even the murder of another human being. Delve into the series to find out, but cat lovers, you may want to just ask a friend for a descriptive recap.
Also read: "Baka May Hinahanap na Daga?" Stray Cat Walks the SONA 2022 Red Carpet
ADVERTISEMENT - CONTINUE READING BELOW
Incantation (Movie)
The Taiwanese found-footage movie Incantation will leave you with two things: the fear of opening any video your friends send you, as well as a literal curse just for watching the movie. "A curse? That's probably made up," you may say. However, based on comments made by the filmmakers behind the movie, it's speculated that the events of the story are based on the real-life haunting of a family in Kaohsiung, Taiwan. The family claimed to be possessed by the gods before the paranormal activity began to escalate in their home. How accurate the documentary-style film is to real-life events is up for investigation, but the film certainly hits the bullseye on its depiction of vloggers and Internet clout chasers. Someone send this to Logan Paul.
Our Father (Documentary)
Despite the religious connotations of this Netflix title, there's nothing holy nor virtuous about the story being told here. In fact, it takes place in the most sterile and uncomfortable environment known to man: the gynecologist's office. Our Father exposes the criminal activity of one Doctor Donald Cline, who nonconsensually impregnated close to 100 of his patients with his own sperm, even as they believed they were being given their husband or partner's sperm. Hearing the testaments of the mothers and the (now adult) children, and how they uncovered their shocking lineage, comes as quite depressing. The complex oddities of the world are brought to light in this documentary, and you can't help but feel powerless alongside these victims.
ADVERTISEMENT - CONTINUE READING BELOW
Tiger King (Docu-Series)
It seems like everybody was talking about the Tiger King, Joe Exotic, around the start of the pandemic and subsequent quarantine period. The original seven-episode first season has since spun off two more seasons with five and three episodes each, respectively. In case you were dwelling on the finer things of life during those first couple of months of quarantine, Tiger King: Murder, Mayhem, and Madness center on Mr. Exotic and his private zoo, one of the largest in the United States. The series shows off a lot of psychedelic characters, aggressive outbursts, and, of course, big cats. A real-life plot to murder the CEO of Big Cat Rescue is also thrown in there, just in case you thought the substance trip wasn't chaotic enough.
Crime Scene: The Vanishing at the Cecil Hotel (Docu-Series)
In 2013, Chinese-Canadian tourist Elisa Lam was found dead in Los Angeles' Cecil Hotel, a spot particularly known to house drug addicts and persons with mental illnesses. This four-episode documentary examines the almost three-week period Lam was reported to be missing after she suddenly vanished from the hotel, and how what little—and erratic—evidence the police had to work with made the case even tougher to crack. Will you walk away with all the answers? Most likely not, but you will find yourself invested in this tragic case.
ADVERTISEMENT - CONTINUE READING BELOW
Also read: Obsessed With Cecil Hotel? Here's Why You Should Stream Night Stalker Next
Things Heard & Seen (Movie)
Starring Amanda Seyfried and Stranger Things' Natalia Dyer, the horror film Things Heard & Seen is an adaptation of the novel All Things Cease to Appear by Elizabeth Brundage. While adapted from a book, Brundage told TIME that she originally based it on her own experiences moving to a "haunted house" in the Hudson Valley, where her kids would describe things happening in the house that are "beyond their ability to fabricate." If that wasn't enough, the book and film are also said to be inspired by the 1982 ax murder of Cathleen Krauseneck. While inspiration from that true story is definitely evident in the latter half of the film, you may first want to check in to see if you can handle both a haunted house and an ax murderer for the price of one film.
ADVERTISEMENT - CONTINUE READING BELOW
The Most Hated Man on the Internet (Docu-Series)
Finally, the three-episode documentary The Most Hated Man on the Internet revisits the "Wild West" days of the Internet and social media in the early 2010's, when the revenge porn phenomenon was—unfortunately—celebrated by the anonymous wave of users online. At the heart of this controversy was Hunter Moore, the loud and arrogant owner of the revenge porn website "IsAnyoneUp," where any and all anonymous contributors could leak other's nude pictures, along with the person's Facebook, Twitter, and other social media accounts attached the post. The stories of the victims interviewed in this documentary will make you fear for the safety of your own body, and even get angrier at Moore for seemingly lacking any sort of remorse over his creation.
Also read: Top 10 Most Disturbing Black Mirror Episodes
Hey, Spotters! Check us out on Viber to join our Community and subscribe to our Chatbot.
ADVERTISEMENT - CONTINUE READING BELOW
Your guide to thriving in
this
strange new world.
Share this story with your friends!
---
Help us make Spot.ph better!
Take the short survey
More Videos You Can Watch
Load More Stories