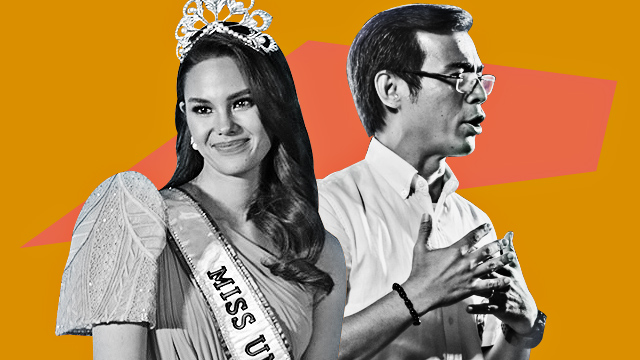 (SPOT.ph) A lot of things were said and done this 2019—some with good intentions and others with uh, intentions we can only guess at. All in all, the year proved to be a crazy one for Fiipinos—as is usual. Before it ends, we take a look at just some of the most defining quotes of 2019, from the weirdest promises to illogical reasonings and statements that came out of nowhere. It was a wild ride—and there are a few quotes we would rather forget—but who knows, we might just learn a thing or two about the future from reviewing some of the best lines that came out of 2019.
ADVERTISEMENT - CONTINUE READING BELOW
Here are 10 quotes that defined 2019 in the Philippines:
Metro Manila citizens were plagued by water interruptions for most of 2019, and at the height of it in March, this is what Senator Sonny Angara decided to tweet. Note that he included a "lol" and laughing emoji to indicate that he was only joking, not that it helped the situation in any way. A few days later, the senator called for reforms to the water sector in the Upper House—a much more important point to make, we think.
"Hindi ko rin po kalilimutan 'yung itataguyod nating Pride March and Festival sa Maynila."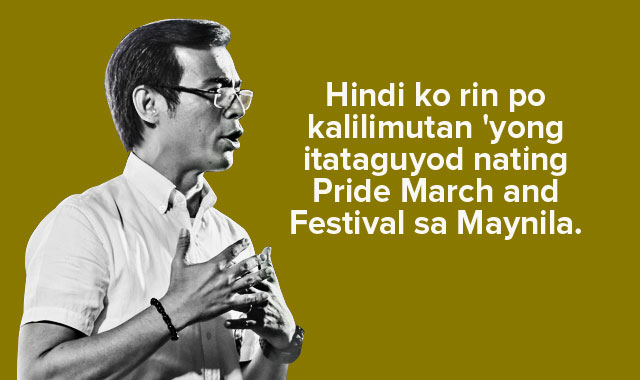 In a move that wasn't exactly expected from the newly elected Isko Moreno—who took the Estrada mayoral throne of Manila in the May elections—he declared support for the June Pride March, as well as promised to initiate Manila's very own march in a Facebook post. Quezon City is so far the only one to have its own march outside of the main Metro Manila one, but that might soon change. Moreno also ended with "You were born this way, baby!"
ADVERTISEMENT - CONTINUE READING BELOW
"The fish could be coming from China and the fish from the Philippines could be going to China."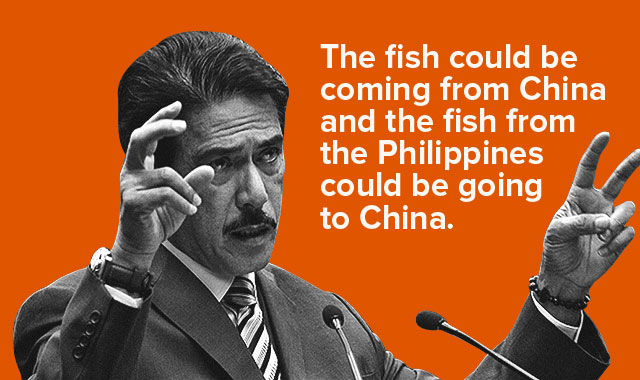 It seems Senate President Tito Sotto III had a point to make—maybe the logic behind it just got lost somewhere between the Philippines and China. In the middle of yet another issue related to China's baseless claim over the West Philippine Sea, during which the current administration said they would "tolerate" Chinese nationals fishing in our exclusive economic zone even after the Recto Bank incident, Sotto pointed out that the fish could be coming from China. Unsurprisingly, Pinoys on Twitter had a lot to say about that.
ADVERTISEMENT - CONTINUE READING BELOW
"I challenge the President to follow to the letter the very law he signed and set an example not only as a law-abiding citizen but as a leader who respects everyone."
The Republic Act punishing catcalling and wolf-whistling, a.k.a. the Bawal Bastos law, lapsed into full force in April, but the copy officially signed by the President came out in July. This prompted the law's main proponent, Senator Risa Hontiveros, to call on President Rodrigo Duterte and challenge him to follow the contents of the law. Known for his misogynistic remarks, and even a rape joke or two, we certainly understand why this had to be said.
"Kung mahal ang galunggong, di wag kumain ng galunggong, di ba?"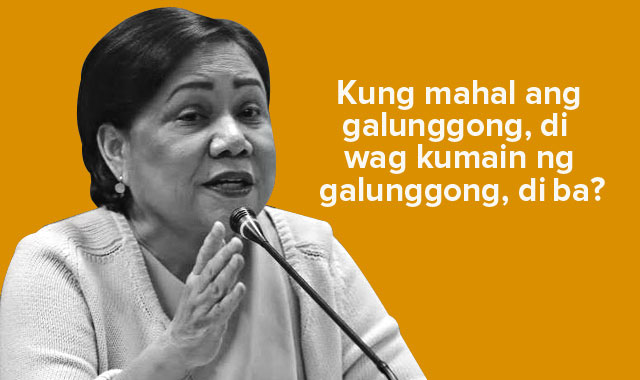 ADVERTISEMENT - CONTINUE READING BELOW
Difficult problems don't need complicated solutions, especially when you're talking to Senator Cynthia Villar. In response to the market price of galunggong hitting P380 a kilo (chicken is at P240), Villar commented that you could always just skip it. In the same vein, why don't we just scrap the Senate Committee on Agriculture and Food? 
"I personally support the President's call to reinstate capital punishment for offenses related to drugs and plunder."
For some reason, that meme of Spider-Man pointing at an exact replica of himself just came to mind. But we digress. This is what Senator Bong Revilla had to say when asked about the death penalty. Revilla was charged with plunder in 2014, together with the alleged mastermind of the Pork Barrel Scam, Janet Lim Napoles. He eventually walked free in 2018, acquitted of charges, but the Sandiganbayan told him to return the P224 million he allegedly stole.
ADVERTISEMENT - CONTINUE READING BELOW
"You don't have to worry about traffic... Cubao and Makati will be about five minutes na lang."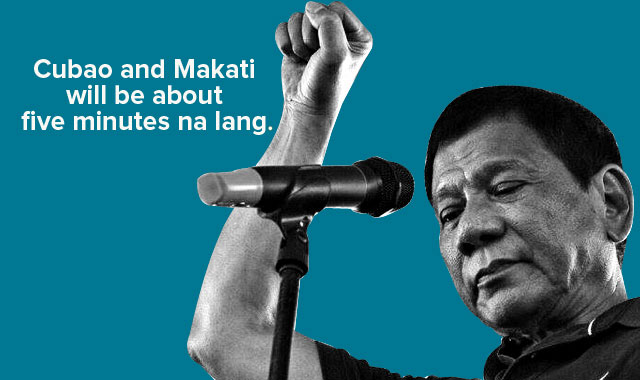 We know promises are meant to be broken and some things really are too good to be true, but when the President speaks, you'd think the people are allowed a bit of hope. In June, President Duterte said that it would be possible to travel from Cubao to Makati in around five minutes. We're well into the last few days of 2019, and we still don't see how this could have ever been a thing.
ADVERTISEMENT - CONTINUE READING BELOW
The Philippines came out on top during the 30th Southeast Asian Games—but only after plenty of  controversy regarding the treatment of foreign teams and the allegedly overpriced P50 million cauldron. When news broke out that the cauldron that was used to hold the regional meet's symbolic flame cost around P50 million in taxpayer's money—just a few weeks after the education budget was cut by P11.6 billion—Ethel Booba's tweet managed to capture the overall sentiment of the people.
ADVERTISEMENT - CONTINUE READING BELOW
"Shit happens"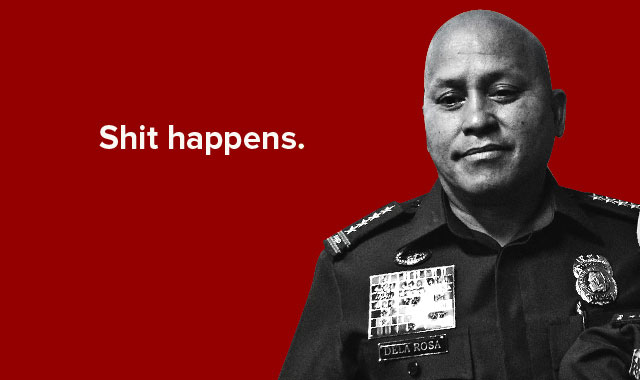 Myka Ulpina lived a short three years before she was fatally shot during a police operation on July 1. Police reported that the child was used by her father, the target of the operation, as a "shield." In reaction to this, Senator Bato dela Rosa, former chief of the national police, said, "We are in an imperfect world. If you're a policeman, do you want a child to be hit? Never, because you have a child as well. You don't want something like that to happen. But shit happens during operations, shit happens."
ADVERTISEMENT - CONTINUE READING BELOW
"To everyone with a dream, know that your dreams are valid"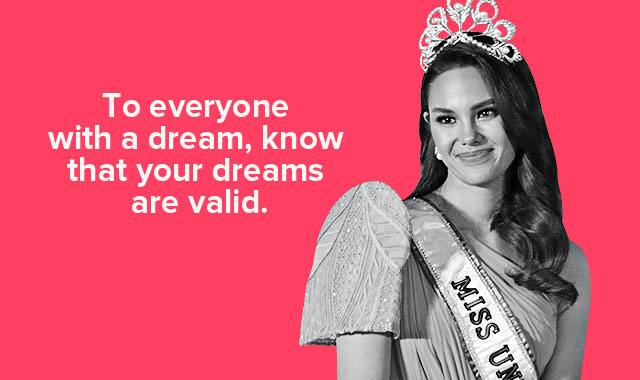 Sweet, sweet validation: If it could be sold, it would outsell any drug on the market, legal or not. The 2018 Miss Universe Catriona Gray took her last walk as the title-bearer during the pageant in December, and she left a heartfelt message, too. Far from being a purely feel-good speech, her words were enough motivation to keep on pushing this 2020, and reminded us that "On your path, you are never denied, only redirected."
ADVERTISEMENT - CONTINUE READING BELOW
Share this story with your friends!
---
Help us make Spot.ph better!
Take the short survey
More Videos You Can Watch
Load More Stories