10 Delicious Dishes in Manila for When You Need Comfort Food
Otherwise known as the dishes that are worth the calories.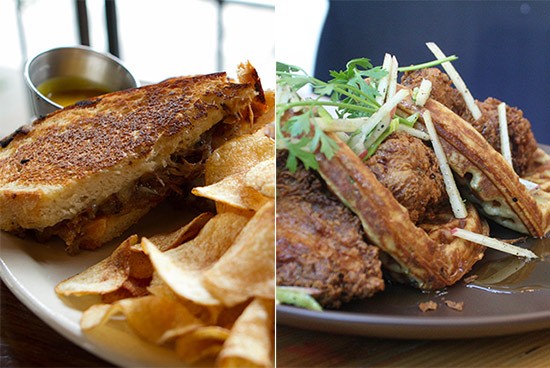 (SPOT.ph) Food we eat could be divided into two categories: ones we can't live without and ones we can just forget and won't ever miss. This is a story about the former. They're food that, no matter how many pounds we've gained, how tight our jeans have become, how many memos the doctor has written, we still find ourselves sneaking more than one bite. Comfort food is comfort food for a reason, after all.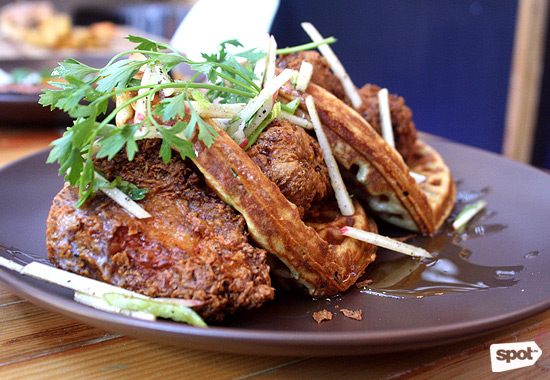 ADVERTISEMENT - CONTINUE READING BELOW
Main Street's Buttermilk Fried Chicken (P290)
Primarily known for their Canadian-inspired dishes (like a mean poutine), this sunny spot along McKinley Road serves seriously comforting fried chicken. Paired with fragrant herbed rice and buttery garlic sauce, this fried chicken dish appeals to the Pinoy palate while staying true to its Western roots. The crispy skin stands up well against the sweet sauce coating the chicken so you get crunch and flavor with every big bite. A hefty serving with a very slim price tag, this is something we wouldn't mind having over and over again.
Main Street is at Tuscany, Upper McKinley Road, McKinley Hill, Taguig City. Main Street ranked No. 4 on SPOT.ph's Top 10 Fried Chicken (2016 Edition).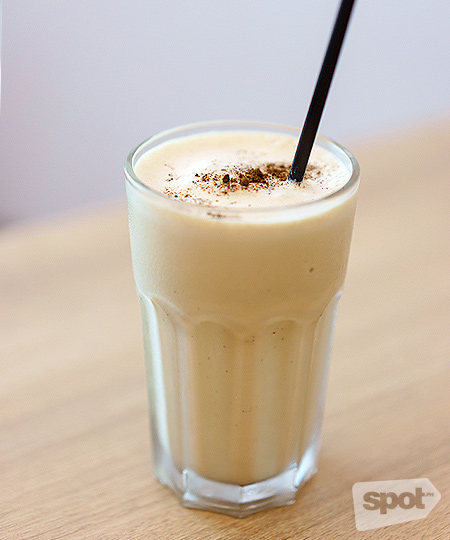 Yardstick Coffee's Yard Shake (P180)
You know all that cheesy talk about people saying how all it took was one glance to know they had met their one true love? That's how we felt when we took just one sip of Yardstick Coffee's Yard Shake. If this shake were a frog, it would've turned into a prince the moment our lips touched it (kahit 'di naman kami princess). Described as "simply cold-brewed coffee, ice cream, milk and ground espresso," there's nothing simple about this deliciously smooth and creamy cold-blended coffee concoction. The coffee notes are clean and perfect, the milk and ice cream are rich but not cloying.
ADVERTISEMENT - CONTINUE READING BELOW
We still dream about the taste of Yard Shake, and to paraphrase a song, it will bring all the boys (and girls) to the Yard(stick), because damn right, it's better than yours.
Yardstick Coffee is at LMS Building, 106 Esteban Street, Legazpi Village, Makati City. Yardstick's Yard Shake ranked No. 1 on SPOT.ph's Top 10 Frozen Coffee Blends in Manila.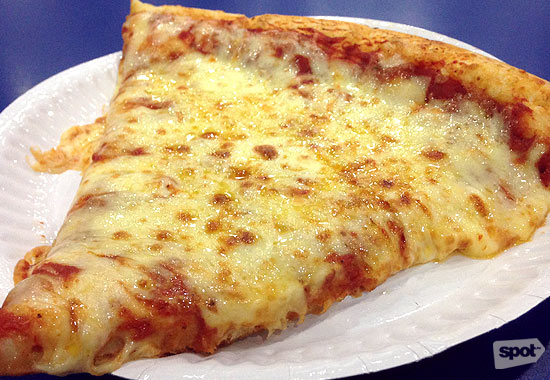 S&R New York Style Pizza's Cheese (P99/slice, P569/whole)
It's a good thing that S&R finally decided to open several sit-down restaurants across Manila because non-members wouldn't want to miss out on their sizable pizzas. They have their ratios down pat, whether it's cheese that is generously piled atop a mild yet perfectly tangy tomato sauce, or a chewy base with just the right amount of smoky char. Your appetite will appreciate its affordable price, just in case you want more...and you likely will.
ADVERTISEMENT - CONTINUE READING BELOW
Click here for a list of S&R branches. S&R's New York Style Cheese Pizza ranked No. 6 on SPOT.ph's Top 10 Cheese Pizzas (2016 Edition).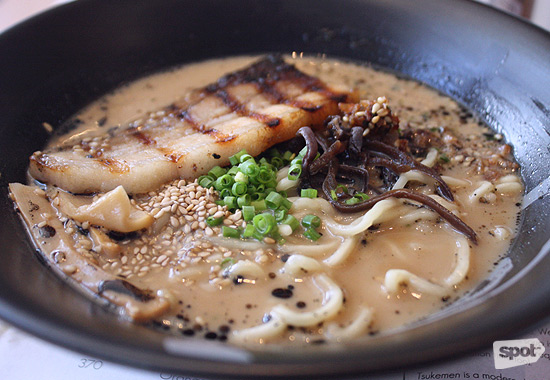 Ramen Yushoken's Tonkotsu Shoyu Ramen (P350)
We also tried Yushoken's Makati counterpart, Mendokoro, and yet its older sibling still comes out on top for having bolder flavors. Yushoken's shoyu stands out for its rich, smoky taste and aroma that has seeped through the broth via the thick, flavorful, grilled charsiu meat. The broth contains bits of meat that give added texture to every bite, but we could do without the bamboo shoots that give off a strong, fermented flavor. While Yushoken remains on most ramen lovers' radars these days (go there any time of day and they're usually packed), it would rank higher on this list if not for some noodle portions that were clumped together at the time of our visit (which made the noodles a bit harder to chew on). That aside, the serving size is more manageable than most even for first-timers—and that hard-to-miss flavor will stay with you after you've happily finished an entire bowl by yourself.
ADVERTISEMENT - CONTINUE READING BELOW
Ramen Yushoken is at Molito Lifestyle Mall, Madrigal Avenue corner Commerce Street, Alabang, Muntinlupa City (808-7424). Ramen Yushoken ranked No. 3 on SPOT.ph's Top 10 Ramen Places (2016 Edition).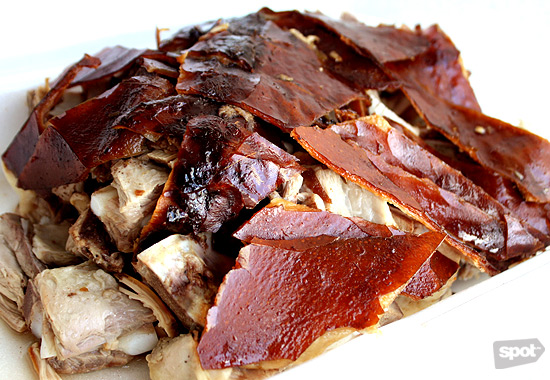 Loring's Native Lechon (P900 for 1 kilo, P6,000 to P10,000 for whole)
Loring's Native Lechon (also known as Aling Loring's) has been serving lechon for 55 years now—since 1960! The lechon has thin, crispy skin—although there are some parts that are not crunchy, with layers of fat underneath that make it oily. The meat has a warm, dark color that's nicely tender and flavorful. The sweet, peppery gravy's a great complement. It's also worth mentioning that they have a friendly staff, which makes the ordering and delivery process a breeze.
Loring's Native Lechon is at 6 J. Eustaquio corner N. Domingo Streets, San Juan City (0915-642-1544 or 724-2867). Loring's Native Lechon ranked No. 9 on SPOT.ph's Top 10 Lechon (2015 Edition).
ADVERTISEMENT - CONTINUE READING BELOW
Maisen's Kurobuta Tenderloin Katsu Set (P630)
The newest player in the local field has definitely stirred things up. One of Japan's favorite katsu houses, Maisen brings to the table a couple of factors that set it apart from the rest. Their katsu looks like any other plate out there, but bite into your pork cutlets and you'll realize the difference, as if there were a symphony of angels announcing that X-factor. It's the breading! Fine, golden flakes hug every piece of pork like a warm embrace. Don't forget about the apple-infused tonkatsu sauce, too. It's a drizzle of love from the heavens above. Only Maisen has truly mastered the art of "kendachi," the technique to make the panko crumbs "rise."
Maisen is at Greenbelt 5, Makati City; G/F SM North EDSA, Quezon City; and SM Megamall, Mandaluyong City. Maisen's Kurobuta Tenderloin Katsu Set ranked No. 4 on SPOT.ph's Top 10 Tonkatsu (2015 Edition).
ADVERTISEMENT - CONTINUE READING BELOW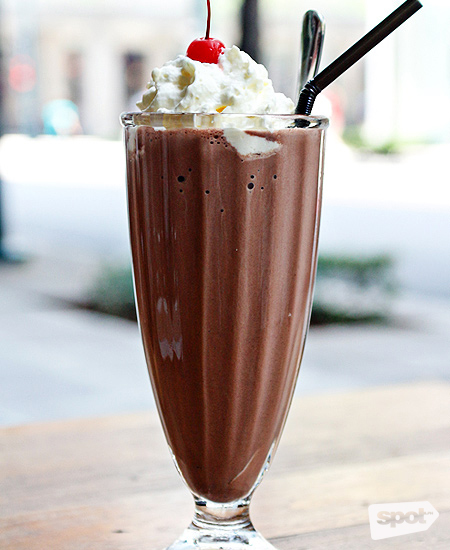 Farmacy's Very Thick Chocolate Shake (P260)
If consistency were to be measured on a dense-to-icy scale, Farmacy's chocolate milkshake would fall a little past the middle—leaning towards the too-dense extreme. Think slightly melted ice cream. In other words, consistency is ace here. Another reason why this milkshake is a keeper? It's the kind you can expect to be ridiculously delicious and smooth from start to finish. We attribute the decadent mix to the shop's commitment to use only ice cream made daily from natural ingredients, coupled with some malted milk and whipped cream.
Farmacy is at Net Lima Building, 4th Avenue Corner 26th Street, Bonifacio Global City. Farmacy's Very Thick Chocolate Shake ranked No. 5 on SPOT.ph's Top 10 Milkshakes (2015 Edition).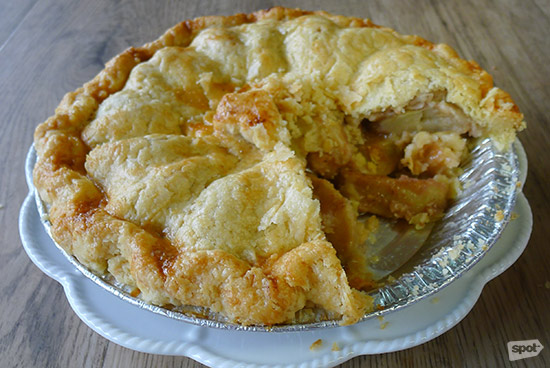 ADVERTISEMENT - CONTINUE READING BELOW
Pie Zar's Traditional Apple Pie (P800/nine-inch; P900/sugar-free) and French Apple Pie (P750/nine-inch)
Deciding between the Traditional Apple Pie with the flaky crust and the French variant with a buttery crunchy topping is a paralyzing experience akin to a mother choosing a favorite child. Czarina Serrano's pies are baked fresh on the day they're ordered. The pies look rustic and after one bite, you'll appreciate this handmade quality even more. Still warm in the box, the taste is just as good as the delicious smell of stewed, cinnamon-spiced apples lets on—if not better. The Traditional Apple Pie has a flaky golden crust that covers chunky tart-apple pieces sloshed with cinnamon-spiced thickened syrup. Lemon undertones spell the difference from other traditional pies. The French Apple Pie's sweet buttery topping , on the other hand, makes for a nice contrast to the sweeter-tasting filling served on the side.
The best desserts are those that evoke sweet memories and feelings, and the apple pies from Pie Zar's really hit home.
For orders, contact Pie Zar by Czarina Serrano at 0917-541-1167 (24-hour lead time is required). Pie Zar's pies ranked No. 1 on SPOT.ph's Top 10 Apple Pies (2014 Edition).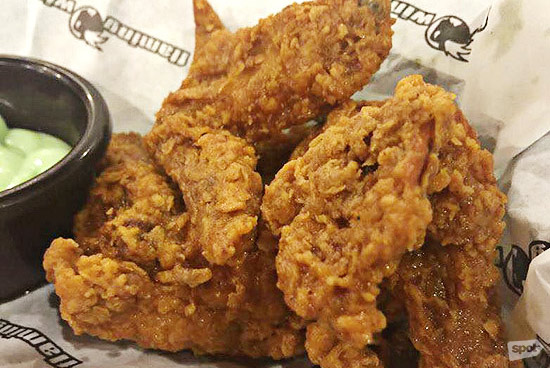 ADVERTISEMENT - CONTINUE READING BELOW
Original Buffalo Wings (P150/three pieces) from Flaming Wings
Fried to technical perfection, the skin on Flaming Wings' chicken is crunchy throughout. These medium-sized babies, inspired by the original New York recipe, promises tastiness and juiciness with every bite. It has the perfect balance of tart and heat.
Click here for a list of Flaming Wings branches. Flaming Wings' Original Buffalo Wings ranked No. 6 on SPOT.ph's Top 10 Spicy Wings (2015 Edition).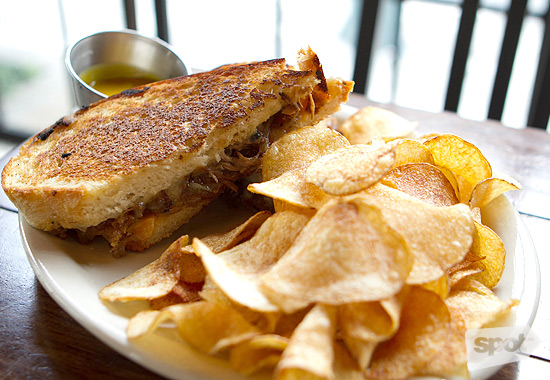 The Bowery's Short Rib Grilled Cheese (P420)
This monstrous creation is daunting, but you'll forget your fears after that first bite into the sourdough base. The huge sandwich boasts a smoky, melt-in-your-mouth braised beef that is toned down by a blanket of oozing cheddar and Monterey Jack. Hints of caramelized onion and that honey mustard dip balance out the flavors, giving you that grilled cheese option that definitely packs a punch!
ADVERTISEMENT - CONTINUE READING BELOW
The Bowery is at F151 Forbeswood Heights, Rizal Drive corner Burgos Circle, Bonifacio Global City (0936-929-6073). The Bowery's Short Rib Grilled Cheese ranked No. 9 on SPOT.ph's Top 10 Grilled Cheese Sandwiches (2015 Edition).
Load More Stories