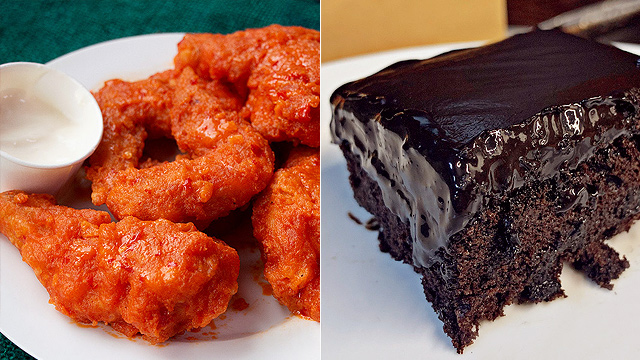 (SPOT.ph) Filipino get-togethers aren't complete without great food, and you don't want to arrive at any party without bringing your own share. For potluck picks that would impress even the pickiest of eaters, we've rounded up the best party food you can get in Metro Manila—from the mains to the dessert—based on our Top 10 lists.
Also read:
10 Best Desserts in Manila
Here are the no-fail picks to bring to your next potluck party:
The Best Pinoy-Style Spaghetti: Cheesy Meattie Spaghetti from Mister Donut (P80/single serving; P249 for the Faborito Feast/good for six)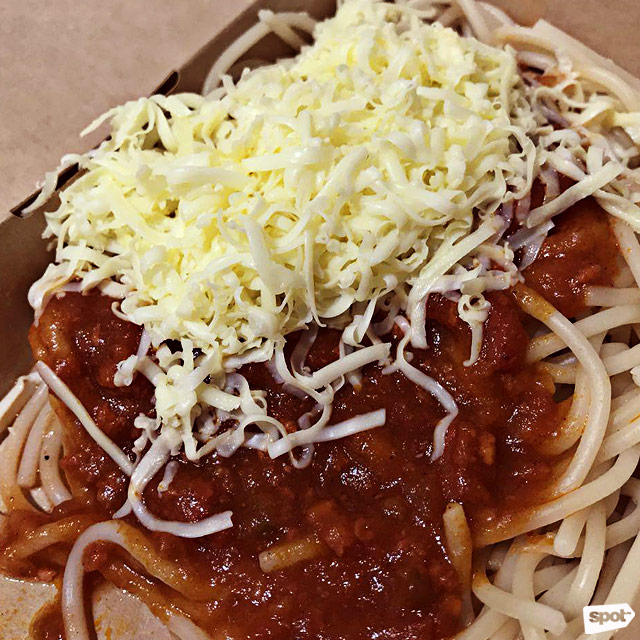 ADVERTISEMENT - CONTINUE READING BELOW
True to its name, Mister Donut's Pinoy-style spaghetti may be the cheesiest and meatiest one you'll ever have—there's no scarcity of cheddar and ground beef here. The melted cheese adds to the creaminess of the sweet red sauce, making every bite as saucy and tasty as possible, so make sure you have napkins handy! It's a good thing Mister Donut has huge party servings of this bestseller, because everyone in your event will most likely want to load up.
Also read: Top 10 Pinoy-Style Spaghetti
Cheesy Meattie Spaghetti is only available at selected Mister Donut stores. Mister Donut is at UG/F Building A, SM Megamall, Ortigas, Mandaluyong City.
The Best Pork Barbecue: Special Pork BBQ from Three Sisters' Restaurant of Pasig (P55/stick)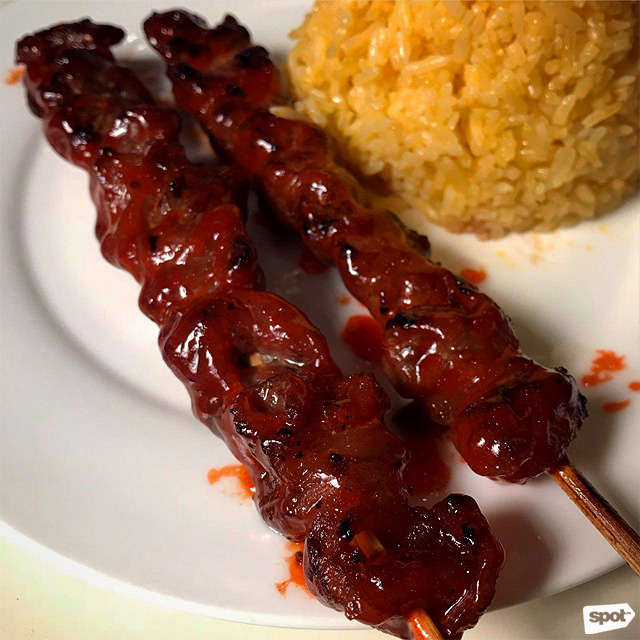 There are many reasons Three Sisters' Restaurant of Pasig has survived (they've been open since 1941), and one of those is their famous Special Pork BBQ. You can get it in a combo meal with pancit, rice, and iced tea, but for get-togethers, it's best to buy per stick (in bulk, of course!). Don't worry about having to bring vinegar or any other condiments—this barbecue is already perfect as is. The sauce is tasty, while the meat itself is a mix of sweet, tangy, and mildly smoky flavors. Make sure you allot two to three sticks per person because one is not enough.
CONTINUE READING BELOW
Recommended Videos
Also read: Top 10 Pork Barbecue in Manila
Three Sisters' Restaurant is at 136 West Capitol Drive, Kapitolyo, Pasig City.
The Best Buffalo Wings: Buffalo Wings from Sweet Ecstasy (P345)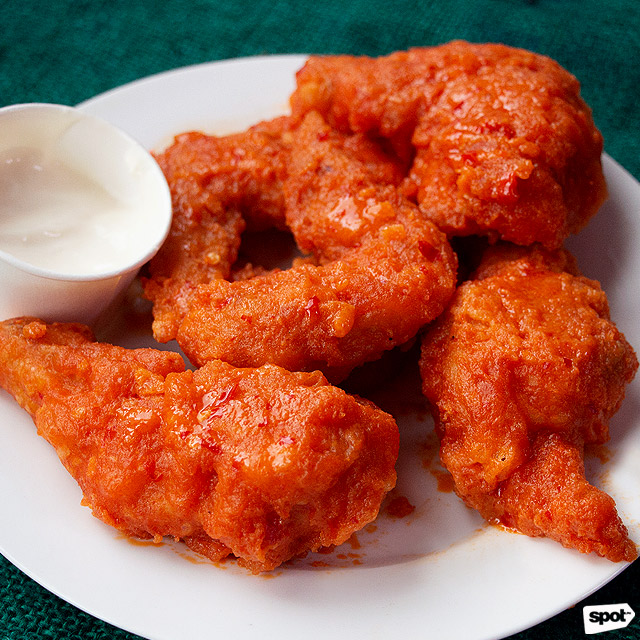 Buffalo wings may not be the first thing to come to mind when you say "party food"—they can be a challenge to eat if you don't want to get messy. But Sweet Ecstasy's famous buffalo wings are worth the mess, and since you're bringing some to a party, you who can revel in its goodness with a whole bunch of friends. These wings are both crunchy and juicy, a combination that is hard to achieve. To top it all off, each bite packs a zesty flavor. Don't be surprised if people actually lick their fingers.
Also read: Top 10 Buffalo Wings in Manila
Sweet Ecstasy is at 10 Jupiter Street corner Asteroid Street, Barangay Bel-Air, Makati and 2/F, Uptown Parade, 36th Street Corner 9th Avenue, Taguig
ADVERTISEMENT - CONTINUE READING BELOW
The Best Roast Chicken: Lechon Manok from Ang Lechon Manok ni Sr. Pedro (P210)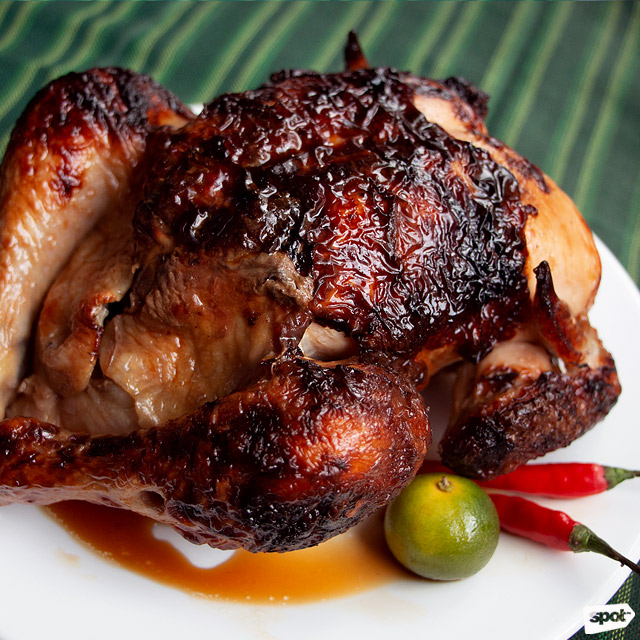 Sr. Pedro is not as popular as other roast-chicken stalls in the Metro, but it should be. Not only is their roast chicken affordable, it is also consistently seasoned and flavored all throughout, which makes it perfect for parties—no need to fight over a particular piece! The flame-grilled skin is the right balance of sweet and salty, while the chicken itself is juicy, tender, and tasty, even without the sauce.
Also read: Top 10 Roast Chicken in Manila
Ang Lechon Manok ni Sr. Pedro has branches all over Metro Manila.
The Best Ham: Ham from Majestic Ham (P1,515/kilo for sliced ham, P1,375/kilo for whole bone-in ham)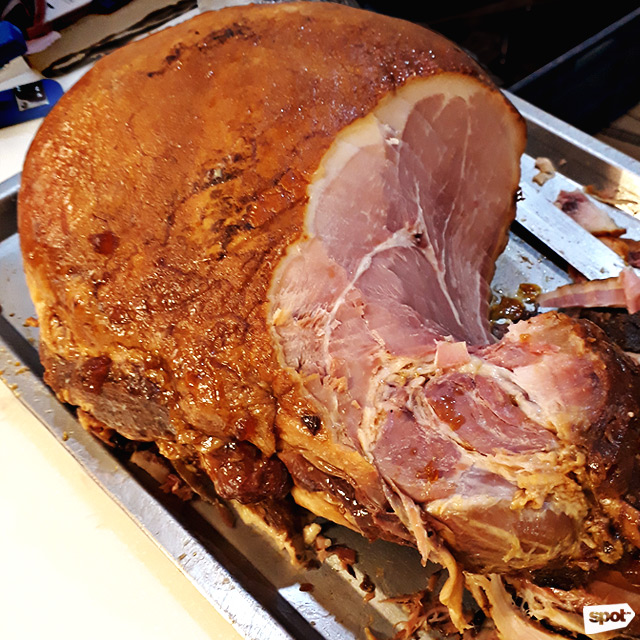 ADVERTISEMENT - CONTINUE READING BELOW
The right ham instantly elevates any get-together, and Majestic Ham will do just that. What makes their ham so special is how meticulous the preparation is: the pork leg is cured several times in oak barrels before being boiled in a special mixture including salt, pepper, and star anise, and then glazed to add sweetness. The whole process takes months and the end result is ham that's salty and smoky with each bite. Even the most health-conscious wouldn't be able to resist the flavorful fatty portions. It's no wonder they've been around since 1956. Don't wait until the Christmas season to order some—they often have sales when it's off-season.
Also read: Top 10 Hams in Manila
See a list of Majestic Ham outlets.
The Best Lechon: Lechon from General's Lechon (P7,000 to P14,700 for a whole pig)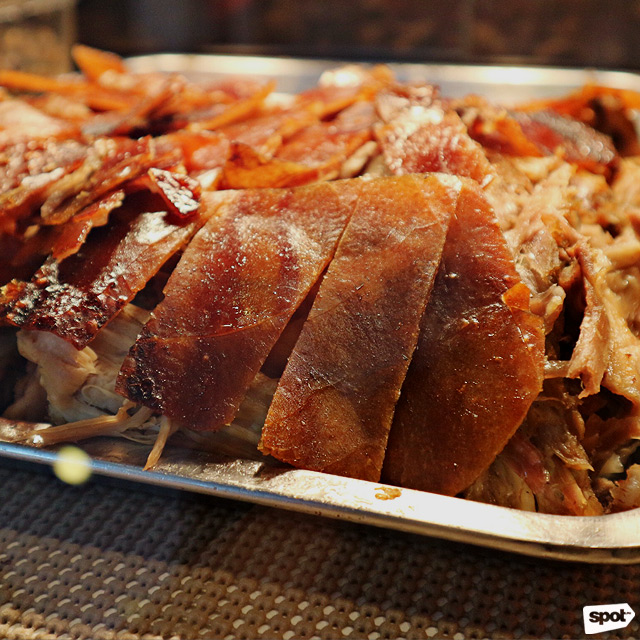 People at parties often make a beeline for the lechon, and this will likely be the case if you order it from General's Lechon. Even those who are last in line are bound to be satisfied as every part of this roast pig is mouthwatering. The lechon's golden-brown, crisp skin crackles and bursts with flavor as you sink your teeth to it, while the succulent meat is flavored just right with garlic and herbs. You might even be tempted to indulge in its velvety layer of fat—go ahead, no one will judge you. 
ADVERTISEMENT - CONTINUE READING BELOW
Also read: Top 10 Lechon in Manila
General's Lechon is at 2/F Petron Dasmariñas Village, EDSA corner Arnaiz Avenue, Makati City; 3 Guillermo Street, Ramos Compound, Sun Valley Drive, Parañaque City.
The Best Leche Flan: Leche Flan from Milky Way Café (P175)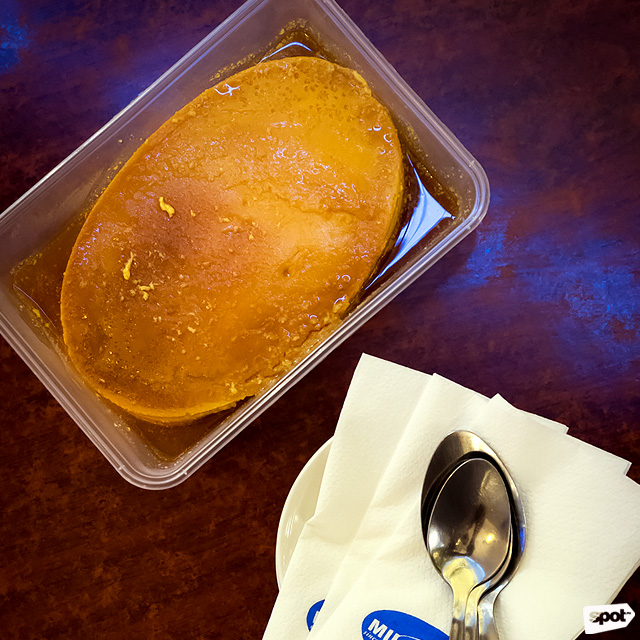 Want to bring traditional homemade leche flan to a potluck but don't have the time, energy, or expertise to make some? We recommend Milky Way Café's. Its sweetness is not overpowering, and its texture is both light and eggy, giving you a creamy and jelly-like consistency. The slightly burnt caramel taste adds to its melt-in-your-mouth goodness, which is likely to keep you thinking about it even after the party is long done.
Also read: Top 10 Leche Flan in Manila
Milky Way Café has branches at Power Plant Mall, Rockwell, Makati City and Arnaiz Avenue corner Paseo De Roxas, Makati City.
ADVERTISEMENT - CONTINUE READING BELOW
The Best Chocolate Cake: Decadent Chocolate Cake from Big Al's Cookie Jar (starts at P600/cake)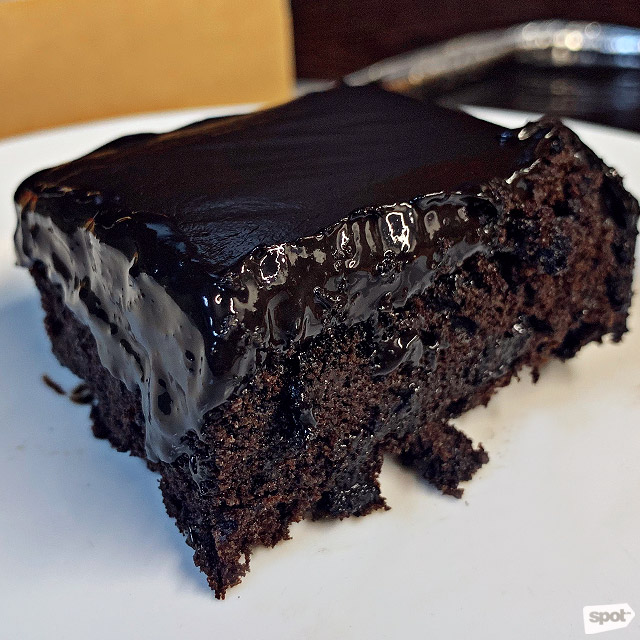 Parties aren't complete without a cake, and the good old chocolate kind never fails to please, especially if it's Big Al's Decadent Chocolate Cake. The rich and sweet chocolate cake is smothered with an equally rich bittersweet fudge, a combination that will instantly transport you back to your childhood. It comes frozen and is served on a silver tray, ready to be brought to any potluck party. Make sure you let it thaw and soften first before serving to guests for that right balance of moistness and chocolate-y creaminess.
Also read: Top 10 Chocolate Cakes in Manila
For more information, visit Big Al's Cookie Jar's Instagram page.
The Best Caramel Cake: Caramel Cake from Pasteleria Costa Brava (starts at P650/cake)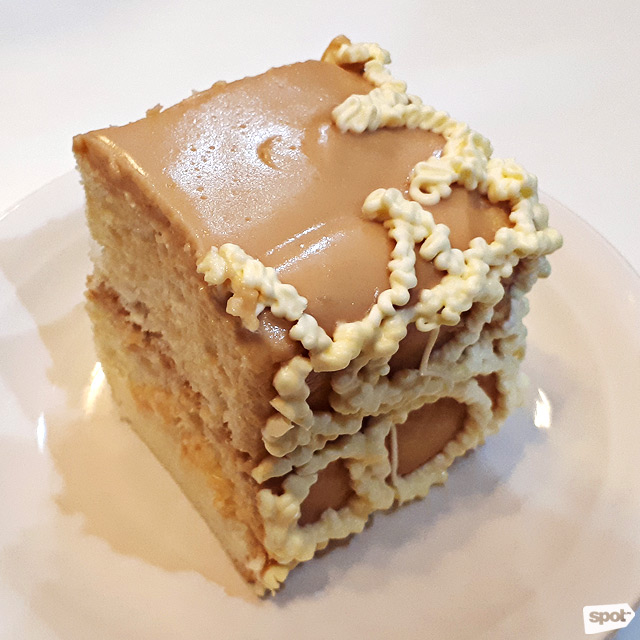 ADVERTISEMENT - CONTINUE READING BELOW
At first glance, it might look like your regular homemade caramel cake, but Costa Brava's Caramel Cake is the right mix of simplicity and decadence. The light and fluffy cake is enveloped by a caramel icing that's sweet and creamy, but not overly so—resulting in the perfect cake-to-icing ratio in every bite. It's a steal at P650 a cake, but trust us when we say that you might want to order more than one.
Also read: Top 10 Caramel Cakes in Manila
Pasteleria Costa Brava is at 12 Polaris Street, Bel-Air 1, Makati City.
The Best Sans Rival: Sans Rival from Delize by Jill Sandique (P1,500/whole cake)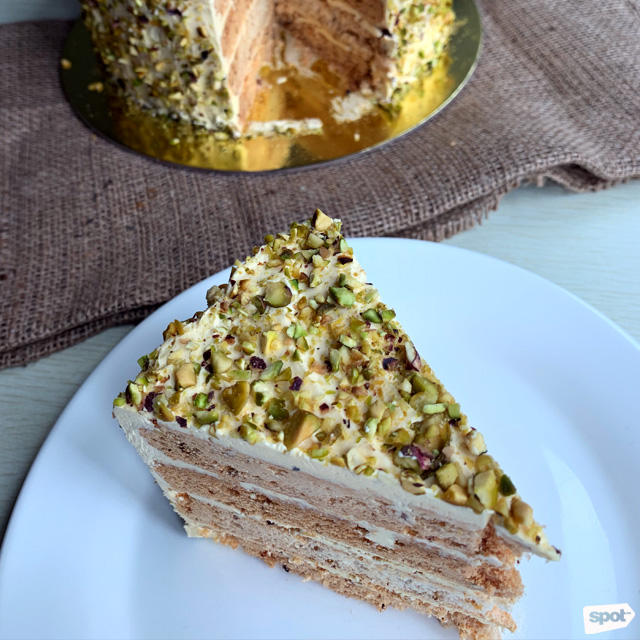 The sans-rival cake is a Filipino dessert favorite, and given how rich and creamy the layered cake is, it makes for a great way to end your feast. This beautiful sans rival from Delize by Jill Sandique boasts crisp and crunchy layers of meringue with silky buttercream frosting in between. Chunks of pistachios dot the cake's outer layer for that added bite, assuring a well-balanced mix of flavors and textures in every forkful. If you're looking to impress, this cake is a breeze to slice so you can wow your friends when serving them a portion.
ADVERTISEMENT - CONTINUE READING BELOW
Also read: Top 10 Sans Rival in Manila
Delize by Jill Sandique is at 2/F Cliffpoint Building, Home Depot Compound, Julia Vargas Avenue, Pasig City.
Share this story with your friends!
---
Help us make Spot.ph better!
Take the short survey
Load More Stories