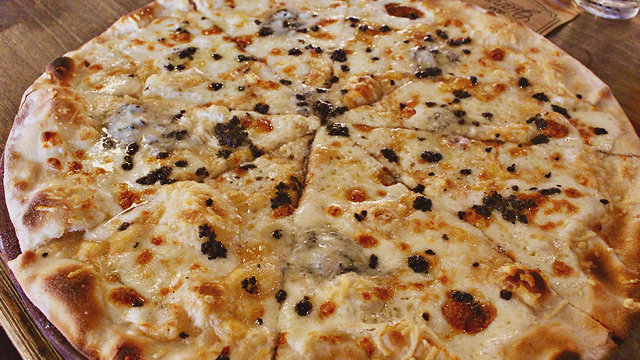 (SPOT.ph) It turns out that there's been something of a debate about the "point" of cheese pizza, to which we say, "Get the heck out." It's not that hard to justify what looks like a plain ol' pie when you think of it this way: If, without toppings, you already have a sumptuous slice, then there's nowhere to go but up, and you won't have wasted any pepperoni on some unprecedented disappointment.
And while, on many levels, even bad pizza is good pizza, we're working with a very specific rubric for this list. So, the following are ranked according to the quality (not quantity) of the cheese; the texture, taste, and thinness of the crust; the topping-crust ratio; general gooeyness and flavor; and the adherence to the classic Italian kitchen rule of "less is more."
All SPOT.ph Top 10 lists are researched, paid for, tested, and selected by the writers and editors. They are discreetly conducted without any notice made to the restaurants or their owners.
ADVERTISEMENT - CONTINUE READING BELOW
Also read:
Top 10 Cheese Pizzas in Manila (2017 Edition)
Top 10 Mac and Cheese in Manila (2017 Edition)
Top 10 Cheeseburgers Under P200
Top 10 Cheese Rolls in Manila
Here's where you can get the best cheese pizza in Manila:
10. 5 Formaggi from Cibo (P479)
The unusual oval shape and addition of a rosemary garnish make Cibo's version the ultimate brunch-with-the-girls item. This pizza is the crunchiest of the lot, so make of that what you will. The use of gorgonzola is more like a punctuation mark than the whole sentence, and crumbling in the rosemary and a little chili oil only improves the experience. The rich combination of mozzarella and gruyere may be a bit much for some, but the crispier crust brings it back from the brink.
See a list of Cibo branches. 
9. Cacio e Pepe from Wildflour Italian (P795)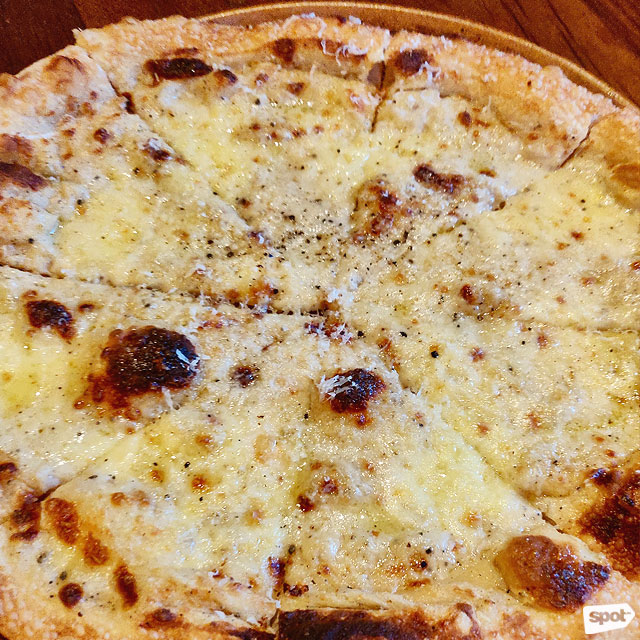 This is another version with the crust on the crunchier side, which it needs, because of the creamier feel of the topping. Served with chili flakes and oregano, Wildflour Italian's take has a subtle note of pungency without the use of any blue cheese, which we're guessing might be coming from the dough—and that sort of mastery is nothing to scoff at.
Wildflour Italian is at G/F The Finance Centre, 9th Avenue corner 26th Street, Bonifacio Global City.
8. Quattro Formaggi from Da Gianni Cucina Italiana (P555)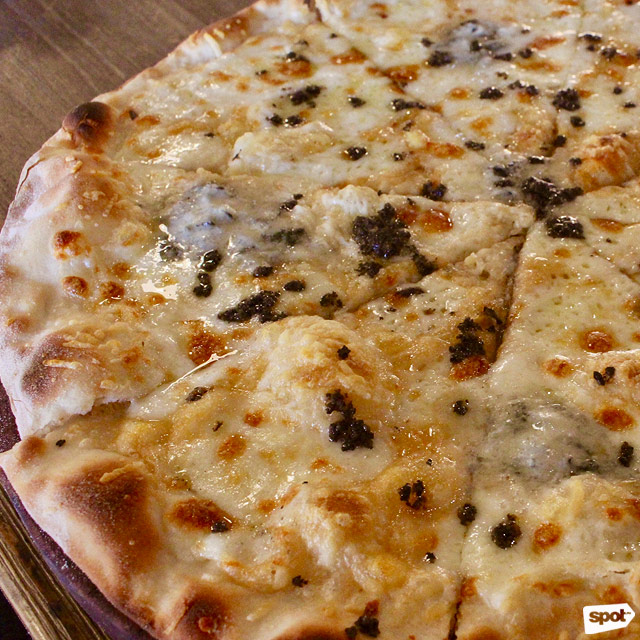 This is the first contender on the list that kind of throws a bit of a wrench in the rubric, but hey, variety is the spice of life. Said wrench is a heavy sprinkling of truffle—contrary to what you might think, it doesn't make the pizza unbearably rich (or pretentious). Instead, there's enough of it to add a kind of aromatic earthiness that's just begging you to add some chili oil to it. This has to be one of the best examples of texture balance, being crispy at the edges but turning gradually softer and creamier towards the middle.
ADVERTISEMENT - CONTINUE READING BELOW
Da Gianni is at Westgate Hub Alabang, Alabang, Muntinlupa City.
7. 6 Cheese (White) from Mamma Mia (P595)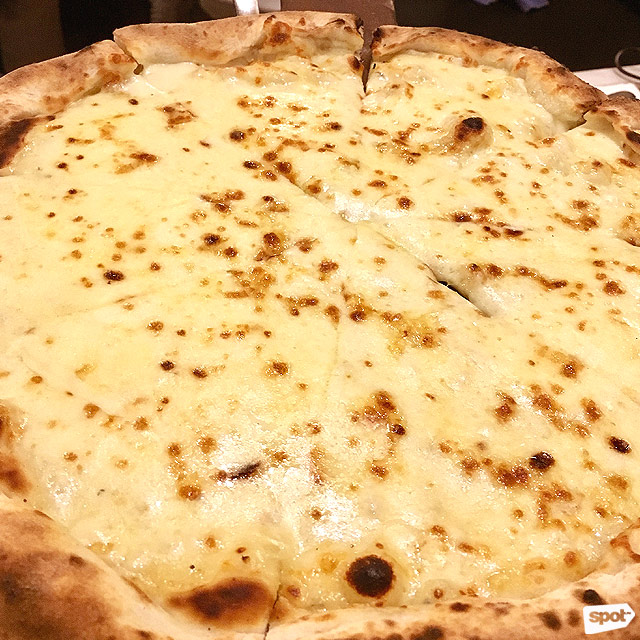 While slightly more doughy, Mamma Mia serves up everyone's mental image of pizza. As in, this is what the Ninja Turtles would be into, New York or not. It sits just in the middle of the spectrum, equidistant from both traditional Italian and Americanized comfort food. It has just enough char in the crust to counteract the six (six!) cheeses, and enough goo to make the simple act of getting a slice a part of your dining experience—as it should be. Pro tip: You can choose between thin or thick crust for this pizza!
Mamma Mia is at G/F Uptown Mall, Uptown Bonifacio.
6. Three Cheese from Stephen's Brick Oven Pizza (P115/seven inches, P315/12 inches)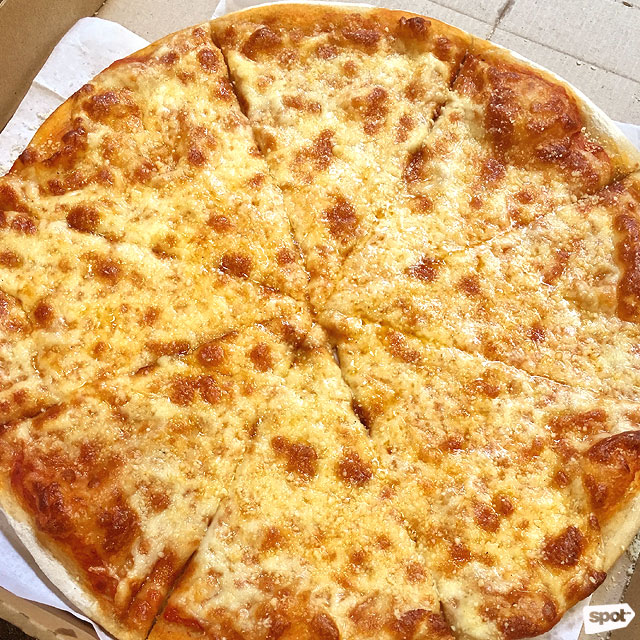 There is a four-cheese option at Stephen's, but we wanted to really put their menu to the test—and boy, did they pass with flying colors. Boasting, arguably, the best value for money in this whole list, they've also seemed to stumble upon an oddly perfect way to enjoy their food, at least over on Ortigas Avenue. Picture it: four o'clock, on a drizzly -ber month afternoon, you're sitting behind a gas station enjoying fresh, almost buttery cheese pizza, with a wonderfully balanced crust—and possibly some iced coffee from the inevitable convenience store. It's strangely hard to beat.
See a list of Stephen's Brick Oven Pizza branches.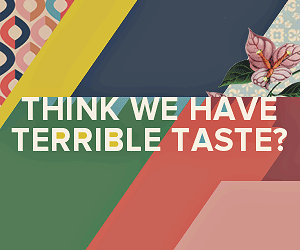 5. Quattro Formaggi from Trattoria Altrove (P765)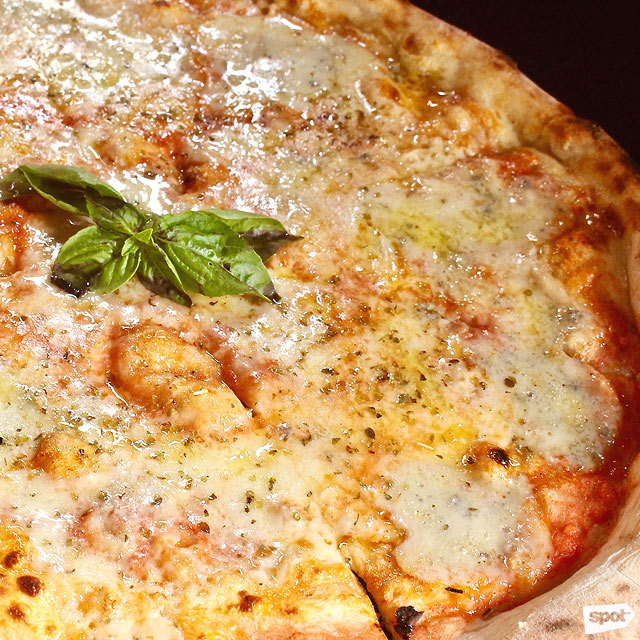 ADVERTISEMENT - CONTINUE READING BELOW
In spite of the price tag and the location, we're obligated to rank this version this high because the crust is nigh-faultless: chewy and a little singed. The cheeses are also amazing—mozzarella, fontina, pecorino, and the lightest dusting of the contentious gorgonzola. The pizzas in general at this place are worth the trip, but then you get the frankly gorgeous, rustic interiors. It's all worth the No Shoes policy.
Trattoria Altrove is at 858 Tropical Avenue, BF International, Parañaque City
4. Four Cheese from Salvatore Cuomo & Bar (P650)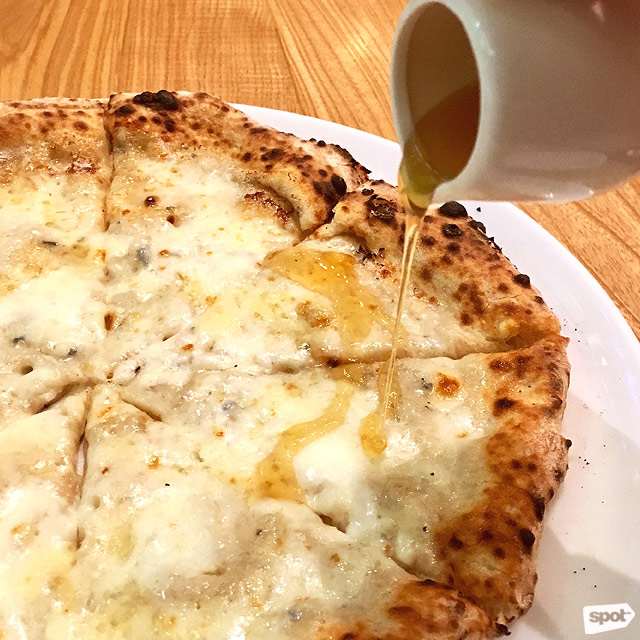 If nothing else, the Salvatore Cuomo chain has two very specific things going for it: the menu overall is a great introduction to good Italian food, and the atmosphere is a versatile one, ranging from friendly lunch to romantic dinner. Their iteration of the pizza, in particular, is a winner with just the right amount of char on a perfectly thin crust, topped off with a lovely blend of cheeses. You also have the option to add a fun twist to it with chili and honey, which they always serve on the side.
Salvatore Cuomo is at 9th Avenue, Uptown Bonifacio.
3. Tartufata ai Formaggi from Francesco's Kitchen (P680)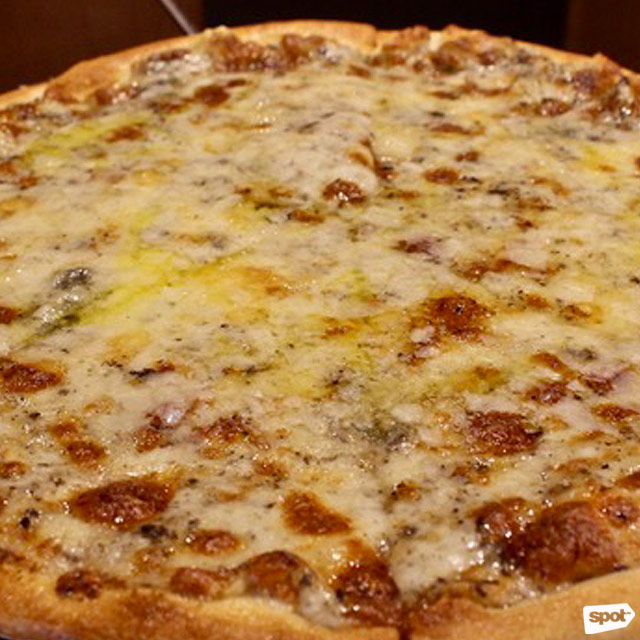 This one should really be in a category of its own because so much about it is unique to Francesco's Kitchen. What really makes it stand out is not the truffle—although, of all the cheese pizzas we've had that contain truffle, this just might be the best one—but the proportion of cheese-to-crust. It isn't bready, nor is it too thin to accommodate all that dairy and musk. The whole package makes for an earthy-sweet, just-salty-enough slice that's perfect for when you just want to treat yourself or someone you love.
ADVERTISEMENT - CONTINUE READING BELOW
Francesco's Kitchen is at 863 A. Mabini Street, Addition Hills, San Juan City.
2. Tre Formaggi from Amare La Cucina (P465)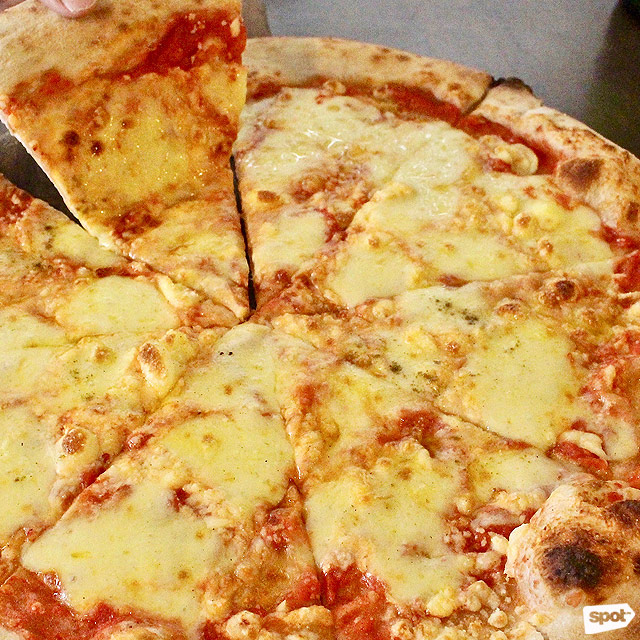 The incredible thing about this cheese pizza is it actually achieves what all cheese pizzas try to, but with less. As evidenced by the name, it boasts three kinds of cheese instead of the usual four or five. There's an initial pungent quality to the bite, making each slice well-balanced and—dare we say it—almost too edible. It's no wonder Amare is the go-to for brick-oven pizza.
Amare La Cucina is at 91 East Capitol Drive, Kapitolyo, Pasig City.
1. Kermit Manila's Stimpies (P630)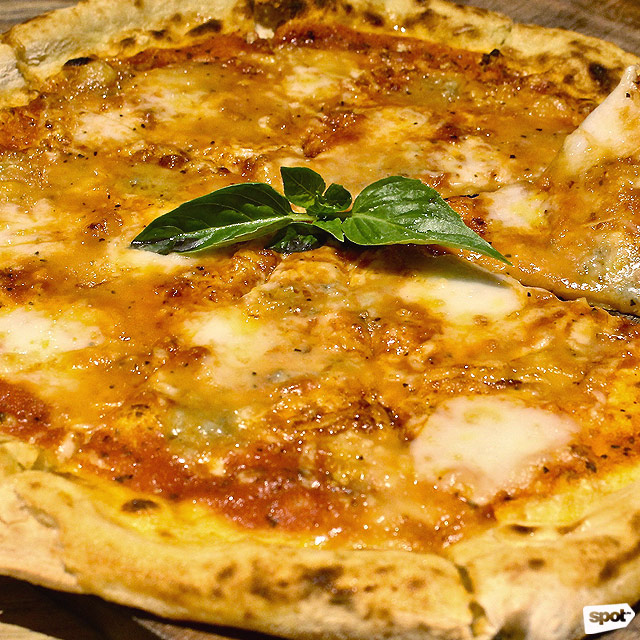 We bet that no one is shocked that our top spot goes to this pizzeria from Siargao—they also have a seal of approval from Condé Nast as the best pizza in the country, and after a slice, we have to agree. The use of fior di latte in this pizza gives a subtle freshness to the gathering of cheese, while the brie adds an unusual creaminess to it. While the ingredients themselves aren't super traditional, they do work together in a way that can only be described as impressive; throw in what just might be a flawless crust, and the sheer delight of watching your pizza get tossed in and out of the oven, and there's little you can do to add to this masterpiece of a meal. 
Kermit Manila is at 4636 Molina Street, Poblacion, Makati City.
Share this story with your friends!
---
Help us make Spot.ph better!
Take the short survey
More Videos You Can Watch
Load More Stories