10 Ultra-Cool YouTube Channels for Listening to Live Music
There's something about an honest live performance that's hard to beat.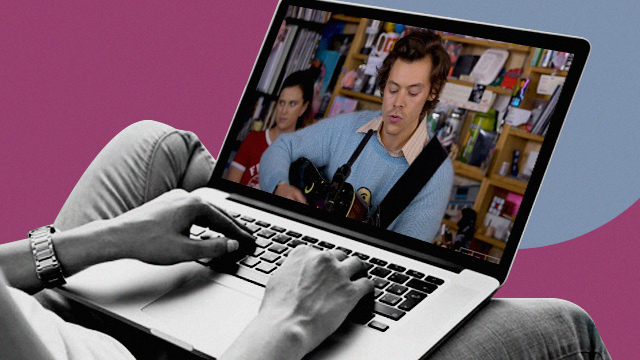 (SPOT.ph) Have you ever fallen in love with a song so bad you play it on repeat enough times for you to start absolutely hating it? Well, while we can't actually save you from that rabbit hole, we have found one way to breathe new life into your fave tracks and artists: listen to them live...well, kind of. We round up a couple of cool YouTube channels to check out for recorded live sets or performances from artists across the globe. It's the perfect way to hear a new side to songs you know almost too well—and get that warm, raw feeling you won't get with recorded studio versions.
ADVERTISEMENT - CONTINUE READING BELOW
CONTINUE READING BELOW
Recommended Videos
Also read:
10 YouTube Channels for Getting Started on a New Hobby
10 YouTube Channels to Make You Smarter
10 Must-Watch YouTube Channels for Cinephiles
Get your groove on with these YouTube channels featuring live sets and performances:
NPR Music Tiny Desk Concert
If there's one place in the world that has seen the most action, musically speaking, that would most probably be the office desk of Bob Boilen, director of NPR's All Things Considered in Washington D.C. Hundreds of artists have performed at this unadulterated and intimate space since 2008. It has earned quite a following arguably thanks to its almost casual and raw feel. Since they've been around for a while, they lead this list with an unbeatable YouTube archive full of amazing performances and rare gems: From big and current names like Harry Styles, Lizzo, Taylor Swift, and Aurora, down to classics such as The Cranberries, Sting and Shaggy (yes, together!), Coldplay, Alicia Keys—a special set from Broadway's Hadestown, even. Plus, you can watch acts from all corners of the globe, such as Colombia's Monsieur Periné and Ukraine's DakhaBrakha.
ADVERTISEMENT - CONTINUE READING BELOW
COLORS
If you're looking around for new artists to follow, let Berlin-based COLORS lead you to your next obsession. They bring in fresh artists worthy of attention with sets featuring minimal backgrounds. On their channel, you can find performances by big artists like Billie Eilish, Tom Misch, HONNE, Daniel Caesar, and more. Alternatively, you could let the algorithm take you on a journey and discover up-and-coming artists in their lineup.
Choir! Choir! Choir!
If you're in a sing-along mood—which is always—Choir! Choir! Choir! is the channel to check out. This one's a bit of an outlier, we know, but here's why you'll forgive us: You can join hundreds of people all singing together for the ultimate karaoke experience right from your seat. The "drop-in" singing event is usually held by Daveed Goldman and Nobu Adilman in Toronto, Canada where folks can just come in, learn a song, sing it, record it, and generally have a great time, because why not? They have arrangements for some of the best karaoke hits including Cher's "Believe," Toto's "Africa," and a 2000-strong crowd singing ABBA's "Dancing Queen." It's a guaranteed happy pill.
ADVERTISEMENT - CONTINUE READING BELOW
KEXP
This U.S.-based radio station regularly uploads sets from their shows to YouTube. You can check out live performances—whether single tracks of full sets—of popular artists like Macklemore, Of Monsters and Men, Arctic Monkeys, and London Grammar. The wide array also has performances by alternative acts such as Alt-J, Mac DeMarco, Alabama Shakes, and Portugal. The Man. They also have rare gems such as the Mongolian masters of throat singing Huun-Huur-Tu.
Paste Studios
Paste Magazine is another trove of live acts from artists across the world. You can catch your fave artists as they perform—usually barefoot—in Paste's cozy and carpeted studio in New York. They have had young artists such as Aurora and Boy Pablo on their platform, as well as the bands of your childhood such as Dashboard Confessional, Switchfoot, Wheatus, and even a live track from The Bacon Brothers—yes, Kevin Bacon (because if he can dance, of course he can sing, too!).
ADVERTISEMENT - CONTINUE READING BELOW
Triple J Like a Version
Australian radio station Triple J regularly uploads fresh vids of artists performing original works to their YouTube channel—but because we can, we're highlighting their playlists of covers. Childish Gambino's stripped-back version of Tamia's "So Into You"—definitely your anthem at some point—isn't to be missed. Neither are all the other fantastic arrangements artists on this show have done to completely change the flavor of an already great song. We recommend DMA'S soulful cover of Cher's "Believe," Holy Holy's cool version of Beyoncé's 'Hold Up,' and Chet Faker's choir-take of Sonia Dada's "(Lover) You Don't Treat Me No Good" to start you off. 
Sofar Sounds
Get work done with some sweet and soft acoustic sets thanks to Sofar Sounds. This global community travels to different spots around the world and gathers artists to perform in smaller spaces. You can watch the live acts of big names like Hozier, Billie Eilish, Ed Sheeran or, perhaps even better, choose a city and listen to the performances of artists you haven't heard of! There's also a Manila set you can check out featuring artists like Bullet Dumas, She's Only Sixteen, BP Valenzuela, and more.
ADVERTISEMENT - CONTINUE READING BELOW
BBC Radio 1 VEVO Live Lounge
BBC's radio station has some of the biggest bands and names on their sets. You can check out acts by Demi Lovato, Dua Lipa, Khalid, Miley Cyrus, Ariana Grande, Paramore, Harry Styles, and more all at their Live Lounge series. Plus, they regularly do cool covers as well! You can expect some top quality sounds—of the more stripped back and raw version—from today's biggest artists at their studio.
Mahogany
If you're more into laid-back and cleaner versions—the type you can sip coffee while staring out into nothingness—then check out Mahogany Sessions. This London-based entertainment company has been churning out sweet versions of popular songs since 2010. You can find live performances of HONNE, Imogen Heap, Hozier, Bastille, and more. Their videos have a knack of being set in rather unexpected places, like large stadiums or gardens or homes, all adding to the unrehearsed and authentic feel.
ADVERTISEMENT - CONTINUE READING BELOW
Wish 107.5 Bus
We certainly weren't about to leave out our very own Wish Bus. If you're looking for a new local artist to follow, or live performances of your faves, this is the channel to check out. Go back to your college days by checking out performances by bands like Kjwan, Moonstar 88, Orange and Lemons, and more. Catch up on the latest releases by the hottest artists from today's music scene such as Ben&Ben, I Belong to the Zoo, and lots more. You can also spot cool cover versions like Al James' rap version of Lola Amour's "Pwede Ba?" and lots of foreign acts like the ultimate nostalgia hit that is Stephen Speaks, singer-songwriter Lauv, and Dua Lipa.
---
Help us make Spot.ph better!
Take the short survey
Load More Stories